With Winchester's introduction of the .350 Legend in 2019, it raised the question, at least in my mind, "What exactly was this cartridge's niche in the grand scheme of things?" Particularly in an era where new cartridges barely seem to raise an eyebrow and numbers have escalated to the point where hunters are asking, "Do we really need another newbie for hunting deer, when my 30-06 will do just fine?" A legitimate question indeed, but times and rules do change. Then there is always that tinkering spirit that resides in many of us, and where would we be today without that innovative spirit which has fostered the development of many of the world's finest cartridges? So, let's briefly take a look at Winchester's thinking behind the .350 Legend.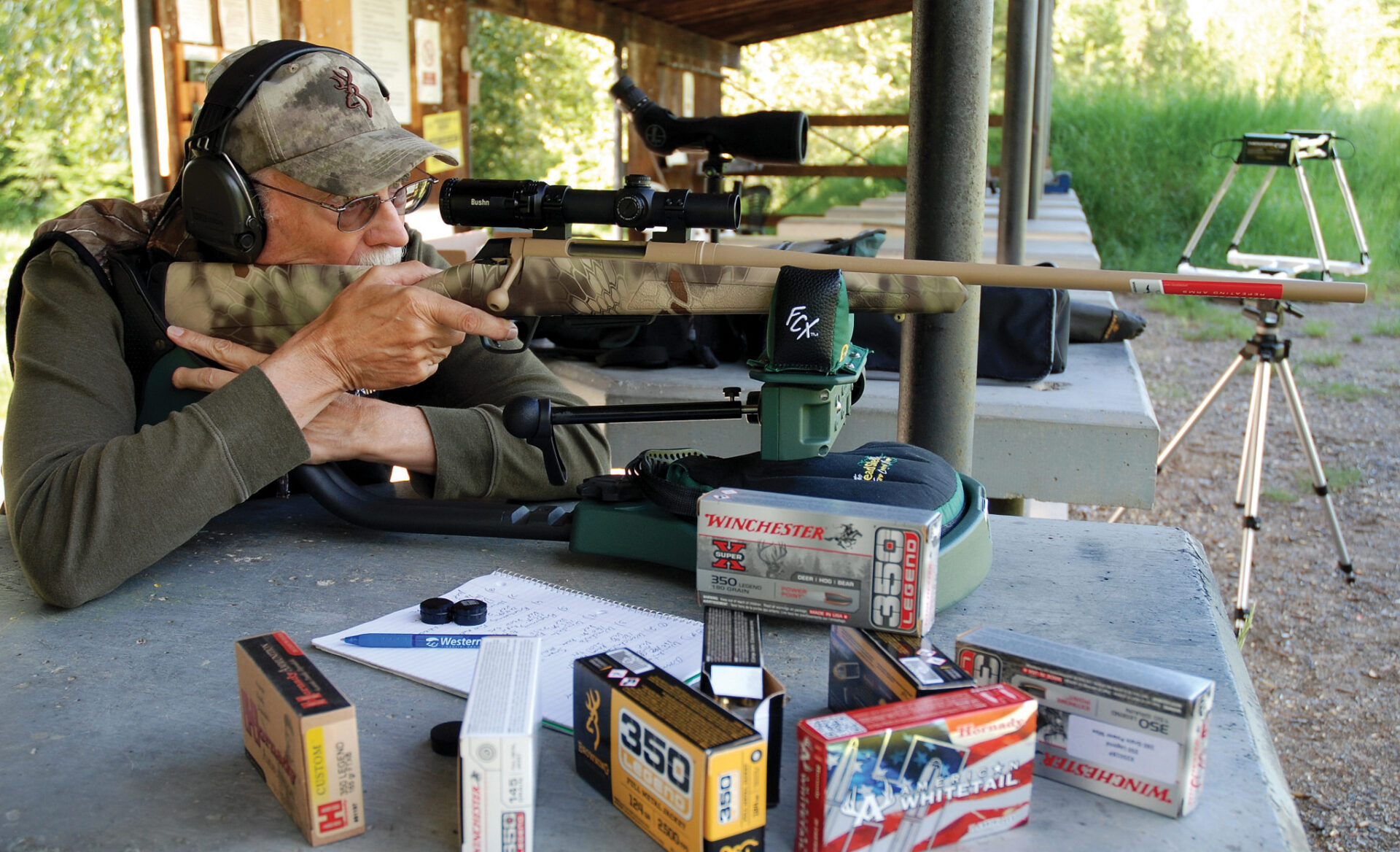 It essentially relates to a regulation change in a number of states that now allow the use of straight-wall cartridges for hunting deer. This alteration of the rules was seen as an improvement over shotguns and muzzleloaders, and the ensuing demand for rifles chambered in the .450 Marlin or the .45-70 and so on increased to the point where Winchester took note and the rest, as they say, is history. The straight-wall .350 Legend was born.
Initially, I was a bit skeptical as to the existence of a void the .350 could actually fill for Canadian hunters. But, with an attentive ear to the track, I kept hearing rumblings of both its success on deer and how pleasant it was to shoot. So, my initial skepticism began to fade as I envisioned its potential as a wood's deer rifle, particularly for recoil-sensitive shooters such as young hunters or for any hunter in areas where high velocity, long-range calibres could pose a threat to safety. 
Winchester XPR .350 Legend
The XPR has been around for a number of years now and Winchester continues to expand its list of calibres. The .350 is one of those recent expansions. The rifle itself features an MOA trigger with zero take-up, zero creep and zero overtravel, a chromoly steel barrel that is button rifled, thermally stress relieved and free floated. The receiver is chromoly steel barstock that is precision machined and hardened during heating for a strong, stiff and solid receiver. It is also drilled and tapped for robust 8-40 screws, ideal when mounting today's larger scopes. The bolt is also crafted from chromoly steel barstock that is similarly heat treated and includes three front locking lugs and a short 60-degree lift. It is also coated in nickel Teflon for smooth operation and corrosion resistance. A Perma-Cote matte black finish is also applied to the barrel, receiver and bolt handle as wear and corrosion protection. The rifle also offers a bolt unlock button that allows the removal of cartridges with the safety on, a detachable box magazine and a two-position safety. Last of the mechanical features is the XPR's target-style crown that protects the rifling from damage.
The advanced polymer stock is available in a variety of finishes, with textured panels on the forend and pistol grip for improved handling in the cold, wet weather and includes an Inflex Technology recoil pad. And, most importantly for smaller or younger hunters, it's also available in a compact version that offers a shorter length of pull, and in some calibres a shorter barrel and a reduced weight. With its 13-inch LOP, 20-inch barrel and weight of six pounds, eight ounces, the .350 Legend is one of those calibres.

Test Rifle Specifications
Calibre: .350 Legend
Barrel length: 22 inches
Total length: 42 inches
Length of pull: 13-and-three-quarter inches
Drop at comb: Half an inch
Drop at heel: Three-quarters of an inch
Weight: Six-and-three-quarter pounds
Magazine capacity: Four
Rate of Twist: 1-16 inches
Bushnell 1-8x24mm AR Optics Scope
As a match for the .350, I went looking for a scope that offered a very low power for close-range woods hunting, and also offered a higher magnification should the need arise. The Bushnell 1-8×24 AR Optics scope with its illuminated BTR-1 reticle proved to be exactly what I was looking for. The scope also features fully multi-coated optics for increased light transmission and brightness, IPX7 waterproof construction with O-ring sealed optics, a throw down power change lever in two lengths, 30-millimetre tube, fast focus eye piece and is a compact 10.2 inches in length. It includes scope covers, short and long throw down levers, Spudz lens cloth, multitool and a 30-year warranty.

Scope Specifications
Magnification & objective lens: 1-8x 24 millimetres
Tube diameter: 30 millimetres
Weight: 16.5 ounces
Length: 10.2 inches
Eye relief: 3.6 inches
FOV: (feet at hundred yards) 100 feet at 1X, 16 feet at 8X
Reticle: Illuminated BTR-1
Elevation & windage adjustment: 50 MOA
Test Results
Winchester's integral made the task of mounting the Bushnell scope a simple and quick one. Once assembled, I checked the total weight at seven pounds, 10 ounces, and then moved on to check trigger pull weight. The MOA trigger lived up to its billing. It broke cleanly, with no creep, and in five pulls varied marginally between three pounds, eight ounces, and three pounds, 10.4 ounces. An excellent trigger. Mechanically, I also liked the bolt release button that is found on the XPR just ahead of the two-position safety. It allows for the safe removal of cartridges with the safety on.
Cosmetically, the stock came in Hunter Highlander, a new camo pattern that was appealing, but as a woods hunter I might opt for Hunter Strata. The scope, with its bright, sharp image and illuminated BTR-1 reticle for quick target acquisition, was a perfect match for the .350. The six illuminated settings offered plenty of brightness options and the off dots between each setting provided a quick return to your pre-selected illuminated setting. The short factory-installed Power Change Lever made for quick magnification changes, ideal in woods hunting situations were sudden alterations in magnification are frequently required. For the price point, this is a great scope.
Before discussing on-range performance, I should point out that obtaining ammunition during the COVID-19 pandemic was extremely difficult. So, my tests only included eight different factory loads from three companies. On the range, the recoil was as advertised – very mild indeed, less, in my view, than even a .243 Winchester. It also cycled well out of the magazine, but because of this cartridge's design and size, I had a bit of difficulty loading single rounds by hand. Other than that minor issue, both the rifle and scope performed satisfactorily.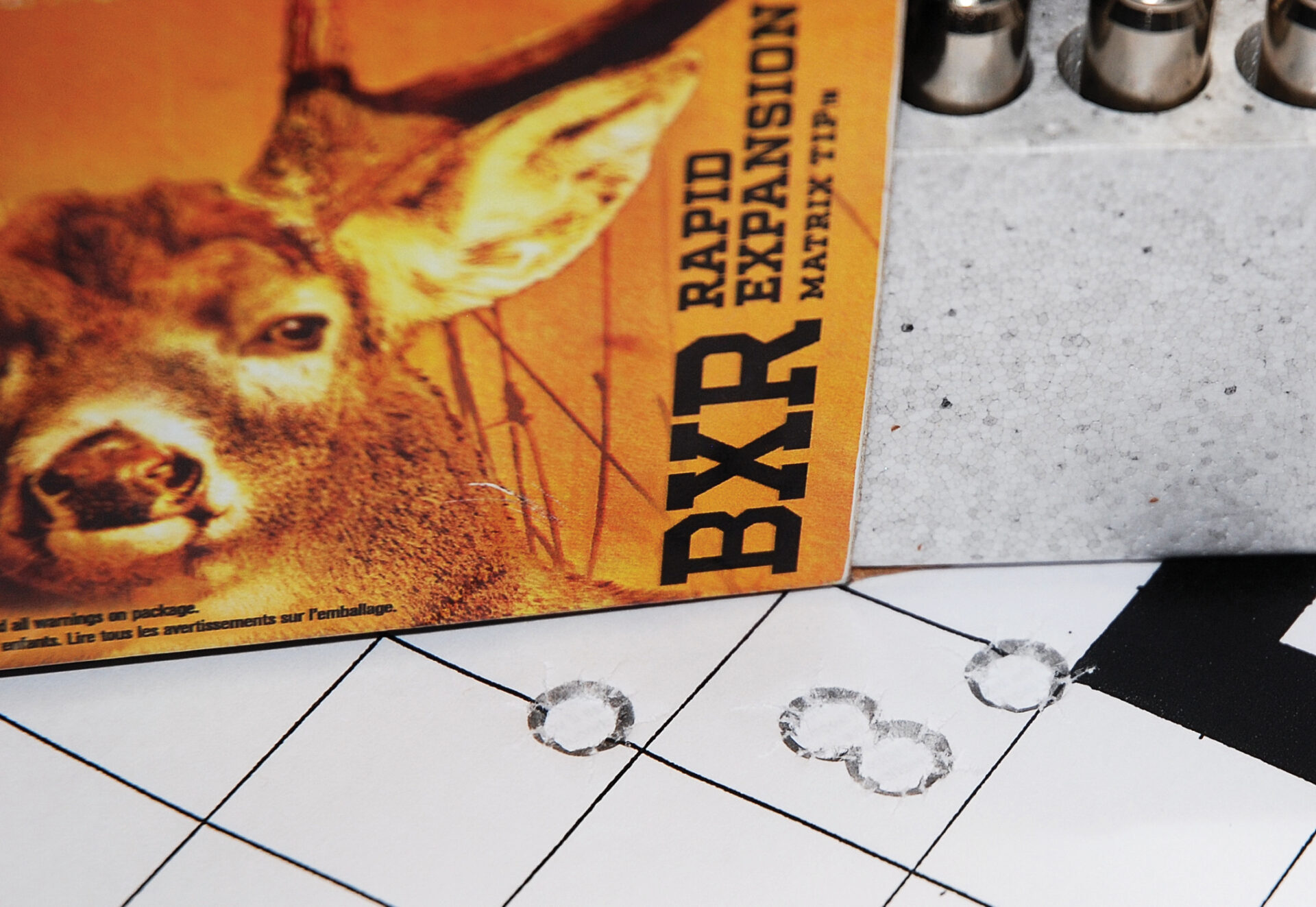 Factory Ammunition
Brand

 

Bullet
Advertised Velocity
(fps)
Group Size
(inches)
Winchester Power Max Bonded
160-grain Bonded Protected Hollow Point
2,225
1.540
Winchester Super X
180-grain Power Point
2,100
1.235
Winchester Target
145-grain Full Metal Jacket
2,250
1.553
Browning BXR
155-grain Rapid Expansion
2,300
3/.650

4/1.440*

Browning
124-grain Full Metal Jacket
2,500
4.610
Hornady American Whitetail
170-grain SP
2,200
1.890
Hornady Custom
165-grain FTX
2,200
.885
Note: See Last Shot for details (all other groups were three shots at 100 yards)
Last Shot
While I would not refer to it as a tack driver, for a shorter-range deer rifle it certainly provided some respectable accuracy, but clearly had some dislikes as well. The most pronounced being its utter dislike for Browning Full Metal Jacket 124-grain ammunition. Which, from my perspective, is a moot point as this target ammunition was only included for those who may have wanted to punch paper. On the upside, the groups for the six hunting loads averaged 1.283 inches, and the first two shots with Browning BXR 155-grain ammunition touched. The third was a pull and the fourth dropped right back into a .650-inch group. With a .885-inch group, it also shot Hornady Custom 165 FTX ammunition very well. Either would be ideal for deer. All and all, with its very mild recoil, this rifle in a compact .350 Legend would make a great choice for a young or recoil-sensitive, woods-orientated deer hunter.