My original concept was to find an affordable, quality-built, lightweight, accurate and easy-to-carry deer rifle. A tall order, no doubt. That was until I received an e-mail a couple of years back from Christensen Arms announcing the Mesa, a rifle that appeared to be just what I was looking for. However, a review of the Mesa was benched in favour of this company's Ridgeline, a carbon fibre-wrapped barrel offering that I envisioned as the ideal elk rifle. But the Mesa still haunted me, as I had yet to find that budget-savvy, quintessential deer rifle. So, the Mesa, at slightly more than half the price of the Ridgeline, was back in the game. A very wise decision indeed. Let's examine how I arrived at that conclusion.

Mesa 6.5 Creedmoor
While the Mesa may be Christensen Arms entry-level rifle, it offers features that are frequently attributable to more expensive, premium-grade rifles. Starting with the barrel, which is made out of Christensen Arms' 416R stainless steel that is featherweight contoured, has a match chamber, is hand lapped, button rifled, free floated, Cerakote finished and includes a stainless steel seamless radial muzzle brake with a steel thread protector. The action includes a Christensen Arms 416 stainless steel billet receiver, skeletonized bolt handle, enlarged ejection port, improved bolt release, match-grade trigger (two-and-a-half to three-and-a-half pounds), billet aluminum machined bottom metal with hinged floor plate and is Cerakote finished. It is also compatible with a STD Remington 700 base. The bolt is Nitride treated, twin lug, spiral fluted with a fluted bolt knob, includes an M16-style extractor and the magnum calibres have dual ejectors.
The stock is a Christensen Arms carbon fiber composite sporter that is hand laid and engineered to offer a strong, lightweight stock at an affordable price. Additionally, the rifle features dual bedding pillars constructed from Invar, a nickel/iron alloy, known to reduce thermal expansion and loss in accuracy due to temperature changes. The recoil lug area is also spot bedded to provide stability during recoil.
There are two colour options. The first is a black with grey webbing and a tungsten Cerakote-finished barrel and action; and secondly, a green stock with black and tan webbing and a burnt bronze Cerakote-finished barrel and action. 
Rifle Specifications
Calibre: 6.5 Creedmoor
Barrel length: 22 inches
Twist rate: 1-8 inches
Overall length: 43 inches
Length of pull: 13.6 inches
Weight: 6.5 pounds
Capacity: Four plus one rounds
Leupold VX-5HD 3-15x44mm CDS-ZL2 FireDot Duplex Illuminated Reticle
When researching potential optical matches for the Mesa, I set about finding a scope that was equivalently priced, offered quality optics, weighed in at less than 20 ounces, had a magnification range that provided wooded to open plains performance, included a ballistic-type elevation dial and offered low-light performance, as well as illumination for those twilight shots. The Leupold VX-5HD 3-15×44 CDS-ZL2 with a FireDot Duplex reticle was the answer. While my review of this scope may be considered a bit of a reboot, having tested the 56-millimetre version a couple of years back, I was so impressed with the original that an evaluation of the lighter, smaller 44-millimetre version was, as they say, a no-brainer.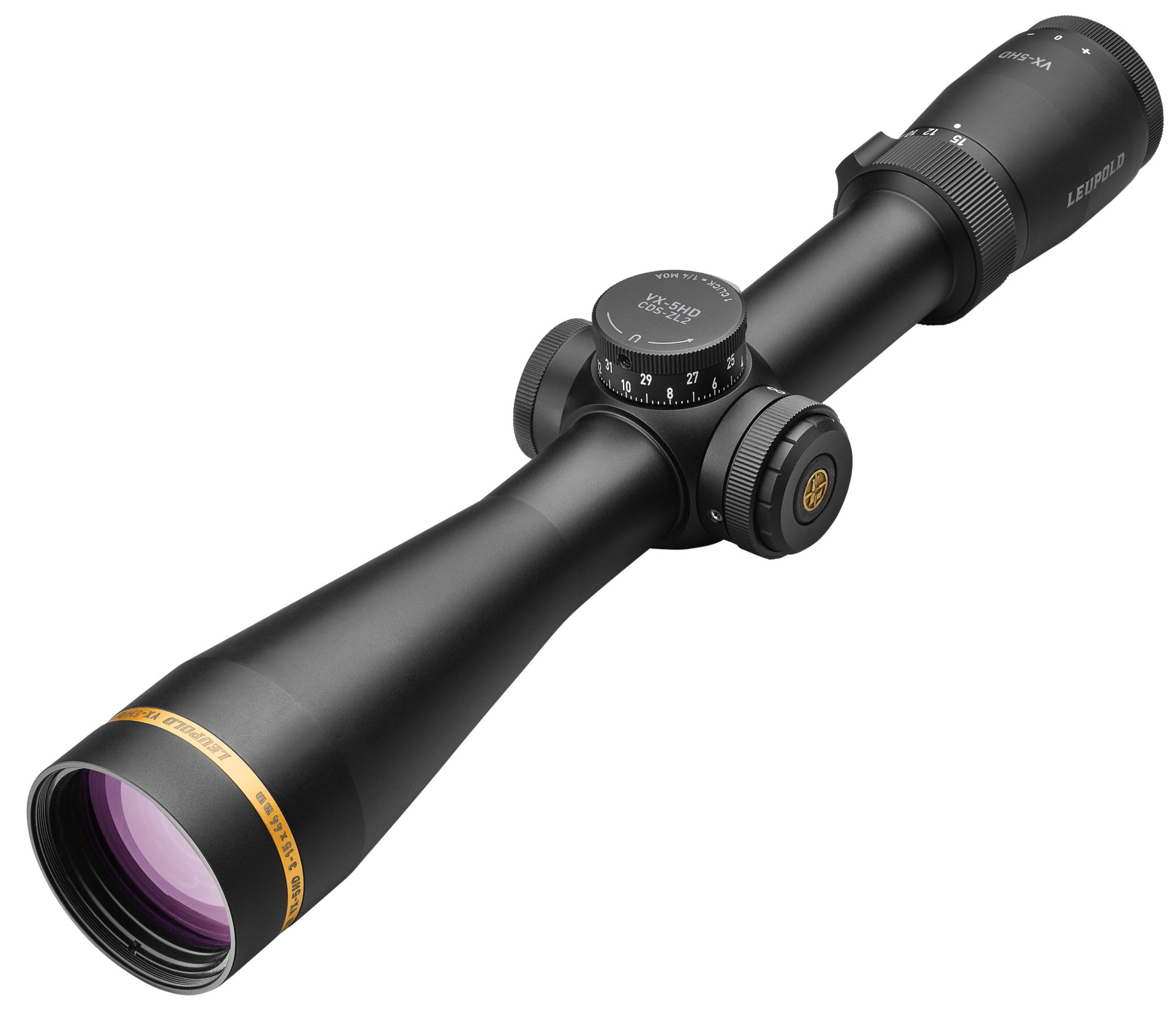 The VX-5's high-definition, calcium-fluoride (HD) precision ground lenses provide optimum clarity through a full range of magnifications, vivid colour and are lighter in weight than standard lenses. The edges are also blackened to reduce light diffusion so that more usable light gets to the shooter's eye, resulting in a brighter image with more contrast. The Twilight Max Light Management and lens coatings take the process a step further by delivering all usable light to your eye, for crisp, high-contrast images and optimized light transmission in blue and red, which balances colour and develops the highest possible contrast in low light. Ideal for hunting situations. The Guard-Ion rain-shedding coating protects the lenses from water, dirt and fingerprints, and ensures they are extremely durable and scratch resistant.
The scope is constructed with a 30-millimetre tube using 6061-T6 aircraft-quality aluminum that provides both extra strength and a wider range of windage and elevation adjustment. Leupold then employed an argon/krypton gas blend, an upgrade from nitrogen, to ensure absolute waterproof/fogproof integrity that all but eliminates thermal shock. My test model included a FireDot Duplex illuminated reticle with proprietary MST (Motion Sensor Technology) that automatically deactivates the illumination after five minutes of inactivity, but then reactivates the moment you pick up the rifle. A real battery saver! And, last, it included a CDS (Custom Dial System), Zero Lock 2 turn one-quarter MOS dial system and a side focus parallax adjustment. 
Scope Specifications:
Magnification: 3-15×44 millimetres
Weight: 19.7 ounces
Length: 13.53 inches
Eye relief: Low – 3.70 inches, High – 3.82 inches
Field of view: (feet@100 yards) Low- 38.3, High – 7.9
Parallax: Side focus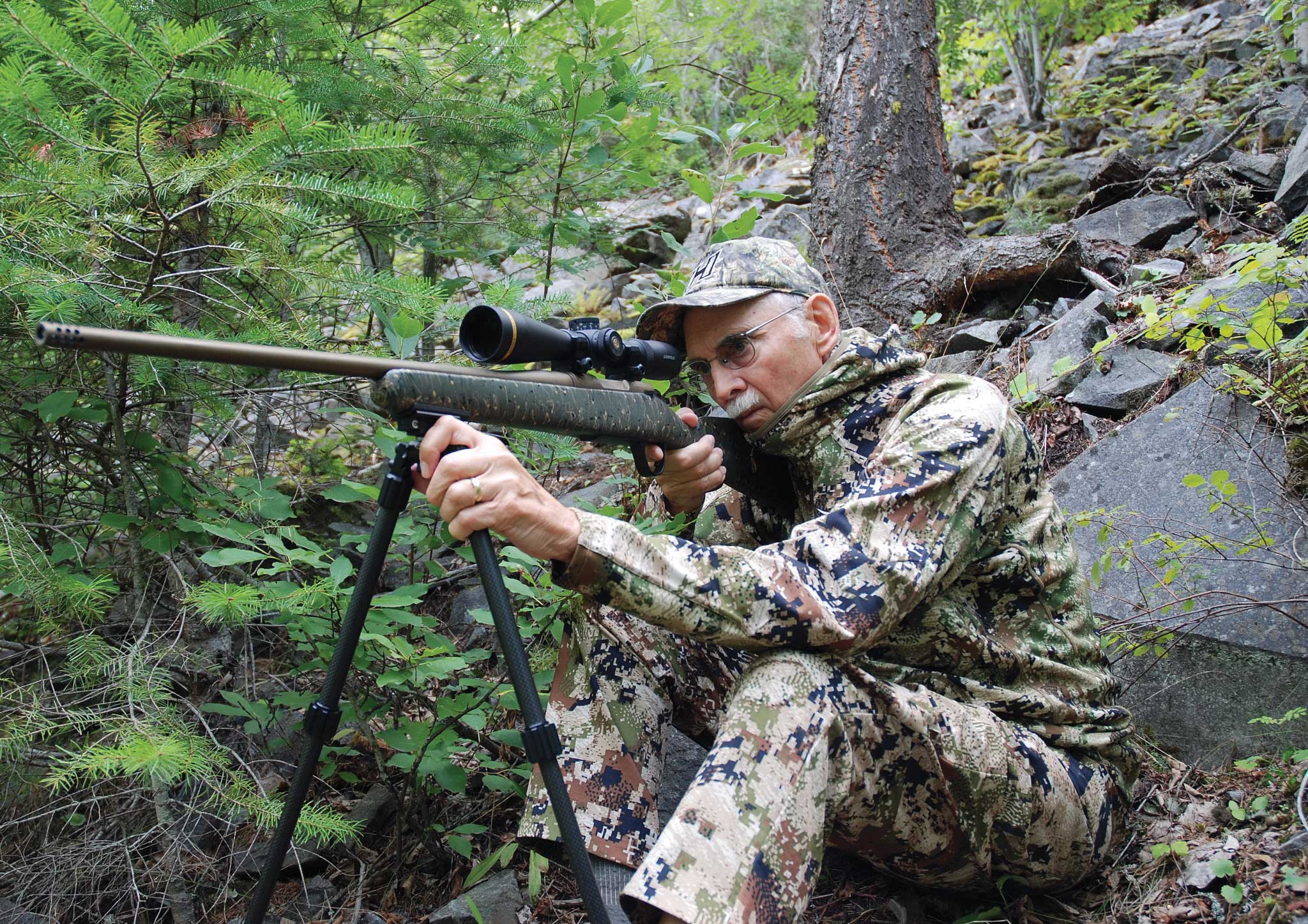 Test Results
While my conclusionary comments are most often left to the end, in this case I was so impressed with the performance of this rifle that I felt it required this singular analytical prolog: it was simply awesome to shoot. But let's detail my analysis step by step, starting with the out-of-the-box first impressions. The overall look of this rifle, with its burnt bronze metal finish and green stock with black and tan webbing, was most appealing. It just exuded that aura of a professionally built rifle. On the scale it weighed a few ounces more than its advertised weight of six-and-a-half pounds, so when it came time to mount the VX-5 I utilized Leupold's Backcountry mounts in an effort to keep the weight down. Despite this effort, the rifle and scope weighed in at eight pounds, three ounces, a tad more than I had hoped for. But once I shouldered this unit, the fit and balance was so superior that the extra few ounces was an attribute.
I then turned my attention to the trigger. Utilizing a Lyman digital trigger pull gauge, I measured five pull weights that minimally varied between two pounds, nine ounces, and two pounds, 10.3 ounces. That's a variance of only slightly more than one ounce, totally undetectable, and that was topped off by absolutely no creep or overtravel. An absolute winner, about as fine a trigger as you might find on a rifle costing considerably more than the Mesa.
With the spirally fluted bolt, I expected the action to be a bit rough, but I was wrong. It was smooth from the get-go. Just another attribute of a well-constructed rifle, as was the stock itself – no hollow, cheap synthetic stock here. If I were to get picky, the only improvements they could make to this rifle would be a three-position safety and possibly a fluted barred.
The VX-5 HD scope proved to be the ideal match for the Mesa. The optics were as advertised, with bright, clean, crisp images and well-defined contrast, even in poor light. The elevation and windage turrets offered precise audible clicks and the side focus was readably accessible for adjustments in the field. The magnification range was perfect for this rifle, as was the CDS dial system. Both offered potential shots from close quarters, right out to as far as a hunter's personal capability.
On the range, it was my intention to include a variety of premium handloads and factory ammunition from 120 to 143 grains, but I quickly discovered that hotter loads, such Hornady Superformance and one of my handloads, exhibited all the classic indications of too high a pressure for this rifle, so they were immediately dropped from this review. I ended up including five handloads and nine factory loads.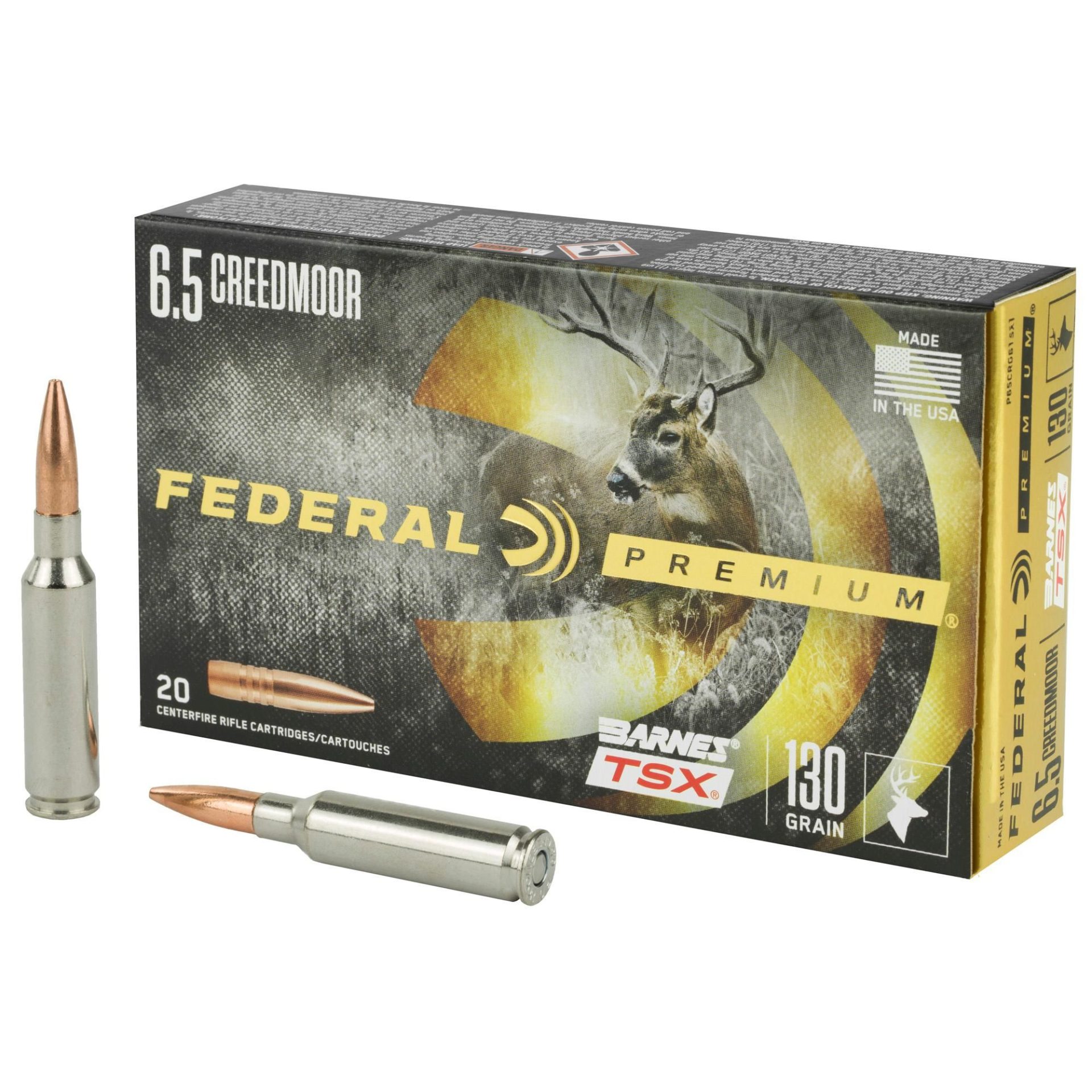 Factory Ammunition
| | | | |
| --- | --- | --- | --- |
| Brand | Bullet | Advertised Velocity (fps) | Group Size (inches) |
| Hornady Outfitter | 120-grain GMX | 2,925 | .812 |
| Hornady American Whitetail | 129-grain InterLock | 2,820 | .470 |
| Hornady Precision Hunter | 143-grain ELD-X | 2,700 | .485 |
| Federal Premium | 120-grain Trophy Copper | 2,800 | .965 |
| Federal Premium | 130-grain Barnes TSX | 2,825 | .200 |
| Fusion | 140-grain | 2,750 | .880 |
| Barnes VOR-TX | 127-grain LRX | 2,825 | .460 |
| Winchester Deer Season XP | 125-grain Extreme Point | 2,850 | 1.370 |
| Winchester Expedition Long Range | 142-grain AccuBond | 2,700 | .520 |
Handloads
Bullet
Powder
Case
Manual Velocity

(fps)

Group Size

(inches)

Hornady 129-grain SST
H414
Hornady
2,825
.776
Hornady 140-grain SP InterLock
Winchester 760
Hornady
2,730
.315
Hornady 143-grain ELD-X
IMR 4350
Hornady
2,750
.275
Barnes 120-grain TSX
H4350
Hornady
2,880
.440
Barnes 127-grain LRX
IMR 4451
Hornady
2,760
.206
Note: Manual velocity refers to the velocity taken from the manufacturer's reloading manual for that bullet weight and powder charge, and all groups are three shots at 100 yards.
Last Shot
This rifle shot exceedingly well, and not with just one or two loads, but with everything except one factory load. My handloads provided the best overall performance, averaging .402 inches, with factory ammunition just a fraction larger at .685 inches. That is a collective average of .544 inches, which is simply outstanding accuracy. Despite this high praise, I would be remiss if I did not mention a couple of remarkable groups that bettered a quarter inch. They included Federal Premium 130-grain Barnes TSX ammunition and my handloaded 127-grain Barnes LRX bullets and IMR 4451 powder. This is premium, varmint rifle-like accuracy in a big game hunting rifle! I was so impressed with this Federal load that I decided to take it on two hunts last fall – an antelope hunt in Montana and an elk hunt in Idaho. With the Leupold CDS dial calibrated for this load, I simply dialed in the range for two dropped-dead-in-their-tracks kills. I was some impressed, as were my outfitters. Insofar as recommended hunting loads, either of these two would be at the top of my list, but hey, take your pick. This is simply an outstanding rifle and scope, that are also priced right.