Benelli Super Black Eagles have forged a reputation among waterfowlers as of one of the most reliable inertia-driven semi-automatic shotguns in the world. They have dominated performance standards in many a duck and goose blind for the last two decades. With that degree of success, I was not particularly surprised in 2002 when they introduced their first semi-automatic rifle, the R1. But in 2020, I may have cast a speculative eye when Benelli threw their hat into the very competitive bolt-action ring, heightened only by the reality that one of their sister shotgun manufacturing companies, Franchi, introduced the Momentum in 2018. But its innovative design and Benelli's decision to utilize "Lupo," the Italian word for wolf, as its moniker piqued my interest.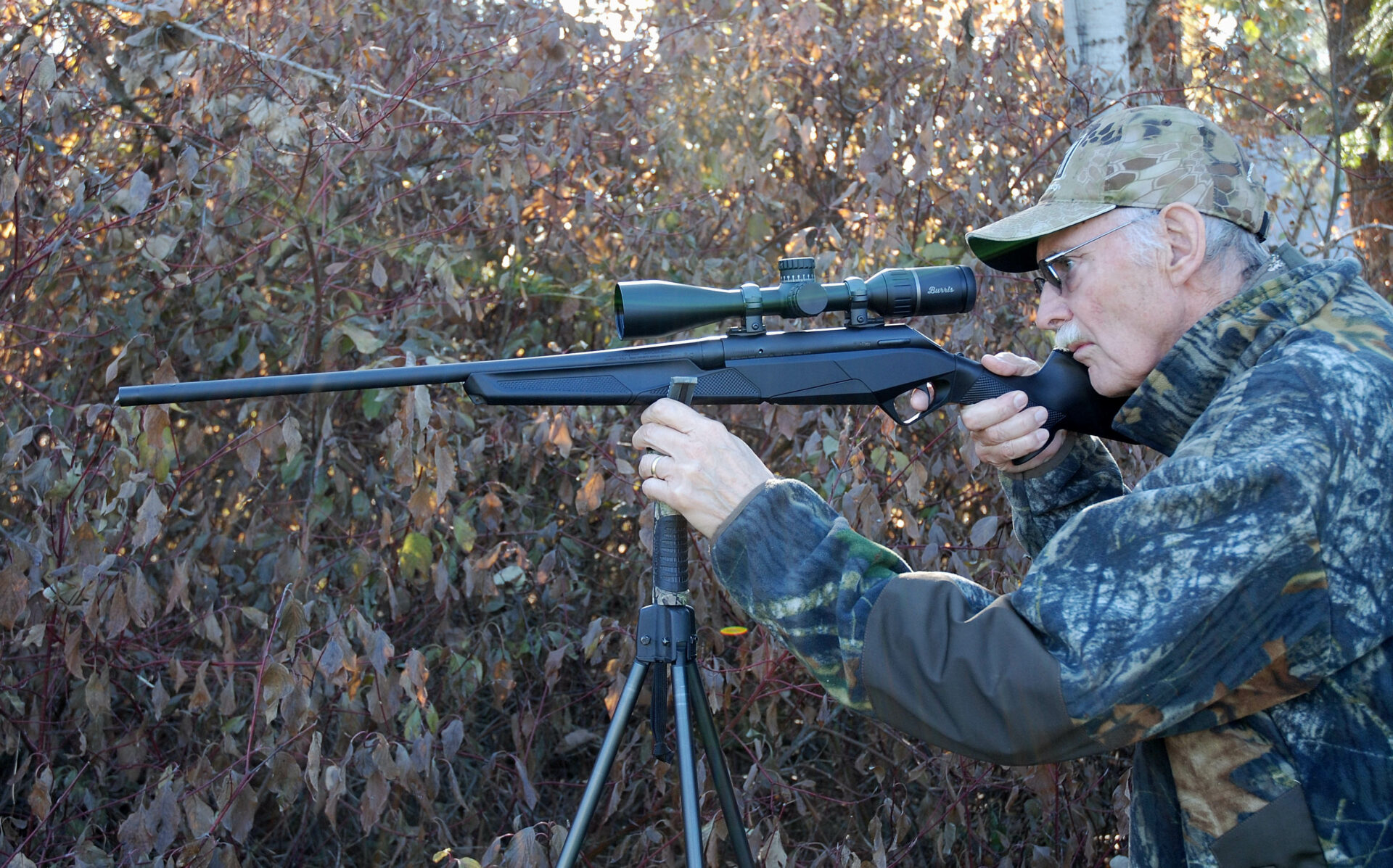 Benelli Lupo 30-06 Springfield
This is not your standard bolt-action rifle. Benelli designers burned a bit of midnight oil before unveiling the Lupo. It is packed full of features that include seven exclusive Benelli patents. The very modernistic and ergonomically styled stock is the most visually striking. In many ways, the Lupo feeds off Benelli's shotgun designs. As a starter, it has a two-piece stock that includes a separate buttstock and forend, very much akin to shotgun stocks. The buttstock can be adjusted for drop, cast and length of pull. Its shims allow the buttstock to be set in any one of 36 different positions, offering an out-of-the-box custom fit for just about any shooter. The buttstock also incorporates a Progressive Comfort system and Combtech cheek pad that collectively reduce felt recoil and muzzle jump. Another feature that caught my eye is the canted trigger guard that allows the trigger to be set higher and further to the rear. Meanwhile, for that perfect hand-to-trigger distance, spacers can be used between the receiver and buttstock. Last, the Airtouch Grip surfaces provide a safe and firm grip on the rifle in all types of weather conditions.
Benelli then set their sights on attaining sub-MOA accuracy. Quite possibly their most innovative design is Lupo's two-piece receiver (alloy lower, steel upper) that is said to provide greater stability for shot-to-shot dependability than the traditional approach of mating the barreled action directly to a full-length, one-piece stock. The Lupo's barrel system begins with a Crio-treated, free floated barrel that is attached to a hardened steel barrel extension, which is bedded into a steel block in the receiver. As part of the Crio treatment, these barrels are frozen to -300 degrees Fahrenheit, which relieves the stress from hammer forging and contributes to a smoother and more uniform surface. Also noteworthy is the sculpted bolt's three large locking lugs, short 60-degree lift and the detachable double stack box magazine that not only flush mounts, but will also hold five rounds. And melding with today's trends, the trigger is adjustable from 2.2 to 4.4 pounds and the muzzle is threaded and capped for a muzzle brake. Last, the top safety is fully ambidextrous, as well as being accessible, and the receiver comes equipped with two short Picatinny rails, as well as being drilled and tapped with No. 8-40 screws for a stout and secure scope mount.

Rifle Specifications
Calibre: 30-06 Springfield
Weight: Seven pounds
Total length: 42.38 inches
Barrel length: 22 inches
Length of pull: Adjustable from 13.8 to 14.75 inches
Drop at comb/heel: 1.5 inches
Twist rate: 1-11 inches
Burris Signature HD 3-15x44mm Illuminated Scope
The Signature HD series is Burris' new line that is effectively priced midway between their elite hunting scope, the Veracity, and the Fullfield IV. This is a premium scope that offers multi-coated, high-performance glass for optimum brightness and clarity, precision machining, five times zoom system, push-pull turrets that lift up to rotate then push down to lock, zero click stop adjustment knobs, precise windage and elevation adjustments, side parallax focus and are offered in a number of reticle options that include Ballistic Plex E3, Plex, Fine Plex and 6.5 Creedmoor. They are also nitrogen filled, waterproof, shockproof, fogproof and come with Burris' Forever Warranty.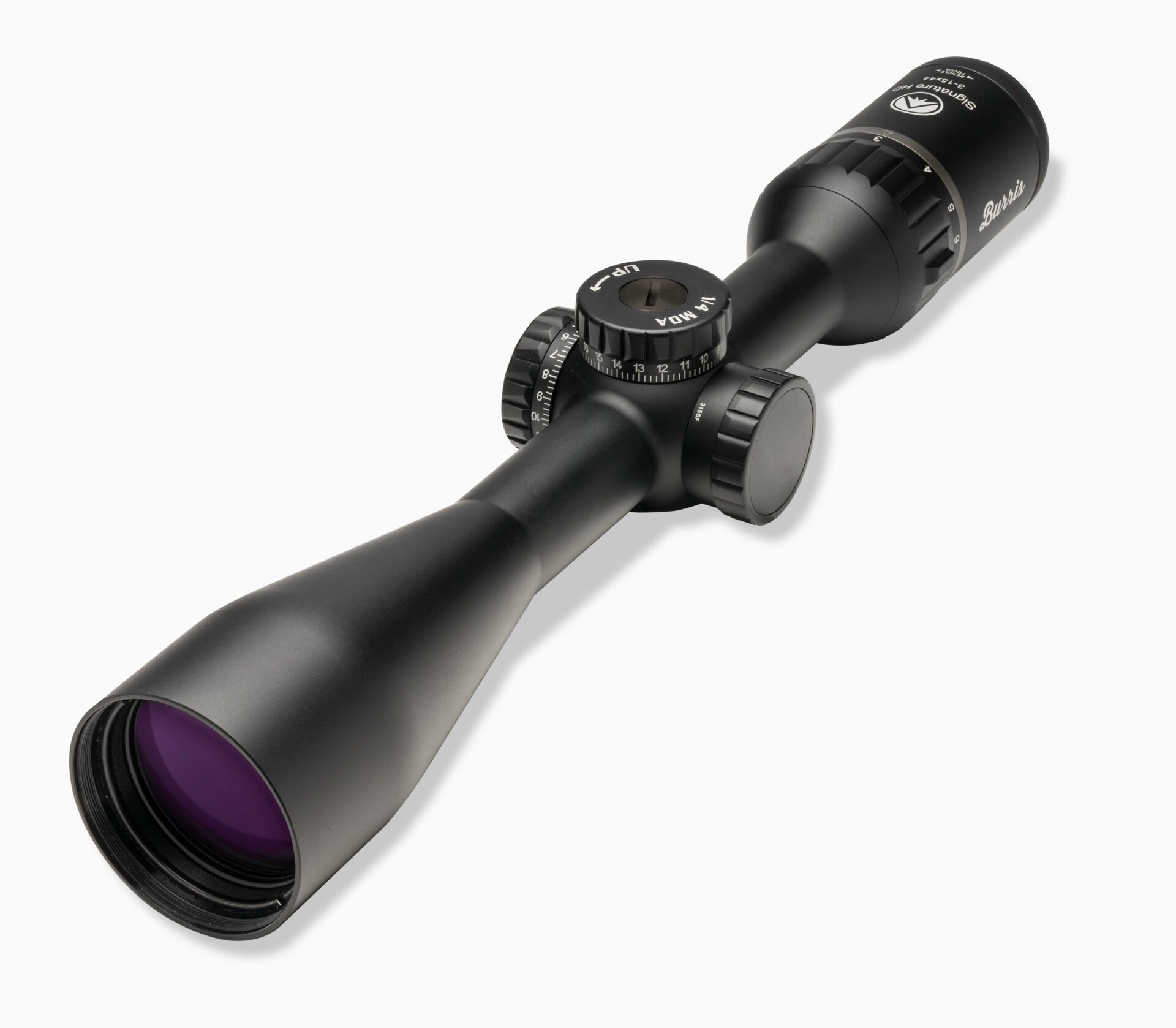 Scope Specifications
Magnification: 5x zoom 3-15x
Objective lens diameter: 44 millimetres
Length: 13.2 inches
Weight: 20.8 ounces
Focal plane: Rear
Tube diameter: One inch
Eye relief: 3.5 to 3.8 inches
FOV at 100 yards: 37.5 to 7.5 feet
Parallax adjustment: 25 yards to infinity
Reticle: Ballistic Plex E3 Illuminated
Test Results
My test rifle arrived all but range ready, with the Burris Signature HD scope already mounted. All that was required was to bore sight it, weigh it and check the trigger pull. The combo weighed in at eight pounds, 10 ounces, with a trigger that was consistent with pull weights between two pounds, seven ounces, and two pounds, 10 ounces. My general assessment of the rifle was positive. I had initially wondered whether I would notice the difference in shooting a bolt-action rifle with a two-piece stock and receiver, but I did not. But then again, handling the all-metal receiver in extreme cold may have altered that view. While this pairing would not be considered an ultralight, it fit and balanced well. I also noted that Benelli's recoil reduction system did knock some of the sting out of this rifle's recoil, although I suspect the weight of this unit was also a contributing factor. Additionally, I liked the location and access to the top safety and the upturned bolt handle for an easy grasp with a gloved hand.
With respect to the scope, for a modestly priced glass it provided better optics than I expected. It offered bright, crisp, clear images and I really liked the push-pull locking turrets, the illuminated reticle and the quick focus eye piece. The only problem I encountered was access with a gloved hand to the side parallax dial, which was situated between the scope and the illumination dial.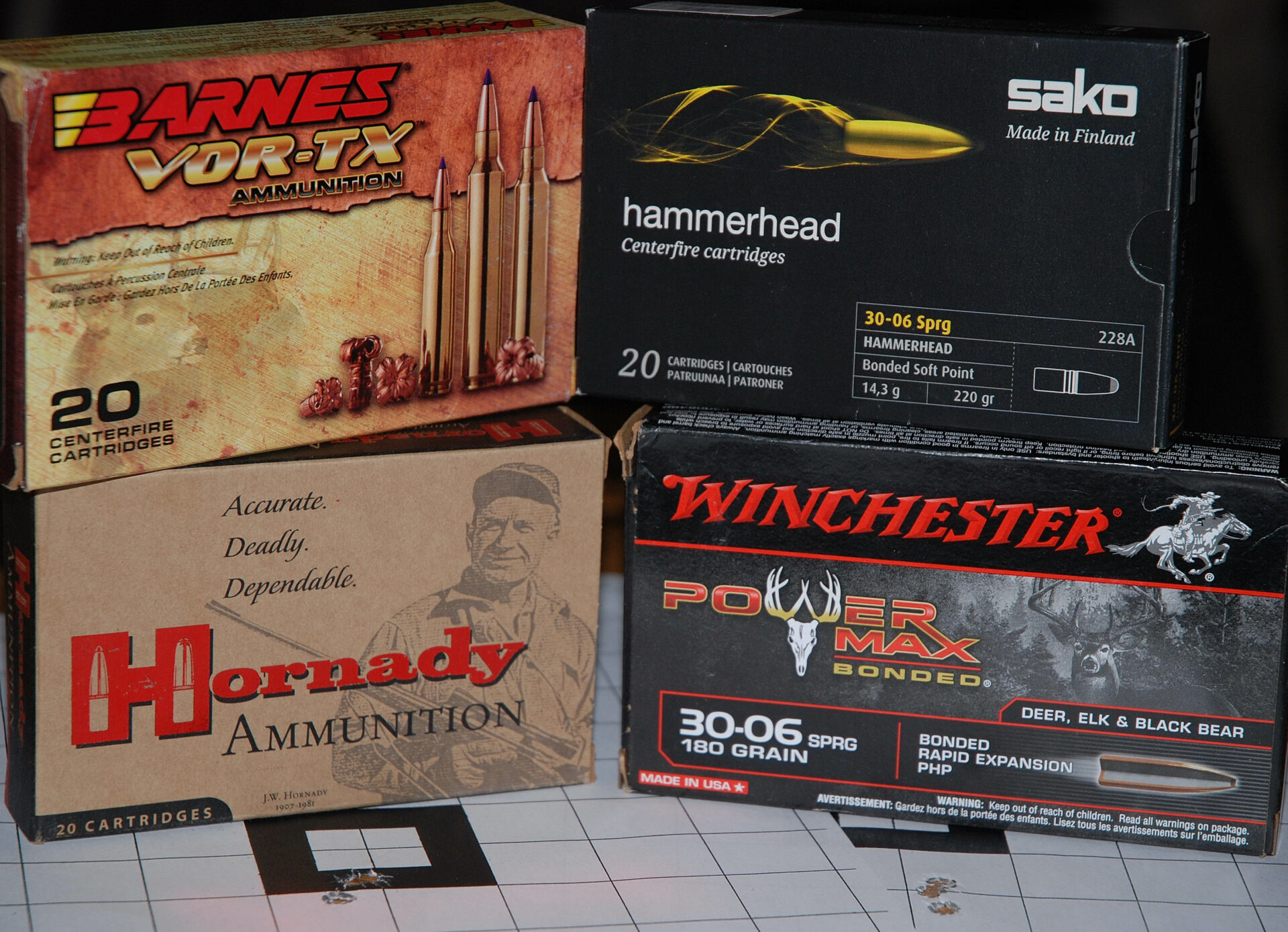 Charts
Factory Ammunition
Brand

 

Bullet
Advertised Velocity
(fps)
Group Size
(in)
Sako Super Hammerhead Bonded Soft Point
150 grains
2,953
1.535
Sako Super Hammerhead Bonded Soft Point
180 grains
2,690
1.385
Sako Hammerhead

Bonded Soft Point

220 grains
2,362
.890
Hornady Precision Hunter
178-grain ELD-X
2,750
1.380
Hornady American Whitetail
180-grain SP
2,700
.695
Hornady Custom
165-grain InterLock
2,910
.510
Hornady Superformance
165-grain SST
2,960
.976
Barnes VOR-TX
150-grain Tipped TSX BT
2,970
1.360
Barnes VOR-TX
168-grain Tipped TSX BT
2,800
.595
Federal Premium
175-grain Edge TLR
2,730
3.020
Fusion
150 grains
2,900
1.141
Browning
185-grain BXC Controlled Expansion
2,700
.815
Winchester Power Max Bonded
180-grain Bonded Rapid Expansion
2,700
.538
Winchester Ballistic Silver Tip
168-grain Rapid Controlled Expansion Polymer Tip
2,790
1.325
Remington AccuTip
150-grain BT
2,910
1.448
Remington Core-Lokt
180-grain PSP
2,362
1.550
Handloads
Bullet
Powder
Case
Manual
Velocity
(fps)
Group Size
(in)
Hornady 150-grain SST
Varget
Hornady
2,900
1.020
Hornady 165-grain SST
H414
Hornady
2,750
.970
Hornady 180-grain BTSP InterLock
H414
Hornady
2,690
.662
Barnes 150-grain TSX
H414
Hornady
3,056
1.215
Barnes X 168-grain
Varget
Hornady
2,790
.768
Note: Manual velocity refers to the velocity taken from the manufacturer's reloading manual for that bullet and powder charge and are not absolute.
Last Shot
Basically speaking, the rifle provided the type of accuracy I expected. Out of 21 combined loads, seven factory and three handloads bettered MOA accuracy. My handloads averaged .927 inches, whereas factory ammunition averaged just a tad larger at 1.19 inches. When testing this many loads, I expected some variance in accuracy, but there were still a couple of surprises. First, some of the ammunition I expected to shoot well, did not. Second, while my handloads showed less variance from group to group, three of the factory loads bettered any of my handloads. Hornady Custom 165-grain Interlock, Winchester 180-grain Power Max Bonded and Barnes VOR-TX 168- grain Tipped TSX all delivered excellent accuracy with groups that all but attained a half inch. All three would make excellent choices for just about any game you might have in mind. Or if you were looking to tackle a heavyweight, Sako 220-grain Hammerhead Bonded with its sub-MOA accuracy would do the job nicely.