One of the easiest dinners to make (and one of the most difficult to get a nice photo of), this is a wild game twist on a classic. Commonly known as shepherd's pie, this name refers to when the dish is made with ground lamb. The beef version is known as cottage pie, and that's why this recipe with wild game is dubbed wild cottage pie. Feel free to make this with a variety of ground wild game: moose, elk, deer or even bear are all delicious additions. The dish takes about one hour to make and can easily serve six people.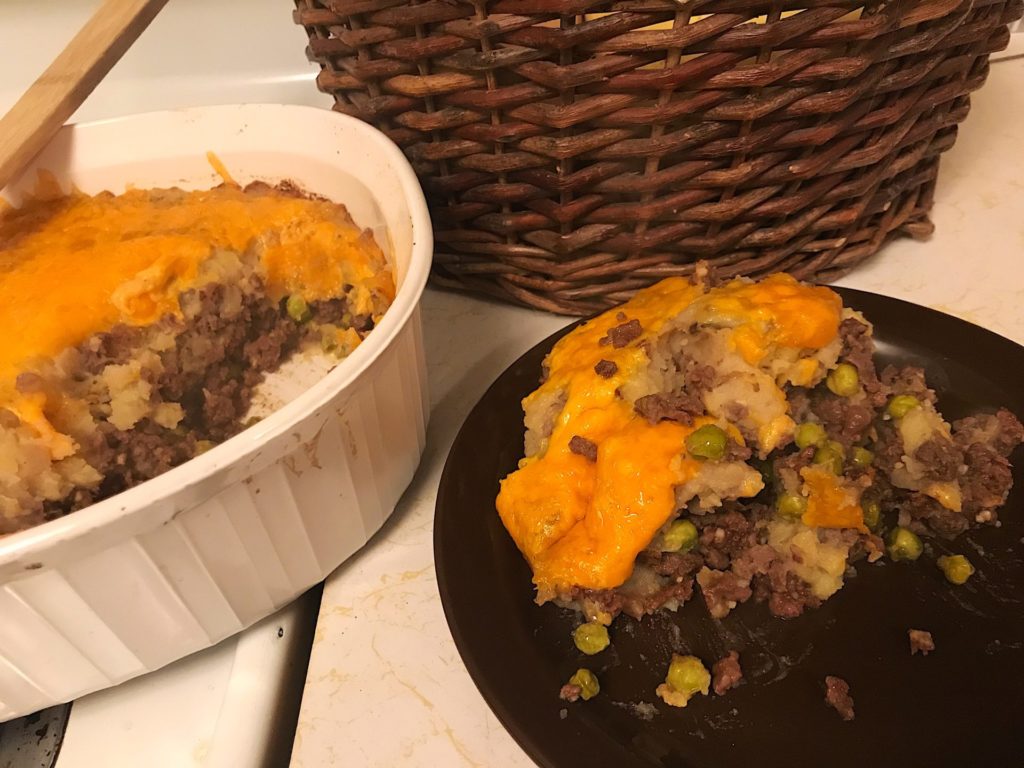 Ingredients
For potato layer:
4 large potatoes
3 tbsp butter
1/2 cup milk
2 tsp garlic powder
1 tsp onion powder
For meat layer:
2 lbs ground wild game
1 medium onion, diced
3 cloves garlic, minced
Salt and pepper, to taste
2 tbsp flour
2 tbsp tomato paste (can substitute with ketchup)
1 cup beef broth
1/2 tbsp Worcestershire sauce
1 tsp oregano
1/2 tsp rosemary
1 cup frozen peas
1 cup frozen corn
1/2 cup frozen carrots
1 cup cheddar cheese, grated
Method
Preheat oven to 375 degrees Fahrenheit and grease a 9×13 inch casserole dish.
Cube four large potatoes and add to a pot, along with enough water just to cover. Bring to a boil for approximately 15 minutes or until soft. Drain water, add butter, milk, garlic powder and onion powder to potatoes, and mash together until smooth. If you find the potatoes are still a bit lumpy, a hand mixer can be used. Set aside.
In a large pan on medium heat, brown ground wild game, onion and garlic. Season with salt and pepper. When using wild game, there most likely will be little fat to drain off, but if there is any remove the fat before proceeding. Sprinkle flour over meat and cook for one minute. Stir in tomato paste, broth, Worcestershire sauce and herbs. Bring to a boil and then reduce heat to medium low before adding peas, corn and carrots. Cook for approximately 10 minutes, or until everything is heated through.
Pour meat mixture into greased casserole dish and spread mashed potatoes over top in a smooth layer. Finally, top with grated cheddar cheese.
Bake uncovered in a 375-degree-Fahrenheit oven for 30 minutes (just until the cheese gets a nice colour to it and everything is heated thoroughly). Remove from oven and let sit for five minutes before serving – watch out, it will be piping hot!