Smoked moose heart is a seasonal treat that has found a permanent place in my wild game cooking repertoire. Once a highly prized delicacy, eating heart fell out of favour some time ago – lucky for us, it is now making a comeback! Heart is rich in vitamins, minerals and proteins; when prepared correctly, you will be converted from a sceptic to a believer.
This recipe will work for one moose heart. If you are using a smaller heart, cut the recipe in half.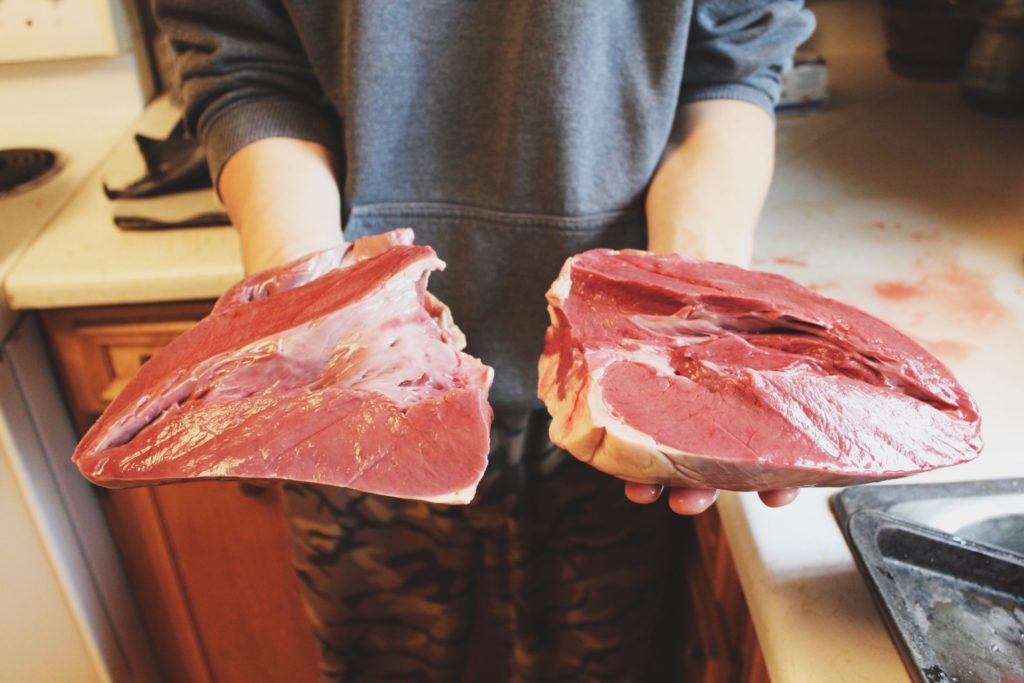 Brine ingredients
3 cups water
1/2 cup whiskey (replace whiskey with water for an alcohol-free brine)
4 tablespoons honey
4 tablespoons low-sodium soy sauce
3 tablespoons Worcestershire sauce
4 cloves minced garlic
2 teaspoons pepper
Dry rub ingredients
2 teaspoons paprika
2 teaspoons garlic flakes
2 teaspoons oregano
½ teaspoon pepper
½ teaspoon onion powder
Method
As soon as possible after harvest, rinse the heart with cold water to remove excess blood from the arteries. Add the heart to a pot filled with water and salt (I like to use a ratio of four litres of water to one-and-a-half cups of kosher salt) and leave in the fridge for anywhere from two to seven days. The saltwater works its way through the muscle and helps remove any remaining clots and blood in the smaller vessels.
Once you are ready to prepare the heart, remove it from the fridge and trim any excess fat, as well as any valve pieces (hard, white stuff in heart). Give one final rinse to clean the heart. Combine all ingredients for brine and place heart into brine. If you don't have a large enough container for this, feel free to cut the heart in half. Soak in brine for two to four hours.
During this time, prepare your smoker according to manufacturer's instructions. I use a combination of maple and hickory wood, as it complements the brined heart well. Bring your smoker up to 230 to 250 degrees Fahrenheit.
Remove heart from brine, rinse well with cold water, and pat dry. Mix dry rub ingredients together in small bowl and rub into heart, making sure to work the rub into the meat well.
Place heart on centre rack of smoker and cook until an internal temperature of 145 degrees Fahrenheit is reached. Depending on your smoker, this can take anywhere from two-and-a-half to four hours*. Once this temperature is reached, remove heart from smoker and wrap in aluminum foil to rest for approximately 10 minutes. This helps retain the juices and keeps the heart tender.
To serve, slice thinly against the grain. Smoked moose heart goes well with roast potatoes and mixed vegetables.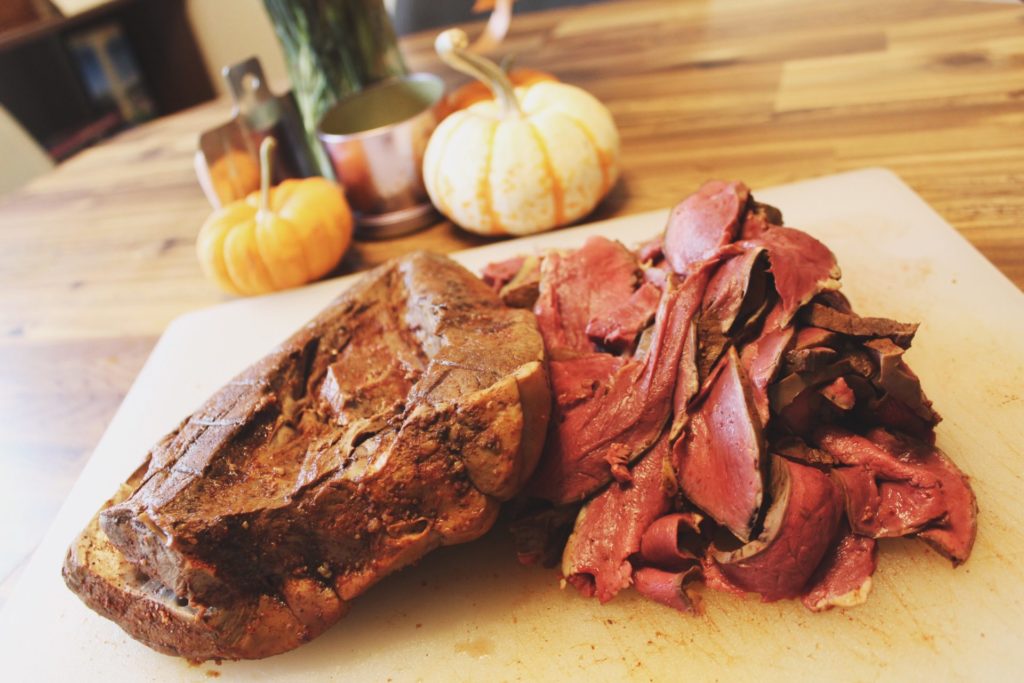 *An internal temperature of 145 degrees Fahrenheit produces a medium-rare heart. I would advise against cooking much past this point, as you risk tougher and drier meat, but if you would like a cook closer to medium, place the heart in a covered dish, set in an oven pre-heated to 350 degrees Fahrenheit and watch closely until your preferred doneness is reached.