A beautiful wild turkey always looks amazing when roasted whole and served with a bowl of tangy wild cranberry sauce on the side, but, let's face it, not every harvested bird lands in the kitchen in platter-perfect condition so this is a handy recipe to call upon when you have to work your way around a considerable amount of shot damage.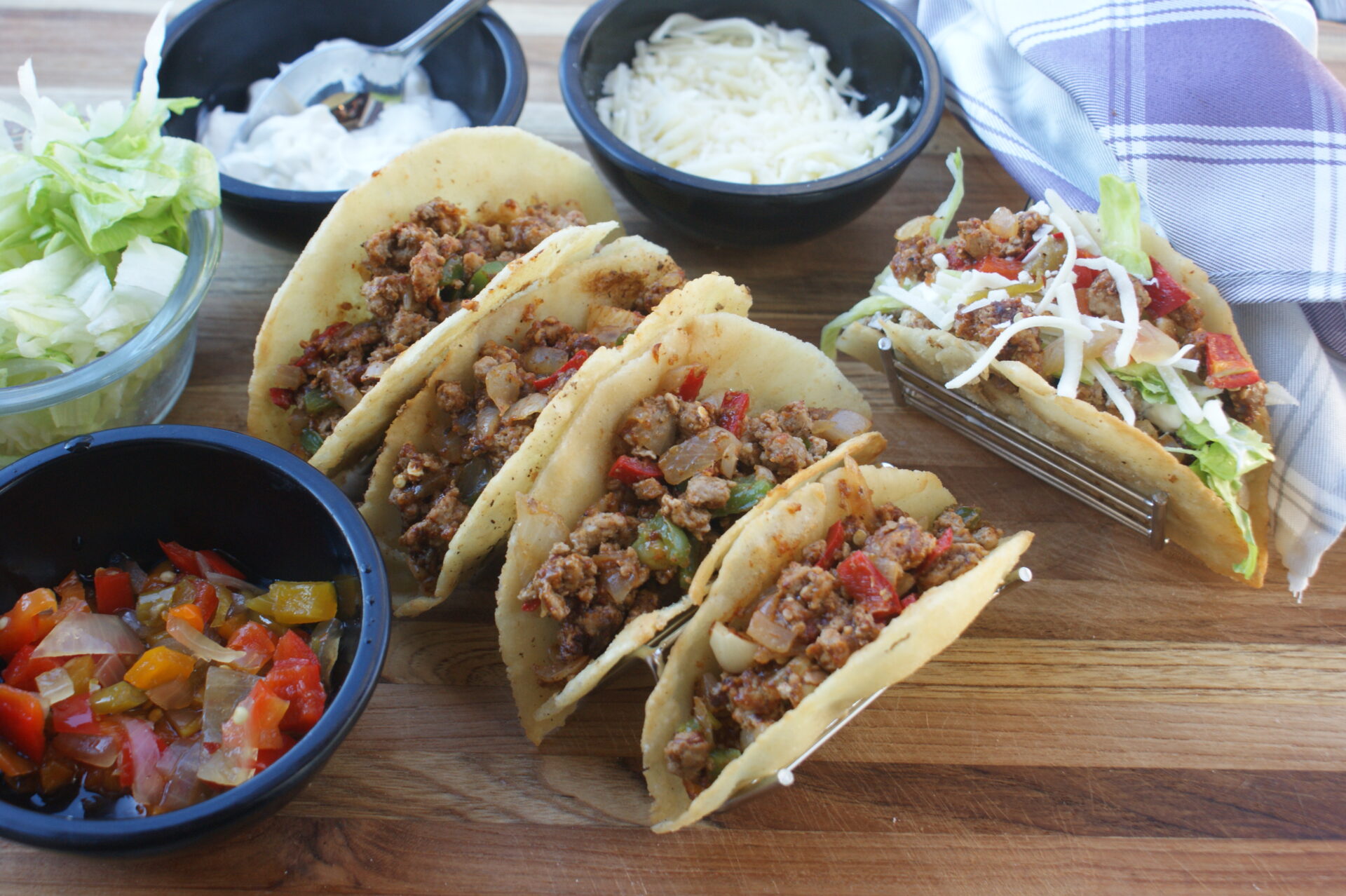 Once you've deboned and ground the meat, you'll have enough ground turkey for several meals instead of eating all your bird in one shot and the bonus deal is, you can use the carcass for simmering into a tasty pot of totally wild turkey soup! And, I assure you, these turkey tacos will earn lots of praise from your hungry gang of turkey "gobblers."
The biggest decision you have to make when preparing this recipe is whether to serve the spicy turkey filling in soft, homemade tortilla wraps or in crispy taco shells. Half my family favour the wraps, while the rest prefer crispy, hard shells so my solution is to offer both.
All you have to do, after the wraps and turkey filling are made, is fill some small bowls with toppings such as grated cheese, sour cream, chopped tomato or salsa, fresh or pickled jalapeno slices and shredded lettuce. Then let the assembling begin.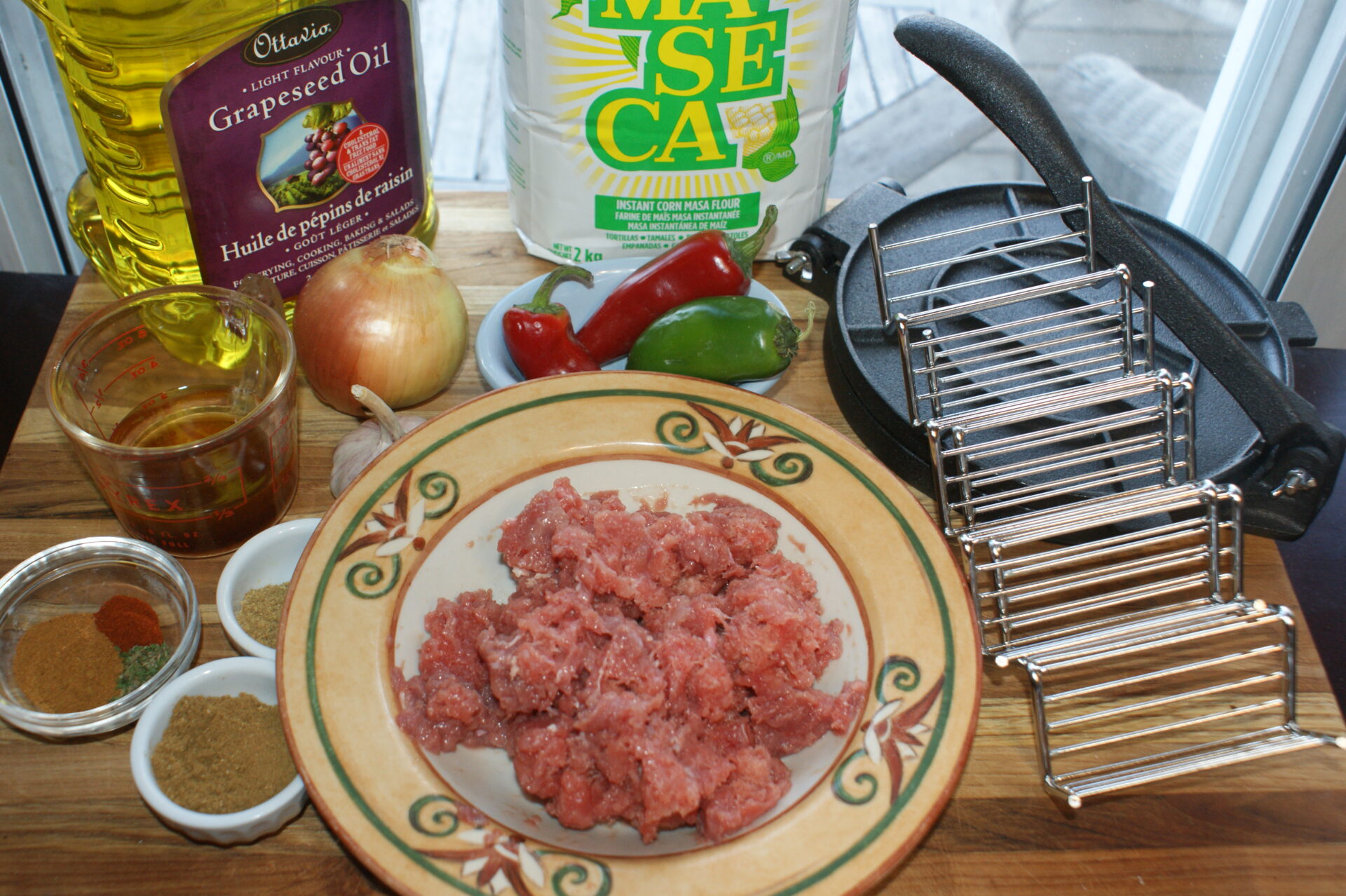 Ground Turkey Taco Filling
Don't fret if you didn't have any luck on your last turkey hunt, because you certainly can use domestic ground turkey (or even chicken) in this recipe and everybody will still be wild about these tacos. Makes enough filling for six tacos.
1 pound ground turkey
1 tablespoon oil (grapeseed or vegetable oil of choice)
1 minced onion
2 cloves minced garlic
1 or 2 diced jalapeno or other hot peppers (optional)
1 tablespoon chilli powder
1/2 teaspoon each of smoked paprika, ground cumin and ground coriander (or enough taco seasoning mix to suit taste)
Pinch dried oregano
4 tablespoons tomato paste
4 tablespoons water
1 1/2 teaspoons brown sugar
Salt and black pepper to taste
Few dried chilli flakes
Heat oil in a skillet, add the turkey, break up into chunks with a fork and cook until no longer pink. Add the onion, garlic and jalapeno, sauté until soft. Sprinkle in the spices and oregano, cook until absorbed. Mix the tomato paste with the water and brown sugar, pour over the meat and simmer until liquid is evaporated. Season with salt and pepper, stir in the chilli flakes and it is ready to load.
Homemade Soft Tortillas & Crispy Taco Shells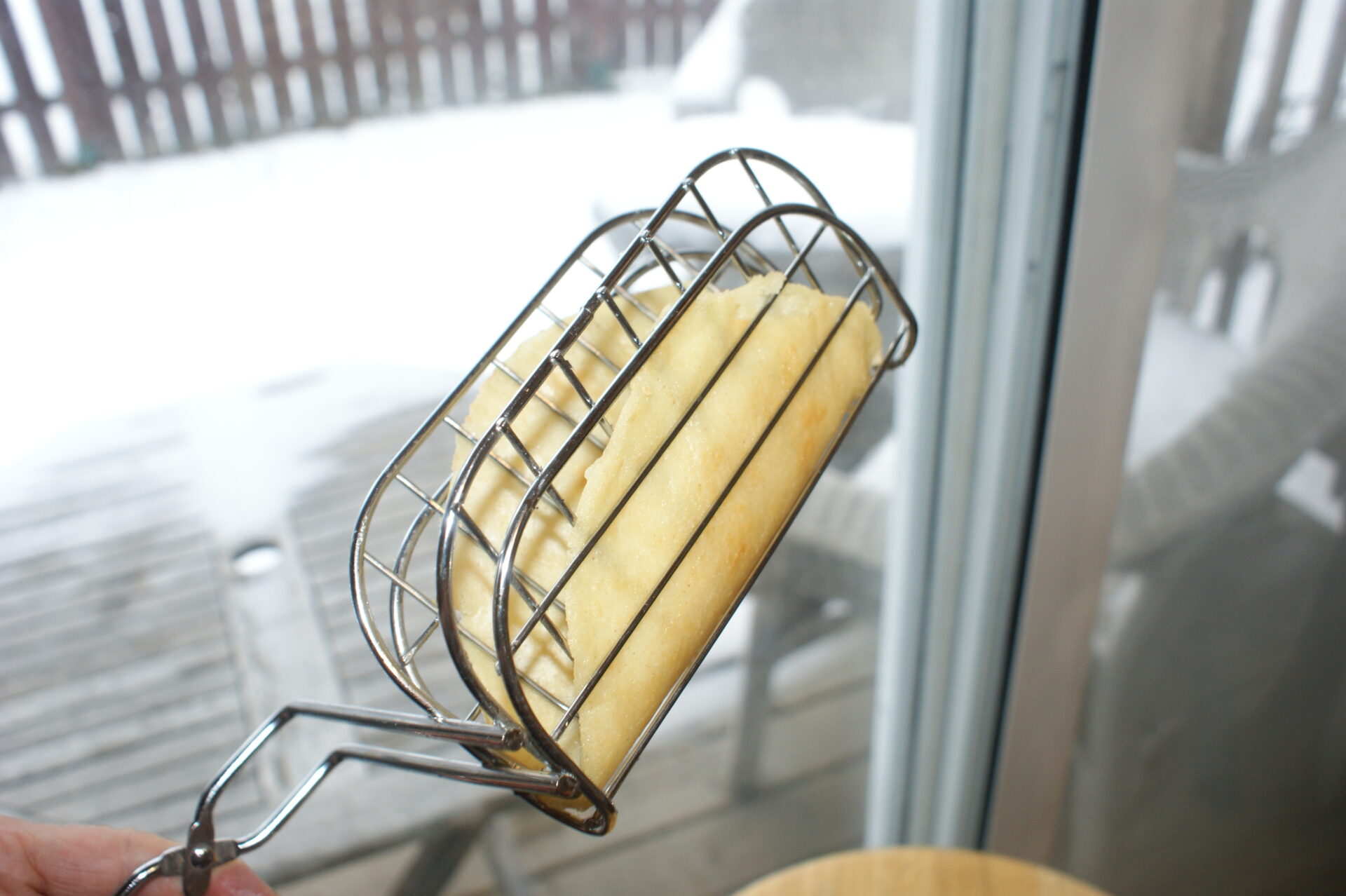 So easy to make when you have a tortilla press, such as mine. Once you make the tortillas, you can serve them as soft wraps or put them into a taco shell deep-frying basket (as shown in photo) and fry in hot oil until crispy and golden. Of course, when time is running short and a turkey taco craving strikes, simply use store-bought, ready-made tortilla wraps or crispy stand-up taco shells in place of homemade.
2 1/2 cups instant corn masa flour (this flour is excellent for capturing authentic Mexican taste and aroma)
1 3/4 cups cold water
Combine corn flour and water together and mix thoroughly for one minute to form a soft dough. If the dough is too dry, add a little more water. If it's too wet, add a little more corn flour. Divide the dough into 20 pieces and form into balls with your hands. Line your tortilla press with plastic wrap. Place a ball of dough in the centre of the press, cover with another piece of plastic wrap and press down to flatten the dough. Repeat until all tortillas are made. Heat a heavy or cast-iron skillet over the stove burner and, working with one flattened disk at a time, cook the tortilla (in an ungreased pan) for about 30 seconds per side. Place on a cloth and cover to keep warm while cooking the rest. The tortillas are now ready to lay on a plate, load up with turkey taco filling, top as desired and enjoy. If you want crispy shells, place a tortilla in the taco shell deep-frying basket, submerge in oil heated to 365 degrees Fahrenheit for a minute or two and fry until crispy and golden. Repeat until you have made as many as you need. Drain on paper towels, set on a taco rack for hands-free loading, spoon on the turkey filling and crown any way you wish. Unused shells can be stored in the fridge for up to a week or frozen for safe keeping.