Some of my favourite trout fishing waters are lined with sandy shorelines and hugged by rocky cliffs, which are prime habitat for two of our province's top edible wilds: mouth-watering nodding onions and sweet, tangy raspberries, which share the same growing season and are perfect for pairing up with a fresh-caught rainbow – all that's needed for creating this totally wild fisherman's feast.
Once the "keeper" is in the creel, it's time to take off on a fun, foraging adventure and believe me, gathering a supper's worth of wild food is almost as thrilling as reeling in the fish!
Nodding onions (Allium cernuum) grow throughout the province, except for the Queen Charlotte Islands. The plant spreads by seeds as well as bulb offshoots, so they tend to flourish wherever the wind sows them, taking root in sandy soils and forcing their way up amongst rocks and stones, but the most bountiful patches grow in open woodlands and on sunny slopes.
The bulbs are white, covered in purplish skin, with thread-like roots resembling those of a green onion. The leaves are grassy, narrow and shorter than the solid round flower stem. Nodding onions bloom in July and August, and the pinkish flowers grow in a star-like cluster which hangs or "nods" their heads towards the ground, thus their name. It's easy to make positive identification simply by the plant's pungent, onion-like odour. The onions are at their prime for picking during their flowering season, but they can be harvested long into fall, at which time they become a little stronger in flavour.
To prepare nodding onions, peel off the outer skin from the bulb and discard. Wash in cold water. Bulbs and leaves can be used in place of green onions and chives in almost any recipe and are more tender upon cooking. The flowers make a pretty garnish for savory dishes.
Wild raspberries need no introduction to the outdoorsman, or anybody else for that matter! Somewhat smaller and so much sweeter than their cultivated kin, once you've tasted them in this recipe, you'll have a hard time keeping yourself out of the bramble bushes, especially when trout is on the menu.
Since a supper-sized rainbow doesn't hold enough of this savory stuffing to satisfy my appetite, I find it more suitable to form the mixture into patties (rather than stuffing into the fish) and brown them in the skillet alongside the catch.
This meal is geared for one hefty serving, but it can be shared (if you must) and is easy to multiply.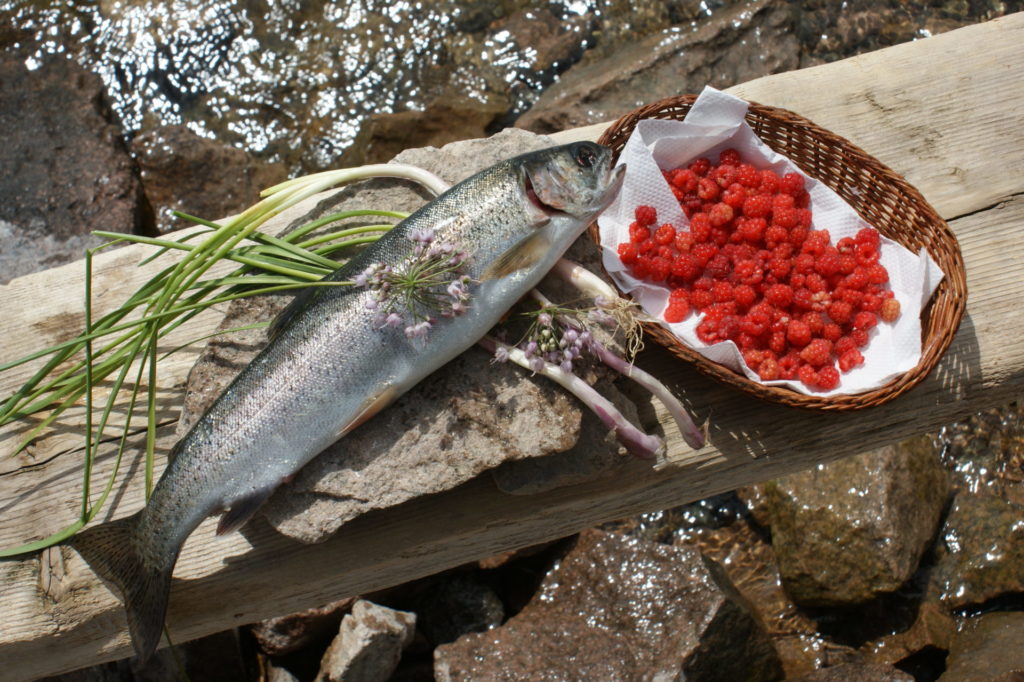 Ingredients
1 supper-sized trout (fins snipped off with a pair of scissors and head removed if fish is too lanky to lay flat in the pan)
Lemon juice
Flour (seasoned with lemon salt and pepper)
4 tablespoons butter
2 tablespoons vegetable oil
Moisten fish with lemon juice, dredge in flour. Heat butter and oil in a cast-iron or heavy-bottomed skillet until frothy. Fry fish until both sides are crispy and golden and flesh is cooked through, about five to eight minutes, depending on thickness of fish. Drain on paper towels and hold hot while frying the patties. To serve, place fish on a platter alongside the patties and spoon raspberry sauce over top.
Stuffing Patties
2 tablespoons butter
1/2 cup chopped nodding onions, bulbs and stems
2 cups dry, coarse breadcrumbs (or Stovetop Dressing, if you'd rather)
1/2 cup leftover mashed potatoes (if making in camp, I use reconstituted instant potatoes)
salt and black pepper to taste
Pinch of thyme
1 cup boiling water
1 lightly beaten egg
Melt butter in skillet, sauté onion until soft. Add breadcrumbs, potatoes and seasonings. Stir in the boiling water. Cover and let stand until water is absorbed and mixture is cool. Add egg, mix well. Form into (two large or four small) patties, dredge in flour and fry in hot oil until golden on both sides, about three minutes.
Raspberry Sauce
1 cup (more or less) raspberries
1 tablespoon olive oil
1 teaspoon lemon juice
2 tablespoons red wine
3 tablespoons honey
Mash the berries with a fork. Place in a bowl, add remaining ingredients and mix well. Let stand until serving time.