If you're tired of nibbling on the same old pocketful of GORP, then it's time to update your trail snack recipes with something new and exciting to fuel the body, all while warding off hunger pangs. Why not ditch those handfuls of raisins and peanuts (from which GORP got its name) and raise the bar, pardon the pun, with my homemade, energy-packed snacking bars that are easy to make and guaranteed to tame a growling belly. But, I must warn you, they're so good your pockets will always be running on empty.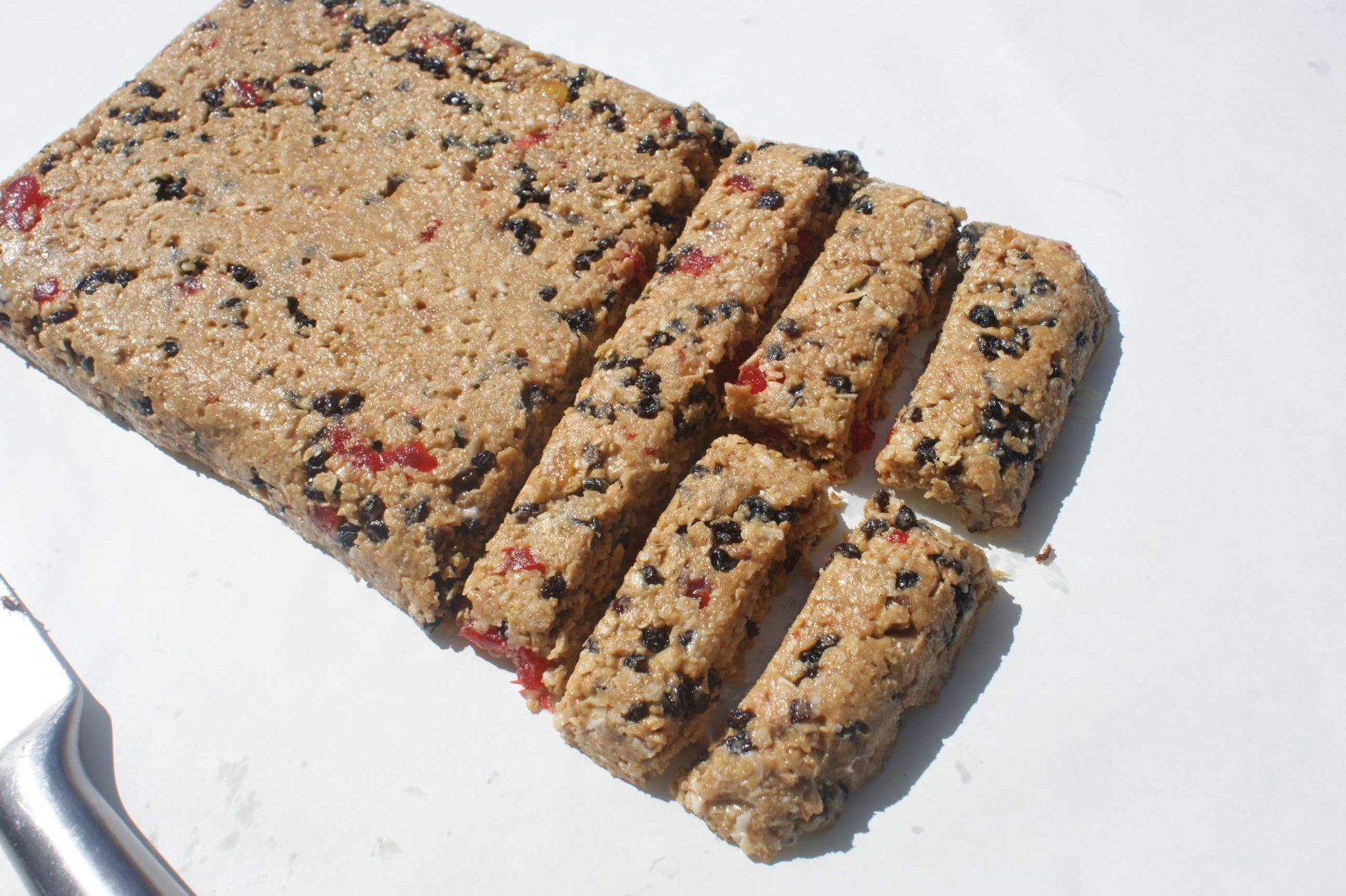 Fruity Granola Trail Bars
A naturally sweet, no-bake bar that's moist and chewy.
Ingredients:
3/4 cup peanut butter
1/3 cup honey
4 tablespoons coconut oil
1 teaspoon vanilla extract
1/4 teaspoon cinnamon
3 cups quick-cooking oats
1/4 cup chopped pecans (or other nuts of choice)
1/2 cup chopped dried cherries
1/4 cup chopped maraschino cherries
1/2 cup dried currants, blueberries or raisins
1/4 cup shredded coconut
3 tablespoons chopped dried pineapple
1 tablespoon grated orange zest
Method:
Line a 13 by nine by two-inch baking pan with wax paper and grease lightly. Combine peanut butter, honey and coconut oil in a microwavable dish, microwave on high for one minute or until bubbling. Stir in the vanilla, set aside. Combine remaining ingredients in a large bowl. Pour melted peanut butter mixture over the dried ingredients and mix well. Empty into the prepared pan, pack down firmly and cool. Remove from the pan. Slice crosswise into one-inch bars, then cut each bar in half, yielding 18 bars. If you want smaller bars, cut accordingly.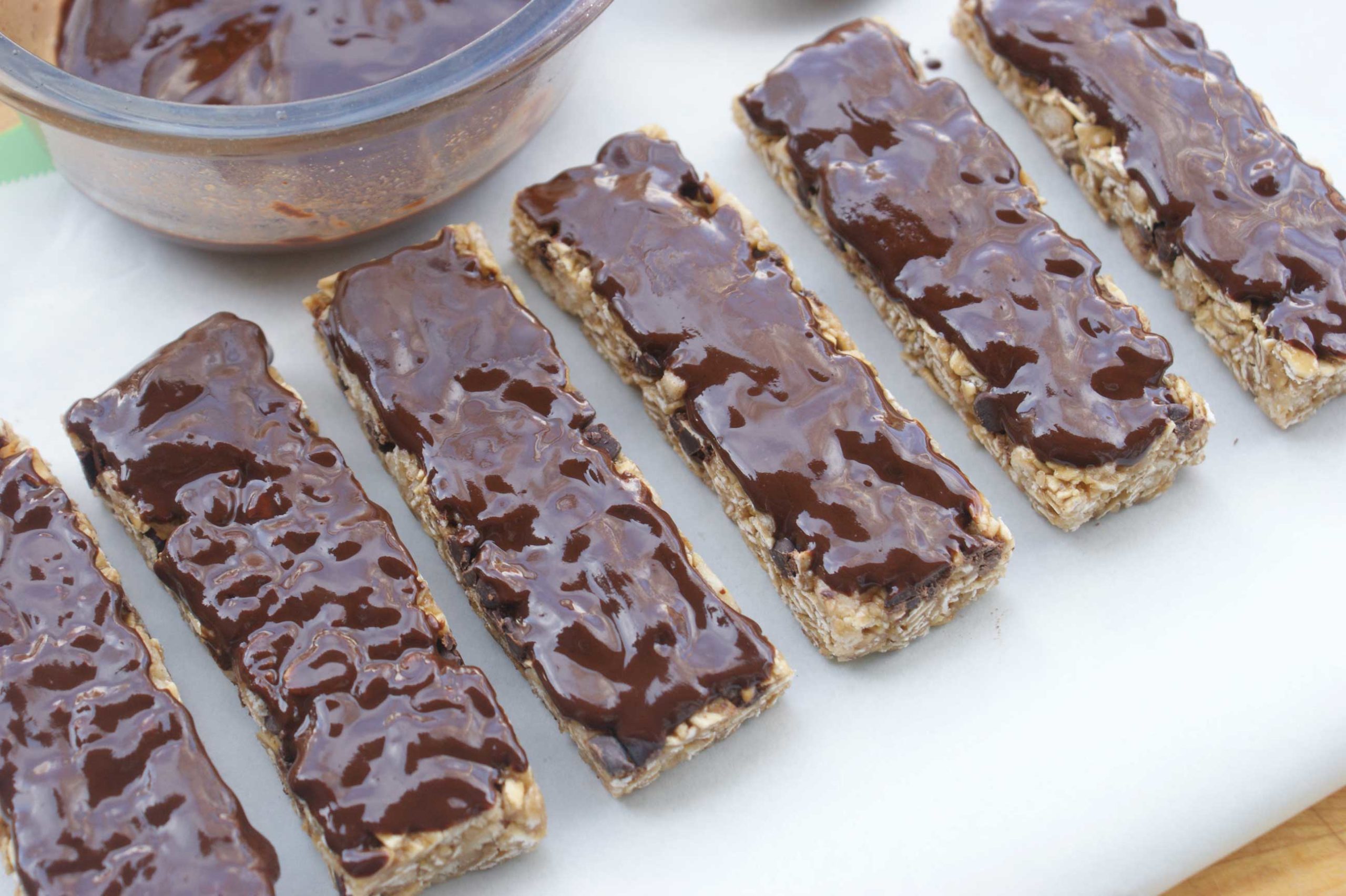 Chocolate-Topped Garbanzo Bean Bars
We all know legumes are loaded with protein and fibre, but who knew they could be so tasty hidden in a snacking bar such as these, which pack a powerful punch!
Ingredients:
3 cups rolled oats (not quick cooking)
1/2 cup walnut pieces
1 (540 milliliters) can garbanzo beans (chickpeas) drained and rinsed under cold water, juice reserved
1/2 cup peanut butter
1/4 cup birch or maple syrup
1 teaspoon maple extract
1/2 teaspoon cinnamon
1 teaspoon baking powder
3 tablespoons chickpea liquid
3/4 cup chocolate chips
Method:
Grease a 13 by nine by two-inch baking pan, set aside. Process oats and nuts in the food processor for 30 seconds. Add chickpeas, pulse two or three times. Add remaining ingredients, except chocolate chips, process until blended and mixture forms a ball. If the mixture is too dry, add a little more chickpea juice; if too moist, blend in a few more oats. Empty into the prepared pan, dip your fingers in water and pack down firmly. Bake at 350 degrees Fahrenheit for 20 minutes. Scatter chocolate chips over the top and allow to melt. Spread evenly, cool and cut into bars. Or if you only wish to glaze half of the bars, melt chips in the microwave and glaze as many cut bars as you wish.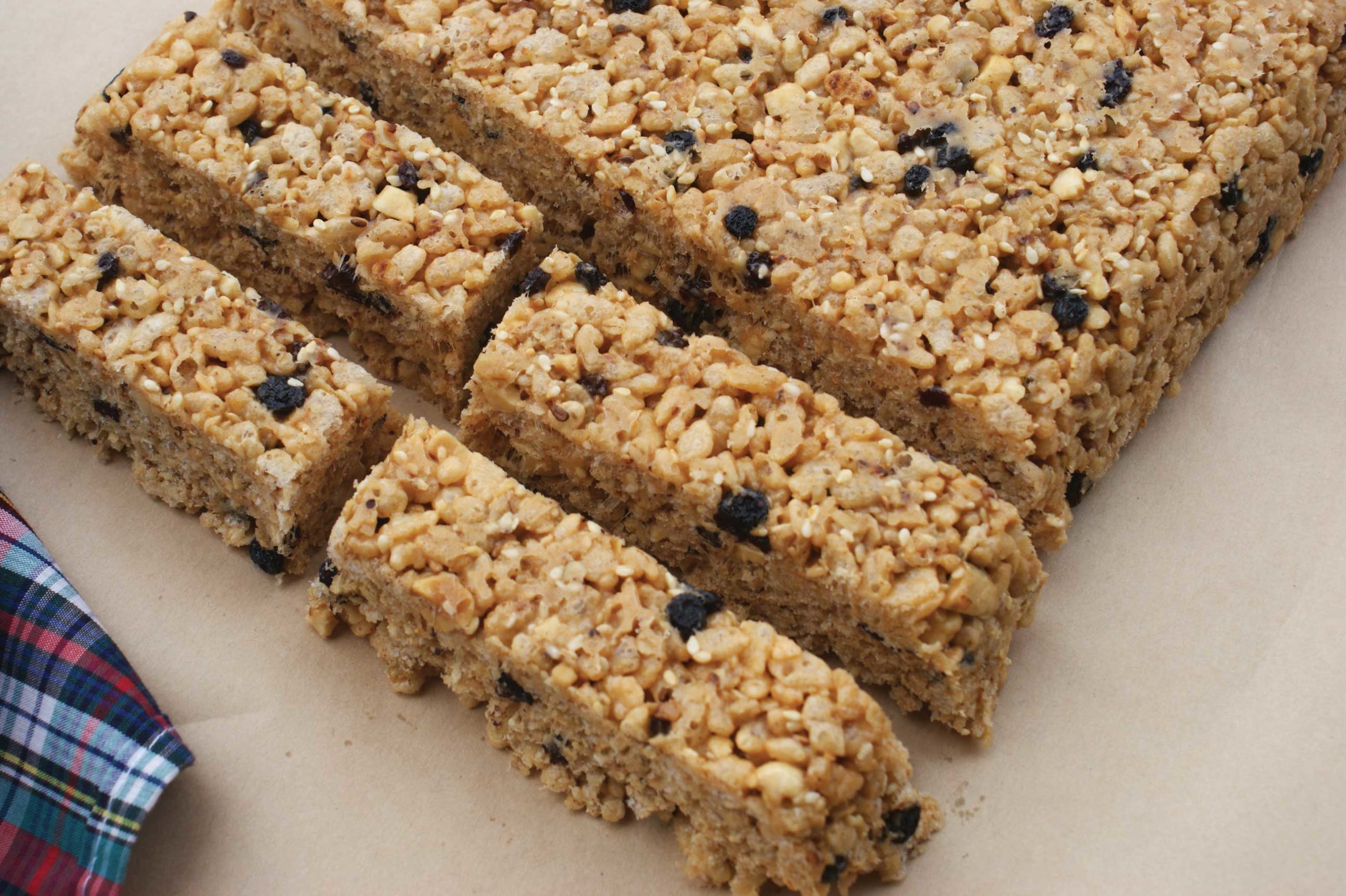 Crispy Rice & Sesame Bars
A delightfully light and crispy bar that's fast and easy to make when an outdoor adventure arises on short notice.
Ingredients:
3 cups crisp rice cereal (Rice Krispies)
1 1/4 cups quick-cooking oats
3/4 cup sesame seeds
10 ounces mini marshmallows
1/2 cup peanut butter
1/4 cup plus 2 tablespoons butter
1/4 cup chopped peanuts
1/2 cup dried cranberries (or raisins, currants or other dried fruit of choice)
Method:
Grease a 13 by nine by two-inch baking dish, set aside. Put the cereal, oats and seeds in a large cast-iron or heavy-bottom skillet and toast, shaking the pan constantly until oats and seeds begin to turn golden. Set aside. In a large saucepan, combine marshmallows, peanut butter and butter and cook over low heat until melted. Stir in the cereal mixture, peanuts and cranberries. Press firmly into the prepared pan. Cool and cut into bars. Makes 20 bars.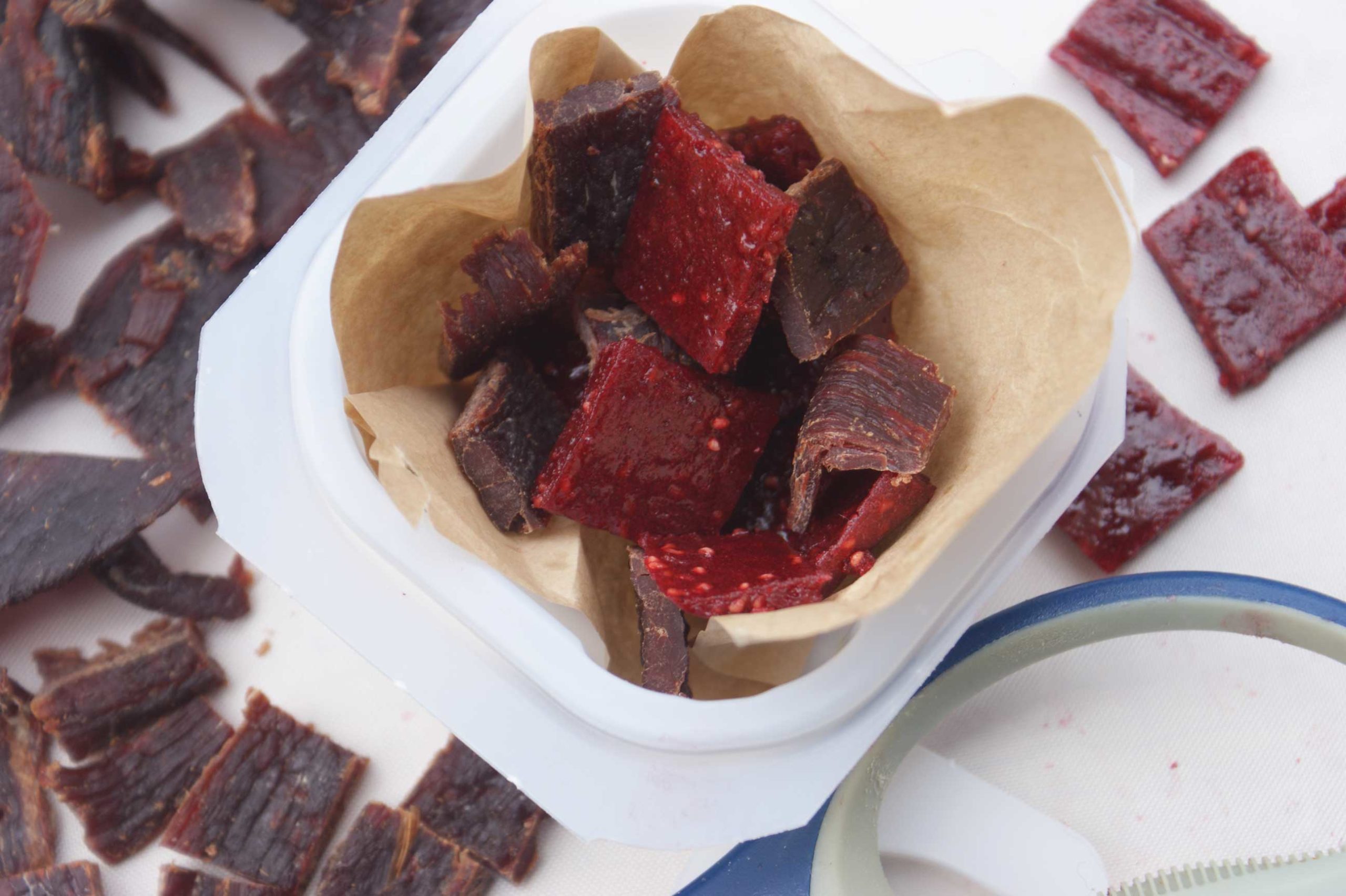 Chew-Chews
When I was a kid, my mom invented "chew-chews" while spring cleaning the pantry by simply emptying leftover jerky tidbits from the bottom of a gunny sack (which held our winter supply of dried venison) into a bowl and adding scraps of fruit leather trims. Chew-chews are still my all-time favourite pocket snack because when you pop a pinch of salty, spicy jerky and sweet, tangy fruit leather into your mouth at the same time, it's a taste sensation like no other! To make, snip jerky and fruit leather strips into bite-sized pieces using kitchen scissors and mix together in a canister. Tuck a snack-sack of chew-chews into your pocket before hitting the trail and you won't be able to stop nibbling.