For years I silently pondered whether, or if ever, Tikka, a brand renowned for its affordable quality, was ever going to introduce a rimfire rifle. Especially since their sister company, Sako, has had a rimfire on the market for years now. Well, the wait is over. The Tikka T1x MTR hit the market in 2019 with a full array of features. Over the past few decades, I have owned and shot a number of Tikka rifles, and I liked them all. Most shot very well, while some, such as a T3 .300 WSM, shot exceedingly well. It was with genuine anticipation that I awaited the arrival of a T1x MTR test rifle.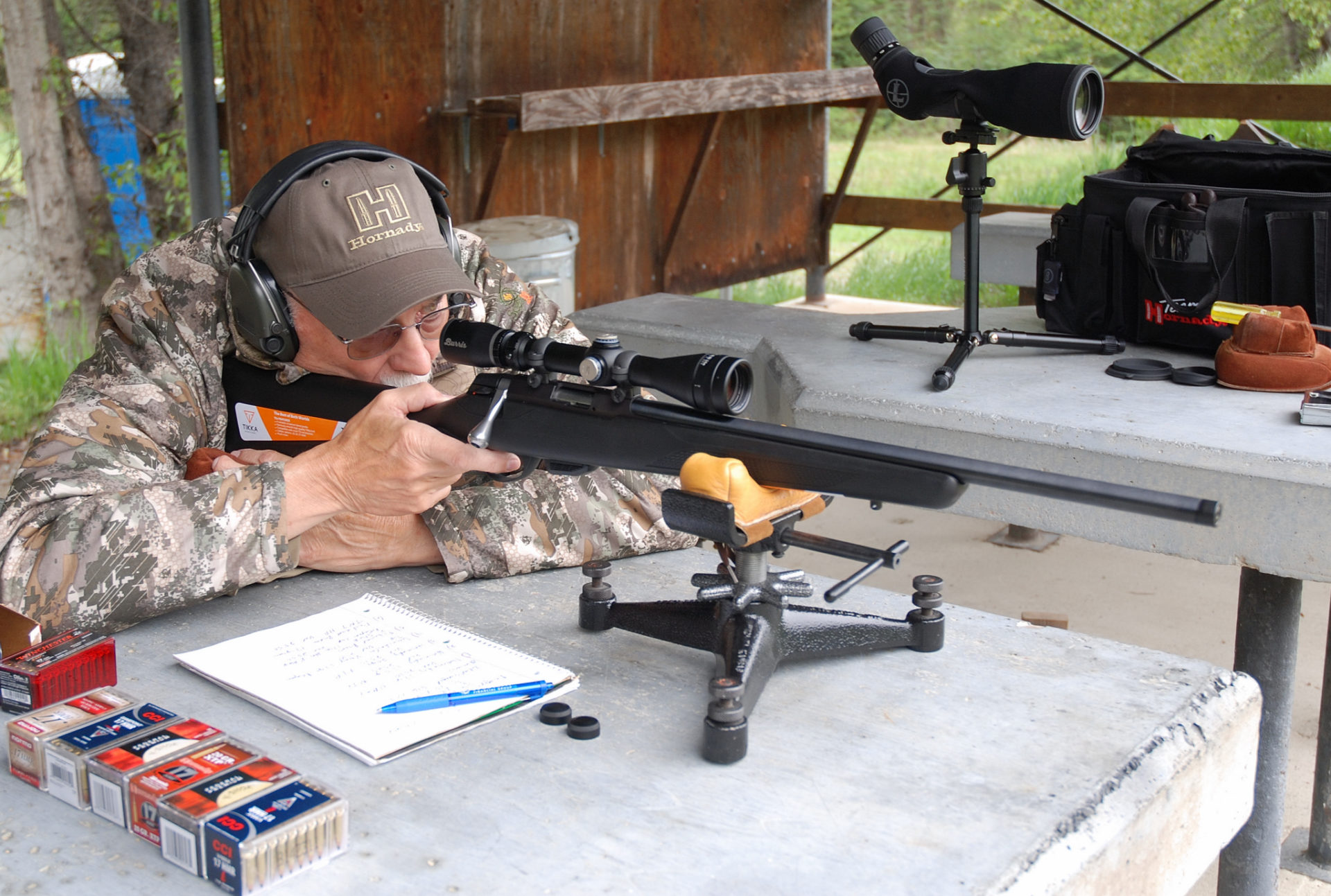 Tikka T1x MTR .17HMR
While the T1x MTR was essentially designed as a hunting rifle, its MTR (Multi Task Rimfire) moniker suggests uses well beyond that singular function. In some respects, it resembles the Tikka T3x – no coincidence either, as I'm confident it was part of Tikka's thinking to capture the appearance and interchangeability of shared features with the T3x. These include interchangeable accessory components, such as the pistol grip and fore-end. The grips offered for both rifles are a traditional grip that is standard on the T1x or it can be exchanged for a vertical pistol grip, and if perchance you would prefer a wider fore-end, a beavertail fore-end can be added. Spacers can also be added for increasing the length of pull, although for most shooters the 13.25-inch LOP will fit average-sized adults and most larger youths. However, for my wingspan, I found it a bit short. The stock itself is injection-molded synthetic with 35 per cent fiberglass. The fiberglass adds rigidity for temperature insensitivity and improved accuracy. It also contains a foam insert in the butt portion of the stock, to reduce noise, and sports unique, contoured grooves with serrated scales checkering, rather than diamond type checkering. The scales provide a light pressure, confident grip in wet conditions – a noted improvement over numerous competitors' rimfires.
The semi-heavy 20-inch barrel is cold hammer forged and is threaded for a suppressor or other muzzle device. The heavier barrel essentially mimics the qualities of a target barrel, providing more stiffness that contributes to improved accuracy, as well as better balance when shooting offhand, kneeling or sitting. Recognizing the value of a great trigger in the accuracy game, Tikka utilized the same trigger mechanism in the T1x as it does in their centrefire rifles. Their efforts at duplicity weren't finished, however, as the T1x action shares the same bedding surfaces and inlay footprint as the T3x rifle. With this quality of bedding, the light recoil induced by a rimfire will be of no consequence.
The bolt is stainless steel and, like its centrefire brethren, is smooth with a reliable and flawless feed from the 10-round magazine. Its 1.5-inch bolt throw is short, as one would expect in a rimfire, and if you are looking for a larger bolt knob, it can be replaced with an aftermarket knob.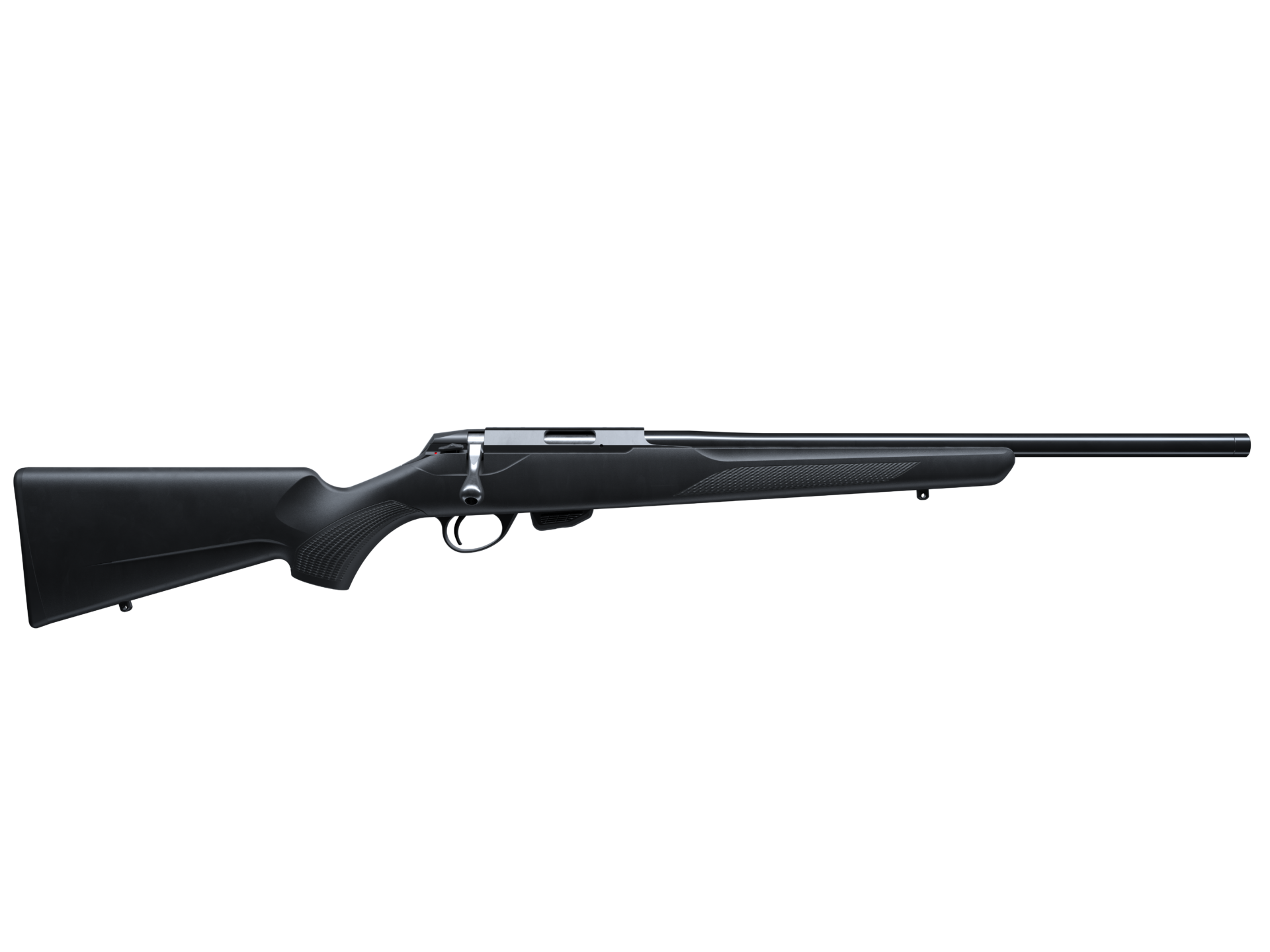 Rifle specifications:
Calibre: .17 HMR – also available in 22 LR
Length: 39.6 inches
Barrel length: 20 inches
Weight: 5.7 pounds
Rate of twist: 1/9 inches
Length of pull: 13.25 inches, but can be altered with spacers
Magazine capacity: 10 plus 1
Burris Timberline 4.5-14x32mm Scope
The T1x showed up with a Burris Droptine 2-7x35mm scope mounted on it, a scope that would have better served the T1x .22 LR than the .17 HMR test rifle. So, I requested a switch to the Timberline 4.5-14×32, believing this scope to be the better option when extending my shooting range to well beyond 100 yards. While this scope might be termed as budget value, it has a number of high-quality features that are noteworthy. Starting with high-grade optical glass, precision ground lenses that are larger than comparable scopes, index-matched Hi-Lume multicoating for low-light performance and glare elimination, Ballistic Plex reticle (trajectory compensating), parallax adjustable from seven yards to infinity, up to five inches of eye relief, waterproof, nitrogen filled for fog prevention and is covered by the Burris Forever Warranty.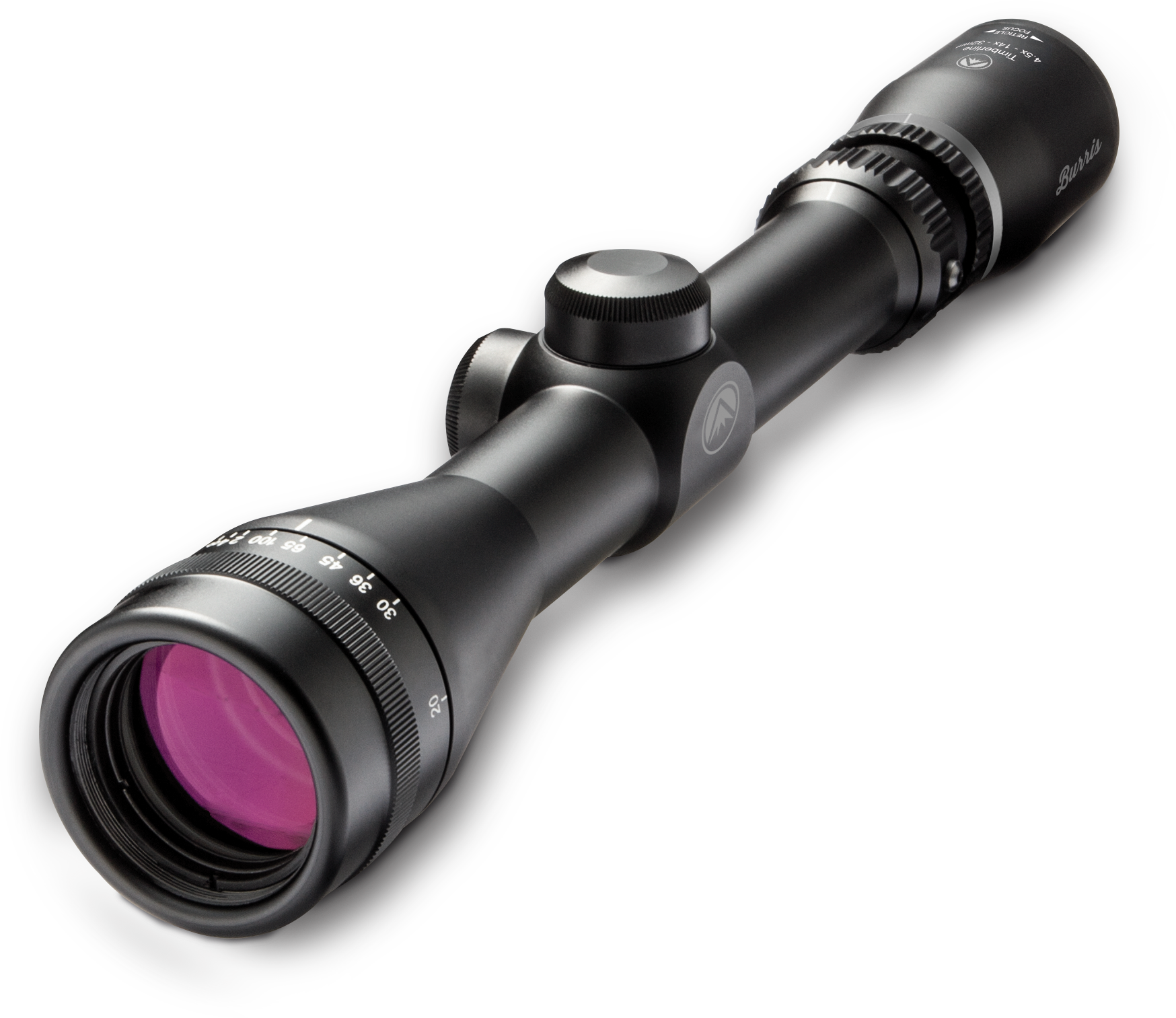 Scope specifications:
Magnification: 4.5-14x
Length: 11.3 inches
Weight: 15 ounces
Tube diametre: One inch
Field of view: 17 feet low, 6.3 feet high at 100 yards
Eye relief: 3.75 to five inches
Reticle: Ballistic Plex
Click value: 1/8 MOA
Elevation/windage adjustment: 30 inches at 100 yards
Parallax adjustment: Seven yards to infinity
Test Results
When mounting the Burris 4.5-14x32mm scope, I noted that while the T1x is dovetailed for rings, as well as drilled and tapped for bases, it will not accept T3x rifle rings, as the dovetail groves are too narrow. Burris one-inch rings designed for .22 grooved receivers did the trick. As I did not see this combo as being a twilight shooter, the Timberline, with its smaller 32-millimetre objective lens, resulted in a compact, lightweight scope with plenty of magnification. For its price point, the optics were quite good, and I appreciated the magnification range and the precision of the windage and elevation adjustments. It was an ideal match for .17 HMR.
I next set about checking total weight and trigger pull. The package weighed in at six pounds, 12 ounces, and the trigger pull was extremely consistent between three pounds, 12 ounces, and three pounds, 14 ounces, with two pulls at three pounds, 13 ounces. Simply a great trigger for a rimfire. The rifle itself was a joy to shoot. It cycled perfectly and, with the heavier barrel, balanced extremely well. On the range, I did, however, run into a glitch. One particular box of Winchester ammunition did not shoot very accurately. Well, it didn't take Sherlock Holmes to root out the culprit. Every case in this one particular lot of ammunition split. First, I contacted Tikka, no history there, so I then I contacted Winchester and once I provided a lot number, they quickly identified it as an older lot and asked that I return all I had, which I did.
I chose the .17 HMR over the .22 LR for a couple of reasons. First, it provides longer range varmint hunting and, second, with careful shot placement, offers small predator potential, especially in populated regions. I then set about obtaining ammunition that would meet these objectives from as many companies as possible, which resulted in five companies – Hornady, Federal, CCI, Winchester, Norma – three grain weights and six different bullet designs.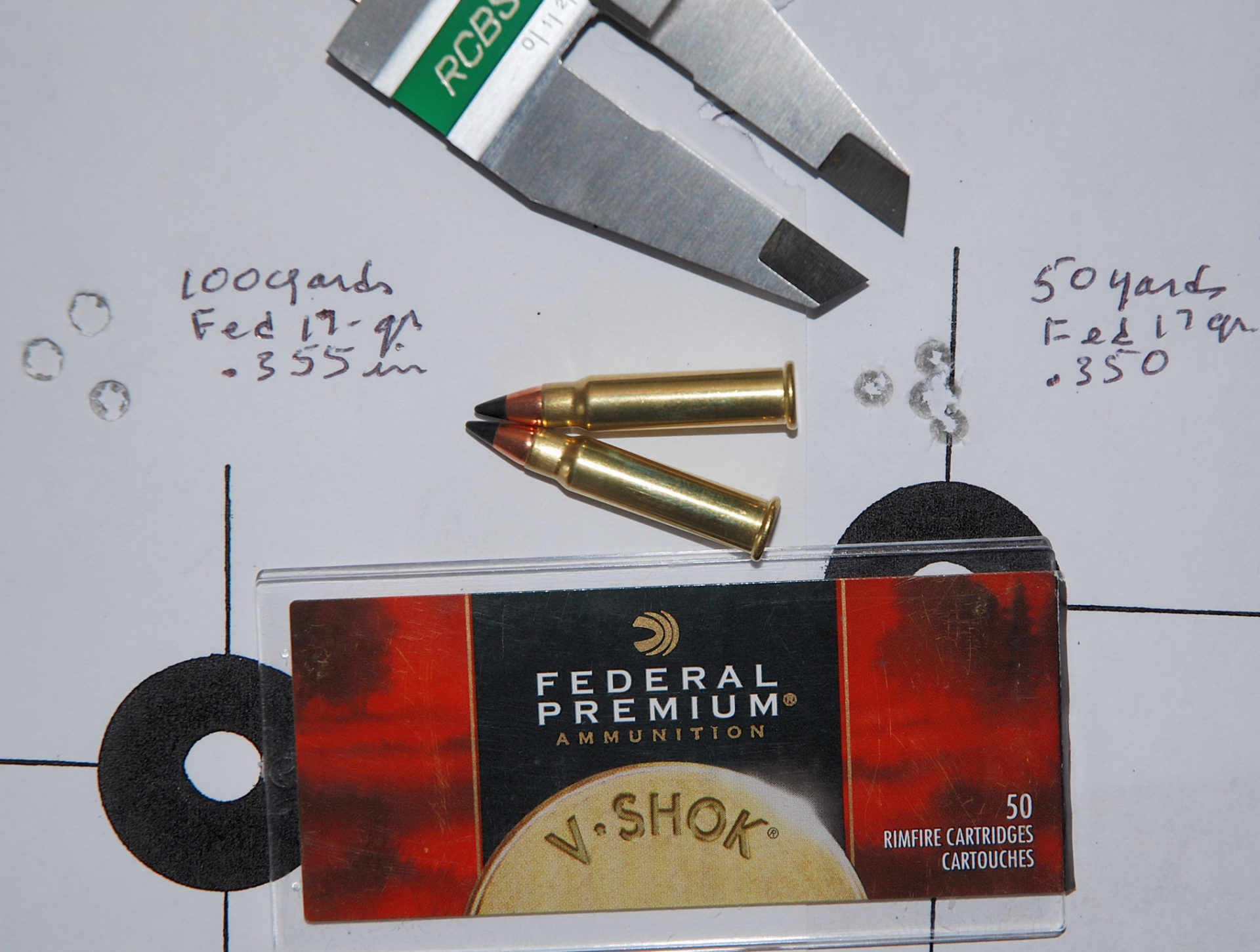 Five shots at 50 yards
Ammunition

 

Advertised velocity (fps)
Group size

(inches)

Hornady 17-grain V Max
2,550
.595
Hornady 15.5-grain NTX
2,525
.265
Hornady 20-grain XTP
2,375
.440
Federal Premium V-Shok 17-grain Hornady V Max Polymer Tip
2,550
.350
Federal Premium 17-grain TNT HP
2,550
.310
Winchester 17-grain V Max Polymer Tip
2,550
.800
CCI Game Point 20-grain Jacketed Soft Point
2,375
.440
CCI 17-grain V Max Polymer Tip
2,550
.535
CCI A 17 17-grain Varmint Tip
2,650
.280
Norma 17-grain V Max Polymer Tip
2,650
.560
Three shots at 100 yards
| | | |
| --- | --- | --- |
| Hornady 15.5-grain NTX | 2,525 | .460 |
| Federal Premium V-Shok 17-grain Hornady V Max Polymer Tip | 2,550 | .355 |
| Federal Premium 17-grain TNT HP | 2,550 | .300 |
| CCI Game Point 20-grain Jacketed Soft Point | 2,375 | .560 |
| CCI A 17 17-grain Varmint Tip | 2,650 | .710 |
Last Shot
With Tikka's concept of a Multi Task Rimfire pervading my thinking, I decided to test this rifle's accuracy at both 50 and 100 yards and, if the conditions permitted, to challenge it right out to 300 yards. I envisioned using only ammunition that excelled at 50 yards for any longer-range testing. The rifle shot so well, with an overall 50-yard average of .457 inches, that half of the ammunition tested made into that elite .500 inch or better extended 100-yard range test. And even here, the three-shot groups averaged .477 inches. Outstanding accuracy!
Now came the ultimate crunch, how would it perform at 300 yards? After a couple of sighter shots with my son, Brent, calling the shots using a Leupold Santiam spotter, I was able to hit a four-by-four-inch target with relative ease. The optics were so good on this spotter that he could actually call the precise hit location and visually see this 17-grain bullet drop away from the target.
The addition of the T1x to the Tikka line is a sure-fire winner and you can't go wrong with just about any ammunition out there, as it seems to shoot everything well.