Long before the disruptors (a.k.a. humanoids) made an appearance in this world, valley-dwelling carnivores and omnivores relied on Mother Nature to deliver a fresh supply of rich protein to her rivers, lakes and streams.
We interrupt this story for a quick explanation: before I get too far along, I'd like to point out that my identification of the alias humanoid was made in part because of its slight resemblance to the word hemorrhoid, the real motivator being that both can become painfully obstructive to the natural flow. Continuing on.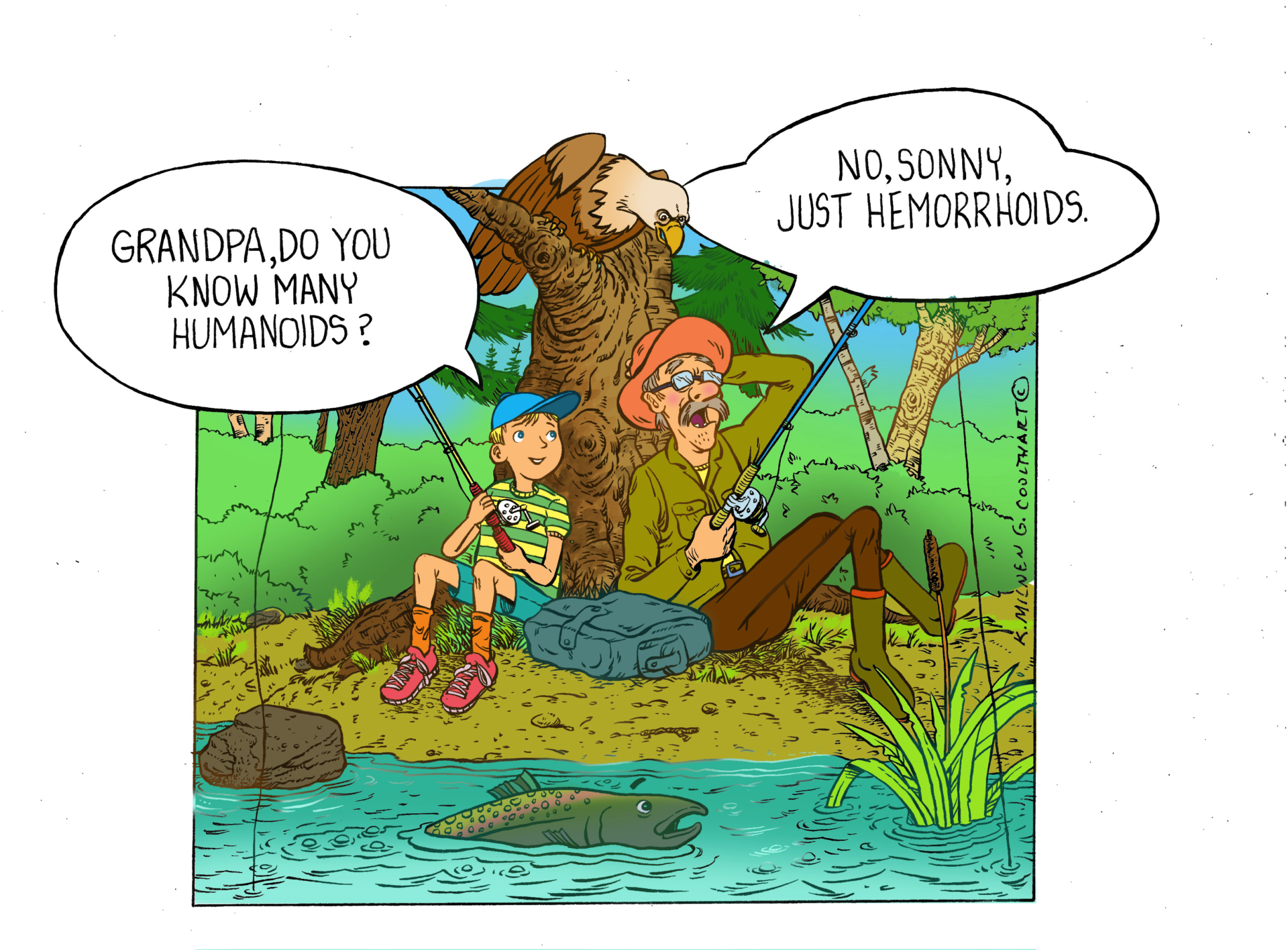 The seasonal size and health of said delivery was always dependant on a number of environmental conditions, each year falling within the spectrum of expected sustainability. Then it happened, the rise of the disruptors. This last sentence reads like the title of a B-grade movie filmed in someone's garage; unfortunately, our version is being produced in Canada and stars a number of slime ball performers that continually bat the relevant issues from one side of the table to the other. This ping-pong politics has cost us dearly and, to make thing worse, the ministry once mandated as a protector can now be seen as nothing more than political puppets.
This whole fisheries debacle has gotten way out of hand. I'm purposely being general because the situation that we're facing needs to be explained and seen in its simplest form. Humanoids have screwed things up so badly that we actually need to look beyond ourselves in order to appreciate the full nature of our dilemma, nature being the key word. If I had my way, I'd send several thousand tubes of Preparation H to Ottawa in hopes that the pain might be eased. The questions that need to be asked could most likely be answered by those attending primary school, and yet these queries clearly present a challenge to Ottawa's shiny-shoed podium dwellers and their enablers. Recognizing the importance of time preservation, boredom avoidance and finger pointing refrainment, let's concentrate on the now rather than the failures along the way. Besides, I have enough of a problem coming up with 700 words, let alone 10 million.
Would any reasonably minded individual think that BC wildlife dependant on the arrival of a waterborne seasonal smorgasbord gives a muskrat's rectum as to the origin of the fish they expect to eat? Do you think for one millisecond that hunger is abated by a desire for genetic purity? I think not! When the action or inaction of the ping-pong department results in bleak returns of salmon, does a family of grizzly bear have the option of visiting the nearest A&W drive-through? I think not! In fact, it's far more likely that those in need of a protein would take down a few wandering hikers, leaving Gortex-riddled scat as a warning to the species at fault. Eagles don't have the option of Skip The Dishes, and therefore rely on an aquatic wiggler or two and the birth origin of this life-sustaining carcass has little relevance when tummies are full. It's all fun and games until a starving eagle plucks Lucy the long-haired dachshund from the dog walk.
Let's once again put things into a primary school format. Is having no food at all the preferred option when the food of choice is no longer available? Why on this little green planet does the humanoid community believe that its interests are more important than the matrix of species that evolved without our help yet succumbs to our interference?
I get the spawning productivity differential between hatchery and wild; I understand the long-term viability and sustainability arguments brought against enhancement. In a perfect world or where healthy populations still exist, we might continue to follow this path. That said, the disruptors have made such an impact on wildlife food sources that the nature of things once recognized as sound must evolve. It is essential that political agendas be separated from institutions that develop and deliver fisheries management policy. To date, government objectives have eroded Mother Nature's ability to feed herself and, as a result, we must entertain alternatives. The future depends on it and we should demand it.
Being an eternal optimist, I honestly believe that even though we've travelled a significant distant up Schlitt's Creek (Canadian content), we can make this right. We are all stakeholders and it's time to sever the ties to those who have proven themselves incompetent. It's time to invest in our fisheries and feed the environment that depend on their health. If we don't make changes to our approach, we'll all be playing ping-pong.