If you aren't deriving as much pleasure from your bounty of wild ducks at the table as you get from bagging them in your favourite hideouts, maybe it's time to set your sights on an exciting new recipe.
I'm not saying that traditional wild duck dishes like golden roasted whole birds, rich, savoury stews and spicy jerky are not delicious in their own right, but what I am saying is sometimes you just need to take a shot at going one up from good to reaching gourmet status and this recipe is a sure-fire way to whet your appetite for the next duck hunting trip.
The biggest secret to cooking duck breasts to perfection, especially skinless ones such as called for in this recipe, is to not overcook them. Even though I typically like most of my game meats registering from medium to well-done, when it comes to preparing duck breasts by searing, they really are more tender and delicious when served medium-rare (temperature on a meat thermometer reads 135 degrees Fahrenheit to 140 degrees Fahrenheit, which, according to my liking, means just a faint touch of pink, not dripping with blood. But, of course, you can choose your own desired degree of doneness, keeping in mind that overcooking the breasts causes them to become dry and, in some cases, depending on species, the meat may take on a liver-like taste and texture.
Nothing compliments harvested duck better than a side dish of wild rice since they are both native to our marshlands and waterways. And it's interesting to note that wild rice is actually the seed of an aquatic grass and thus it is not a true member of the rice family at all. Because of its uniqueness, it is not possible to cultivate wild rice commercially on a large-scale basis, so due to its scarcity it weighs in on the expensive side (when compared to real rice) which is why it is often sold in blends – wild rice mixed in with other rice to make it more affordable.
I like making my own blend by mixing one part wild rice (I always hunt down Canadian wild rice at the market) with two parts regular long grain brown rice. The wild rice adds a nutty, earthy flavour and delightfully chewy texture, as well as eye-pleasing contrast of colour on the plate. And it has fewer calories, more protein and, unlike regular rice, wild rice contains no arsenic (a naturally occurring toxic compound found in earth and water), making it a healthier choice.
This recipe serves two to four, depending on the plumpness of the breasts.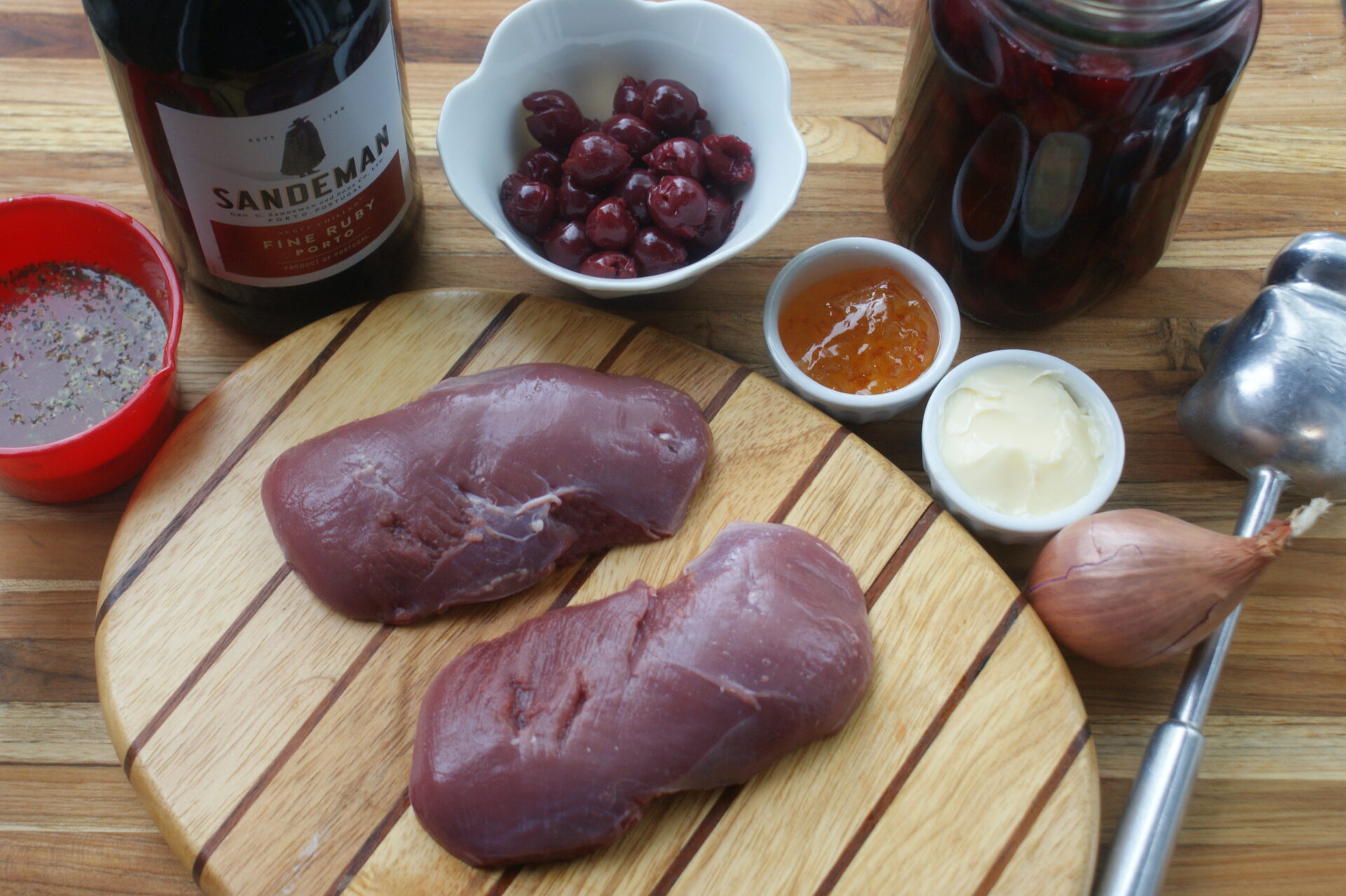 Ingredients
2 skinless duck breasts
Salt and pepper
4 tablespoons butter
1 large (or 2 small) minced shallots
1/2 cup duck or chicken broth
1/4 cup port
2 1/2 tablespoons orange marmalade
1/2 cup pitted cherries (fresh cherries hold up beautifully in this recipe but when they are not in season, I use home canned cherries, but store bought canned or frozen will do)
Method
Put the duck breasts on waxed paper, season both sides with salt and pepper and pound gently with a mallet to give them an even thickness. Heat half the butter in a cast iron or heavy-bottomed skillet and sauté the breasts for five to eight minutes, depending on thickness. Turn over and cook over medium heat until done to liking, medium-rare is recommended for this recipe.
Transfer the meat to a heated platter, drape with foil to keep warm while making the glaze. Put the shallot into the pan drippings and sauté until soft. Add the broth, port and marmalade, simmer over high heat into a thick reduction, stirring constantly. Whisk in the remaining butter, fold in the cherries and heat through. To serve, slice the breasts thinly, place on a bed of rice (if serving as a side dish) and spoon the glaze over the meat.
My pick of wine for toasting this waterfowler's feast is Pinot Noir. There's a Wayne Gretzky Signature Series new on the market which is a light-bodied, aromatic wine that has a hint of cherry flavour and is produced right in the Okanagan, so it partners up beautifully with cherries from the same fruit belt and my wonderful local duck.