Through the modern invention that is social media, I have been enviously drooling over pictures of winter spot prawn harvests. Up in the north, where our boat is tucked away and there is several feet of snow blocking the shed, we still have a few months before we can get out prawning – but that doesn't mean we can't daydream of a delicious combination of dairy, carbs, wine and seafood. This is a recipe that was whipped up on the back of our boat last summer and is even easier to make in the comfort of your home kitchen.
Ingredients
Your favourite pasta (fettuccini, penne, etc.), enough for four people
2 tbsp butter
2 cloves garlic, minced
1/2 cup Sauvignon blanc* wine
1 cup heavy cream
1/2 cup fresh grated parmesan cheese
Salt and pepper, to taste
1 tbsp butter
1 cup mushrooms, sliced
3 cooked spot prawns, per person
4 small halibut filets, baked
Fresh basil, for garnish
Method
Cook the pasta of your choice until al dente, approximately six to seven minutes in boiling water. Remove from water and set aside. Bake halibut in a 375-degree-Fahrenheitoven or on a barbeque until cooked through – about 15 minutes in the oven, and the time will vary depending on the heat of your barbeque.
In a large skillet, melt two tablespoons of butter over medium heat and brown the minced garlic. Add the wine and simmer until the mixture is reduced by half. Whisk in the cream and bring back to a simmer, allowing to simmer until the sauce thickens. Finally, add the cheese and stir until melted, and add salt and pepper to taste.
In another small skillet, melt one tablespoon of butter over medium heat and cook mushrooms until browned and soft. Once cooked, add to the cream sauce. At this point, cooked spot prawns can either be combined into the sauce (if tails have been removed) or left on the side of the final dish.
To assemble the dish, place one serving of pasta on a plate. Add one portion of halibut to the pasta and spoon a generous amount of cream sauce on top of the fish and pasta. If you have not already added the cooked prawns into the sauce, they can be placed on the side of the plate beside your pasta (this is a good spot to place the prawns if you have left the tail on – nobody likes to have prawn tails in their pasta). Finally, garnish with fresh basil and enjoy!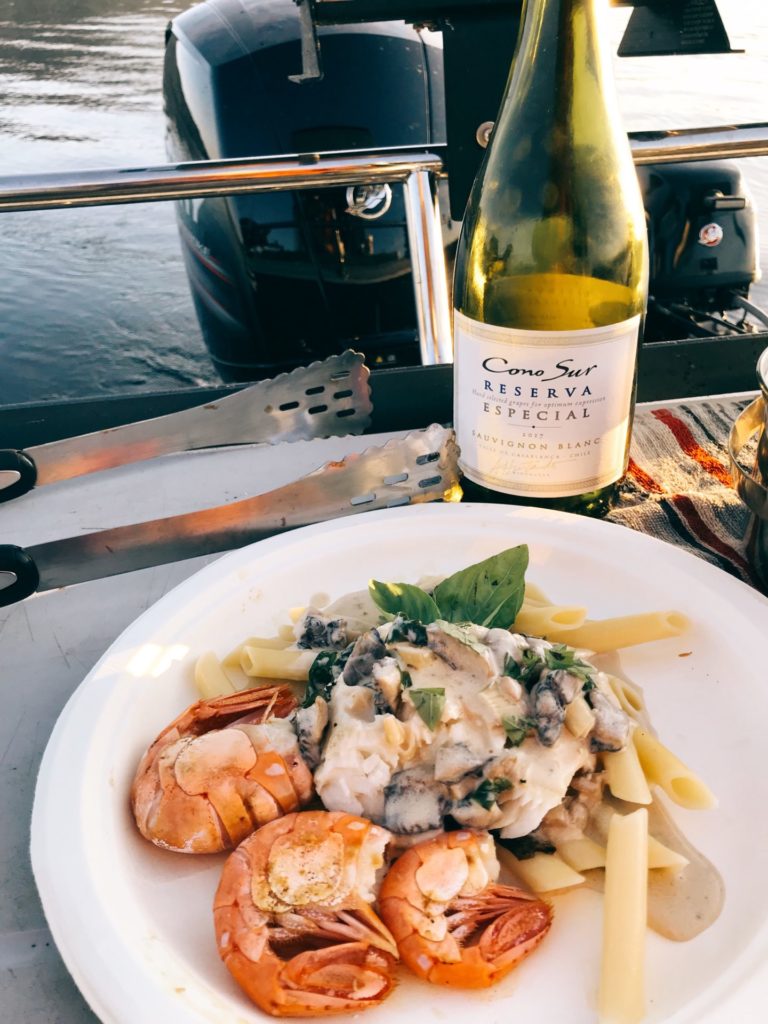 * If you have another type of white wine that you enjoy, feel free to swap it in. A good rule of thumb is to cook with wine that you don't mind drinking – if you don't enjoy a glass of it, you probably will not enjoy the finished product after cooking with it.