Whether you use a couple prized jars of home-canned salmon or have to resort to store-bought canned fish when the gourmet stash is running low, in this recipe either one works great producing a loaf that's always a winner.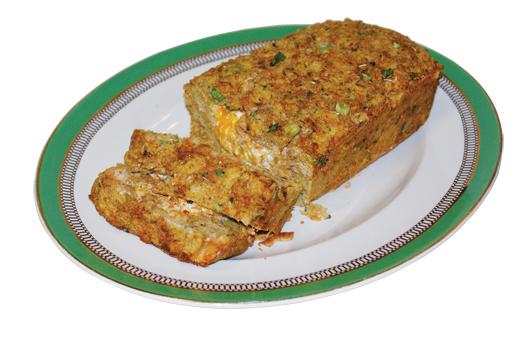 One of the things I enjoy about having a supply of canned salmon on the pantry shelf is that a fast and delicious supper such as this savory loaf is easy as opening a jar, or can for that matter.
When I was a kid, mom specialized in stretching a can of salmon to the max, so these thrifty loaves were always popular in her kitchen, especially when a fish craving struck and fresh catch was not on the menu!
This loaf is extra special because it contains a mouthwatering surprise center that tickles the taste buds. So be forewarned­—the cheesy stuffing will have everyone tackling a second, or even third slice which is why I often double the recipe for two loaves.
Another reason (especially when a fishing trip is on the next day's agenda) is because my crew enjoys the loaf (which is as good cold as it is hot) as picnic fare. It makes a handy, refreshing shore lunch for days that are too hot to cook. All you have to do is tuck the loaf into the cooler along with crusty rolls, lettuce, tomato, mayo and anything else your gang fancies on a fishwich. When making the loaf for company fare, I like to add a cup or two of fresh cooked salmon, which gives it a chunkier texture and a bit of fresh-caught taste. Leftover cooked salmon works great, but when there isn't any, I'll poach a piece specially for the purpose. If using a portion of fresh fish, cut down on the canned accordingly.
No fish loaf is complete without a special sauce for drizzling or dipping. Even though this loaf can stand on its own, if you want to indulge try my Mock Hollandaise Sauce for a gourmet touch.
Ingredients & Instructions
The Loaf
I use 3 salmon-sized canning jars of home-canned fish. I pack my salmon pretty tightly into the jar so this makes a meaty loaf. If you are using store-bought canned salmon, go with 3 small (213g) size cans or 1 large can (418g), plus 1 small can. And if you have leftover cooked salmon on hand, be sure to work that into the recipe, too.
2 eggs
2 cups Italian seasoned bread crumbs (or plain crumbs seasoned to suit your own taste)
1 bunch chopped green onions, about ¾ cup
Salt and pepper to taste
Cheese Stuffing Ingredients
3 tablespoons sliced green olives (I use the ones stuffed with pimento)
2 tablespoons minced
sweet pepper
¾ cup grated cheddar cheese
½ cup soften cream cheese
Drain salmon, reserve juice, flake and set aside. In large bowl, whisk eggs with salmon juice. Stir in bread crumbs, green onions, salt and pepper to taste. Fold in salmon. Grease a 9"x 5" by 3" loaf pan. Place ¾ of the salmon mixture in the pan. Using your hands, form a depression in the salmon about 2-inches deep and leaving about 1-inch walls. Press firmly. Mix stuffing ingredients and roll into a log to fit into the depression. Place stuffing into the hole and spread it out evenly with back of a spoon. Spread remaining salmon mixture evenly over top and pat down firmly so center is secure. Bake in a 350º F oven for 35 minutes, or until golden. Let stand 5 minutes. Loosen loaf from pan by running a table knife down and around sides. Unmold onto serving platter, slice and serve. Serves 6.
Mock Hollandaise Sauce
Combine ½ cup sour cream, ½ cup mayonnaise and 2 teaspoons lemon juice in small saucepan. Cook, stirring constantly, over low heat until blended and heated through. Add a pinch of salt and fresh minced dill (or dried dill weed) to taste. Serve warm.