Despite an incredibly dry summer, the saskatoon harvest around us has been plentiful this year. The dark purple berries are plump and juicy, making this the perfect year to fill our buckets and tuck them into the freezer. When the berries are this good, we also make sure to eat as many as we can fresh – putting them into these saskatoon muffins is a great way to use up a handful! This recipe makes around one dozen muffins.
Ingredients
1 1/2 cups flour
1/2 cup cane sugar
2 tsp baking powder
A pinch of salt
1 egg
1/3 cup unsalted butter
3/4 cup sour cream OR plain Greek yogurt
1 tsp vanilla extract
1 cup fresh saskatoons*
1/2 cup brown sugar
1/4 cup flour
2 tbsp butter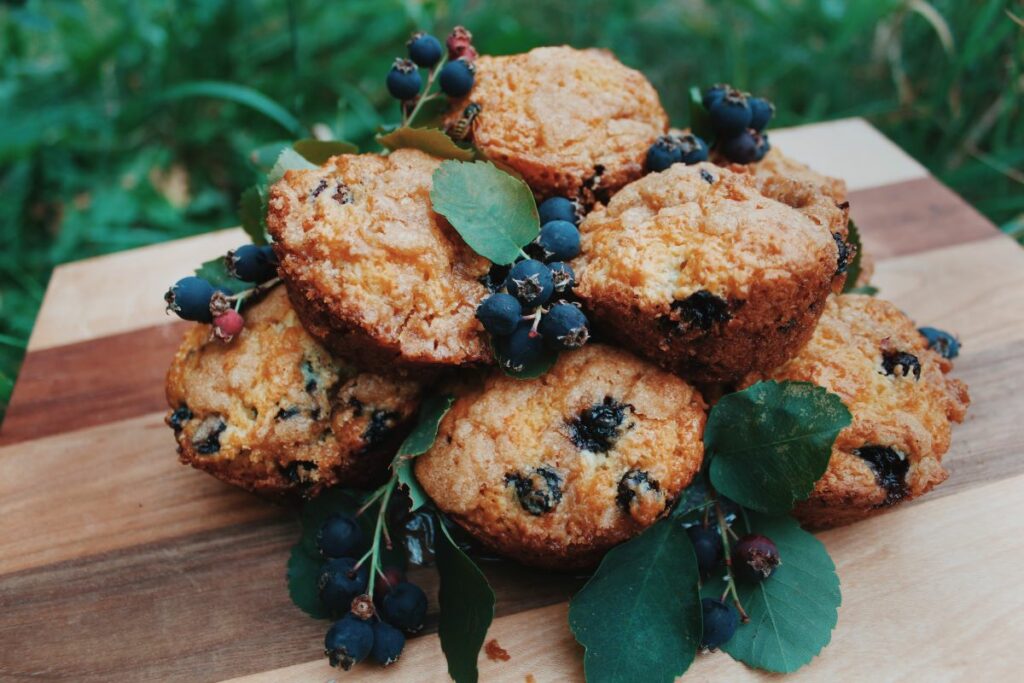 How To Make Saskatoon Muffins
Preheat oven to 350 degrees Fahrenheit. Mix together flour, cane sugar, baking powder and salt in a bowl. In a separate large bowl, mix the egg, butter, sour cream/Greek yogurt and vanilla together. Add the flour mixture to the wet ingredients and stir to combine. Fold the fresh berries into the batter. Scoop the batter into greased muffin tins.
In another bowl, mix together the brown sugar, flour and butter. Spoon a small amount onto each muffin – this won't be crumbly like a streusel topping; it will have a similar texture to the batter itself.
Bake muffins for approximately 20 minutes.
*Note: If using frozen berries, allow to thaw and drain off excess liquid before mixing into the batter.