Wild prickly rose (Rosa acicularis) can be found throughout most of British Columbia, in forests, open clearings, hillsides and previously disturbed sites. The deep pink petals mark the beginning of summer around my house, and I find myself looking for creative ways to utilize them in my home, be it in food, drink or luscious body products.
If you are looking for a way to beat the heat, this deliciously floral rose petal iced tea is a crowd pleaser. The best way to describe the flavour of rose is that it is like its scent, soft and floral. It is this flavour, combined with the subtle sweetness of raw honey, a citrusy hint of lemon and, if desired, a bit of minty freshness, that makes for the ultimate hot weather drink to enjoy with friends and family.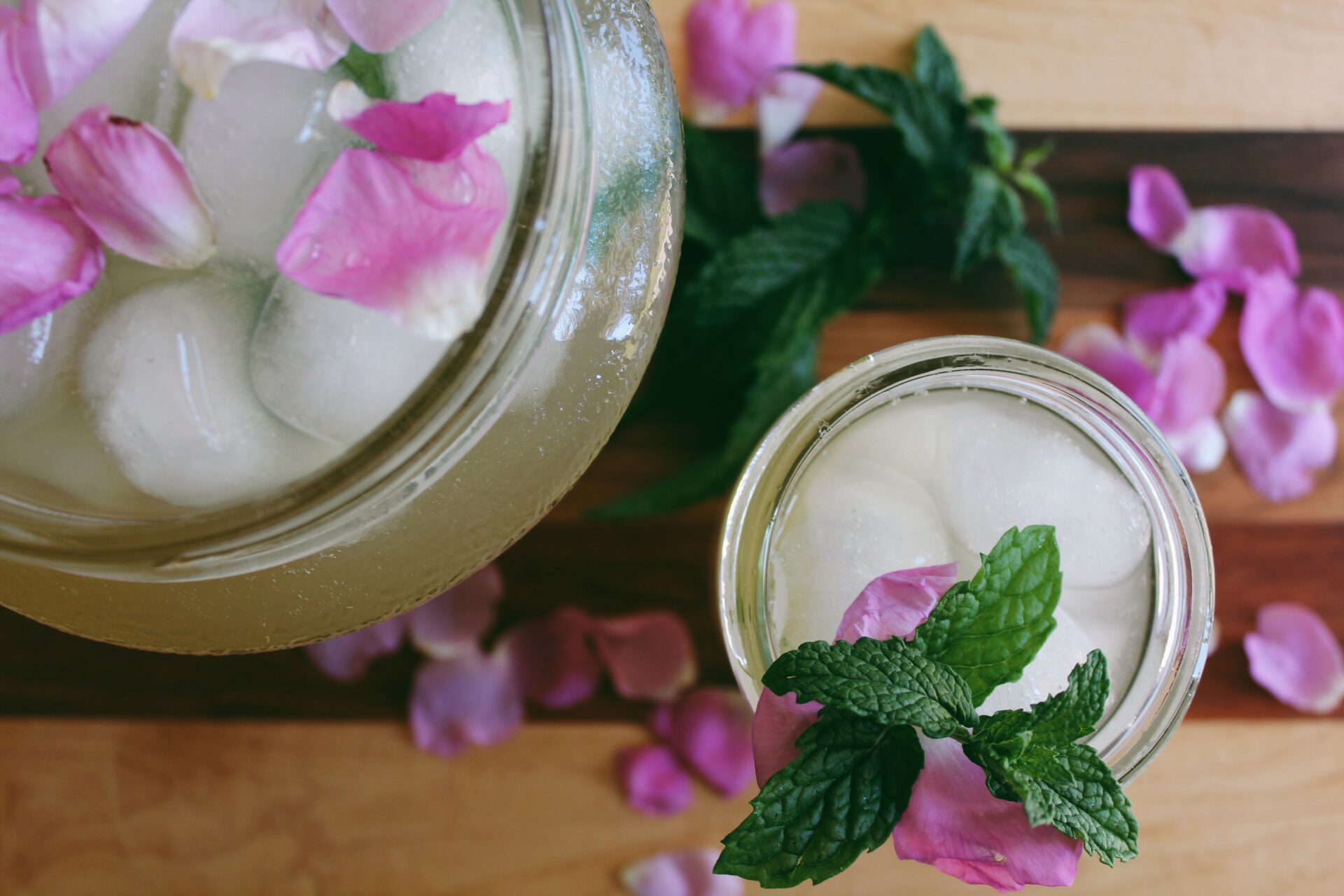 This recipe makes half a gallon of rose petal iced tea. Double or triple the recipe to provide beverages for a big crowd!
Ingredients
1 cup freshly picked rose petals*
8 grams loose-leaf green tea
1/2 cup raw honey
1/4 cup lemon juice
7 3/4 cups of water (divided amongst different steps throughout the process)
Optional – a handful of mint
Method
Add two cups of water into a saucepan and bring to a boil. Add the fresh picked rose petals, stir and then remove from heat and allow to infuse for approximately 15 minutes. While the rose petals are infusing, get the green tea steeping by pouring a 1/2 cup of boiling water into a jar and allow the green tea to steep for 10 minutes.
Once the tea and rose infusion are done steeping, pour into a large jar through a wire mesh strainer to remove the petals and loose-leaf tea. If the honey you are using is not liquid, the liquid should still be warm enough to melt it when added directly into the jar. Stir to ensure the honey is melted completely. Add in 1/4 cup of lemon juice and the remaining five cups of cold water to the jar. If you wish to add some mint into the tea, now is the chance to throw in a few leaves. Place the jar into the fridge and allow the tea to cool completely.
To serve, fill a small mason jar halfway with ice, pour the cooled tea overtop and garnish with a bit of mint or a lemon wedge.
* Make sure you are picking rose petals away from roadways, or any place that they may have possibly been sprayed; choose your foraging location carefully to ensure you are not using contaminated petals.