Unlike many serious shooters, I've long been a fan of premium factory ammunition and have run many thousands of rounds through my rifles over the years. Most manufacturers offer a complete line of premium bullets and weights, and with companies like Hornady now offering high-performance ammunition in their Precision Hunter line, the benefits of handloading are not what they used to be. But, I also realize that there are some real benefits to handloading and I use a combination of factory and home-grown ammunition these days.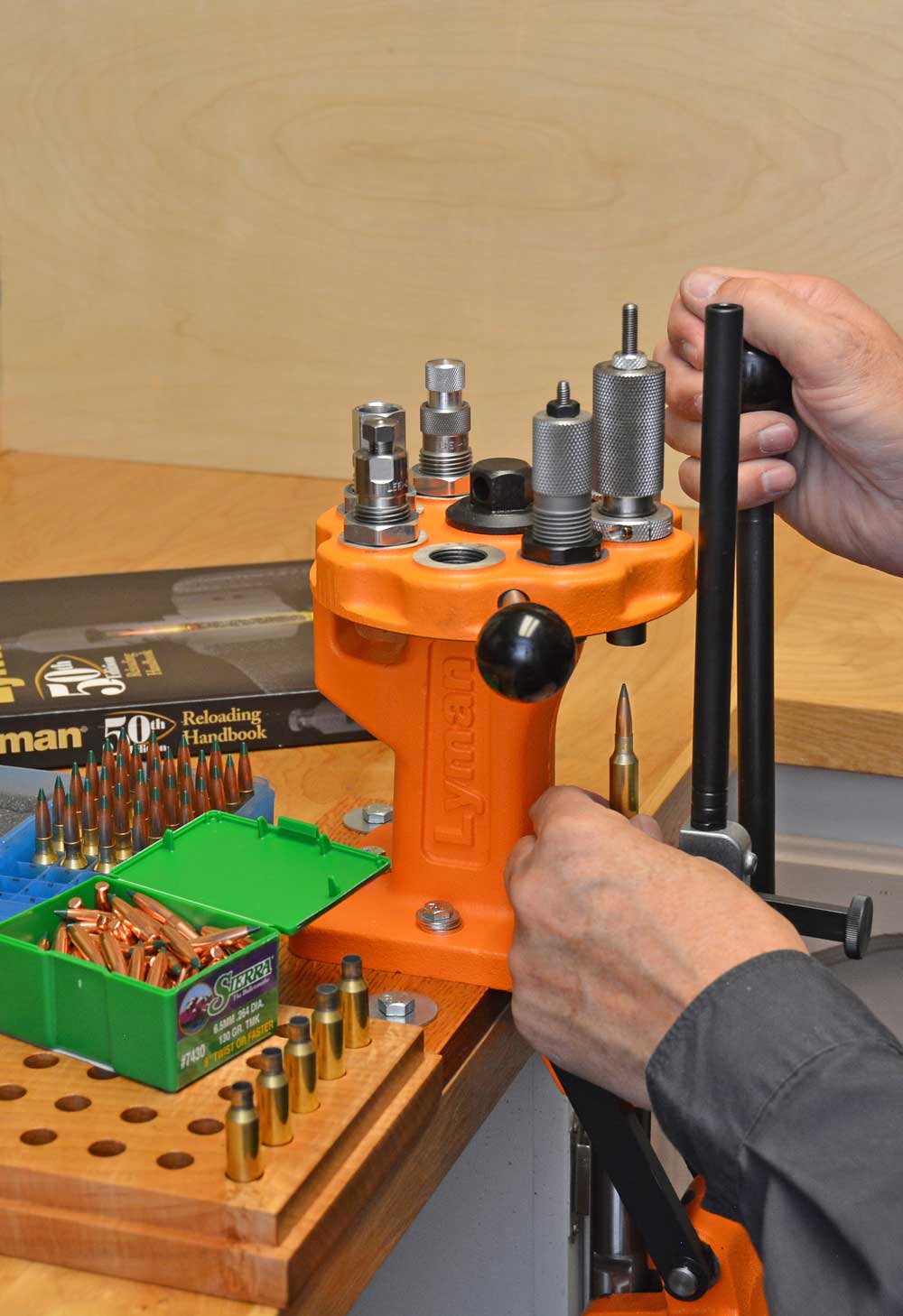 There are definitely some significant savings to be had for handloaders that shoot a lot and, of course, handloading does allow you to tinker with bullet weight, velocity and a host of other variables that work together to make a rifle more accurate. I don't feel you have to be a one-or-the-other shooter, as both do offer up some benefits.
I think the one thing that prevents most factory ammunition shooters from entering the world of handloading is fear of the unknown. Go on any shooting message board and your head will start to swim, as shooters start talking tech. Truthfully, they can be worse than a bunch of computer geeks discussing the latest version of the Grand Theft Auto V video game. But, the truth is, reloading can be pretty simple, and with a little instruction and the right gear, you can safely be reloading your own shells in short order. And, the good thing is, there are some well-stocked kits to get you started that won't break the bank. Not only will these kits save you some money, but they also typically come with all the instructions and other resources you need to get started. I'd highly recommend getting together with a buddy that reloads for a couple lessons, as well.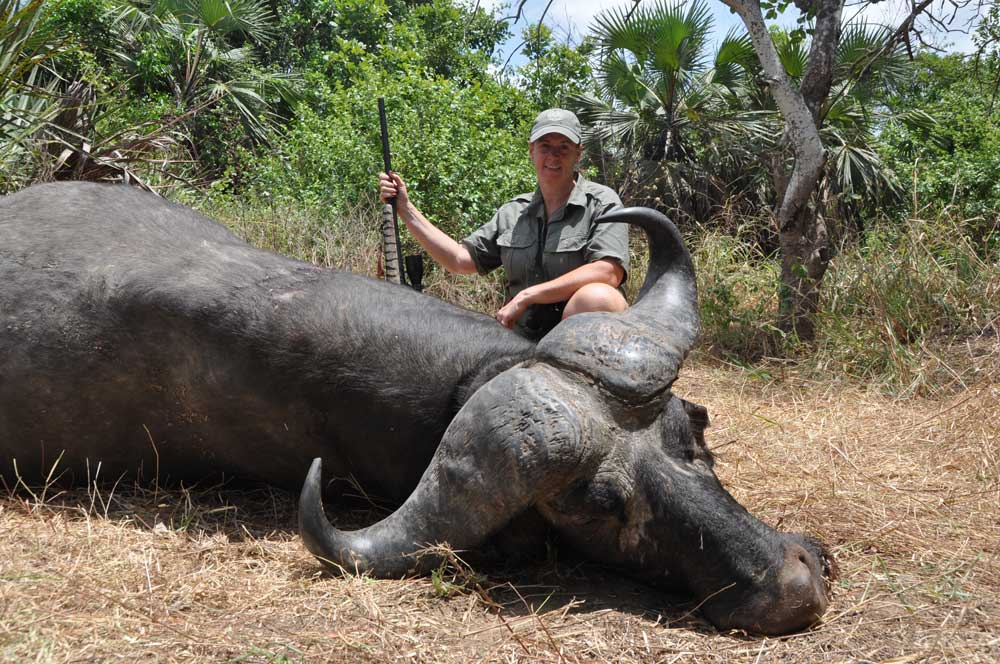 Getting Set Up
There are a few must-haves for reloading and the first is a press. The single-stage press is considerably cheaper than a multi-stage or progressive press, and it's the one most novice metallic reloaders start with and the one that most loading strictly for hunting rifles stick with. It does everything as well as a progressive press, but it just requires more time to complete your loads, as each shell must go through several individual stages, in comparison to the progressive that completes several stages on multiple shells with each pull of the handle. Progressive presses are most commonly used by competitive handgun or semi-auto rifle shooters that go through large volumes of ammunition.
Once you get familiar with a single-stage press, you should be able to load a round per minute, so it really takes little time to load up 100 rounds or so. It pays to spend money on a good press, as it is the most used piece of equipment and a good press will last you a lifetime. The press is used for depriming, resizing brass and seating bullets. The difference between a good press and a poor quality one is $100 or less, so when you look at the value over a lifetime, it's really only a few bucks a year. There is equipment you can save money on, but this should not be one of them.
Look for a press that allows easy changing of dies without the need to readjust the die each time. This will save you a considerable amount of time, especially if reloading for multiple cartridges. The Hornady Iron Press, which I use, utilizes a unique Lock and Load die bushing, that rather than screwing the die directly into the press, it utilizes a bushing with six locking lugs that simply twists in and out. You can leave the bushing attached to the die, so there is no need for any adjustment each time you take the die in our out. You just buy enough bushings for the number of dies you have and it's a simple matter to change them out. Getting your dies adjusted properly is time consuming, but it's critical they be the same every time and this system ensures you only have to do it once.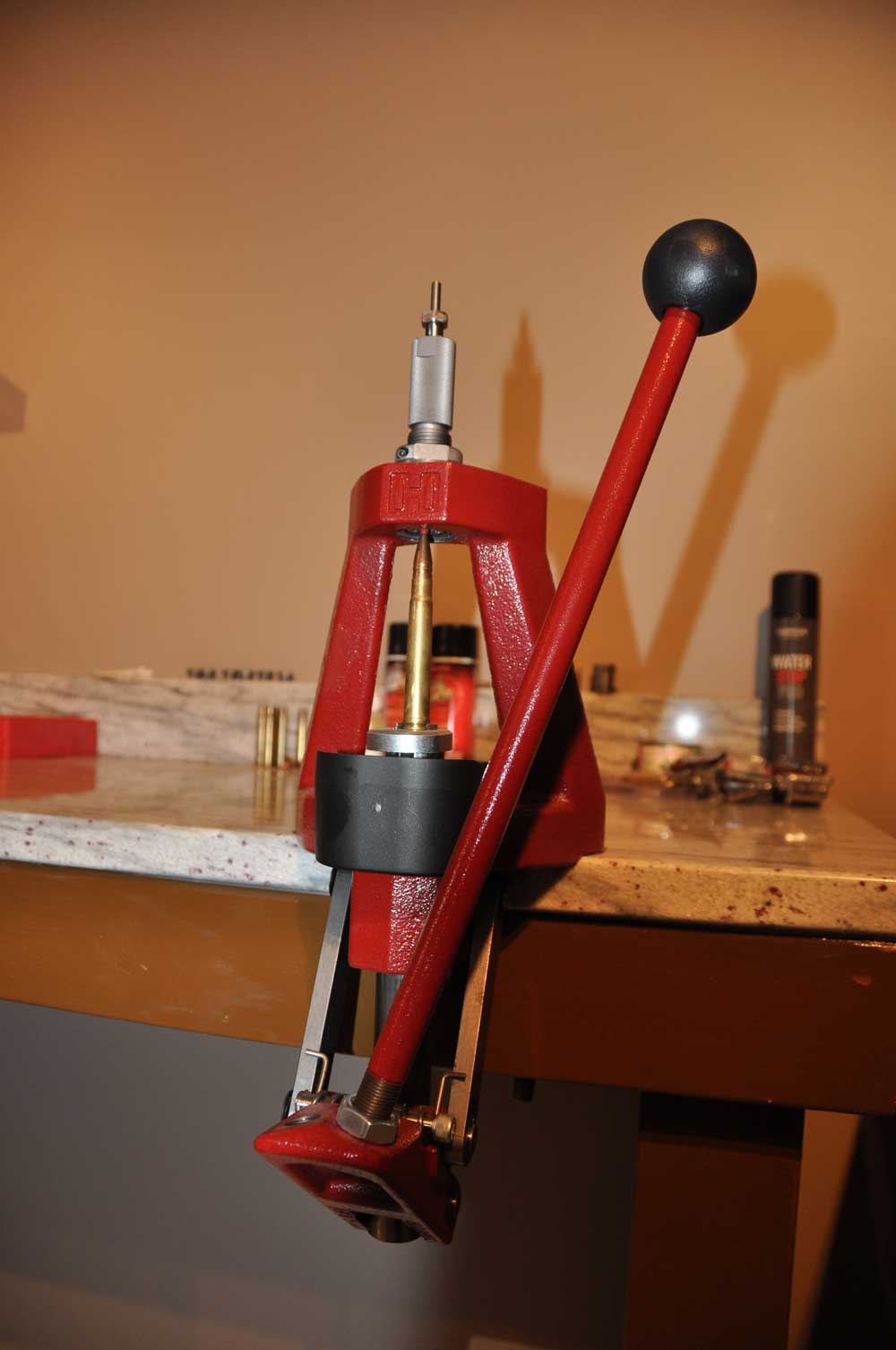 Most kits will also include a powder measure that is used to measure and dispense powder into the cases by way of volume rather than actual weight. The kit should also include a powder scale that is used to weigh your charges when setting up your powder measure for individual loads. A very precise scale is required for this, and it's a good idea to occasionally truth your powder measure while reloading. Many people weigh every 10th charge to ensure consistency. Competition shooters may go to the extent of weighing every charge. It seems some powders are more prone to sticking in the dispenser and in the case, so these charges should be weighed more frequently.
I've gone away from the powder dispenser all together and utilize a combination electronic dispenser/scale. It's slightly more time consuming and the scale will set you back about $150, but it's worth every penny in my opinion. You can start out with a separate scale and dispenser if you are just getting into reloading, but once you've been at it a bit, you'll appreciate the speed and accuracy of an electronic scale. The scale I use dispenses and weighs the powder all in one. It's just a simple matter of punching in the desired amount of powder and the scale dispenses the precise amount for each load. Obviously, if you are loading high volumes of rounds, this method is too slow. But to load up 100 rounds in a couple hours, there's no issue.
While the press is used for depriming, a handheld priming tool is a better option for priming rifle shells, in my opinion. They are typically faster than priming on your press and ensure an even seating depth. You'll also need a primer pocket cleaner and chambering tool for case preparation, a set of dials or digital calipers for checking case dimensions and overall cartridge length, loading block to hold shells throughout the loading process and some case lube to prevent cases from sticking in the die when resizing.
I'd also suggest that you pick up a case trimmer for trimming excess brass from stretched cases and, of course, you'll need a set of dies and a shell holder for each cartridge you are loading. A brass tumbler or ultra-sonic cleaner is something else to consider. While primarily for aesthetics, clean brass also makes it easier to find cracks or other stress marks. You'll likely only need to clean brass after every third use or so, but a tumbler or cleaner is a small investment that could prevent some real safety issues.
Of course, you will need an up-to-date, comprehensive reloading manual as well. These are the Bible for reloaders and most bullet makers offer their own versions. It's important to keep up-to-date with these. As new powders and bullets hit the market, you'll find them in the updated manuals. Most also contain some good step-by-step information for reloading. If you don't have a buddy to help show you the ropes, there are some excellent DVDs on the market as well, that will take you through the step-by-step process of reloading and help you converse with the other geeks on social media sites. It's advisable to get a reloading manual for each bullet manufacturer you use, as maximum loads will vary between manufacturers.
After that, you will need some brass, bullets, powder and primers. Information on what primers and powders are suitable for your cartridge are found in the reloading manual. Hopefully you've been saving your brass over the years, but if you don't have any, it is available at most gun shops. Be sure to follow the manual closely and stay within safe pressure limits for your loads.
When we remodelled our basement a few years ago, the reloading bench was an important component in the planning. You need a solid work surface in a well-lit area. I highly suggest setting up your reloading area so you are comfortable and want to spend time at the bench. Being stuck in a dark, dingy corner somewhere with a poor work surface will definitely not make reloading a desirable activity. My new bench is right in my trophy room and has the appropriate drawers and shelves to make it functional and a buddy hooked me up with a granite top for it. It is attached to the wall for extra strength and has lots of room for both reloading and working on rifles. My press and case prep centre are all securely mounted to it and all of the accessories are within easy reach. I love sitting in that room, so it was a natural place to set up the bench.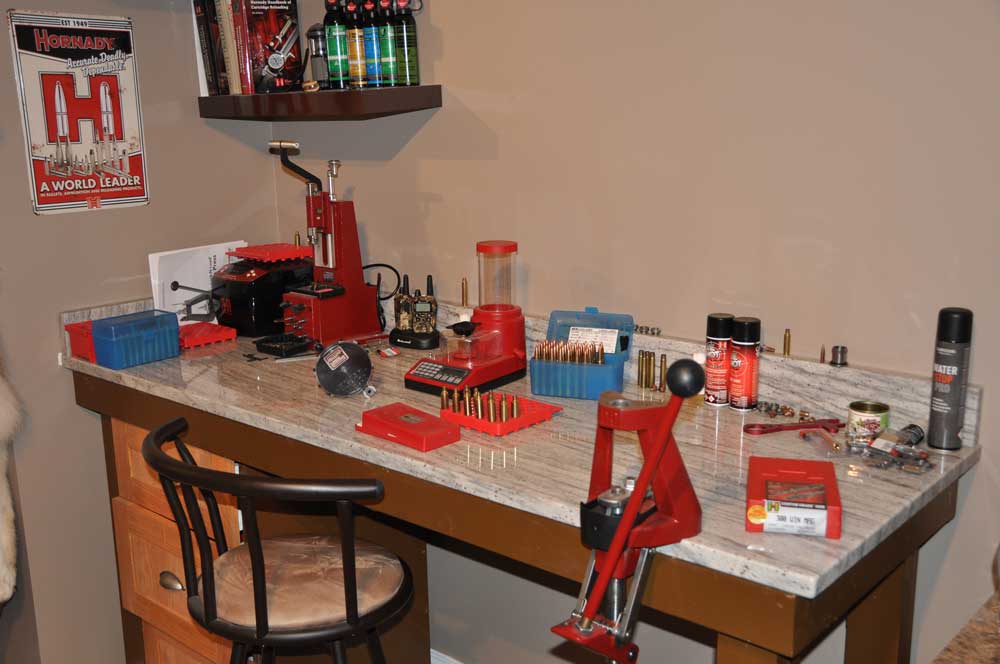 If you have ever considered taking up reloading, the time has never been better. There are loads of resources out there and the choices of bullets and powders have never been greater. You can expect to spend $500 to $600 to get set up, but if you do much shooting at all, it won't take long to recoup those costs and you will have the added benefit of being able to fine tune loads for your particular rifle. While there is little doubt that there is a factory load for every rifle, there is a certain satisfaction that comes with tinkering. One of the added benefits that seems to come with reloading, as well, is that hunters get out and shoot more, something we can all benefit from.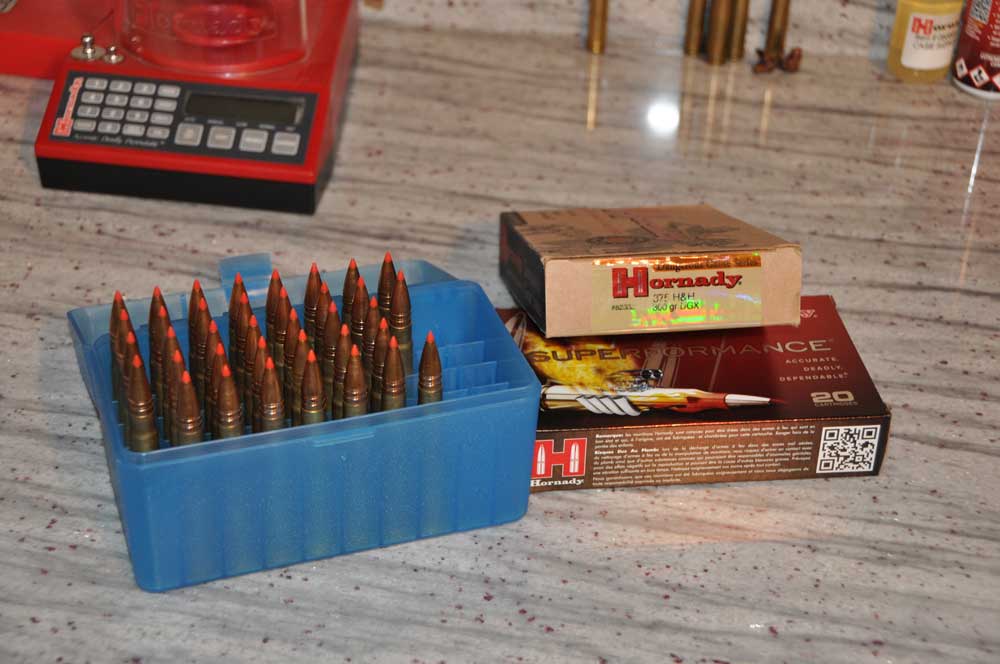 The reloading process itself is fairly simple if you follow the instructions. While learning from a live human being is preferable, it's not impossible to learn from a DVD or YouTube. The key is to always consult back to a reputable manual to be sure you aren't getting improper information online. The hardest part is getting your sizing and seating dies set properly and, rather than going through the process here, I'd suggest watching a video. It's really not difficult, but must be done properly and precisely to prevent case or firearm damage.
If I have one word of advice, it's to do things slowly and without distraction. I had a buddy that got distracted loading some 10mm ammunition one day and ended up double charging a load – he put twice the required amount in. It ended up blowing his pistol up in his hand. Thankfully, he wasn't hurt, but it demonstrates the need to be careful. Reloading isn't dangerous when you follow all the steps but miss one and the results can be catastrophic. Don't exceed maximum loads, stay within overall length specifications and carefully inspect all your components. Check and then double check and you are on your way to enjoying reloading.