Nothing beats cracking open a jar of delicious canned venison to make a fast and easy campfire meal. My pick of canned meat for use in camp is what I call "ground browned venison" because it is well-suited for so many traditional camp-style dishes like thick meaty pasta sauce, chili-con-carne, sloppy joes, hearty stews, soups and other delicious dishes…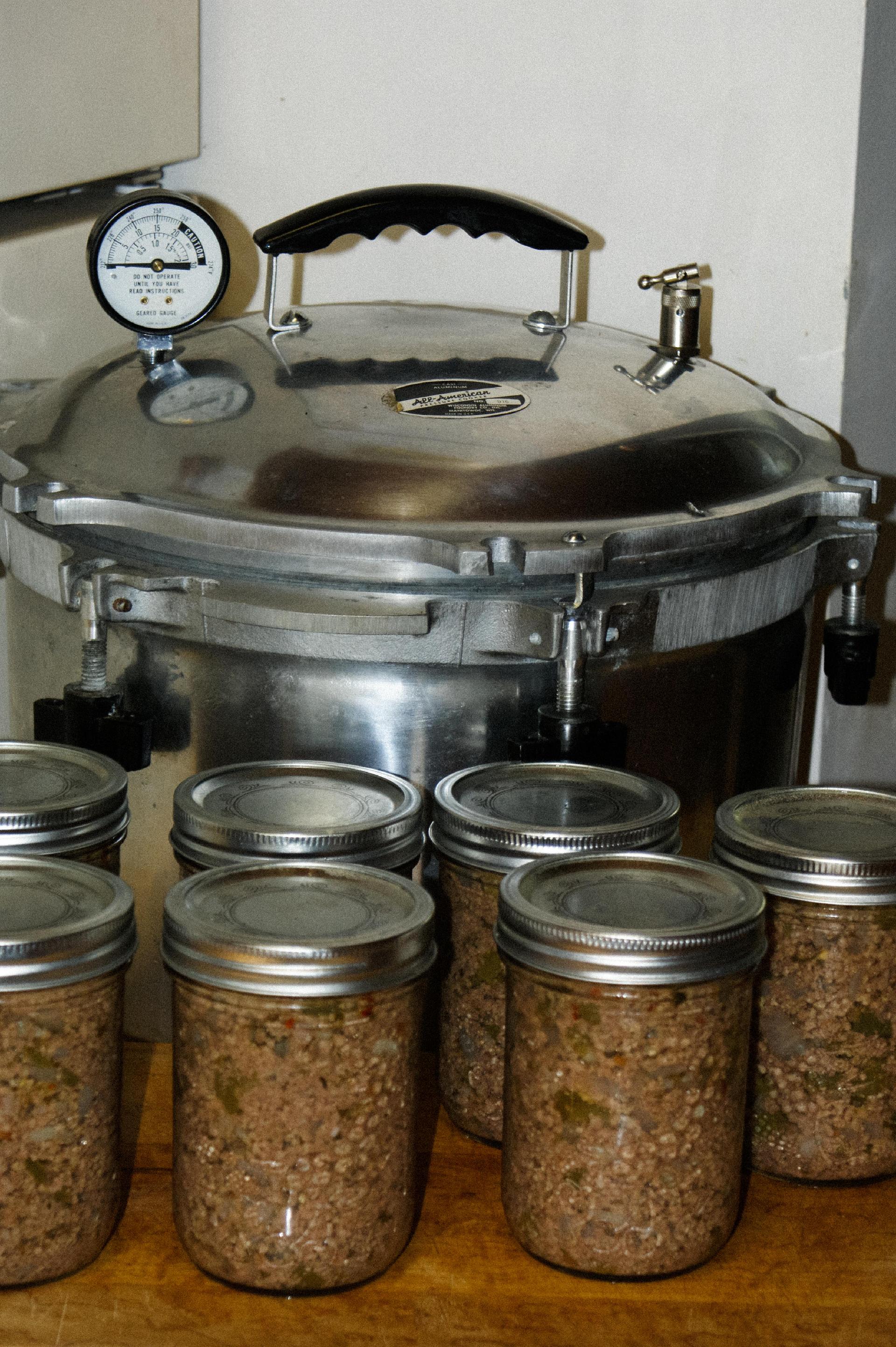 You really do need a pressure canner to safely can meat. I know many old-time home canners like my grandmother used the outdated "boiling water bath" method but this is not recommended today as the heat may not reach a high enough temperature for a long enough period of time to destroy harmful bacteria inside the jar which can lead to botulism (food poisoning). A pressure canner takes the gamble out of canning low acid foods like meat.
You'll also need approved canning jars free of nicks, with new lids to ensure a proper seal. For this recipe I like to use 250ml jars which hold about 1 1/2 pounds of meat per jar. You can use 500ml jars if you are processing a larger amount of meat but I find a 250ml jar is just the right amount of meat called for in many of my favourite recipes.
Since my pressure canner accommodates up to eight jars, I like to process about 12 pounds of meat in one canning session. And, good news is, you can mix venison meats like moose, deer and elk, and I have even used ground beef along with the venison to make the measure when I've fallen short and it worked great. If you're the camp cook like I am, you can even ask your crew to donate some of their last season's bounty especially for the canning pot. Once they've tasted canned venison in camp they'll be happy to oblige!
On the night before, take meat out of freezer and thaw in cool place. In the morning, de-bone the meat from roasts, steaks, ribs and whatever else you have on hand and cut into grinding sized pieces. Add stew to the deboned pile. Packaged ground meat is already to go. Run the cut-up meat through the grinder, set aside in fridge.
Put the bones into a stock pot along with some chopped celery, onion, fresh minced herbs, salt and pepper, cover with three quarts water and simmer about three hours or until you have a rich stock. Skim and hold hot. This stock is used to cover the browned meat in the jars before canning but you can use beef stock or water, if you'd rather.
In a large heavy kettle such as a Dutch oven, working in batches if you must, brown meat in vegetable oil or shortening. Transfer meat to strainer and allow excess fat to drain away, discard drippings.
Ladle the cooked meat it into sterilized jars. Add a pinch of dried hot chili flakes, if desired. Cover with hot stock, leaving one-inch headspace. Run spatula around inside of jar to remove trapped air bubbles. Wipe rims of jars with clean cloth dipped in vinegar to remove traces of grease that may cause an improper seal. Put on prepared lids (heated in boiling water to soften the sealing compound–or as advised by manufacturer). Lightly tighten.
Since there are various makes and models of pressure canners on the market today, you should follow your own manufacturer's manual for exact processing times taking into account the size of jar used and, of course, your altitude which may call for adjusting as instructed in the booklet.
After processing time is up, allow canner to depressurize on its on accord before removing jars. Set them on a folded tea towel in draft-free spot to cool completely overnight before checking the seals. The lid of a properly sealed jar should be concave or curved down slightly in the center. If the lid on a jar is flat or bulging it is an indication of an improper seal and that jar of food must be stored in the fridge and used promptly or frozen for safekeeping. When seals are checked, label jars and store on the pantry shelf until ready to use.
For Safety's Sake
Always inspect a jar of food very carefully before opening. Look for signs of leakage, bubbling or frothing inside the jar. If these signs are present, discard. Upon opening, listen for hissing. Watch for spurting liquid. Check the seal for mould or discolouration. These are signs of food gone bad. Discard.
Never taste any food that has an unpleasant or "off" odour. When in doubt, throw it out!
Now to put your stash of canned browned ground venison to good use. Try my super versatile camp specials below–take note, no exact measures are given which produces signature pots of food every time! They make six hefty servings.
Spicy Pasta Sauce
Put a couple tablespoons olive oil in Dutch oven. Sauté chopped onion, sweet peppers, garlic (I use tons), until soft. Add a jar of canned venison along with juice. Cook until juice is evaporated. Add a large can of seasoned pasta sauce (I like the "three cheese" variety) or a couple cans tomato sauce, if you'd rather, good pinch of mixed dried Italian herbs, shake of dried crushed chili flakes, salt and pepper to taste. Simmer five minutes. Stir in a hefty shake of grated Parmesan cheese at the end of cooking time. Serve over cooked pasta noodles.
Garlicky-Good Chilli-Con-Carne
Heat frying fat in Dutch oven. I use saved up bacon drippings for smokin' good flavour. Fry chopped onion, sweet and hot peppers and garlic until soft. Add ground cumin, coriander, dried marjoram and hot chili powder to suit taste. Cook until spices are absorbed. Add a jar of canned venison with the juice, a can (about eight ounces) of tomato sauce and two large cans (15.5. ounces) red kidney beans. Cook until thickened to liking.
Hunting Camp Sloppy Joes
My gang loves these messy hot sandwiches! Empty a jar of canned venison with the juice into a cast iron skillet. Add a couple tablespoons dehydrated onion flakes, granulated garlic, dried red peppers, couple tablespoons spicy ketchup, dollop of prepared mustard, sprinkle of brown sugar and salt and pepper to taste. Cook until thick enough to mound on top of buttered hamburger buns.
Venison Burger Soup
Empty a jar (or two for a big pot) of canned venison into the camp soup pot. Add water and canned stewed tomatoes to cover. Toss in chopped onion, garlic, potatoes, carrots, turnip and whatever other vegetables are in the food box, a handful or two of orzo or other suitable pick of pasta for soup, or long grain rice. Season with herbs, salt and pepper and simmer until vegetables are tender.