Arming your family with pie irons is a fun way to keep them well fed while enjoying the outdoors and they'll love cooking their own campfire meals. And the good news is pie irons come in various sizes, to satisfy any appetite, and shapes, for cooking anything your heart desires, so it's easy to find pie irons that suit your needs to a tee. You can buy them wherever camping gear is sold.
One of the things I like about cast iron (which most pie irons are made of) is that it holds and distributes heat evenly, which is important when cooking over a campfire with uncontrollable heat. Food seldom burns, so even the novice can turn out a perfectly cooked meal every time. Another thing is there's no pots and pans to scour when the meal is over because everybody cleans their own pie iron and it's easy, pardon the pun, as pie! Simply fill with water, boil to remove food and grease, empty and dry over the fire.
But pie iron cooking is not just for family fun because, if you're like me, and enjoy taking off into the backwoods on a solo adventure and want to travel light, then tucking a pie iron into your backpack is all you need for cooking a hearty meal without a lot of fuss and muss, and there's no rattling cookware in your pack that'll spook game.
I've been using a pie iron for years and have made everything from hefty toasted sandwiches, known as toasties or mountain pies, to potatoes, bacon and eggs, meat patties, fried fish, venison liver, cornbread, bannock and even wild berry pies (from which the pie iron got its sweet name). So give it a try. Once you start cooking with a pie iron, you may never want to go back to pots and pans.
Below are a couple of my favourite recipes to break ground with.
Pie Iron Meat Patties
I like to use a double-size pie iron, which cooks two patties in one shot. However, a single pie iron is perfect for kids and those with smaller appetites. You can do the prep work at home by seasoning the ground meat with salt, pepper and minced onion, or whatever you fancy, and packing it into an empty tin can (or cans). It can be frozen, if desired. When ready to cook, open the bottom of the can with a can opener and use the lid to force the meat up through the top, slicing at desired thickness – the thinner the patty, the faster it'll cook. Serve the patties on toasted English muffins with cheese for a breakfast sandwich (as shown in photo), or on a sesame bun with all the trimmings for the best hamburger ever. A pound of meat makes four to six patties.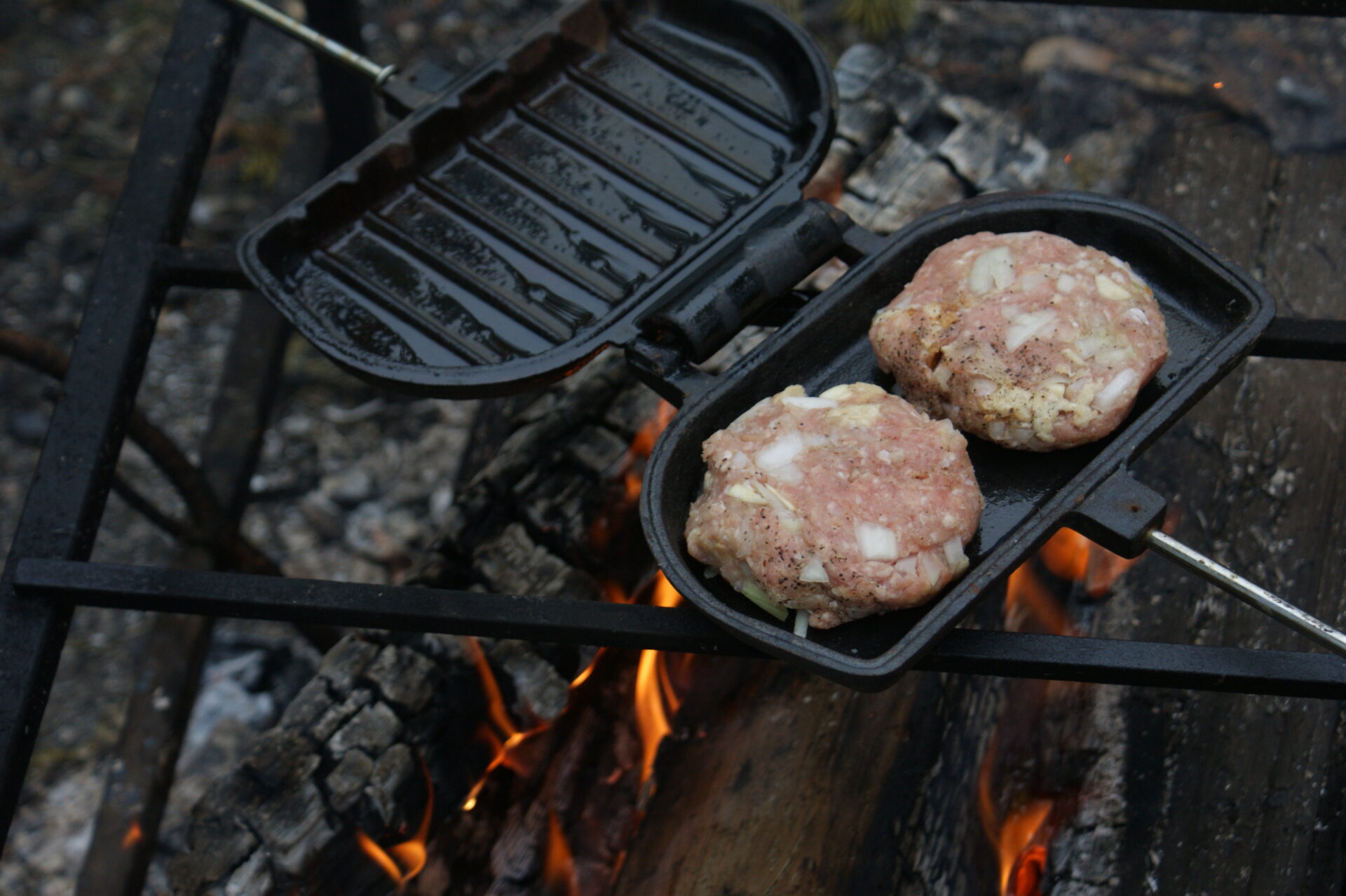 Ground venison or beef
Cooking fat (shortening, lard, oil)
Processed cheese slices
English muffins, split in half
Heat the pie iron over the fire. Melt a little fat in the bottom half of the pan and put in the patties (or patty). Close the lid. Cook over coals for 20 to 25 minutes, flipping the pie iron over every five minutes. Remove from the fire. Open the pie iron and check for doneness. Meat should be nicely browned on both sides and cooked through. If not, close the pan and return to the fire, cooking and flipping until desired doneness is reached. During the last few minutes of cooking, toast the muffins over the grate. Open the pie iron and place the bottom halves of the muffins on the lid. Cover each with a cheese slice, place the patties (or patty) on the cheese and top with the other halves of the muffins. Close the lid and flip over the fire a couple times to melt the cheese.
Pie Iron Potatoes, Bacon and Eggs
No measures needed! Fry some diced bacon in a pre-heated pie iron until golden. Pile enough thinly sliced potatoes on top of the bacon to fill the bottom half of the pan. Season with salt and pepper. Close the lid. Cook for about 15 minutes, flipping often. Open the lid and check for doneness. Potatoes should be tender and crispy and golden on both sides. Open the pie iron, melt a dab of cooking fat in the lid, crack in one or two eggs and fry to liking.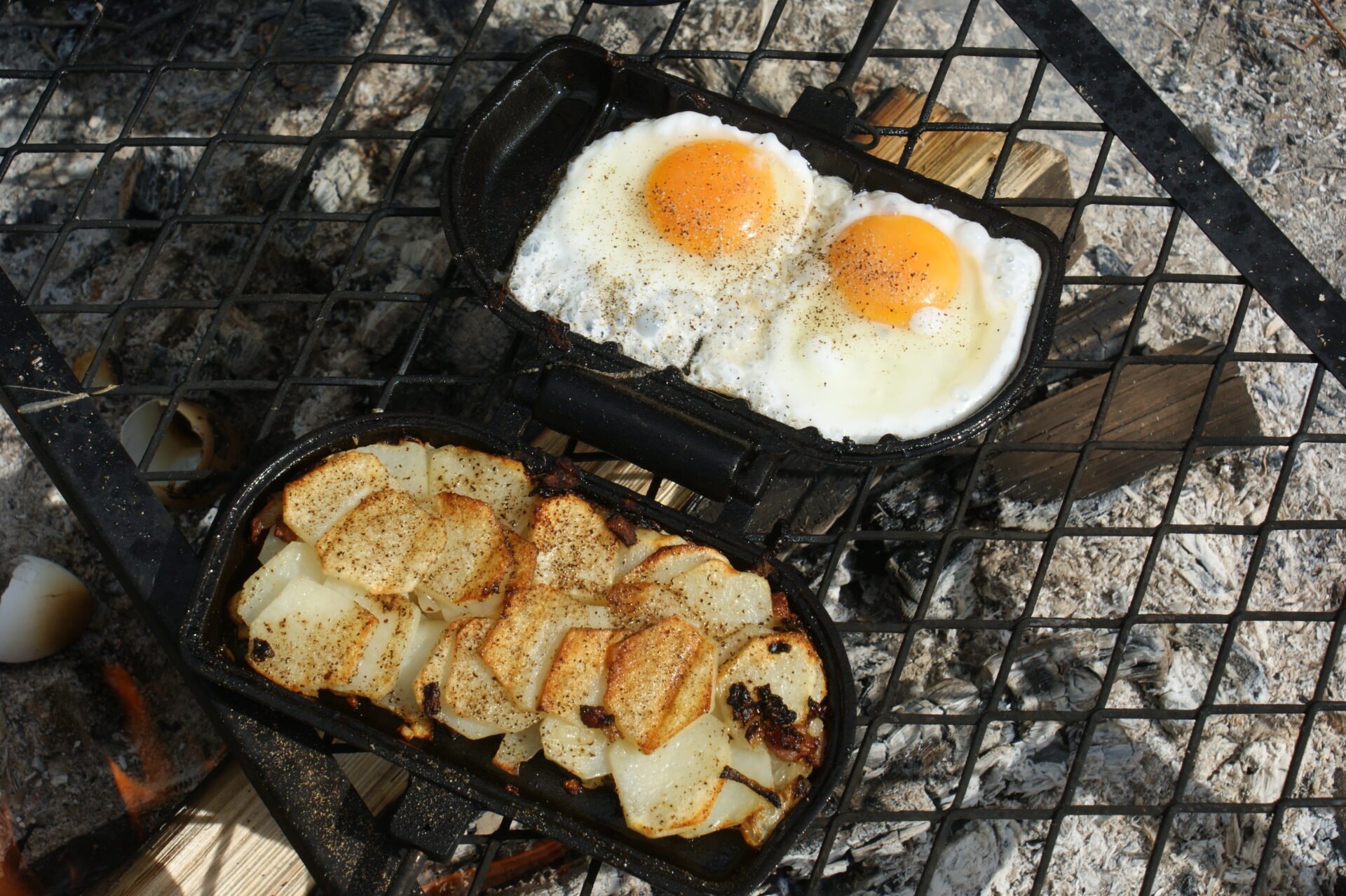 Wild Blueberry "Pudgy" Pie
What's more fun than picking enough wild berries to bake your very own personalized pie!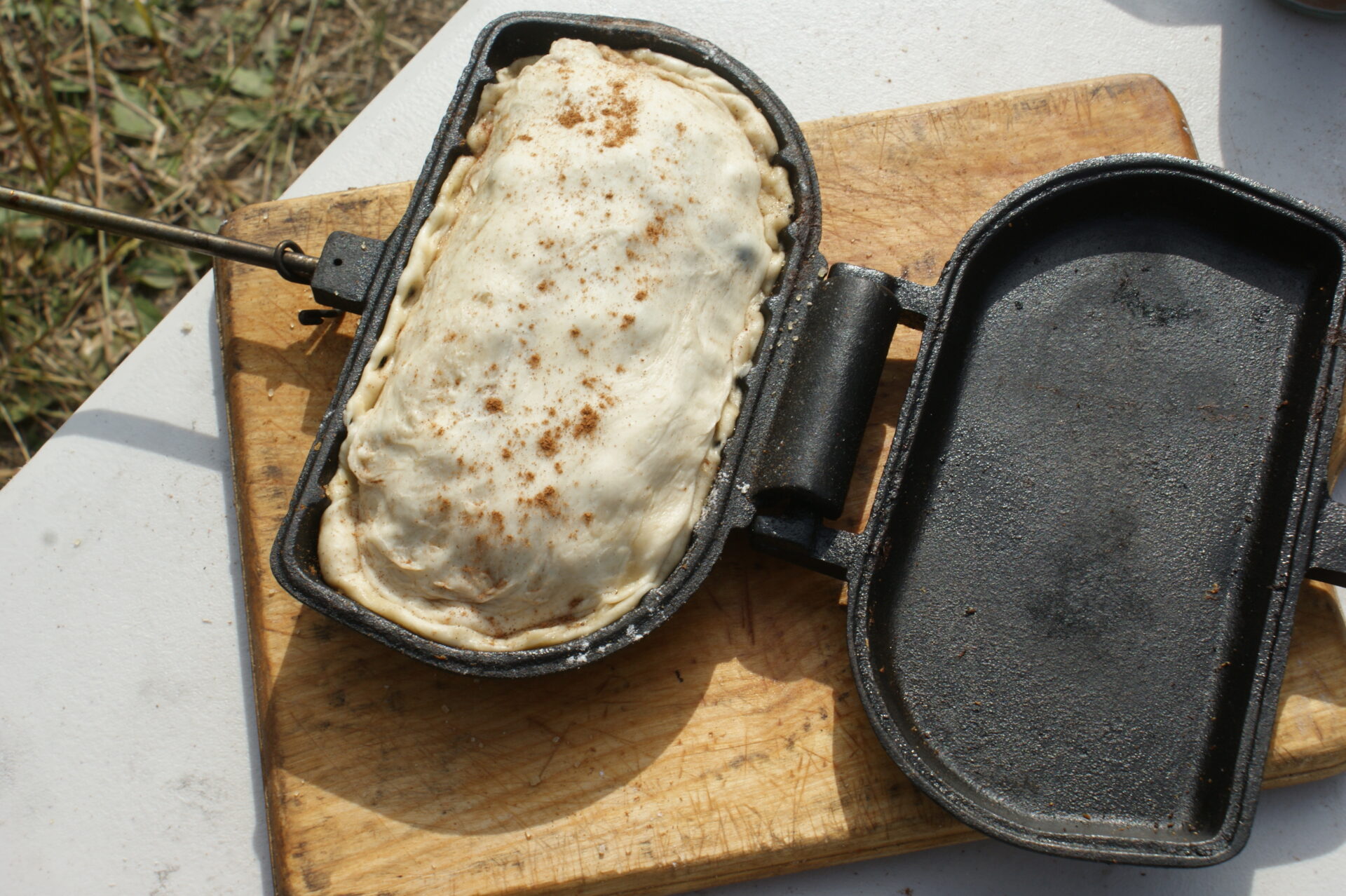 Pre-made pie pastry (I make the pastry at home, so the dough balls are ready to divvy up in camp)
Blueberries
Flour
Sugar
Cinnamon
Butter
Line the bottom half of a pie iron with pre-made pastry by using your fingers to press it into a crust. Sprinkle with cinnamon. Dust the berries with flour and empty into the crust. Add sugar to taste, dot with butter and cover with a top crust, pinching the seams to seal. Bake over the fire for about 15 to 20 minutes, turning every five minutes and peeking halfway through. When baked, pastry should be golden on both sides.