Much of the local waterfowl hunting takes place on private land and if you have access to property that's legal and holds ducks, you are one of the lucky few and really need to look no further. However if, like many of us, you are not best buds with a farmer that owns fields full of ducks, do not despair. There are areas open to the public that can offer tremendous action with no shortage of birds.
Here are a few of the better known, easily accessible areas where anyone with the proper paperwork can set up for a mornings of knocking ducks out of the sky.
Roberts Bank
Known locally as the Ladner Marsh, this lovely peninsula can be a real hotspot early in the season and again when the snow geese start to show. To access the marsh, you drive right through the heart of Ladner on 47A Ave until it turns into River Road West. Follow this road along the Fraser River past Port Guichon and then Wellington Park. Shortly after you pass the bridge to Westham Island on your right, the road will come to a dead end with just enough space to turn around. There is parking on the north side of the road and from there it is just a few steps to the dyke. The marsh and hunting area starts a couple of hundred metres west from the parking area.
The Ladner marsh can be busy at the beginning of the season, particularly on the weekends. Don't let that dissuade you. It's a good-sized piece of land and, if you are willing to walk out into the marsh a bit, there is more than enough room-so set up away from other hunters.
Waders are a must here as it is a tidal marsh and it can be difficult, even a little dangerous, to walk through at high tide. There are drainage ditches, visible at low tide, crisscrossing the whole area. Again, be careful. When the water is a foot deep throughout the marsh at high tide you can easily step into one of the ditches before noticing it was there. It's a good idea to check the tide charts before you go and plan your hunt accordingly. A dog is very helpful here, but if you stick to the center of the marsh away from the shore, you might be able to play retriever yourself.
Boundary Bay
While it is only a few hundred metres wide, the space that is open to hunting west of the Boundary Bay dyke is almost eight-kilometres long. This wildlife-rich marsh in Delta is clearly marked on the Fraser Valley Special Area License map. It can be accessed from a couple of different spots, but the most popular way in is from Ladner Trunk Road, west on 72 Street past the Boundary Bay Airport all the way to the parking area at the dyke. It's a good idea to get as far west from the dyke as possible, not only because the dyke can be busy with people out for a stroll, but the hunting will also be better closer to the water. It is not uncommon to see thousands of birds rafting just outside the marsh and, when the water gets rough, the birds often fly over the marsh seeking calmer waters in the fields and potholes further inland. This area is tidal but not quite as tricky to get around as the Ladner Marsh. Waders are always a good idea here, as is a dog–for making those wet retrieves.
Pitt Marsh
Just below Pitt Lake on the north side of Pitt Meadows is one of the prettiest, most productive marshes in southern BC. Take Rennie Road all the way to the parking lot and boat launch at Pitt Lake to find the starting point to some of the best duck hunting the Lower Mainland has to offer. While this is a very productive area it is also the most difficult of the well-known public areas to hunt. There are strict usage and access regulations that include specific days of the week when hunting is allowed. A small boat is pretty much mandatory to hunt this area, as is a good dog that will not balk at some very challenging retrieves. Be forewarned: Pitt Marsh has been the downfall of more than a few dogs and there is no shortage of hair-raising tales about dogs running into trouble.
The people who hunt this marsh successfully have all invested the time and energy it takes to learn its secrets. Most start well in advance of the season by constructing blinds far into the marsh. The work involved for this kind of preparation is not a casual just-show-up-and-start-hunting type of undertaking. If you plan to hunt in Pitt Marsh, I advise you to start scouting and planning well in advance of the season. The rewards can be great as the Pitt Marsh holds a tremendous number and variety of birds, but success will not come easy and the only way to learn this area is to put in the necessary sweat
and effort.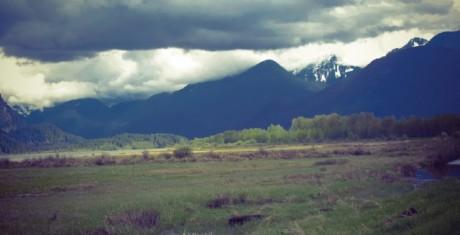 Etiquette
As hunters, we must always be aware of the rules and regulations of our sport. As important as adherence to the rules normally is, it becomes absolutely vital when we are hunting in heavily populated zones. In all the areas I have described you will be hunting within sight of people who are just out for a morning walk, many with baby carriages and small children in tow. My experience has been that most of these folks will tolerate and accept respectful polite hunters. There are, however, a few people who frequent these places who are determined to take away our right to pursue our sport so close to where they enjoy their outdoor activities. Even as I write this article, there are motions before some Lower Mainland city councils requesting the complete elimination of hunting and firearms discharge bans. This is all the more reason for anyone hunting these busy public areas to exhibit exemplary behaviour, along with sensitivity for non-hunters that goes beyond what the rules call for, at all times. You can be sure that you will be challenged (by hunters and non-hunters alike) for any transgressions such as sky busting, shooting from closed areas or leaving spent shells lying around.
Some hunters who regularly utilize these areas feel that more people chasing ducks will bring about the demise of hunting opportunities due to an outcry from the public who witness poor behaviour from slob hunters. Others like me believe the only way to protect these precious areas for hunting in the long run, is for more waterfowlers to use them wisely and respectfully, developing an amicable relationship with other users and local authorities. However, if we don't represent the best of what our sport offers, we simply won't have access to these areas for much longer. That would be a shame for us and for generations to come.
So, the next time you want to experience some great duck hunting without endless driving or breaking the bank with travel expenses, try some of the public spots close to home. My guess is that you'll be pleasantly surprised at just how good Lower Mainland duck hunting can be.