Hunting and tenting go hand in hand. For me, the canvas tent removes the risk of damaging my shiny holiday trailer on trails that get us into hunting territory, and I can wear my boots in the tent. The tent gets me and my buddies closer to remote wilderness, and the wall tent has improved the quality of my wilderness camping and public land hunting. The way the tent zippers work, the quad can even come into the heated tent for repairs, if required.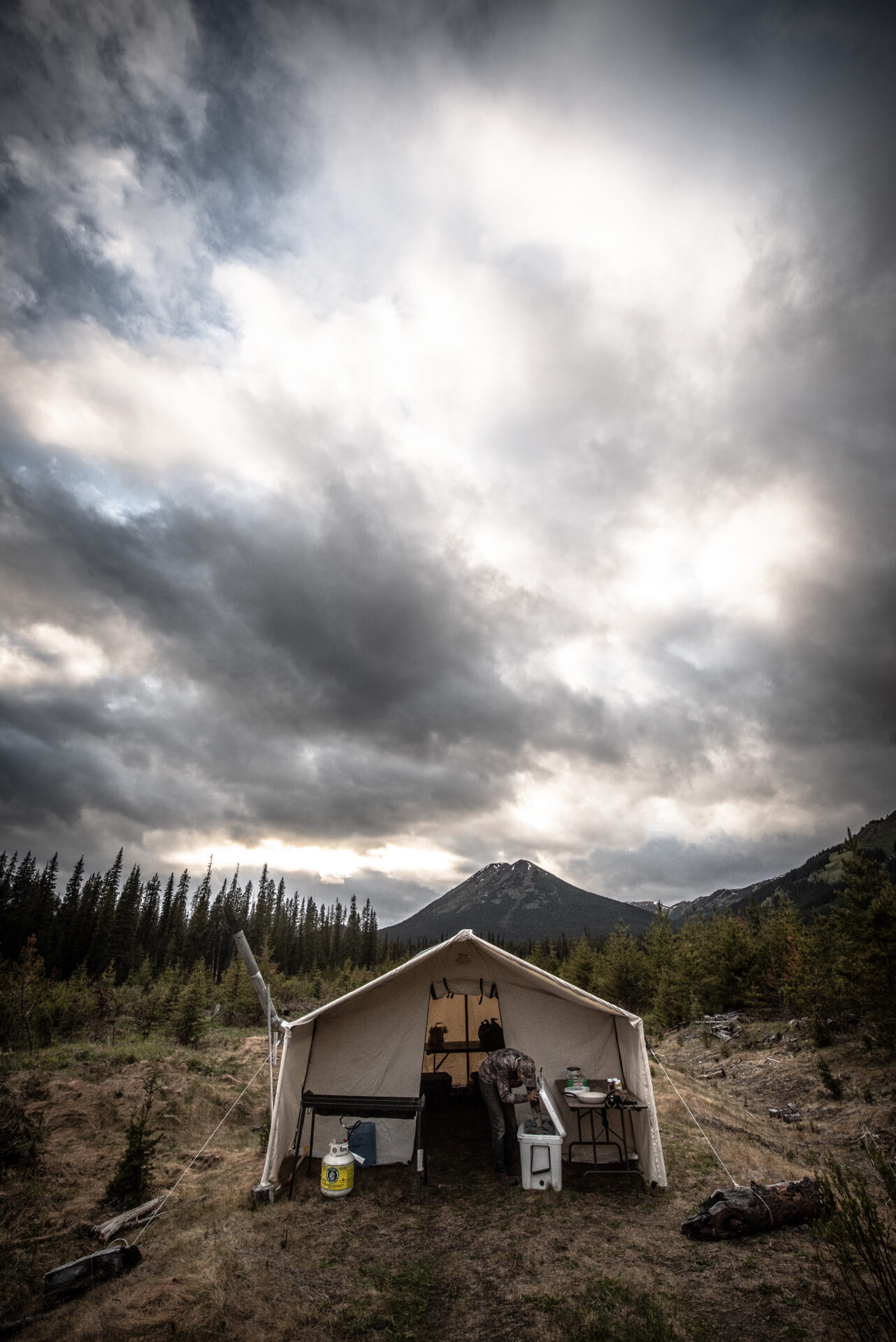 Somewhere beyond the end of the road, there is a trail, and at the end of that trail you will find my outfitter tent set up 30 to 45 days each year. The outfitter tent lets us live luxuriously, enjoy good food and comfortable beds, and be hotel-bill free. Over the last three years, we have avoided upwards of $7,500 in hotel bills (as if there was a hotel where we camp).
"A new world awaits you (with canvas tenting). After setting up your camp, you get a real feeling of accomplishment," said the tent expert at Edmonton Tent and Awning.
Pitching The Canvas Tent
I normally set up my Deluxe wall tent for seven to 14 days at a time, as less than this just doesn't make sense. We hunt spring bear season, fall elk, moose and deer. Canvas wall tents are worth the work.
Beau White from Deluxe Wall Tents on Vancouver Island claims, "You can set up a tent in 15 minutes."
You can, and I have done it, especially when the weather at set-up is nasty. But unless we are in a panic, a leisurely two to three hours is more like it. It takes us that long to drive stakes, tie guy-lines, wire the stove stack, straighten the floor, lay the fire, assemble the bunks, and put air in the Therm-a-Rest mattresses, arrange the table and chairs, fill the lanterns and water tank and make coffee. This is part of the reason we go for a week at a time at a minimum.
In my camping adventures, my three-metre (10-foot) porch is where I set up dishwashing, keep the wood and coal out of the rain and snow, and sit comfortably in the afternoon. I am a big fan of internal framed tents and passed on the sewn-in floor. Setting up an internal frame tent with a floor in it is difficult. Choose a good ground sheet instead. Fold the sod cloth so there is bare earth under the wood stove.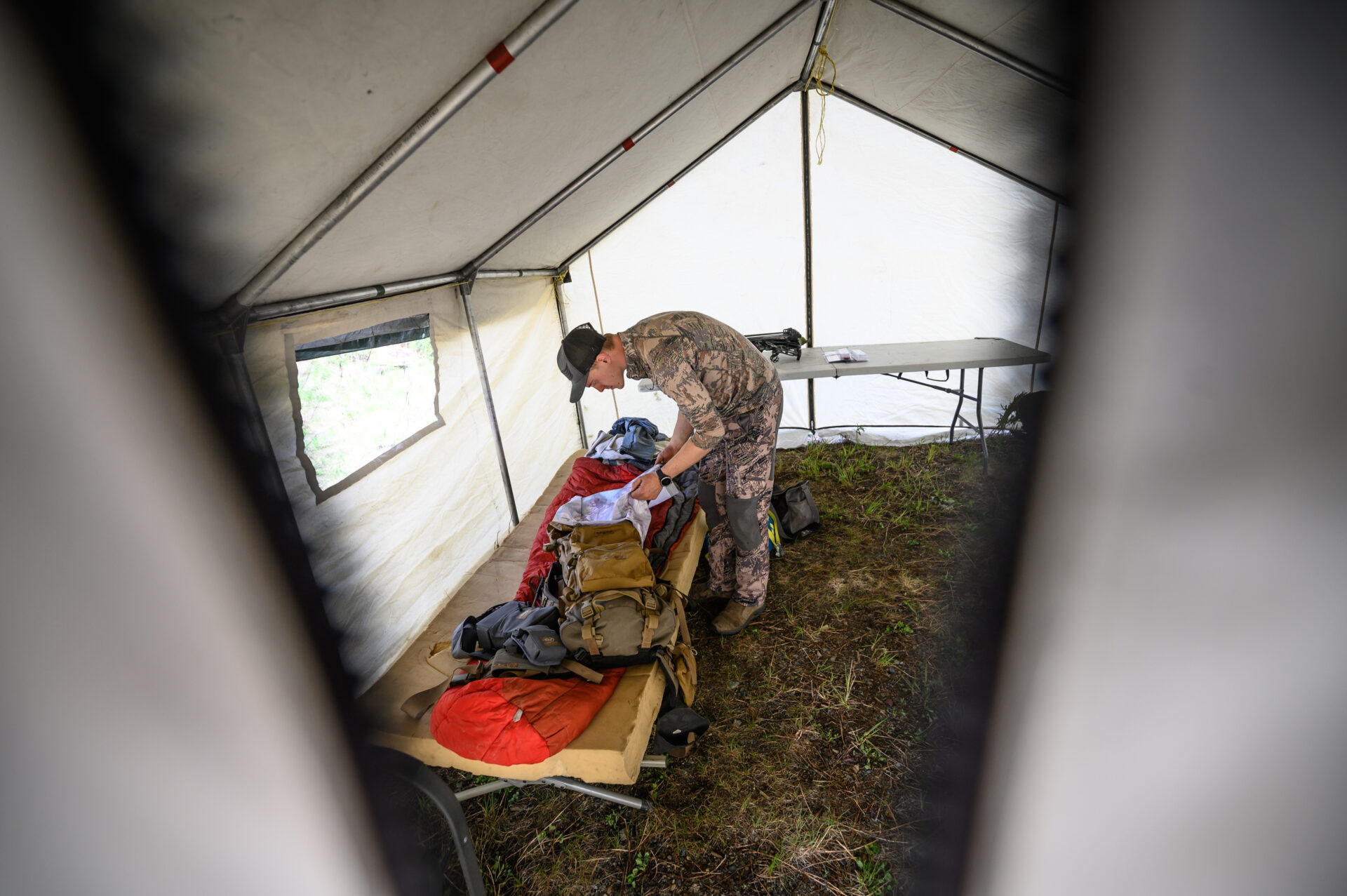 The Comforts Of Home
The canvas tent changed both where I camp and how. It's a downright luxury to sleep where you're going to explore the next day. I pack the whole works in a covered utility trailer where we lock food away. We've had no problems with bears so far, but we leave no food in the tent, not even a bag of chips.
Three years ago, I purchased a 14 by 16-foot canvas wall tent with a 10-foot porch from Deluxe Wall Tents on Vancouver Island. Because I camp a lot, I get good use out of it. We talked about sharing the costs between two or three of us guys, but in the end I decided it would be mine. It is very roomy for two guys, is comfortable for three and starts to get a bit cozy when four guys call it home. We have accommodated five, but we stacked bunks.
I bought the aluminum frame because ridge poles are tough to find amongst the grass. I added both a medium-sized wood stove with the optional 25-litre (five-gallon) water heater and a medium-sized diesel heater. Heavy, stackable bunk cots were added to the order.
Beau has noticed an interesting progression with some customers. "Over the years, we have seen so many people transition from campers and trailers (to tents)," he said. "The amount of positive feedback from customers is telling; they will never go back simply due to the fact that it's so convenient to transport and much more spacious than a trailer."
For me, canvas wall tents are the luxury pinnacle of camping.
The decision to buy a canvas tent was easy. In fact, I had wanted one for years. The tough choices start once you opt for canvas. The first decision is choosing a supplier and settling on a size, then the funs starts with selecting options and choosing optional equipment.
Before tackling this topic, I reached out to Beau and the resident tent expert at Edmonton Tent and Awning in Edmonton, Alta. The advice that follows is a combination of their input and my own first-hand and sometimes hard-earned experience to help with the decision to step into a canvas wall tent and to inform the decisions that follow.
Purchasing A Canvas Tent
Here are some questions to consider before ordering your tent:
How many people are going to be sleeping in the tent?
Will a porch extension be needed for firewood storage or cooking area?
What type of vehicle is being used to transport the tent and gear?
What type of heat source would be best when in cold climates?
Seek advice from someone who has been a canvas tent camper. One of the guys at Edmonton Tent and Awning has two tents in his personal set-up. Here is his advice:
Plan for 35 square feet per camper for cot and gear. Add 16 square feet for the stove. If you think a 10 by 12-foot will do it, think seriously about going one size bigger.
Consider where your tent is manufactured. Warranty work or eventual repairs are easier to get done when your tent manufacturer is local.
Ensure the material is certified quality canvas.
Verify fire retardancy.
Order a fly or waterproof tarp to keep rain and snow off the tent and purchase an additional fly or waterproof tarp to be set up to keep the woodpile dry or as an alternate cooking space. A waterproof fly will shed rain and snow, protect your roof from sparks and add some insulation. Using a fly every time you set up will help your tent last long enough to pass on to your kids.
Add a spark arrestor between the stove and the start of the pipe or at the top of the pipe to keep sparks off your tent and out of the forest or grass.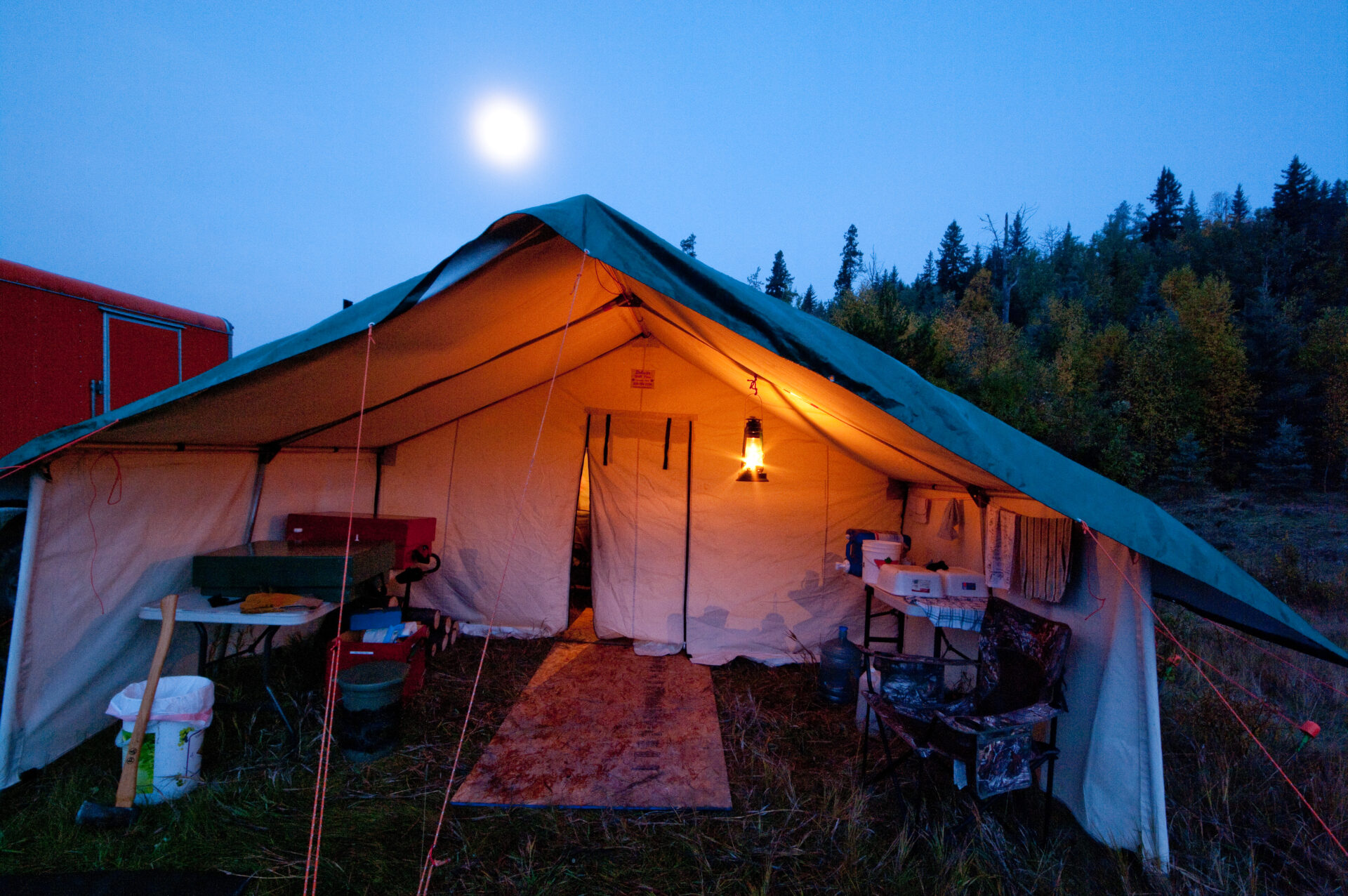 Pondering Your Options
There is a myriad of options to mull over when ordering your tent. Here are the main ones:
Internal ties for a drying rail to hang gear
Carry bag for tent, porch and fly
Additional windows in the back and side walls
Sod cloth – the best alternative to a sewn-in floor
Outside ridge – to be used with a ridge pole set-up
Guy ropes
Porch extensions
Stove jack options: would a top or side chimney exit work better for your set up? Consider adding an additional stove jack to the back of the tent for supplemental diesel heat or changing the stove location to the back of the tent if you wish
Wood stove and/or diesel heater
Water heater and side rack for the wood stove
Porches could be considered a necessity. "The porch serves many purposes," Beau said. "They are great for firewood storage and for cooking in. Some people even go as far as creating another room by requesting an end wall with a zippered door to be sewn onto the porch for added comfort while cooking or even extra sleeping space. The most popular option would be a five-foot or 10-foot porch extension."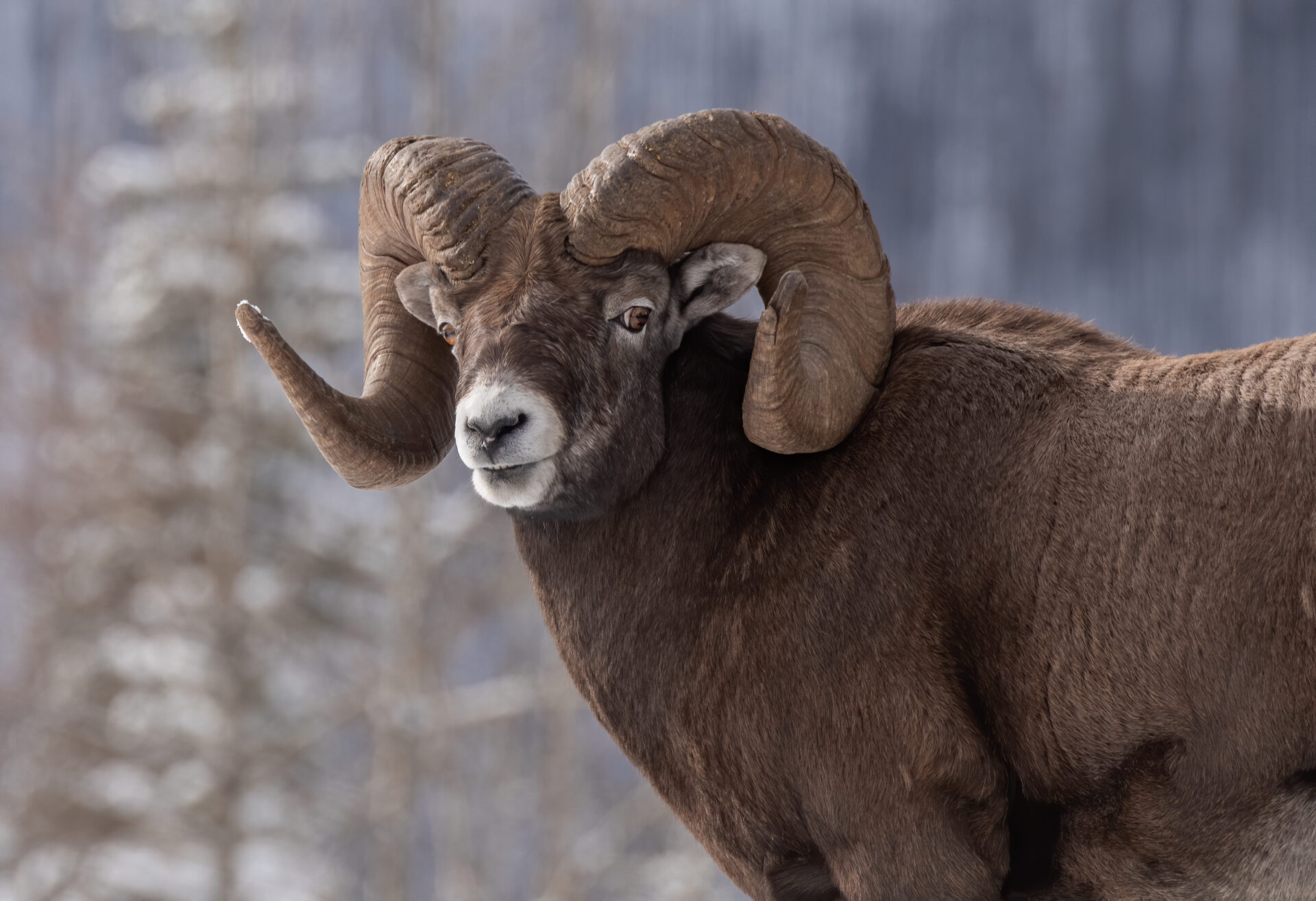 What About Heat?
"Hands down, my preferred heat source is the Expedition diesel heater due to the fact that it puts out quick, reliable heat," said Beau. "Unless you have a stockpile of seasoned wood for a stove, the diesel heater is guaranteed to keep you warm."
I can attest to the effectiveness of the diesel heater. It was a bit fussy to get dialed in that first season, but it heats the tent to living-room temperatures in -20 degrees Fahrenheit and colder. (We've been out at -38 degrees Fahrenheit and have been comfortable.)
But I still want a wood stove. The stove is easy to feed cut-and-dried deadfall for cooking and keeping the tent warm during the day, but nothing beats chunks of coal the size of milk cartons to keep the tent cozy overnight. In cold weather, I cook all the meals on top of the wood stove. For even heat all night long, stoke the stove with coal at 10 p.m. At 6 a.m., there is still enough orange glow to spark up some birch sticks to quickly warm the tent and make coffee and oatmeal.
The base price of my tent now is $3,000 (CDN) for a 14 by 16-foot canvas tent with an internal frame and a 10-foot porch. The price nearly doubled once I added stackable bunks, an upsized stove and diesel heater, and another stove jack at the back of the tent.
Oh, and I don't regret that I own it.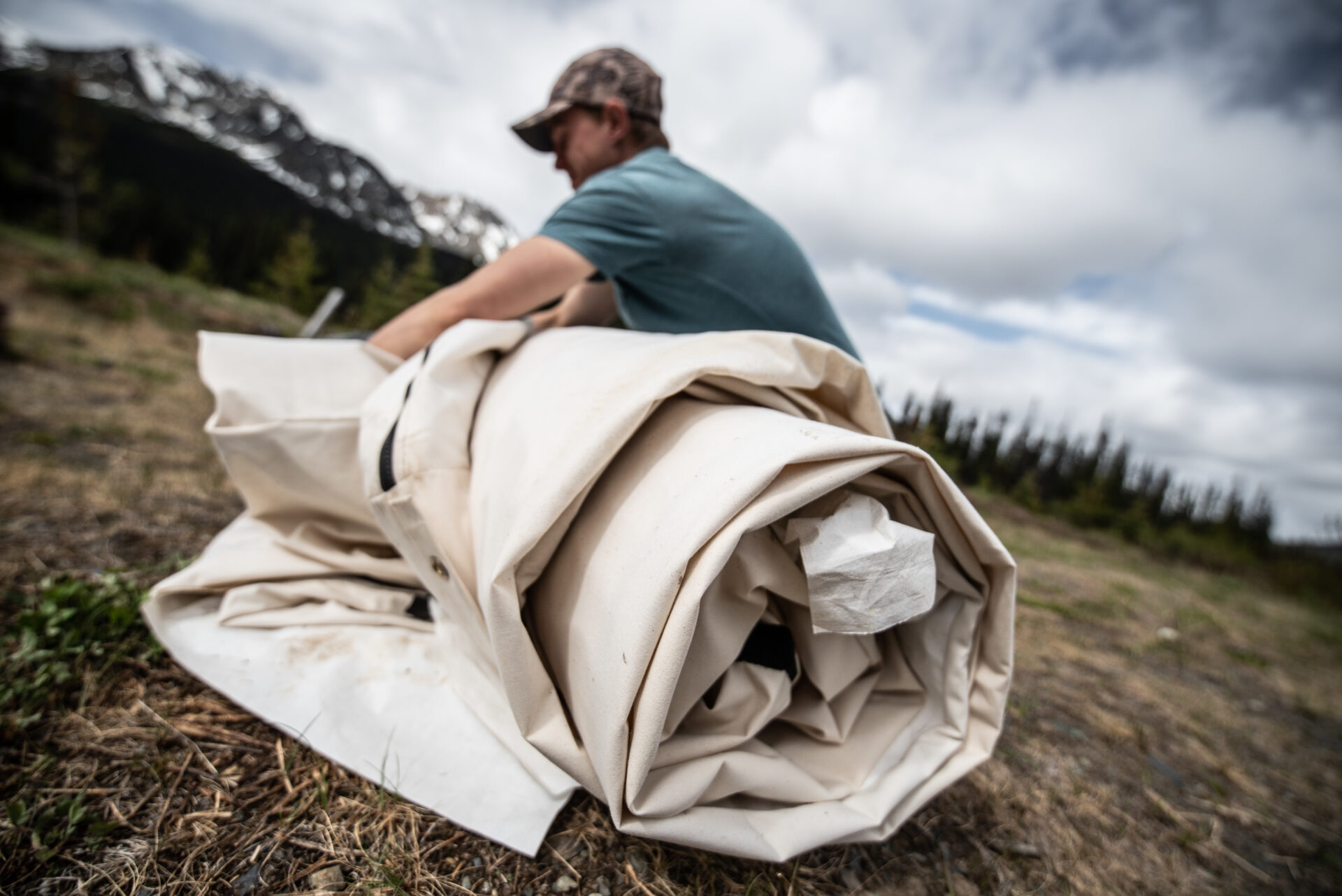 Problems To Avoid
Experience is a great teacher. My preference is to learn from others, especially if those lessons involve negative consequences.
Here is a to-do list to avoid the most common tent repairs:
Dry your tent before rolling it up and putting it away. It's the most important thing to remember. Make sure your tent is completely dry before rolling it up and putting it away for the season.
Use a spark arrestor and cover the roof with a tarp. Roof spark holes are common repairs.
Carry the tent across asphalt or concrete. If you drag it, the canvas will suffer abrasions and that will eventually weaken the tent.
Add Irish Spring soap bars or Bounce anti-static dryer sheets where you store your tent to avoid mouse problems.
Anchor your tent firmly. Go ahead and use all the anchor points, especially in a potentially windy location.
Be gentle with eyelets as they tear out with force.
Be careful not to tear screens in windows and doors.
Don't leave food in your tent. Bears account for a lot of repairs.