Growing up, rabbit wasn't a common meal come dinnertime. To me, rabbit was synonymous with rabbit and dumplings, and while a good rabbit stew does have its place in our cooking repertoires, one of the top ways to cook rabbit is to highlight, and not mask, the flavours. Honey and rosemary compliment rabbit beautifully and bring out all the delicious flavours that sometimes get hidden in other methods of cooking rabbit.
A looming concern for many when faced with the task of preparing a rabbit is the meat getting dry and tough. By basting the meat with the marinade throughout the cooking process, you can avoid dry meat and instead get a moist, melt-in-your-mouth meal that is sure to be requested at the dinner table again and again.
Note that the recipe calls for a whole rabbit that is carved up after cooking, but rabbit pieces can be used as well if that is what you have on hand.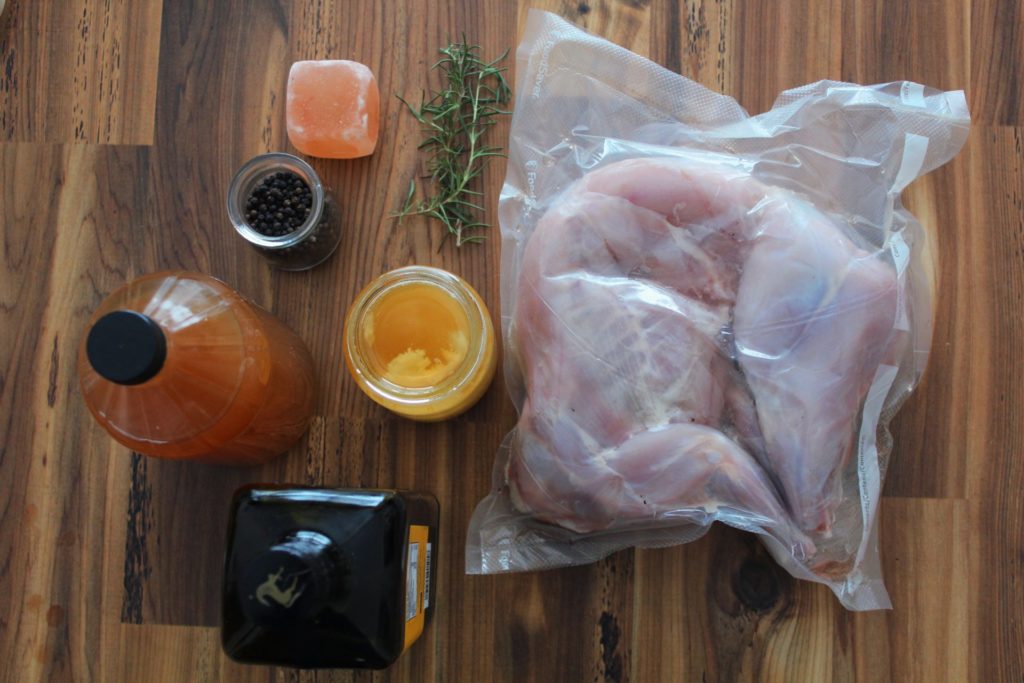 Ingredients
1 whole rabbit
1 cup apple cider vinegar
1/2 cup extra virgin olive oil
1/2 cup raw honey
5 sprigs of rosemary, roughly chopped
1 tsp salt
1/2 tsp pepper
Method
In a small bowl, combine apple cider vinegar, extra virgin olive oil, honey, rosemary, salt and pepper. If the honey is not in liquid form, you may have to warm it up to get it to blend together with other ingredients. Reserve half the marinade for later and pour the other half into a Ziploc bag and add rabbit.
Ensure that the marinade coats the rabbit and place in the fridge for eight to ten hours before you are ready to cook. During this time, be sure to periodically flip the rabbit/marinade combo so that all parts of the rabbit continue to get infused with flavour.
Preheat the oven to 375 degrees Fahrenheit*. Remove rabbit from the marinade (which can now be discarded) and place into a baking dish. Pour the remaining marinade that you had reserved over the rabbit and place baking dish into preheated oven. Bake for one hour, basting the rabbit with the marinade every 15 minutes. Remove from oven and allow to rest for five to 10 minutes before carving up and serving.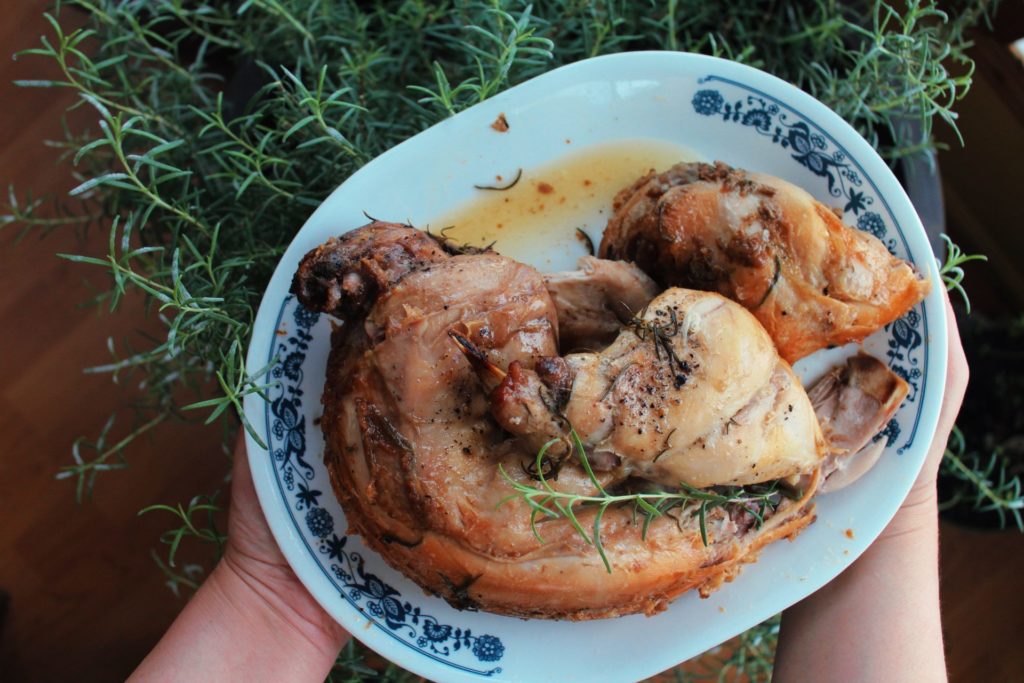 *Note: this recipe also works really well in a crock pot. Place rabbit and marinade into the crockpot on low for eight hours. If you want to crisp up the skin a bit after slow cooking, place in a 375-degree oven for 10 minutes.