There is nothing more thrilling than going on a halibut fishing adventure and landing one of our province's most coveted sport fish! Of course, it goes without saying, the ultimate reward is bringing home a delectable bounty of prized catch to share with family and friends because when a cook has a stash of halibut in the freezer, it's easy to serve a gourmet fish supper whenever the craving strikes.
If you are like me and take a lot of pride and pleasure in striving to eat as much self-harvested and locally grown BC foods as possible, then this delicious recipe is for you, since it measures up on both accounts.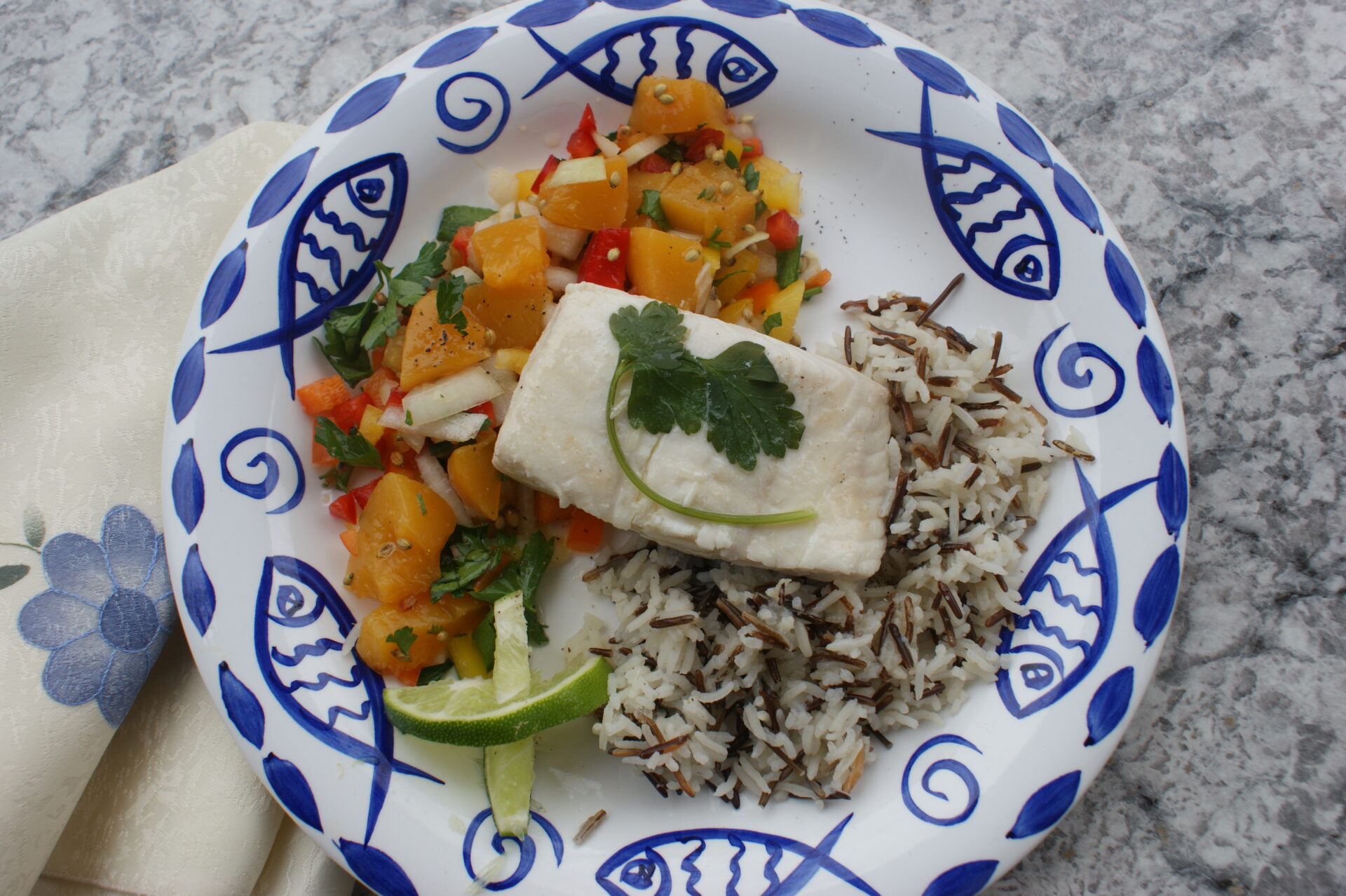 However, if your halibut fishing trip had to be postponed or canceled due to the stay-at-home health advisories and restrictions caused by the pandemic, preventing you from getting out on the water to land your own trophy fish, then the next best way to enjoy this feast is to mask up and net some fresh Pacific halibut at a local fish market, which, I assure you, will satisfy your appetite until our lifestyle returns to normal and we can bank on going on another big water fishing trip. Of course, as a last resort, you could use any other firm, white-fleshed fish in the recipe with good results.
One of the things I love about halibut is its dense, firm texture and delectable, mild flavour, making it an excellent choice for preparing in so many delicious ways. Everyone knows that halibut is the ultimate choice when fish and chips are on the menu because it stands up so well when deep-fried in a light, crispy crust. But for those times when you want to serve it with no cover-ups in order to appreciate the beautiful snowy flesh and delectable mild flavour, then gently poaching the fish as in this recipe is the way to go.
A sweet, tangy, colourful salsa made out of juicy, homegrown BC peaches pays highest compliments to the main attraction. Peaches are at their prime from mid-July to early parts of August and if you love peaches as much as I do, you really must put the Penticton Peach Festival on your bucket list.
Penticton has been celebrating their peach harvest for 70 years with a fun festival, and even though last year's event had to be cancelled due to COVID restrictions, I am hoping that this year it will be back on the agenda. If not, peach lovers like me can still load up with our favourite fruit fresh directly from a peach orchard or a farmers' market. When fresh peaches aren't in season, home-canned peaches are the next best thing, but store-bought will do, if you must.
I have geared the recipe below for a gourmet dinner for two, but it's easy to adjust the measurements to suit your own needs. A bottle of one of our province's fine white wines (my pick is chardonnay) is an excellent choice for toasting this memorable feast.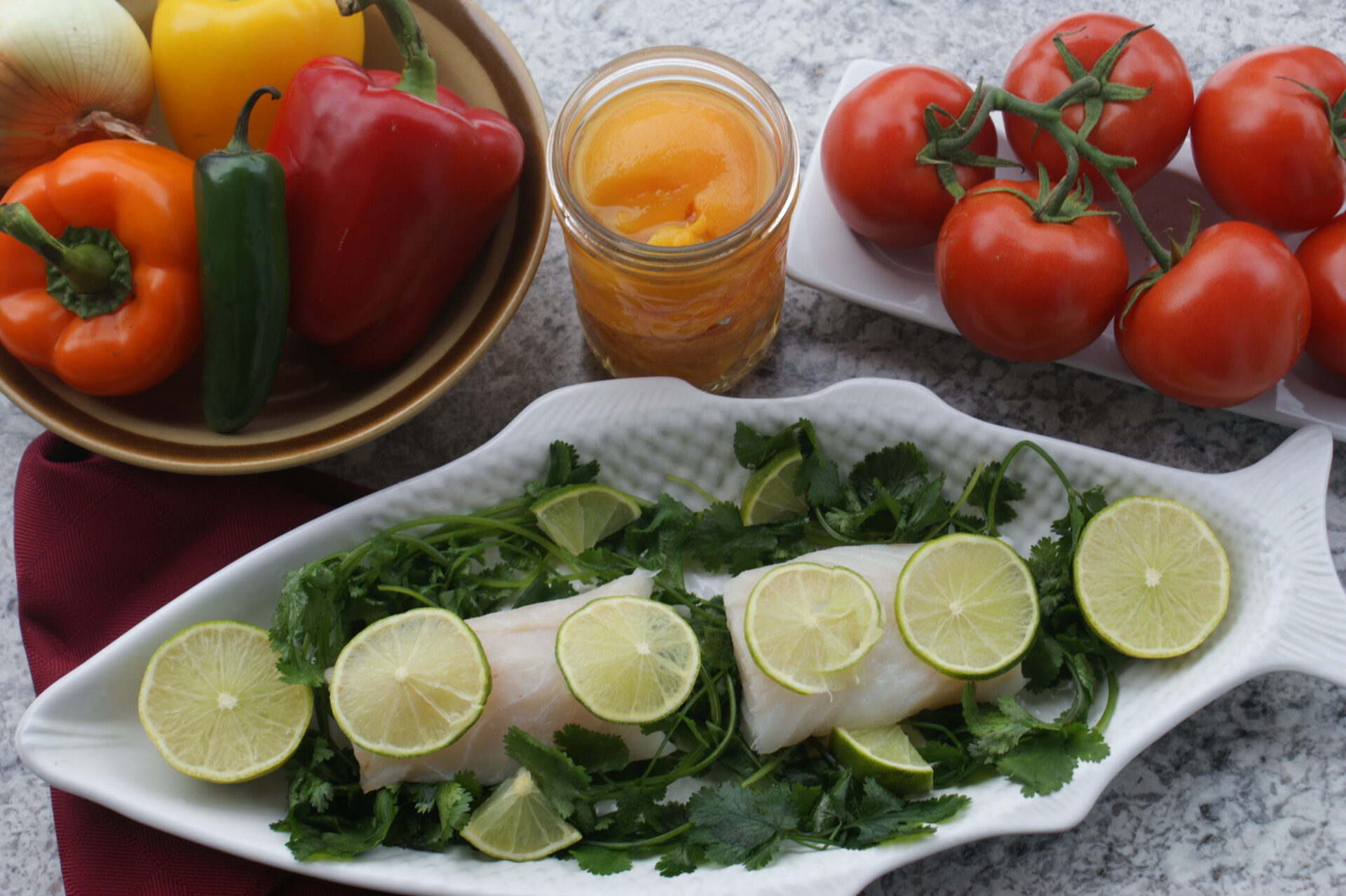 Peach Salsa
Make the peach salsa first in order for it to sit in the fridge for a couple hours to mellow out before serving.
Ingredients
2 cups diced peaches
2 large chopped tomatoes
1 1/2 cups diced chopped sweet peppers (I use mixed coloured peppers for amazing colour)
1 diced jalapeno pepper
1 minced onion
3 tablespoons chopped cilantro
Juice of 1 lime
1/2 teaspoon whole coriander seeds (I like the exciting burst of flavour when biting into a coriander seed but you can use ground spice, if you'd rather)
Pinch of salt
Place salsa ingredients into a bowl, stir to combine and refrigerate until serving time.
Additional Ingredients
2 halibut fillets (skin removed)
3 tablespoons butter
1 clove mashed garlic
3/4 cup white wine
Squirt of fresh squeeze lime juice
Chopped cilantro
Method
In a small saucepan (one that fits the fillets snuggly lying flat), melt the butter, sauté the garlic until flavour is released into the butter. Sauté the fish for three minutes per side. Add the wine, lime juice and cilantro. Cover and gently poach the halibut until the liquid is reduced to about 1/4 cup, at which time the fish will be properly cooked – the flesh should be opaque, firm and flaky, but not dry. Remove from the pan, reserving liquid.
To serve, spoon peach salsa on one side of the plate and steamed rice (I use one part wild rice to two parts white rice) on the other side of the plate. Place the halibut fillet on top and spoon the poaching liquid over the fish. Garnish with lime wedges.