When I was a girl, working at my Uncle B's fishing lodge, one of our most popular shore lunches was deep-fried freshwater catch of the day served on a traditional hotdog bun, crowned with creamy homemade tartar sauce. Everybody loved these hearty campfire sandwiches, including myself.
And I still do today, but unlike my uncle who landed everything from lake trout to walleye to burbot on his "fish dogs," I prefer to make mine out of delectable, mild-tasting halibut whenever I am lucky enough to have some to my avail.
I especially like halibut for this recipe because it has such a wonderful, firm texture, which stands up better than any other fish when it goes under covers. However, if halibut isn't on the menu, any boneless, white-fleshed fillets can be used, but, of course, in all fairness to the fish, the name has to be changed because if you want to call your sandwich a halibut sea dog, you must make it out of halibut. All else are merely "fish dogs!"
One of the reasons why I love this recipe so much, aside from the taste, is that when time is running short and there's a lot of mouths to feed, these hefty sandwiches can be wrapped in napkins and you can skip the dishes. Another reason why this recipe is popular in my house is because it goes over well with kids (who don't always love fish) but are crazy about anything that even faintly resembles a hotdog and can be eaten out of hand.
To assemble your sea dog, pile a bed of lettuce and a few red onion rings on the bottom half of a bun and lay a crispy halibut fillet on top. Spoon on some mouth-watering tartar sauce made from my uncle's old recipe below, put the lid on your sandwich and it's ready to tackle!
If serving with the tartar sauce, prepare it first and chill in the fridge for several hours before using it, in order for the flavours to mingle.
This recipe makes four sea dogs, but it's easy to multiply, with the only rule being not to crowd the deep fryer, so work in batches, if you must.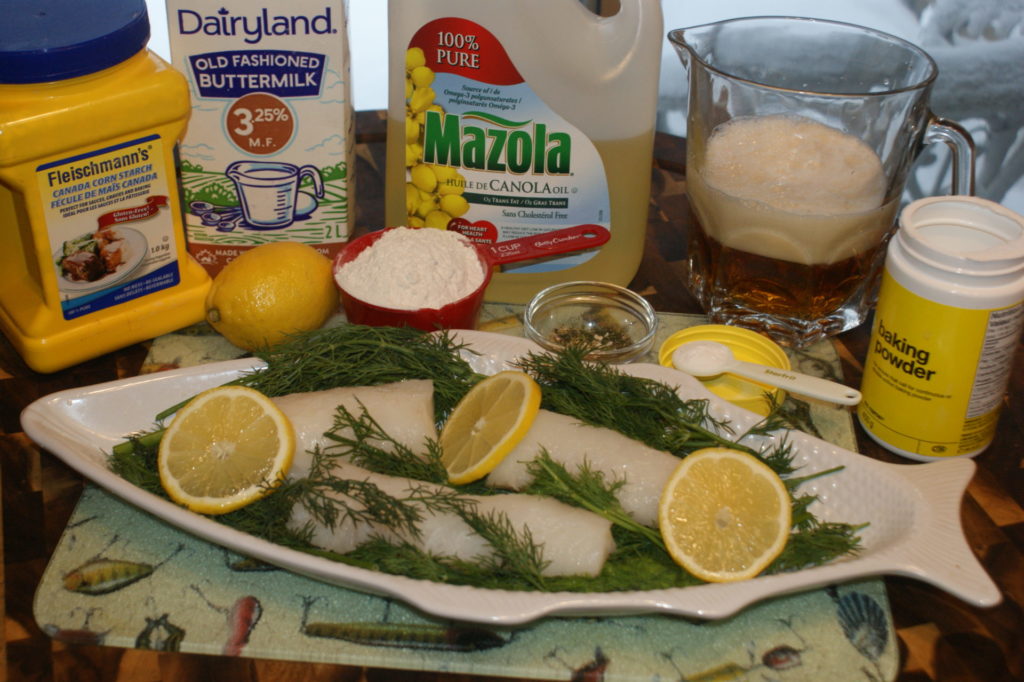 Ingredients
4 serving-sized halibut fillets
Vegetable oil for deep frying (canola is a good choice for deep frying, as it has a neutral flavour and a high smoke point)
4 hoagie or hotdog buns
Buttermilk-Beer Batter
1 cup all-purpose flour
1 tablespoon cornstarch
1 teaspoon baking powder
1/4 teaspoon fish seasoning of choice (I use a homemade blend of dried ground lemon zest, dill, thyme, marjoram, garlic powder, sea salt and black pepper)
3/4 cup buttermilk
1/4 cup beer (or a little more, if needed)
Combine dry ingredients together in a bowl. Make a well in the centre, pour in the buttermilk and beer and whisk until blended.
Heat oil in deep fryer or in a large, heavy-bottomed saucepan to 375 degrees Fahrenheit. If you don't have a thermometer, here's a few tricks for testing to see if the oil is ready. Drop a one-inch cube of bread or a popcorn kernel into the oil and if the bread browns or the kernel pops in one minute, the oil is ready. Or dip the handle of a wooden spoon or chopstick into the oil and if it bubbles steadily around the handle, you're ready to fry.
Pat the fillets dry with paper towels. Dip them, one at a time, into the batter and slip carefully into the preheated oil. Fry for about five to six minutes per side, or until fish is crispy and golden. Drain on paper towels. You are now ready to assemble your seadog.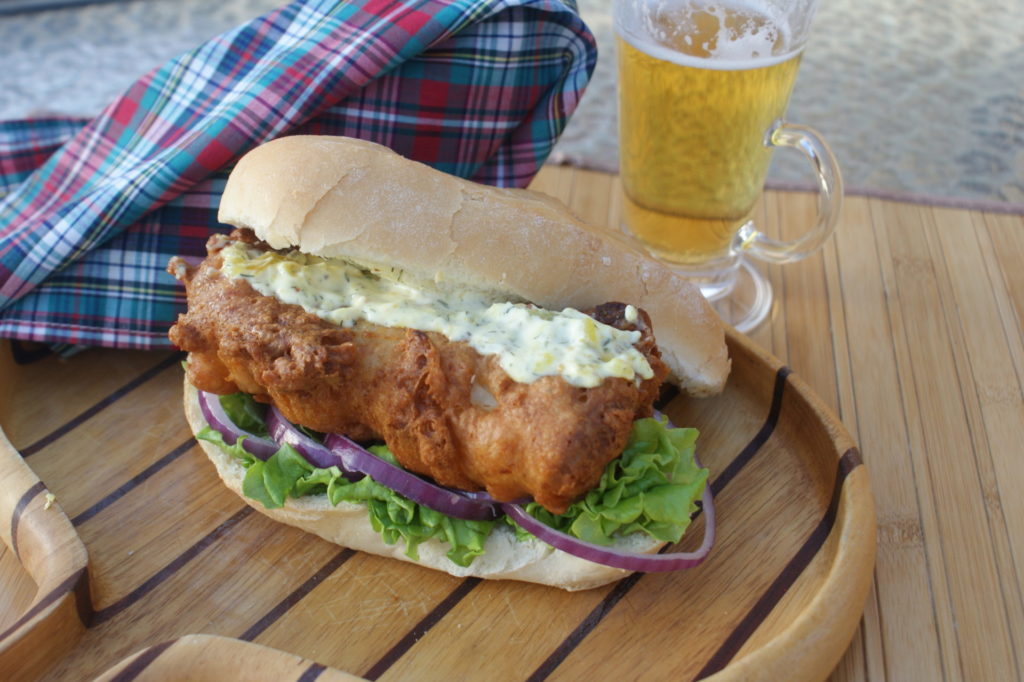 Uncle B's Tartar Sauce
This makes about one-and-a-half cups of tartar sauce. Leftovers can be stored in a lidded container in fridge for several days and served as a vegetable dip.
In a small bowl, combine the following ingredients, mixing well, and then chill until serving time:
1 1/4 cups mayonnaise
1/4 cup of minced dill pickle (or dill pickle relish)
2 chopped green onions
1/8 teaspoon granulated garlic
1 teaspoon chopped fresh dill
1 tablespoon lemon juice