Autumn is the season of plenty. Wild berries have been picked, fish have been caught, gardens and orchards are spilling over with the bounty of the season; not to mention that the fall hunting season has opened up across the province, paving the way for harvests of venison, game birds, bear, sheep and the like.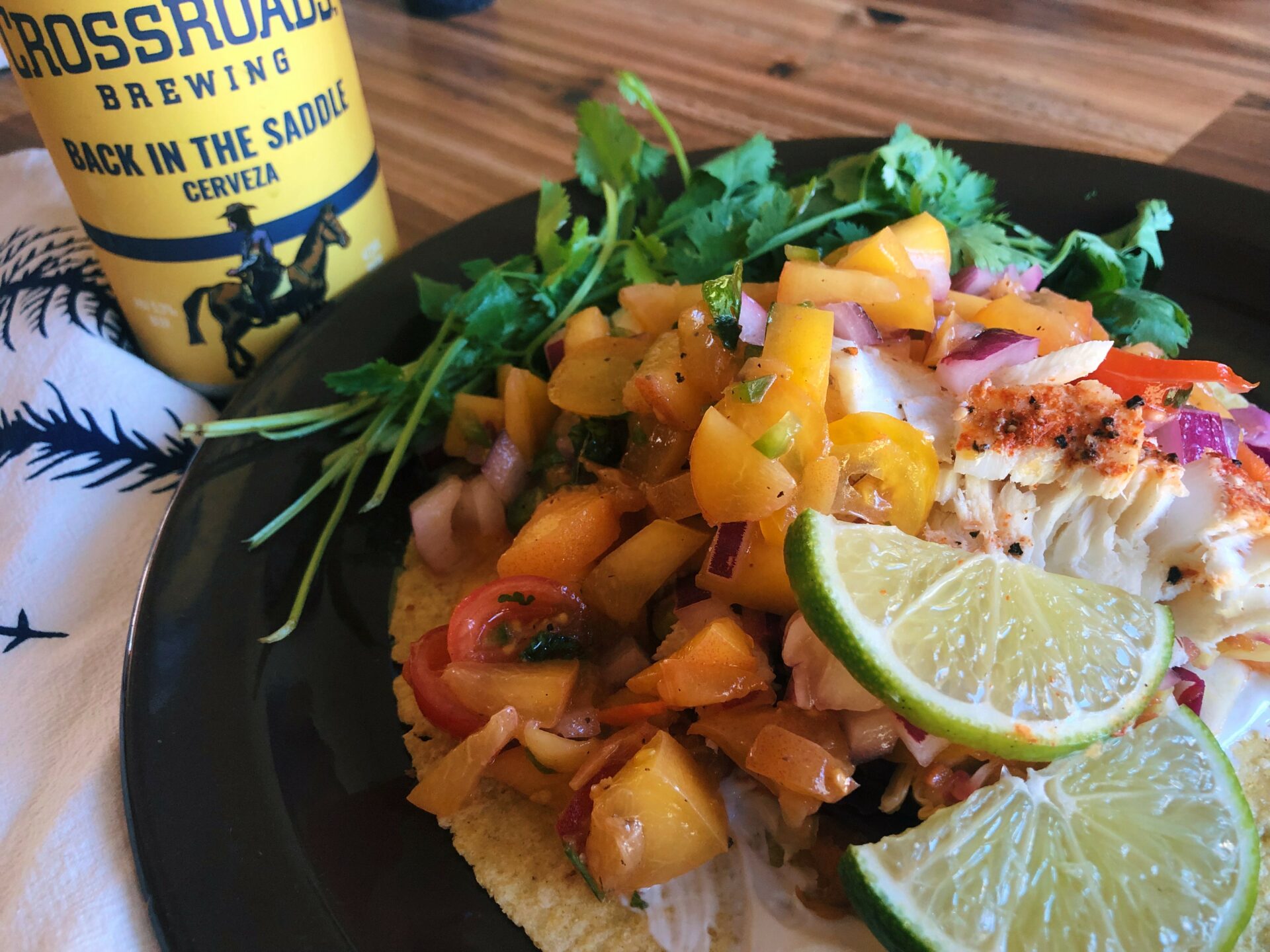 The fruitfulness of the season is something to be celebrated – and these halibut harvest tacos do just that. Fresh-caught, pan-seared wild pacific halibut lays atop a base of fresh slaw and is covered with fresh Okanagan peach salsa. Get creative when following the ingredients list, which invites substitutions and creativity. Find what you can fresh and enjoy the bursting flavours of the season!
Fresh Harvest Slaw Ingredients
1 cup purple cabbage, shredded
1 cup green cabbage, shredded
1/2 cup carrots, shredded
1/2 cup apples, finely sliced
2 tbsp cane sugar
1 1/2 tbsp extra virgin olive oil
To Make Fresh Harvest Slaw
Prepare all vegetables, place into a large bowl. Sprinkle with cane sugar and extra virgin olive oil and use your hands to massage into the vegetables. Let sit for approximately half an hour in the fridge to allow the flavours to combine. Serve.
Fresh Peach Salsa Ingredients
3 peaches, diced
1/4 red onion, finely diced
Approximately two cups of cherry tomatoes, halved
1/4 jalapeno, finely diced
3 tbsp. cilantro, chopped
The juice of one lime
Salt and pepper, to taste
To Make Fresh Peach Salsa
Prepare all vegetables, fruit and herbs. Squeeze the juice of one lime over the salsa, season with salt and pepper and stir to combine. Best if served immediately.
Halibut Harvest Taco Ingredients
Halibut fillets
Corn tortillas
Fresh Harvest Slaw
Fresh Peach Salsa
To Make Halibut Harvest Tacos
Season the halibut with salt and pepper. With a little butter, sear a fillet of halibut over medium heat in a cast iron pan (alternatively, if you have a thicker fillet, bake in the oven at 350 degrees Fahrenheit) until flaky and cooked thoroughly.
To serve, place a tortilla on a plate, add a dollop of sour cream if desired, then the fresh harvest slaw. Place halibut on top of the slaw, and top with fresh peach salsa. Enjoy!