When it comes to hot summer days, it is hard to beat seafood on the grill. Salmon, halibut, prawns… they all make delicious, quick meals, for those times when the days are filled with adventures and something simple yet tasty ticks all the boxes for the evening meal.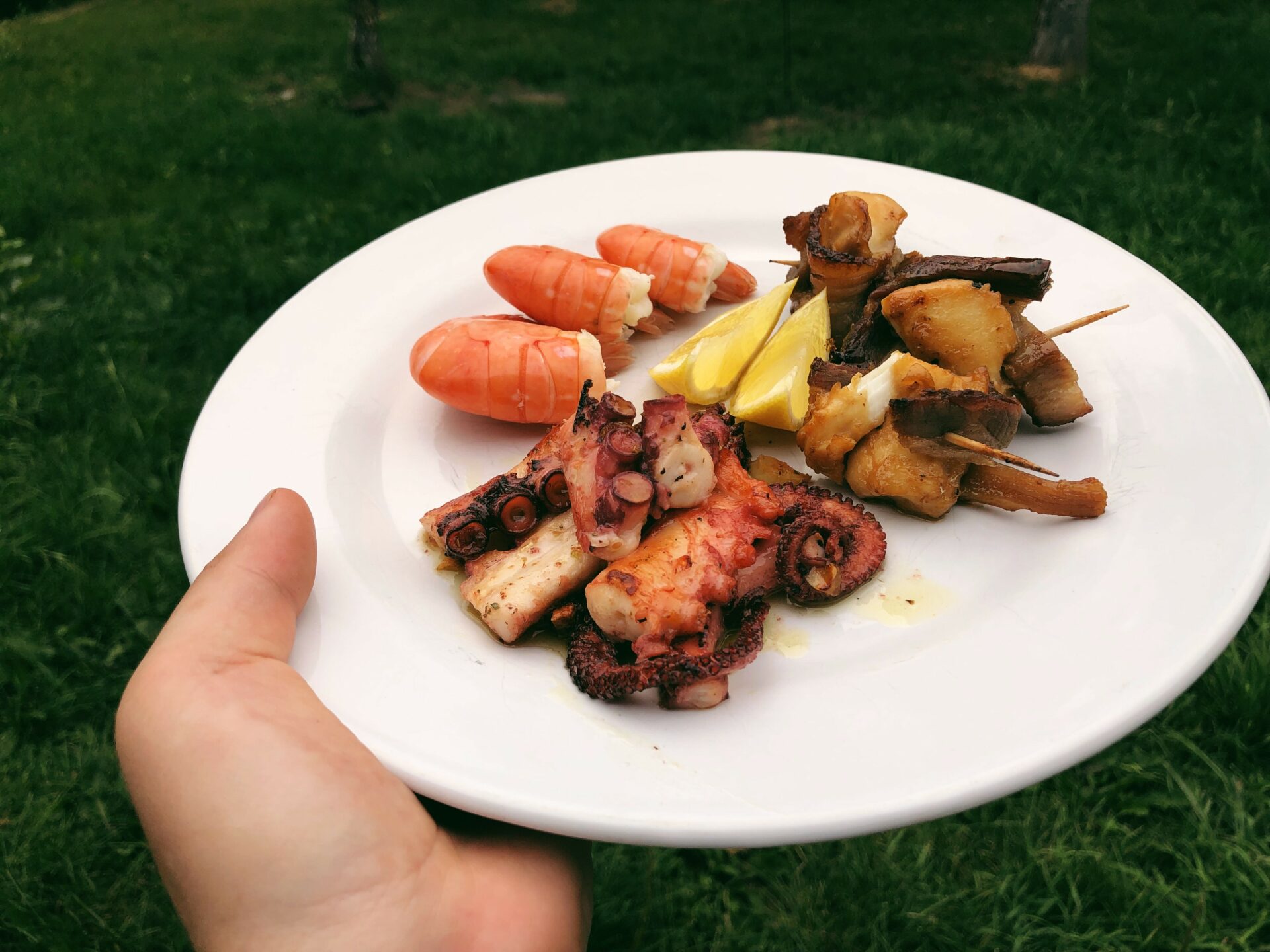 Octopus, on the other hand, is not as commonly utilized for the average dinner. It has been on my list of ingredients to work with, if only I could be so lucky as to catch one in our prawn traps. Nevertheless, nearly a decade of ocean fishing produced zero octopus for dinner. That all changed this year, when I was finally able to get my hands on some.
While eating seafood fresh is often my very first choice when getting back from a trip to the ocean, all it took was some quick research to realize that fresh may not be the absolute best way to consume octopus. With a reputation for being tough (both to eat and cook), it seemed like one of the easiest ways to avoid chewy octopus was by freezing it beforehand. In the spirit of experimenting, we also skinned some of the legs and left some with the skin on. There are many old wives tales floating around on how to reduce the chances of rubbery octopus, including throwing a wine cork into the boiling water – but when it comes to cooking, simple and delicious is my motto (and I don't drink wine often enough to have a supply of corks at my disposal).
Here is a quick run down on what I did to prepare the octopus for cooking. Take a cleaned octopus and skin it. While it isn't the easiest of tasks to remove the slimy skin, I did find that the result was less chewy than the legs that we left the skin on. Place in a freezer bag or vacuum seal and freeze. Doing this little bit of prep beforehand makes it a breeze to whip up incredible octopus-centric meals.
To make grilled octopus, you will need:
Octopus
Extra virgin olive oil
Minced garlic cloves
Fresh squeezed lemon juice
Fresh ground pepper
Fresh (or dried) rough chopped herbs, such as oregano, parsley, or thyme
Method:
Fill a pot with enough salted water to cover the octopus. Bring to a boil, turn down heat and cook uncovered for 45 minutes to one hour. Drain the water and place the octopus into a bowl. Drizzle with extra virgin olive oil, add in the minced garlic and let rest at room temperature for 30 to 45 minutes.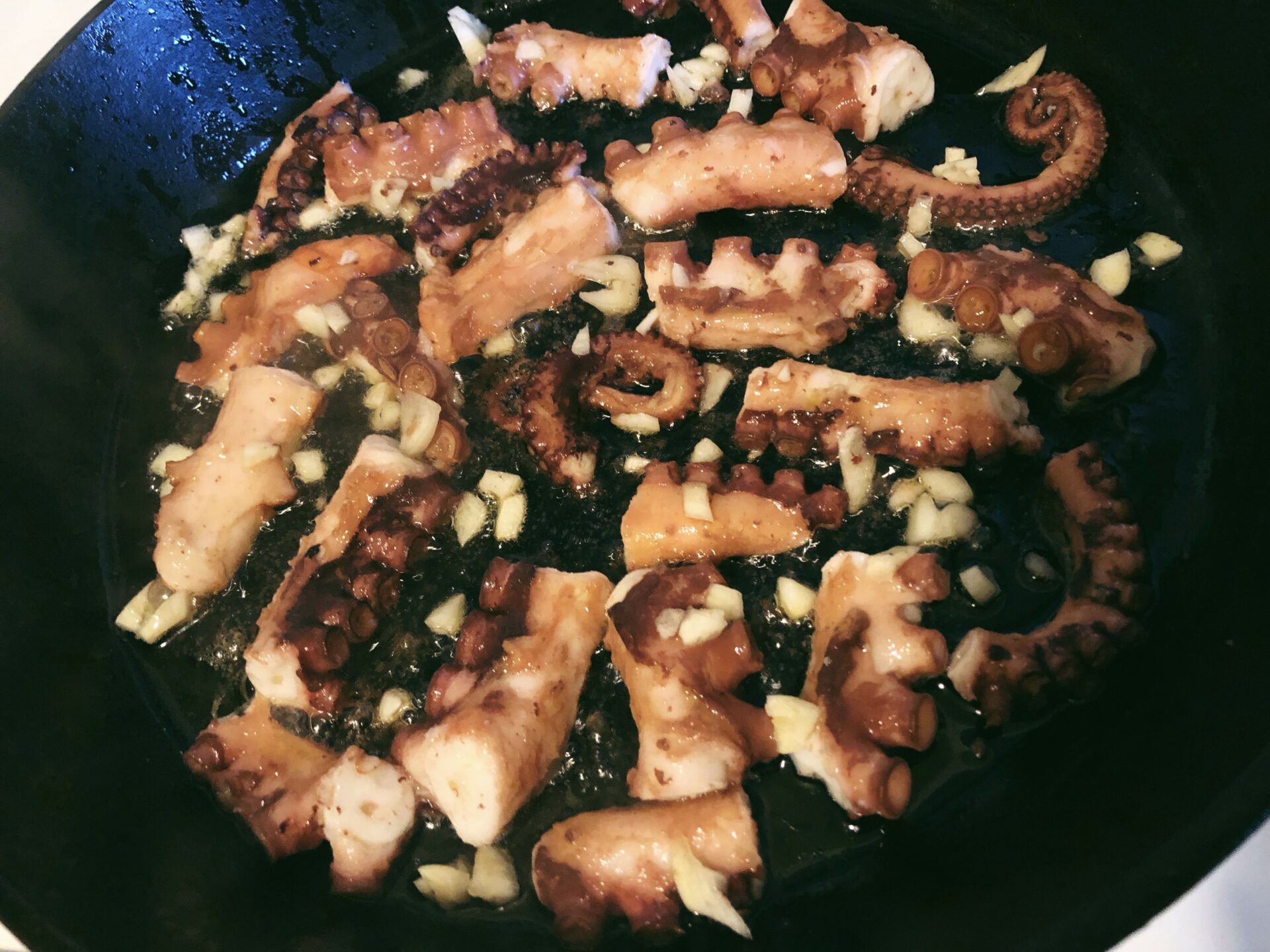 Slice the tentacles in half. If using a barbeque to grill, leave the octopus in larger chunks; if you want to cut into bite-sized pieces, a cast iron pan does the trick. If desired, pour the olive oil and garlic mixture into the pan as well. Cook the octopus for two to three minutes per side, flipping once each side has a nice char to it.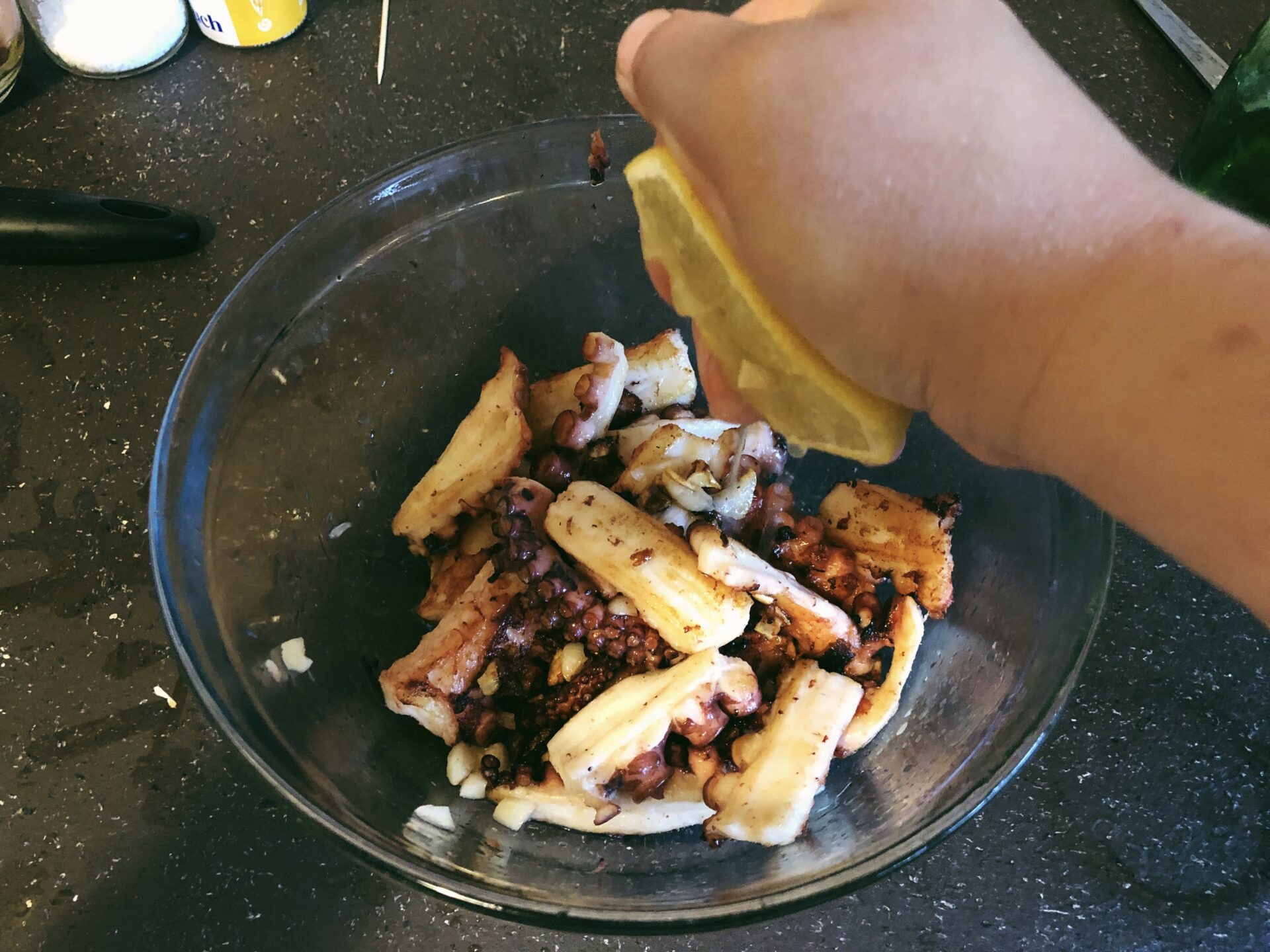 Remove from heat. Place in a dish and drizzle with a bit more oil, fresh-squeezed lemon juice and toss with a variety of roughly chopped fresh herbs. Finish with freshly cracked black pepper. Serve.