If you're hoping to have an epic adventure, the first place to start is CanaDream.
CanaDream is a Canadian RV rental company, with pick up and drop off locations in Vancouver, Calgary, Edmonton, Toronto, Montreal, Halifax and Whitehorse. This means you can have the RV adventure of your dreams, without the payment plans, maintenance and hassle that comes with owning an RV. CanaDream has several units to choose from, including motorhomes, truck toppers (truck also supplied!) and camper vans. There are also RVs available that are perfect for winter travel plans.
When booking a trip with CanaDream, you also get access to the CanaDream Club app (https://www.canadream.com/canadream-club/), which can help you to plan your trip and find even more awesome destinations than you had thought about. CanaDream Club members get special pricing and discounts from the company's tourism partners all across Canada.
My family and I recently rented an RV from CanaDream and trekked from Central Alberta to Fairmont Hot Springs in British Columbia, where we were able to spend a week relaxing and having fun.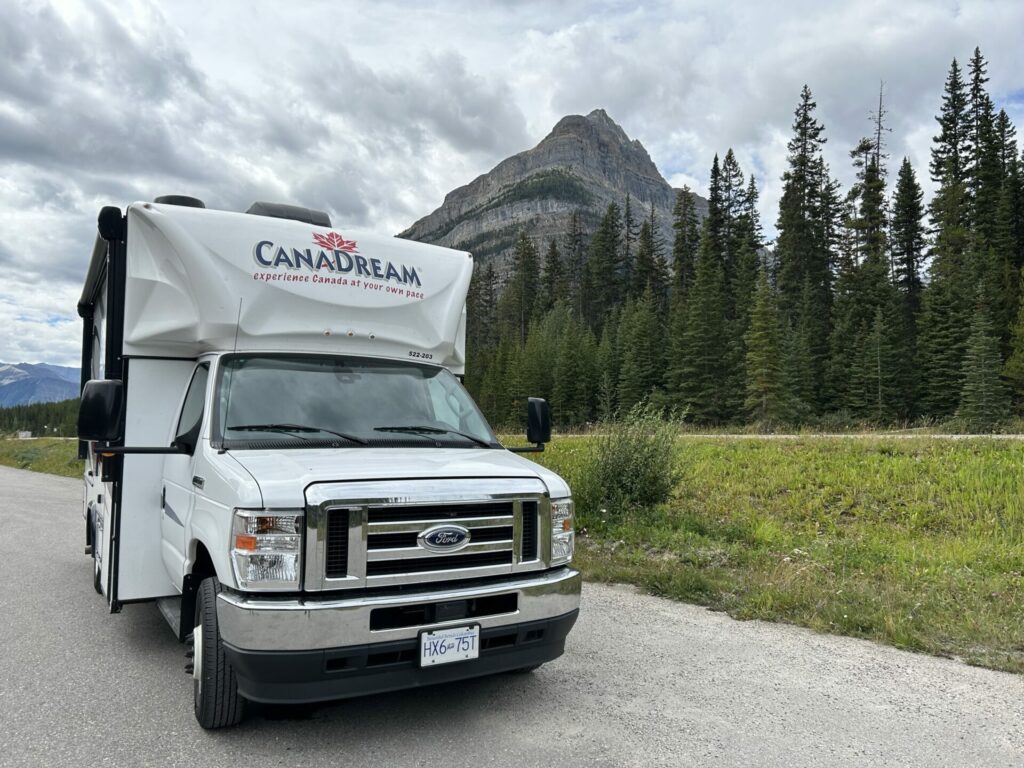 Fairmont Hot Springs might be the place that comes to mind when you think of relaxation – there's the hot springs to dive into, of course! As well as the spa and restaurants at the resort site to make your stay even better. But the Fairmont Hot Springs area has plenty to offer for those looking for adventure and having the RV gives you a clean and comfortable place to come back to when you're done exploring for the day.
Once we passed through Banff, on the Alberta side of the border, we travelled through the mountains and made our first stop at the Numa Creek trailhead, where we dipped our toes in the glacier-fed Kootenay River and took in the sight of the beautiful waterfall there. The area has picnic tables overlooking the river, making it an excellent place to stop for a meal and stretch your legs.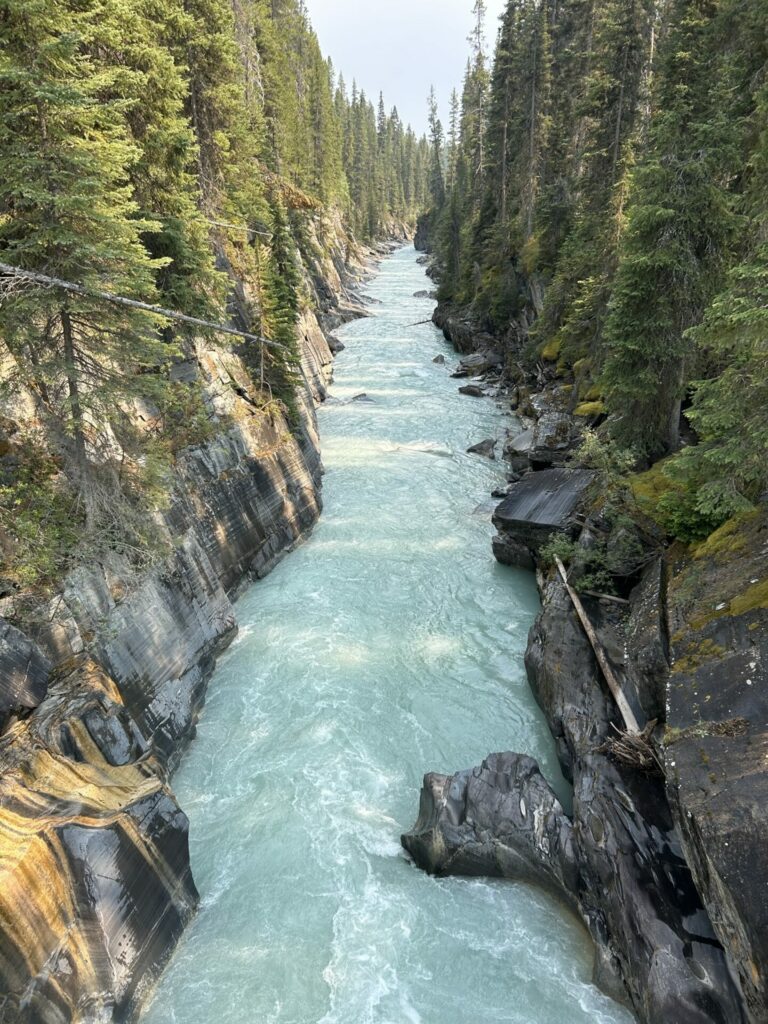 We set up our RV at the Fairmont Hot Springs Resort, which offers well-maintained pads and grounds, and there's a clean washroom, complete with showers, available on site. There's also a playground and the spa, restaurants and hot springs are a short walk away. Not far from the resort, there's a strip mall that offers other restaurants, a well-stocked grocery store and a gift shop.
Our first day of adventuring took us to the Westside Conservation Area, with a hike up, up, up from the parking lot to see the hoodoos from the best vantage point – at the top! But the conservation area has plenty more to offer than just the hoodoos – the area is 9,689 acres in total and includes grasslands, forests and wetlands along the Columbia River.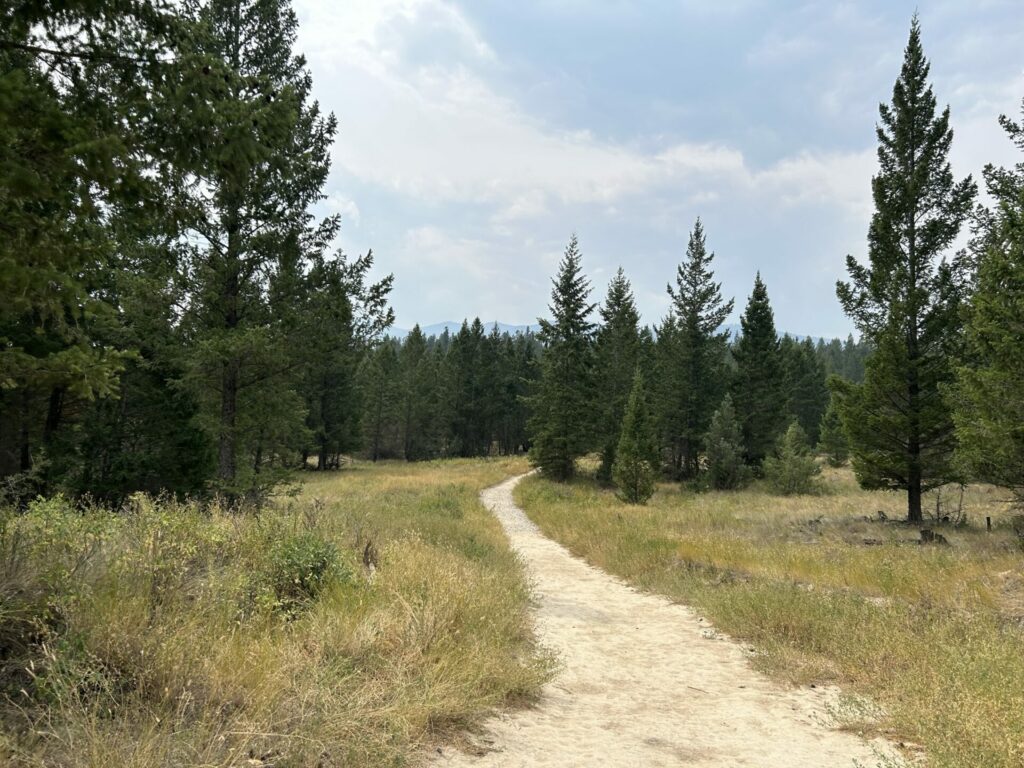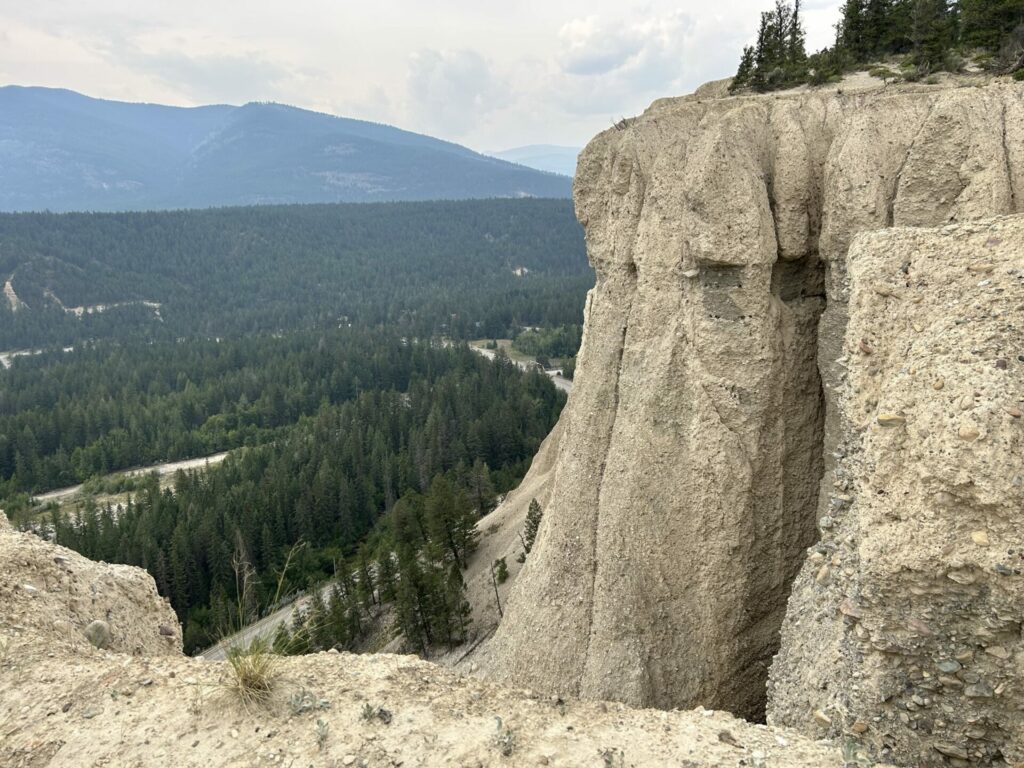 One of my favourite adventures during our stay was travelling to the Lussier Hot Springs, about a 40-minute drive from Fairmont Hot Springs and located between Canal Flats and Whiteswan Lake. You have to take the Whiteswan Forestry Road to get to the hot springs, and we even passed other CanaDream vehicles on our way in. The road is long, gravel and windy, but it was well worth the trip.
On the day we went to the Lussier Hot Springs, the weather had turned chilly and rainy. But sitting in the naturally made hot springs, listening to the rain come down and watching the trees and the river – it was a slice of Heaven!
There is a parking lot for the Lussier Hot Springs and toilet/change rooms available. The springs are free, there's nothing commercial about them at all, just four rocky pools along the Lussier River. But the area does tend to get busy, drawing a lot of people to its natural beauty.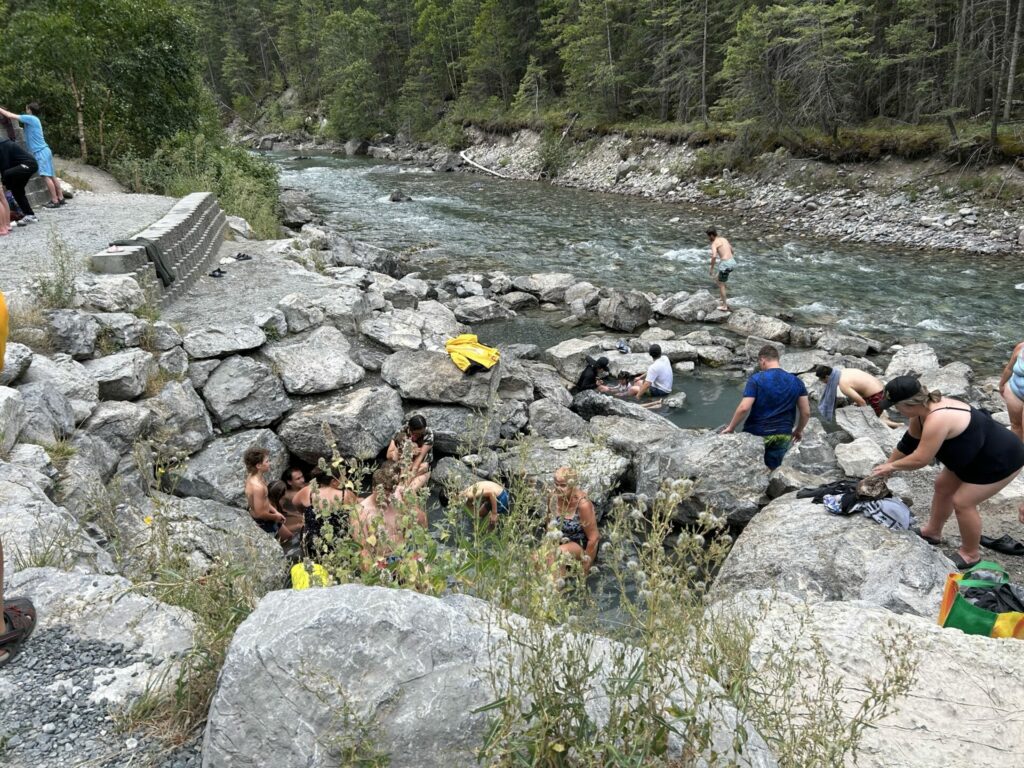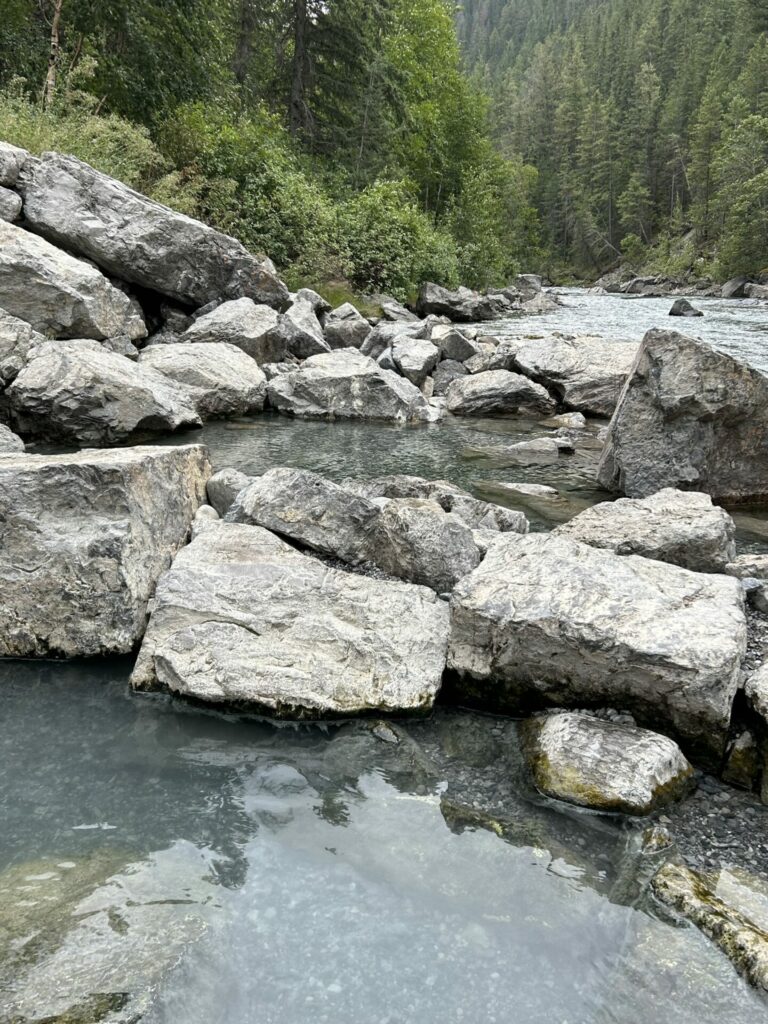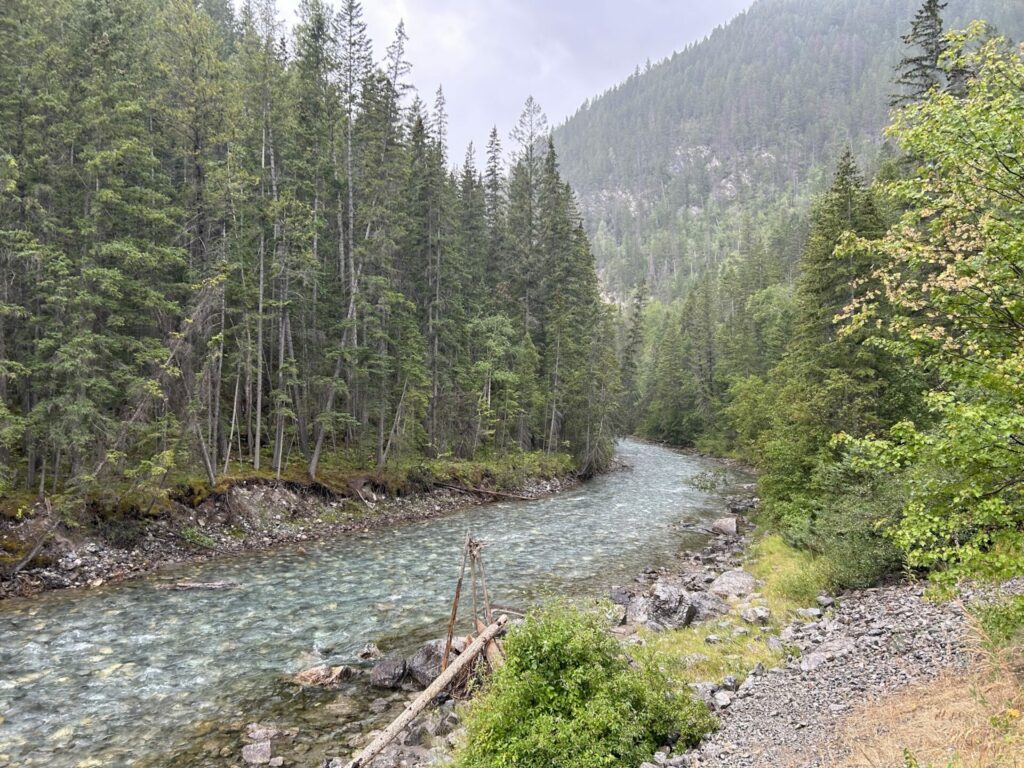 A highlight of travelling to new places is getting to explore new shops and restaurants, and BC always offers unique experiences. We played mini golf at Ozzie's Amusements Mini Golf & Go-Karts near Windermere and had our fill of ice cream afterwards; we bought the cutest fairy house and some beautiful paintings from The Chips R Flying near Dry Gulch; we had an amazing lunch at The Local Coffeehouse in Fairmont Hot Springs (highly recommend!); and we had dinner at the Fairmont Hot Springs Resort.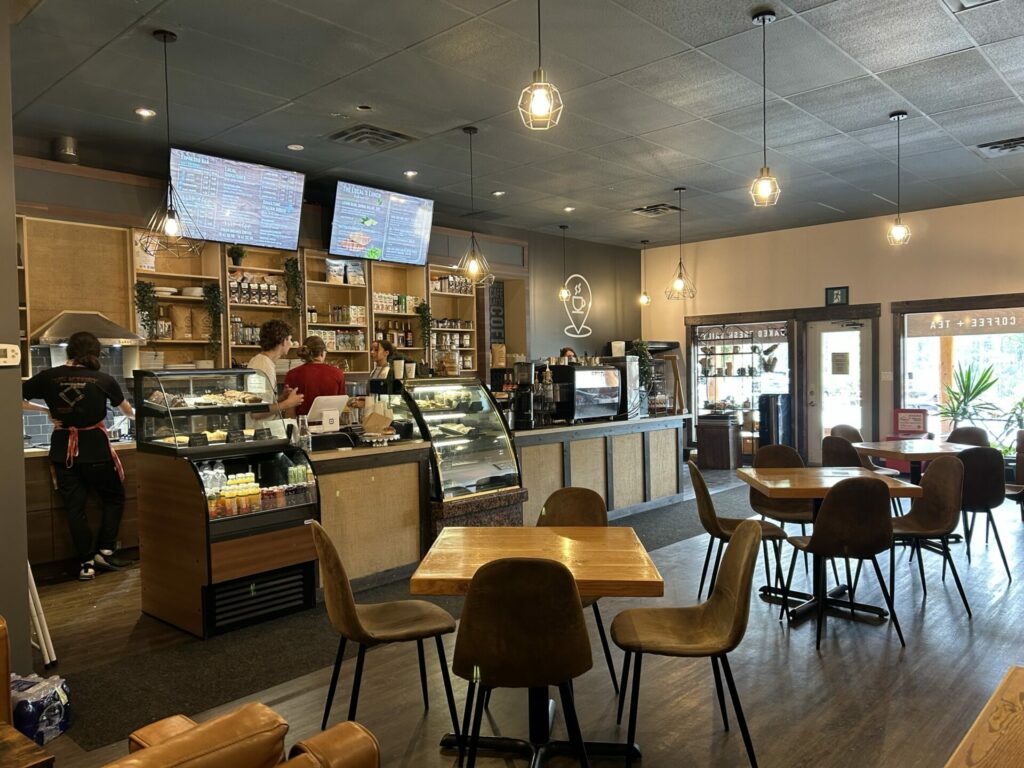 A benefit to travelling in an RV is that your trip doesn't need to be more expensive with the cost of eating out – the RV we rented came with a stove top, a microwave, a fridge and even some fancy coffee makers to make the trip easier and more enjoyable. We also packed our small camper stove, to cook outside. We were able to cook up breakfasts, lunches and dinners at our RV site, as well as the same coffee we enjoy at home, and that left the day, and our wallets, free for more exploring.
My husband and his parents, who also joined us on this trip and stayed in a hotel, were able to get a few rounds of golf in during our trip, venturing out to Copper Point Resort in Invermere and Riverside at the Fairmont Hot Springs Resort.
There are so many epic trips you can take in an RV, and CanaDream's website has a blog so you can read up on what other people have done with their RVs – https://www.canadream.com/blog/.