Shortly after Holly Moroz killed her first bear on Vancouver Island in the spring of 2020, she enjoyed homemade bear sausage, which makes this a good story. But Holly had been a vegetarian since grade three – and now it's a great story.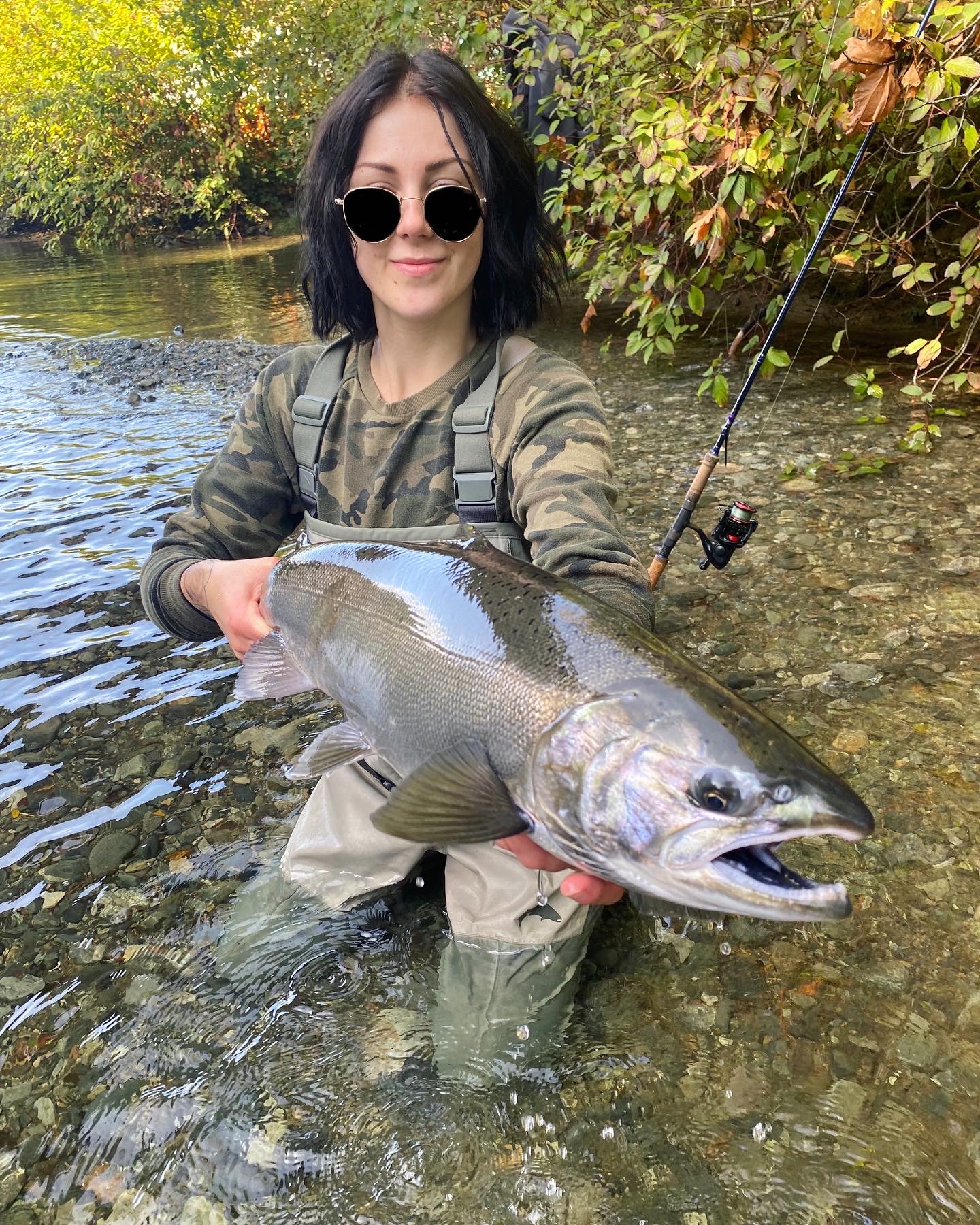 Vegan To Omnivore At A Trigger Squeeze
"It was quite the evolution; I was vegetarian and then vegan for 15 years. I went vegetarian in the third grade and then transitioned to veganism in my later teens and up until my very early 20s," said Holly.
At 22, Holly met Owen (now her boyfriend), who is very much into hunting and fishing. This got her used to the idea of hunting. She calls him an extremely ethical hunter and sees him as very intentional in how he chooses to hunt. This showed her how hunting is a much more sustainable and ethical way to eat meat. Holly pointed out hunting doesn't contribute to a lot of the monocropping you see with vegan diets, especially with the diet based so heavily on soy products.
Holly said, "Initially, it was just learning how to shoot. I was brand new to that too. I had never even seen a gun before I met Owen, so I had to do quite a lot of practicing to become proficient. So the process of gaining knowledge on firearms was my first step towards eventually hunting.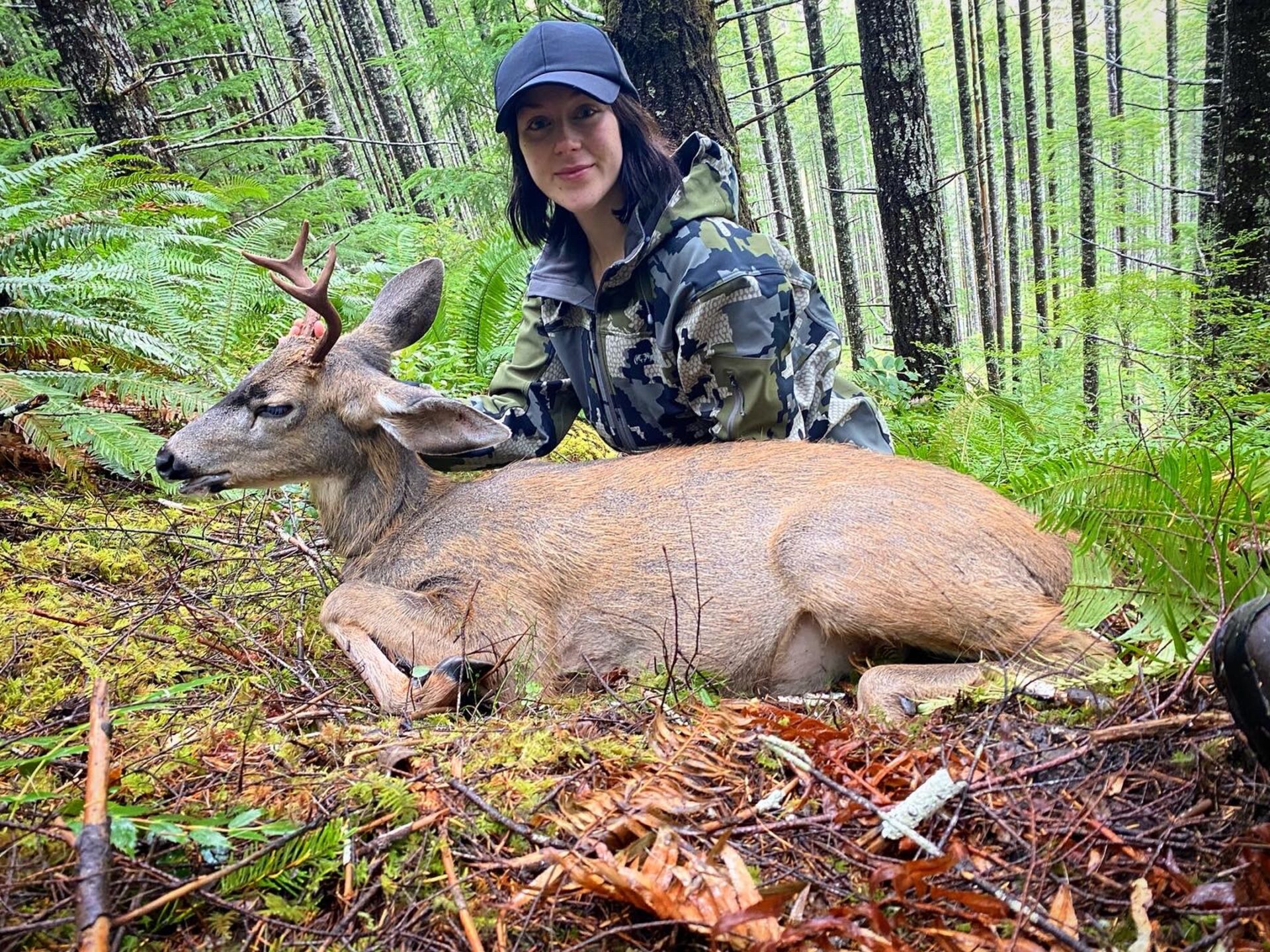 "My hunting journey started in 2019, as an observer, learning the process a little bit. I had no concept of what hunting was or anything like that. So, for the most part, I just enjoyed the hiking aspect for the first year. And then this year, after I got my hunting license, I went out; we did partially driving and then partly hiking, depending on the weather. It was interesting because I had this concept that we're going to go out, and we're going to get a deer. And it wasn't like that at all – we went out for three days of hunting a week, and over the course, we ran into two deer and both of them were small.
"My friend Steph harvested a bear the previous spring, and that sparked my interest. That was her first game animal, and I was impressed. I started looking into bear meat and the process of hunting a bear and the benefits of predator control in terms of allowing deer populations here to flourish. That led to thinking about deer hunting and having sustainable populations for that."
First Success
Holly and Owen cruised the logging roads during spring bear season, stopping from time to time to deploy the spotting scope, checking for good black bears to put a stalk on.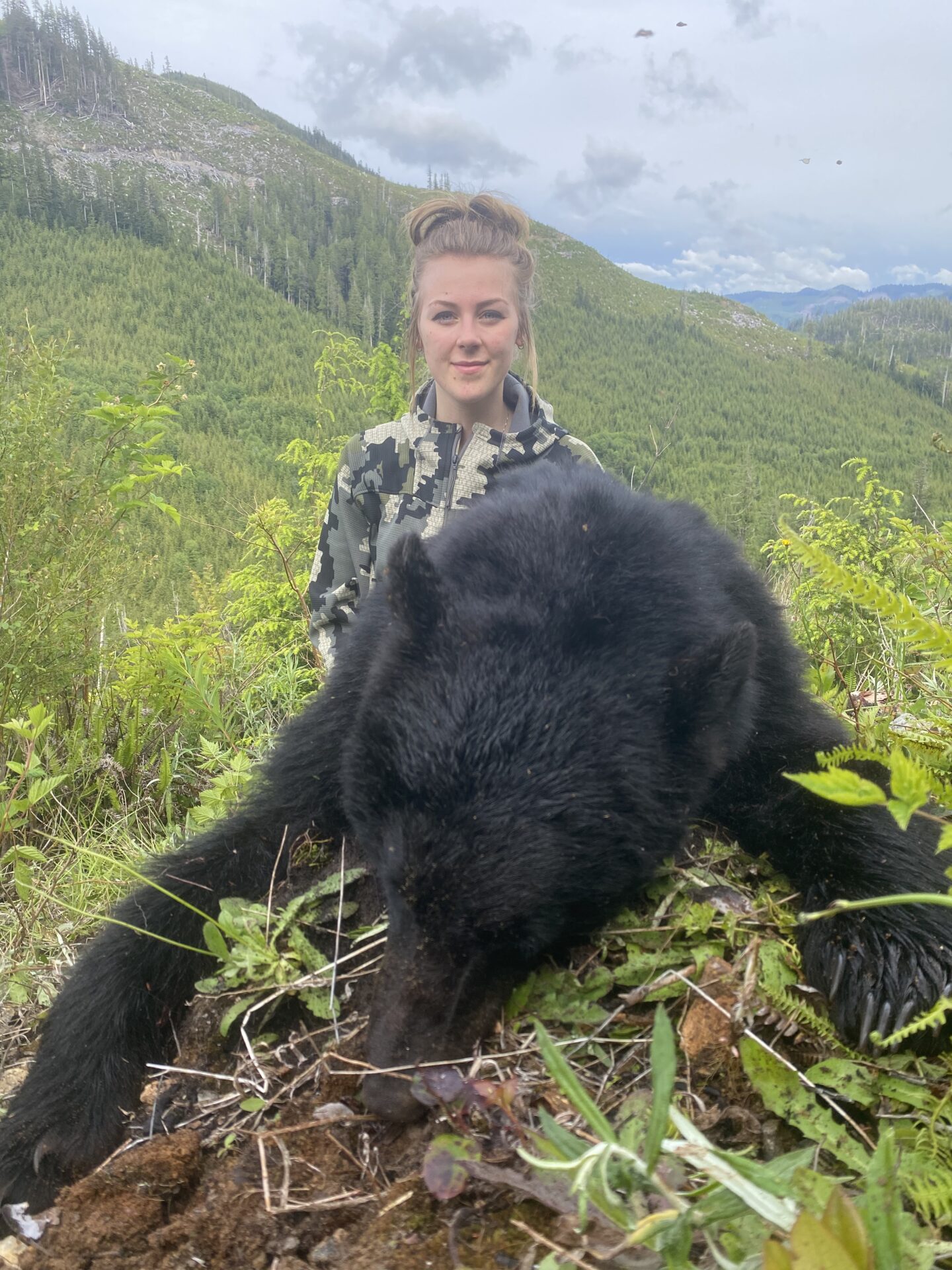 "It took some time to locate the bear. It was 170 yards in a complete vertical. The ground was covered in slash and was very grown over. The trees were thick and a little bit taller than me. And I'm five, seven. So we marked where we thought that bear was; we took a picture and kind of circled it. And then we hiked in, and it took us an hour to find the bear. We skinned it and quartered the bear, and then packed it out. We both had hunting packs, and we packed out all the meat. It was treacherous on the way down because of how steep it was. And it was super rocky, and we just had a huge rainfall – mucky and wet. The last probably 100 metres, I just slid down on my butt with this bear on my back," said Holly.
"We butchered and processed the bear ourselves. We drove back to Owen's parents' place, put all the meat in the freezer about midnight. Early the next morning, we set up a big table, and Owen and I butchered all of the bear ourselves. The first thing we did with my bear was make sausages. We had them for dinner just the other night on the barbecue, and they were so good."
What Holly Learned
Holly learned a multitude of things during the process of hunting and butchering. "I was nervous leading up to the hunt, after being an ethical vegan for a long time. I wasn't quite sure how I was going to react once I shot something. I didn't even know that if the chance came, I would be capable of pulling the trigger. It opened my mind to how far humanity has become removed from what we eat and how far we have gone outside the food chain. I am aware of the damage that's doing to the planet, but the feeling and the satisfaction of taking your animal are so different. When you know the entire process and the lifecycle of how that came to be, I have so much more respect for the food I eat than I ever did previously.
"Yeah, I found hunting bear to be a profound experience. I don't know if that clicks into some lizard-brain part of a hunter-gatherer that has just been ingrained in our DNA after so long, but it felt like I had finally completed the task I was supposed to do. There is a vast difference between eating a meal that you harvested yourself. In my case, I eat a lot of game that Owen has gotten. There's a massive difference between that and just buying something from the store.
"I body build and train, and so my muscles require a lot of protein. But I always found after being vegetarian for a long time that I could never stomach things like beef or pork – it made me feel awful. Because game meat is so unprocessed, it was an easier transition for me. I mean, it still took a little bit, and I'm much more comfortable eating things like fish, but in terms of quality of energy and lasting amount of like satiation and being full is so different than eating something that is completely processed."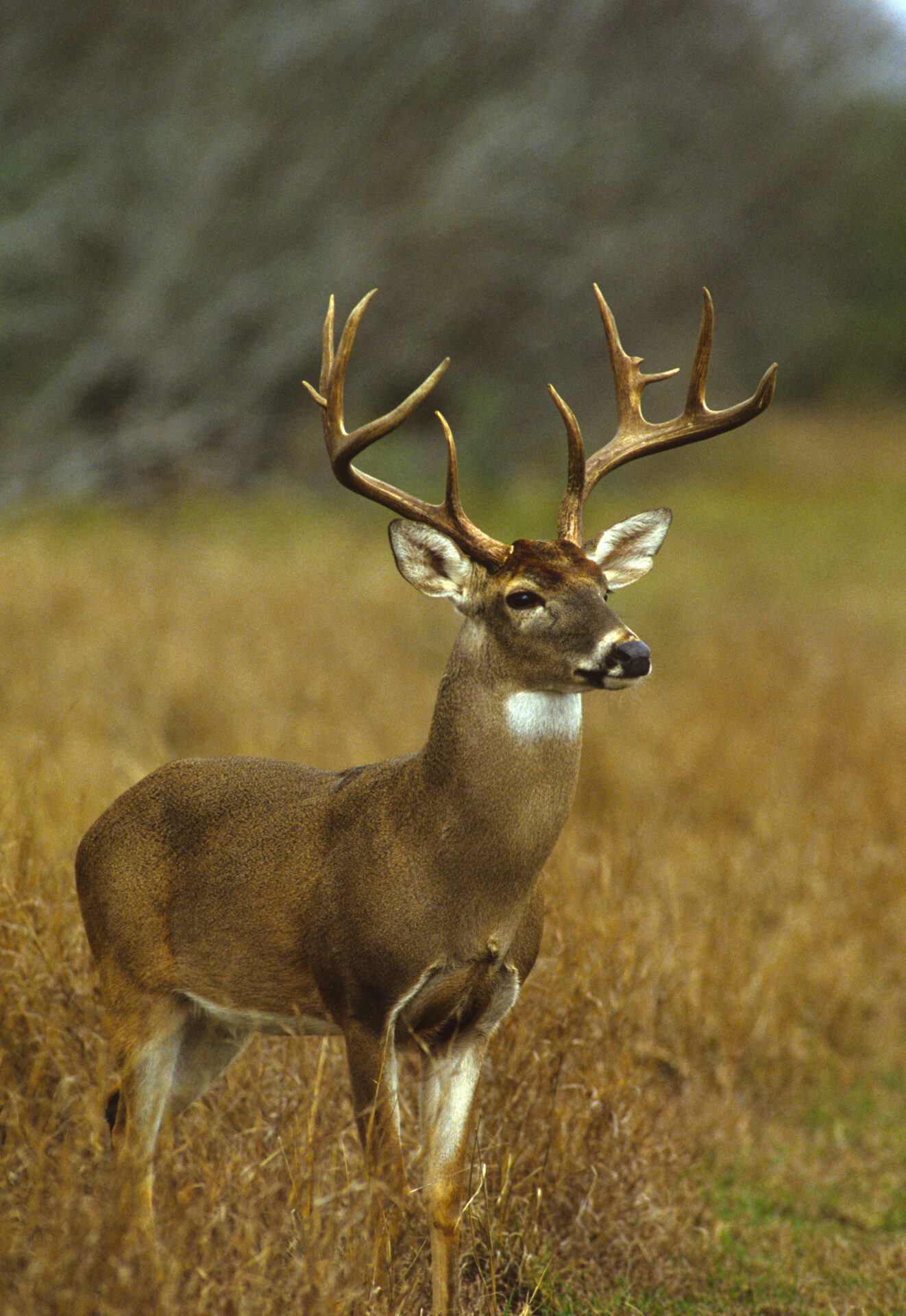 Advice For Potential Hunters
Holly has this advice for people considering whether to hunt or not: "I think doing your research and learning about what hunting is as opposed to the way it's marketed is important. I think hunters are villainized, especially by the more eco-friendly vegan vegetarian, as this sort of savage act. Most hunters have far more respect for the environment and animals and real love and connection with their food that is just not present in the rest of society. My biggest advice for potential hunters is to spend time researching why hunting is a much better option. Then find someone who can teach you in a way that they're patient, and they have that same level of respect because it's pretty hard, I think, to get into on your own. There is no way I would have learned to hunt without Owen, so finding somebody as a sort of role model to help guide you, I think, is so important."
A Note About Accuracy & Ethics
"Being as ready as you can be in terms of your accuracy with your firearm is critical," said Holly. "I always like to think about whether or not the animal will suffer, and that's what I'm trying to prevent. So I think taking your time and practicing and getting comfortable. And then also hunt with intention. You don't need an animal – you want one. Not every potential target animal needs to go down, be selective in what you're doing. It needs to be the right animal, not just the first one you see."