Aside from a successful saskatoon harvest, the berry situation was abysmal this year. Even the trustiest of huckleberry patches were shrivelled or non-existent, leaving me to fall back on my supply of frozen huckleberries from the year before. I love baking up pies for the holidays, with huckleberry pie being one of my favourites, but I don't have enough of them to use for a full pie.
Instead, I tweaked my huckleberry pie recipe to include saskatoons that were picked this summer, as well as some beautiful cranberries picked up from the grocery store for a festive take on this pie. The finely diced sage leaves add to the holiday flavours; the berries, not to be upstaged by a large amount of sugar, are the star of the show.
If using frozen berries, make sure they are thawed and drained before using in the pie. This recipe is quite tart with the addition of cranberries, so if you prefer a sweeter recipe, sprinkle some extra sugar on top prior to serving.
Ingredients
Premade pie crust or homemade dough for one pie
2 cups huckleberries
2 cups saskatoons
1 cup cranberries
1/2 cup cornstarch
1/2 cup cane sugar
2 tbsp finely chopped fresh sage leaves
2 tbsp lemon zest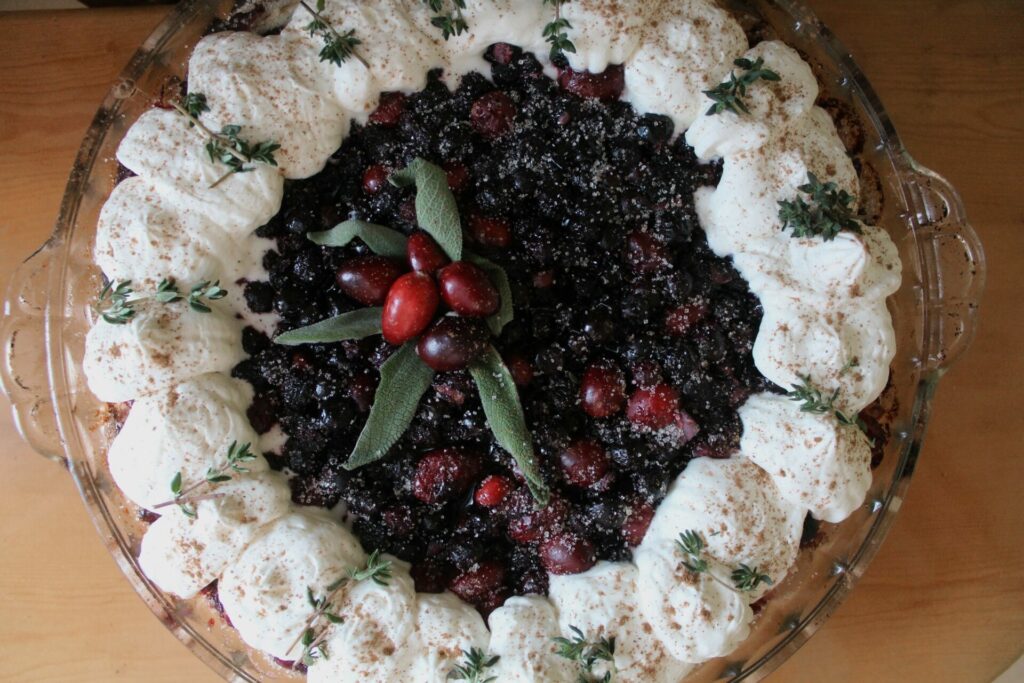 How To Make This Festive, Mixed Berry Pie
Preheat oven to 375 degrees Fahrenheit. Prepare the pie crust according to the directions on the packaging or according to your favourite pie crust recipe.
In a large bowl, combine the saskatoons, huckleberries, cranberries, cornstarch, cane sugar, sage leaves and lemon zest. Pour mixture into the prepared pie crust. If using a double crust, layer the second crust on top of the pie.
Place into the oven on the middle rack (with an aluminum foil-lined baking sheet below to catch any filling that bubbles over) and cook for approximately 45 minutes. Let cool for several hours before serving to allow the filling to set, then top with a generous helping of whipped cream.