Hunting rifles are undergoing a metamorphosis, and unless you have spent the last decade or two living in a nether world devoid of rifle-driven campfire discussions, you are aware that they are getting lighter, tougher and more accurate. Elemental to this development is the reality that synthetic stocks, stainless steel and new metallic finishes are ushering wood, steel and bluing into the afterlife. Well, not quite, but they are evolving, and Browning's X-Bolt Pro may just be the pinnacle of this evolutionary mountain.

Browning X-Bolt Pro .30-06 Springfield
The Pro takes factory production hunting rifles to a new level – it is essentially a semi-custom manufactured rifle. While it may fall short of a custom-built rifle, its high-end construction and the level of specialized finishing touches unquestionably elevates it to the top of the X-Bolt line, a line that already offers top-tier hunting rifles that clearly rate very highly on any hunting rifle equivalency scale you would care to employ. One must then ask, what are the specific features that elevate the Pro to this new semi-custom status?
I will start with the stock, which is carbon fibre, making it extremely lightweight and rigid. This is a true carbon fibre stock that is constructed with a carbon fibre weave, which is wrapped 360 degrees around noise-dampening foam. This second-generation carbon fibre weave versus conventional strips of carbon fibre further reduces weight, all while enhancing rigidity. The results are a lightweight, easy-to-carry and an all but unbendable stock. New also is the Cerakote finish that is applied to the stock, a departure from the norm for added protection.
The barrel and action also offer a number of elevated touches. First, the fluted, lightweight sporter barrel has been proprietary lapped, which improves accuracy, eliminates the need for a time-consuming break-in and reduces fouling – a nice feature when it comes to long sessions on the range or when cleaning the rifle. Second, the spiral, fluted bolt and enlarged, fluted bolt knob also provides a cosmetic flare while cutting a bit of overall weight. This is a feature that on some rifles does not lend itself to the smoothest of actions, but not so with the Pro.
Departing from the Pro's singular features to those that are standard on the X-Bolt line, I will be brief as there are just too many to cover in detail. But for some, such as the Feather Trigger and X-Lock Scope Mounting System, I will provide further comment in the test section. Let's start with the barrel and action that has a Cerakote burnt bronze finish, which provides all the attributes of Cerakote, as well as complementing the stock's hues for improved concealment. The barrel and action are stainless steel and the barrel is free floated, as well as offering a threaded muzzle break and a thread protector. The chamber is hand reamed for precision accuracy and the bolt offers a quick, 60-degree lift. A couple of other notables are the rotary magazine, tang safety, bolt unlock button, and the Inflex II recoil pad, which deflects energy down and away from the shooter's cheek.
Rifle Specifications
Calibre: .30-06 Springfield
Weight: Six pounds, five ounces
Barrel length: 22 inches
Rate of twist: 1-10 inches
Total length: 42.75 inches
Length of oull: 13 5/8 inches
Drop at comb: 11/16 inches
Drop at heel: .5 inch
Magazine capacity: Four rounds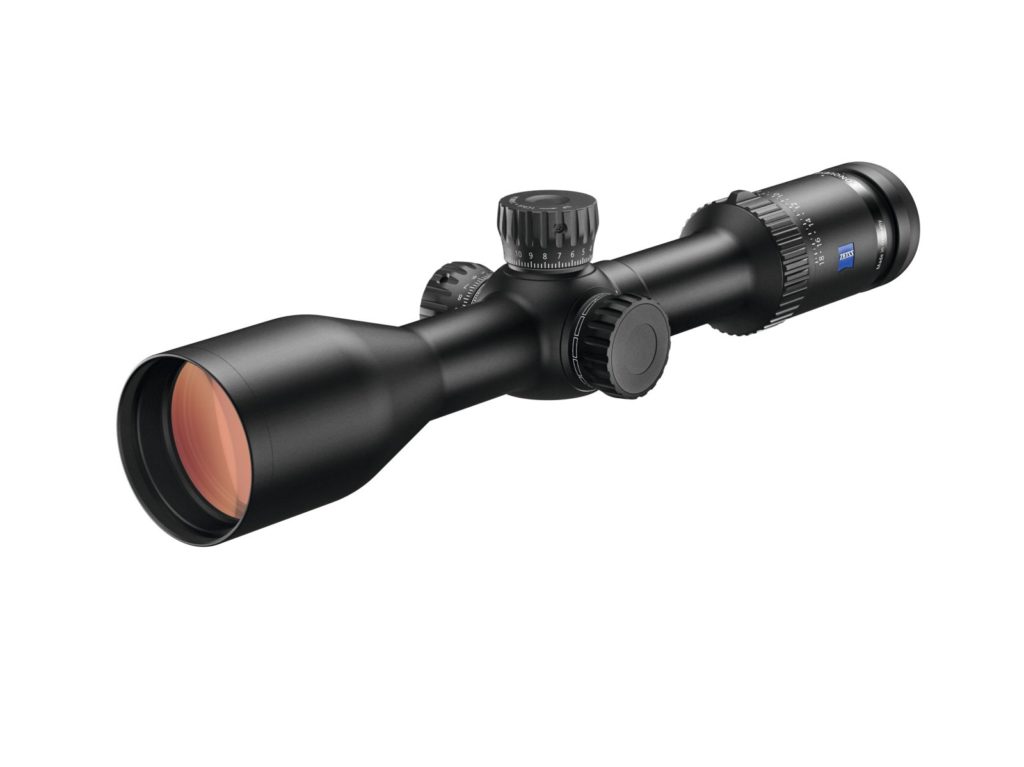 Zeiss Conquest V6 3-18x50mm Scope
I have always been inspired by the history and quality of German optics, and I have owned and tested a number of their high-end scopes and binoculars. But they are pricey, so I began my search for a scope that would provide all the attributes of a German-made scope but at a price point that would leave a little cash in one's account for ammunition. Unveiled in 2017, the Conquest V6 from Zeiss fits this requisite perfectly. It offers industry-leading optical performance SCHOTT glass, six-layer lens multi-coating fluoride lenses that provide outstanding image quality, clarity and 92 per cent light transmission. The LouTec hydrophobic coatings repel dirt, debris and water. Its 6x zoom magnification is a true 6x zoom ratio that provides expansive versatility across a wide range of in-field applications. The 30-millimetre single-piece tube is machined from aircraft-grade aluminum for rugged performance and is nitrogen purged to provide waterproofing up to 400mbar (submerged four metres for two hours).
The V6's elevation turret incorporates Zeiss's proprietary Ballistic Stop feature that ensures an absolute return to zero and the machined shoulder design allows for 62 to 103 MOA total elevation adjustment, offering outstanding long-range options. The V6, additionally, has a very generous and forgiving eye box, which will provide for a quick-on-point reticle and full target image. It has a side parallax adjustment and is offered in a variety of models and reticle options. 
Scope Specifications
Magnification: 3-18x
Tube size: 30 millimetres
Weight: 22.2 ounces
Length:13.3 inches
Eye relief: 3.5 inches
Field of view (feet at 100yards): Low 37.2; high 6.3
Elevation/windage adjustment: (MOA) 103
Parallax setting: 50 yards to infinity 
Test Analysis
This rifle can readily be characterized as eye catching; a head turner, if you will. The overall appeal with its fluted barrel, fluted bolt, burnt bronze finish, modern flare carbon fibre stock and the overall fit of its component parts is striking. But while cosmetics often form an initial impression, it is a rifle's functionality and performance that brings home the bacon.
I will start with the Pro's trigger. The critical role triggers play in a rifle's accuracy can be underestimated by some manufacturers – not so with the X-Bolt's Feather Trigger. The three-lever trigger offers a clean, crisp pull with no take up or creep and minimal overtravel. All its critical components are hard chromed steel that is highly polished on critical surfaces. It is adjustable from three to five pounds and is factory set at three-and-a-half to four pounds. When checked on a Lyman Digital Trigger Pull Gauge, my test rifle broke precisely within that range. With less than an ounce of deviation, it broke crisply between three pounds, 11.4 ounces, and three pounds, 12.3 ounces. A great trigger.
I found the rifle to be very user friendly. It both fit and balanced well and I really liked the location and functionality of both the tang safety and bolt unlock button. The latter allows the bolt to be opened with the safety on, making removal of a cartridge from the chamber an easy and safe process. The rotary magazine, with its central feed design, when coupled with the bolt's short 60-degree lift, made cycling a quick and assured breeze. On the range, I also noted that while the muzzle break offered a substantial reduction in recoil, great for follow-up shots, it was loud, so ensure you have and use adequate hearing protection. The last significant feature of note involves mounting the Zeiss Conquest scope with the X-Bolts X-Lock Mounting System. A system that employs an integrated ring and base that is made out of 7000 series aluminum and uses four screws per base for a totally secure and ridged mount. This system made mounting the Conquest a simple, 15-minute process. Once I had the scope mounted, I weighed the combo in at eight pounds even, about the weight expected, and well within the comfortable, easy-to-carry range.
The Zeiss Conquest lived up to its billing with great glass, a bright, clear image and a very forgiving eye box that made target and reticle acquisition a piece of cake. All aspects of its mechanics, such as adjusting the turrets, parallax and magnification ring, were flawless. I did, however, encounter one minor hiccup when attempting to utilize the Ballistic Stop feature to zero the scope with a bore sighter. Thankfully, I did so at home before heading off to the range, as the process of zeroing the elevation dial on the V6 was not as simple as I had thought. Unfortunately, the information that accompanied the scope was not of particular value, so I located the scope's instruction manual online, which quickly resolved the matter. It actually entails taking the elevation turret assembly apart in three steps, which needs to be fully understood before heading off to the range. One last observation – for its magnification range, tube and objective lens size, this is a very compact and relatively lightweight scope at only 13.3 inches and 22.2 ounces, respectively. A perfect match for the Pro!
When it came time to develop my handloads, I looked for a cross section of bullet weights and designs between 150 and 180 grains and varied powder types and charges in order to provide a variance between moderate and near maximum charge weights. In so far as factory ammunition, I applied the same principle to bullet weights and designs. On the range, in an attempt to maintain cool-barrel accuracy and duplicate normal field conditions where a rifle is seldom fired more than a few consecutive times, I avoided overheating the barrel. Between each three-shot string, the rifle was allowed to cool down and after four consecutive three-shot strings, the rifle was cleaned, followed by a fouling shot, before proceeding to the next string.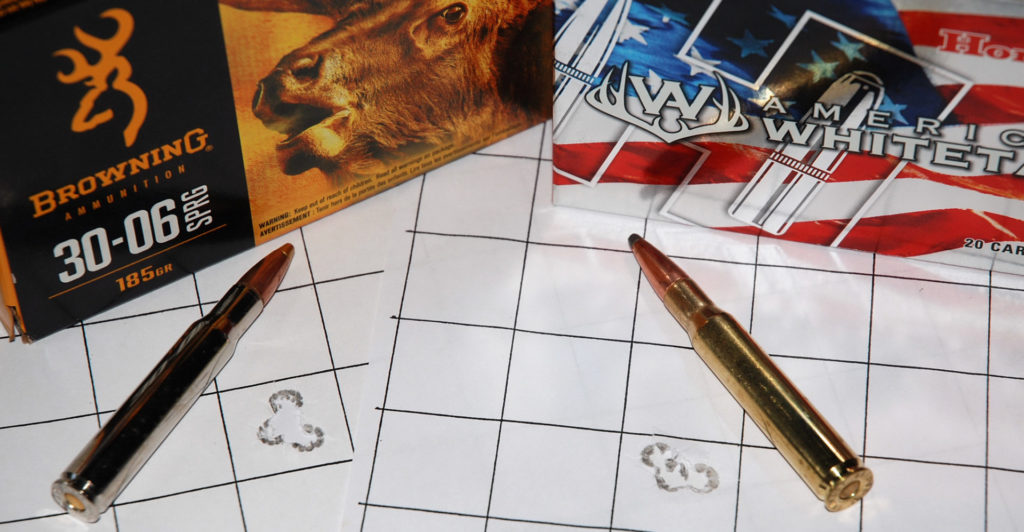 Factory Ammunition
| | | | |
| --- | --- | --- | --- |
| BRAND | BULLET | ADVERTISED VELOCICTY (FPS) | GROUP SIZE |
| Hornady Precision Hunter | 178-grain ELD-X | 2,750 | .320 |
| Hornady Superformance | 150-grain GMX | 3,080 | 1.22 |
| Hornady American Whitetail | 150-grain Interlock | 2,910 | .390 |
| Hornady American Whitetail | 180-grain Interlock | 2,700 | .750 |
| Hornady Superformance | 165-grain GMX | 2,940 | .610 |
| Hornady Custom | 165-grain BTSP | 2,800 | 1.20 |
| Federal Premium | 180-grain Trophy Bonded Tip | 2,700 | 1.16 |
| Federal Premium | 165-grain Trophy Bonded Tip | 2,800 | 1.16 |
| Federal Premium Edge TLR | 175 grains | 2,730 | 1.02 |
| Fusion | 150 grains | 2,900 | .600 |
| Browning BXC | 185-grain Controlled Expansion Terminal Tip | 2,700 | .390 |
| Barnes VOR-TX | 168-grain Tipped TSX | 2,800 | .830 |
| Barnes VOR-TX | 180-grain Tipped TSX | 2,700 | .570 |
Handloads
Bullet
Powder
Case
Manual Velocity

(fps)

Group Size

(inches)

Hornady 165-grain SST
I 4350
Hornady
2,830
.510
Hornady 180-grain SST
H 4831SC
Hornady
2,710
.901
Hornady 150-grain Interlock
I 4350
Hornady
2,910
.910
Nosler 150-grain Ballistic Tip
I 4451
Hornady
2,945
1.29
Nosler 180-grain AccuBond
R 22
Hornady
2,680
1.201
Barnes 150-grain Tipped TSX
R 19
Hornady
2,720
.620
Note: Manual velocity refers to the velocity taken from the manufacturer's reloading manual for that bullet weight and powder charge, and all groups are three shots at 100 yards.
Last Shot
In final analysis, where does the Pro stack up? It is my opinion that when evaluating the additional features that the Pro has to offer, such as its carbon fibre stock, lapped barrel, hand reamed chamber, fluted bolt/bolt handle, precision component fit and the Cerakote coordinated barrel and stock finish, it tops the X-Bolt line. With the addition of the Pro and Conquest V6, two top-tier lines just got better!