Equipped with fat tires and an ultra quiet motor, electric bikes are a slick way to access the backcountry without spooking game or traverse rugged terrain to toss a line in an alpine lake. E-bikes take us farther into the wilderness with less effort than by pedal power alone. Accessories such as lights, fenders, racks, bags and trailers add to their utility.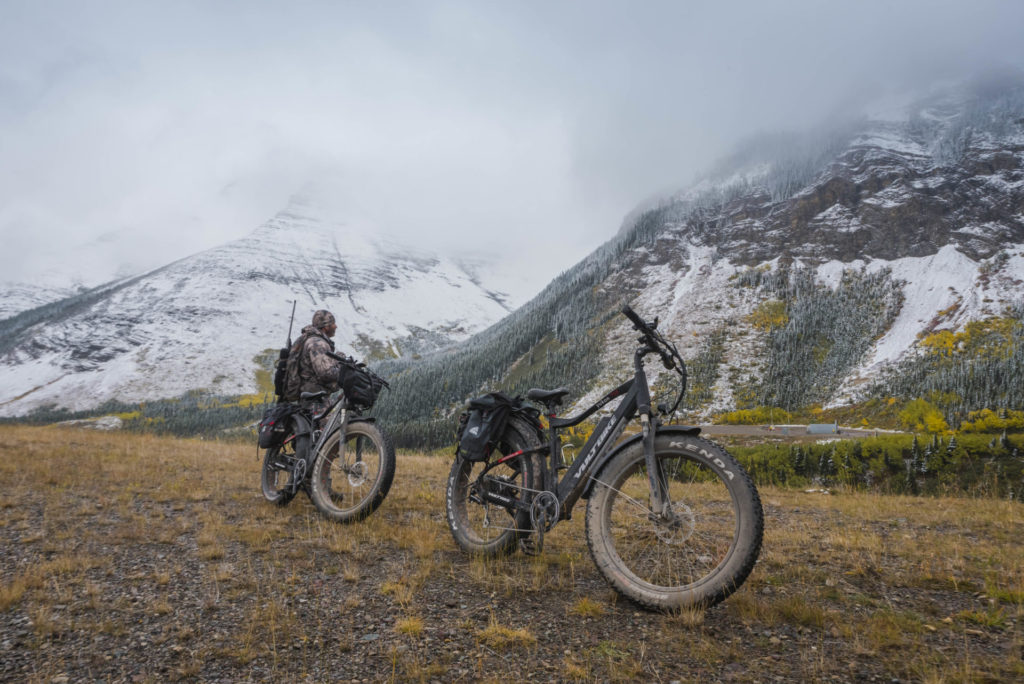 There are a few considerations before powering your next outdoor adventure with an e-bike. Let's navigate our way through the details.
What Is An E-bike?
An e-bike is a mountain bike juiced up with a high-torque electric motor, powered by a high-capacity lithium ion battery. Most e-bikes are of the fat-tire variety, offering the advantages of improved grip and traction in rough terrain, and the ability to inflate or deflate the tires to match riding conditions. E-bike motors draw electricity from a rechargeable on-board battery pack. Motors and batteries are heavy. E-bikes tip the scales at over 31 kilograms (68 pounds), and that strong frame and fat tires allow them to carry 125 kilograms (275 pounds) or more!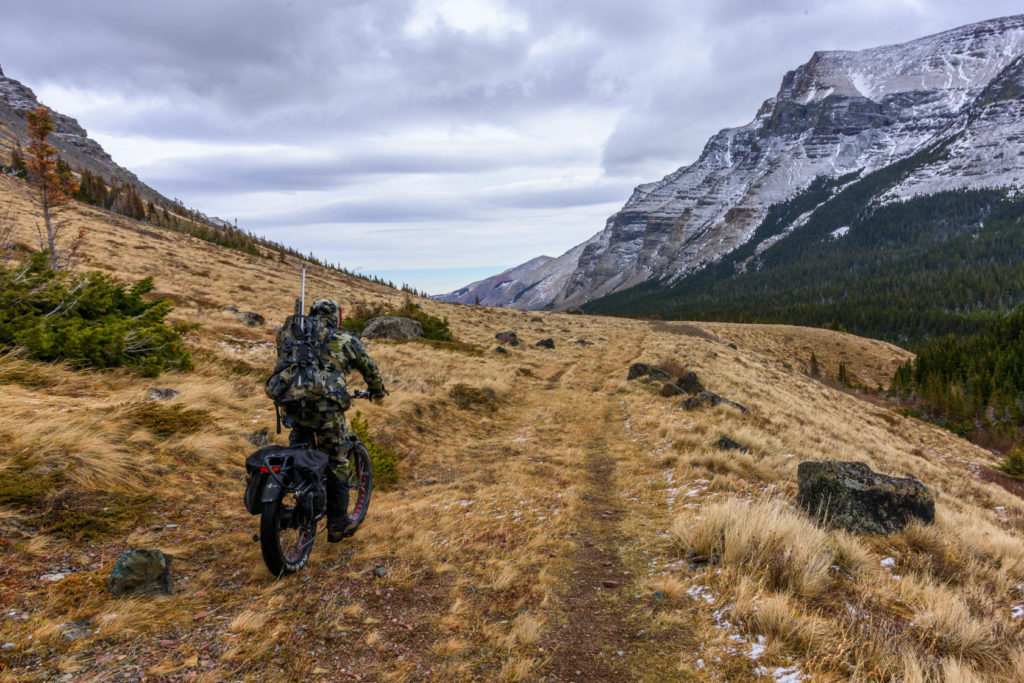 There are two main types of e-bikes. Pedal assist only models (known as pedelec), as their name suggests, help the rider pedal through challenging conditions like steep inclines or slogging in the dirt, mud and sand. Other e-bikes include both pedal assist and full electric modes – propulsion without pedaling! The full electric mode comes with throttle control on the handlebars.
E-bikes appeal to a wide range of users, from recreational riders to people with disabilities who would not otherwise access trails due to difficult uphill approaches. Hunters and anglers have taken note, too. Many e-bike companies not only sell to the hook, bullet and bow crowd, but also cater to our lifestyle with camouflage patterns and hunting and fishing e-bike accessories. There are special trailers for hauling game and gear, and on-bike racks for rods, rifles and bows.
In British Columbia, an e-bike is called a "motor-assisted cycle." By law, it must have working pedals, an electric motor of no more than 500 watts and a maximum speed 32 kilometres per hour using the motor. If you can pedal faster than that, go for it. Riders don't need a driver's license, vehicle registration or insurance for e-bikes; nevertheless, a rider must be at least 16 years old and wear a bike helmet. Special rules may apply to the use of e-bikes.
E-bikes with motors larger than 500 watts are considered off-road vehicles and are governed by those laws. More power provides the extra power to haul trailers and go faster. Carefully weigh the pros and cons to decide which unit is right for you.
Motors
At the heart of any e-bike is an electric motor mounted in either the centre of the frame or in one of the wheel hubs.
A rear hub motor works in both pedelec and throttle bikes. Rear-hub drives are popular for electric conversions and are an economical way to retrofit a standard bike frame to an e-bike. Rear hub motors add extra weight to the back of the bike and may affect balance and handling. Front hub motors are less common, and still share the problem of uneven weight distribution.
Mid-drive e-bikes integrate the motor into the centre of the bike frame above the crank. The mid-drive design offers the advantage of more torque than a similarly powered hub motor. Its location distributes weight between the front and rear wheels. The motor drives the crank arms directly, rather the wheel, taking full advantage of the bike's gear range.
Batteries
A rechargeable battery pack made of multiple cells powers the motor. Batteries add considerable weight to any e-bike. The most common battery mounting location is on the down tube, which lowers the bike's centre of gravity and improves handling.
Battery chargers that come with production bikes vary in power output. Bikes are typically sold with a standard 14 to 16 amp-hour battery, and requires several hours to charge once depleted. Some companies opt for a slower charge rate, saying it extends battery life, while others offer faster chargers to minimize downtime. Before you buy an e-bike, consider the range – the longest distance from a fully charged battery. Depending on the size of the motor, riding mode (pedal assist versus throttle), payload and riding conditions, you can expect to ride 30 kilometres to 70-plus kilometres per charge. Higher-capacity batteries increase the range, but add more weight. Like all rechargeable batteries, lithium ion e-bike batteries have a limited number of charge cycles. Don't worry, though – even if you charge your bike every day, you'll still get two to three years of battery life.
Other Features
If you're a gear junkie and technical specs turn your crank, it's important to know that there are disparities in the quality and performance of some components used between models and brands of e-bike. Just don't get too hung up on needing the best to buy an excellent e-bike. It's a good idea to understand some of the differences and whether they make a difference to your riding needs.
How many gears? Simply put, more gears allow fine-tuning and smaller steps between gears. The gear ratio represents the number of teeth on the front chain wheel and the rear gear. Lower gears require less effort and are used in steep terrain. To better handle the wear and tear of off-trail use, e-bikes employ derailleur guards as well as cable protectors.
Front fork suspension absorbs the energy of riding in rough terrain. The price point of the suspension varies based on brand and features, but at its basics look for the ability to preload the suspension and for full lock-out when pedaling on pavement.
Fat tires get a grip in snow, sand, mud, rock and dirt, and they do it in all weather, too. With tires ranging from four to 4.8 inches wide, the fat tire bike is king of the off-trail ride. Fat tires operate at a wide range of pressures, so in loose material, simply lower the tire pressure for extra traction and pump it back up for hard trail travel. Some tires include a puncture-resistant liner.
Disc brakes provide exceptional stopping power and have become a standard feature on mountain bikes. Disc brakes are either hydraulic or mechanical, and there's lots of Internet chatter about which style is better. Hydraulic brakes don't require as much pressure to brake and are known for their precise control and sensitivity, but they are more expensive and are not as easy to maintain. Mechanical brakes are less expensive and easier to maintain, nevertheless its more difficult to control the amount of brake force.
Accessories
Headlights and taillights are integrated on some models and are powered by the e-bike's main battery. Cargo racks add a convenient place to stow extra gear. For winter, a studded tire claws into icy trails to keep things rolling. Most brands make front and back racks, and optional pannier bags to custom fit their bikes.
Rambo Bikes specializes in larger e-bikes accessories to outfit an outdoor adventure, including carts, as well as canoe and kayak and single-wheel trailers. They also build gun and bow holders to mount on the side of the bike.
Buying An E-Bike
In this niche market, e-bike manufacturers are reaching their customers online with direct-to-consumer sales. Prices vary somewhat based on features and performance. Here are three all-terrain e-bike companies that cater to the hunting and fishing lifestyle.
British Columbia-based VoltBike manufactures their electric bicycles in Vancouver, cutting out the middleman and passing the savings on to the customer. Their most popular e-bike for hunting and fishing adventures is the Yukon 750 ($1,899 CAD) or Yukon 750 Limited ($1,999 CAD). VoltBike utilizes a network of ambassadors to let customers reach out to other users in their area and ask questions. VoltBike has flat-rate shipping across North America.
Another option available in Canada is Rad Power Bikes, a Seattle-based company with a Vancouver showroom and office. Their award-winning RadRover is the company's best-selling e-bike at $1,999 CAD. Rad Power bikes are in Vancouver so customers can test-ride bikes and make in-person purchases to skip the shipping.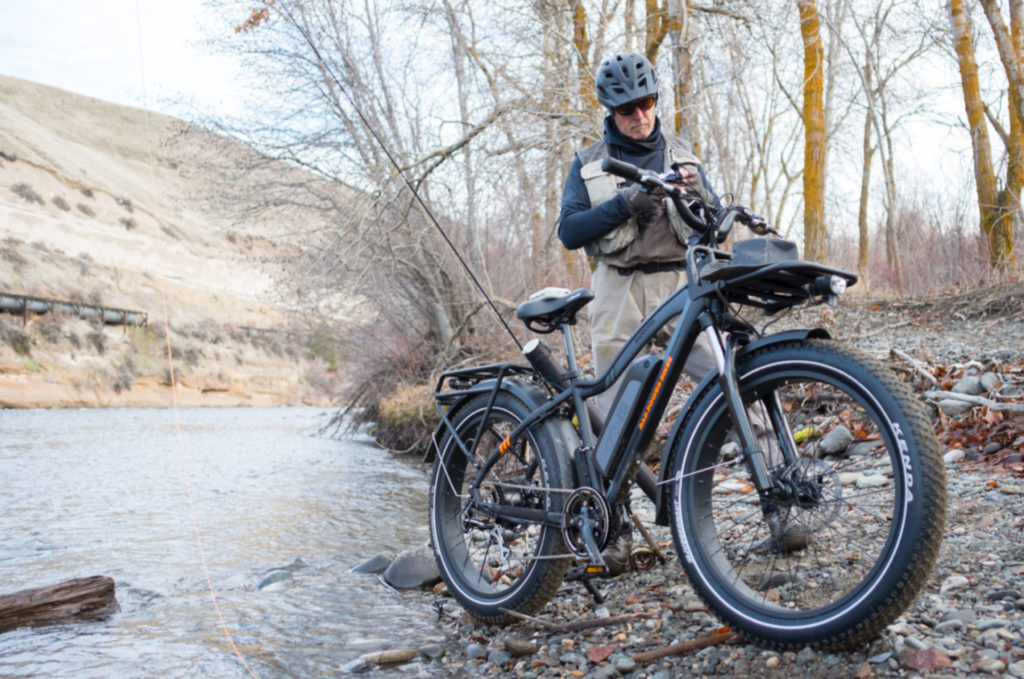 Rambo Bikes is distributed in Canada out of Ontario and offer free shipping on larger orders. For backcountry biking, the Xtreme Performance E-bikes, including the Viper Western and Carbon models, which use powerful 750-watt or 1,000-watt motors. These off-road bikes retail at $4,999 CAD and $6,199 CAD, respectively.
Final Thoughts
E-bikes offer a quiet way to access remote areas with less effort than a conventional mountain bike. The high torque of an electric motor is an asset to getting a heavy bike started in rough terrain and when a little extra assistance is required. At the end of a successful hunting or fishing trip, an e-bike can assist with hauling game and gear out of the field. Because of these advantages, in BC there are rules and regulations that govern the use of e-bikes.
Want silent solitude and a bit of extra oomph for the hard work of accessing the backcountry? Consider whether an e-bike would be right for you.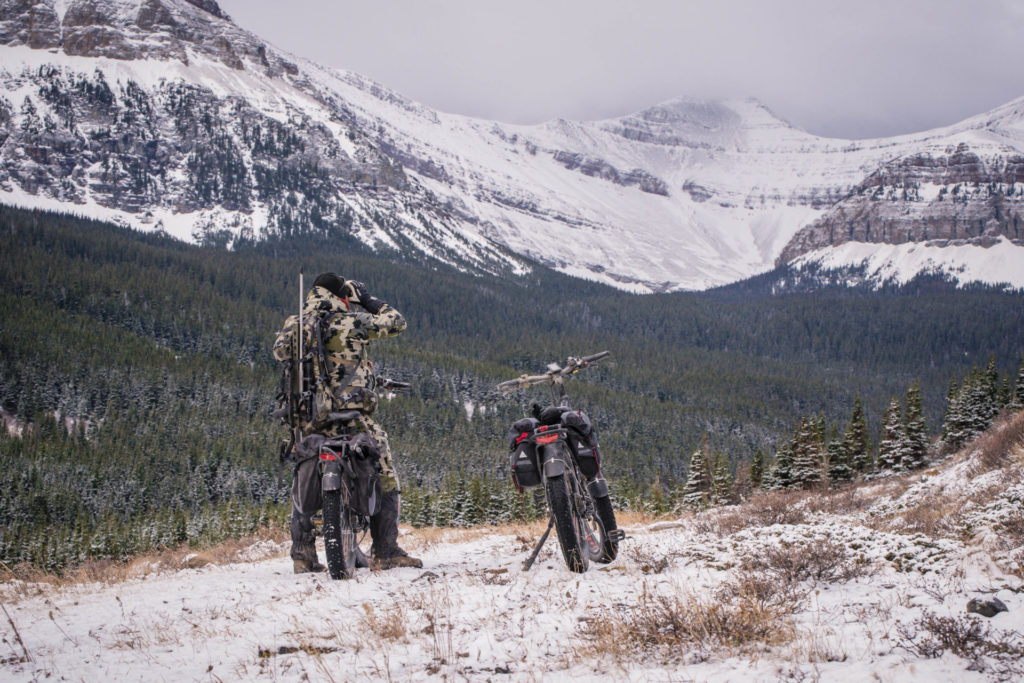 BC E-Bike Regulations
E-bikes in British Columbia must comply with all standards outlined in Motor Assisted Cycle Regulation, BC Reg 151/2002.
E-bikes allow users to cover more distance in a shorter period. By removing some of the physical limitations inherent to mountain biking, there was concern about the increased number of backcountry users impacting wildlife and environmentally sensitive alpine areas. The BC government developed a policy about e-bike use on Crown land.
E-bikes are classified according to an industry-standard three-class system based on power output, maximum speed and type of propulsion (pedal assist or throttle). The class determines where e-bikes can operate on established trails.
The policy is available online as the BC E-Bike Policy. 
Resources 
VoltBike Electric Inc.
Featured: Yukon
https://www.voltbike.com/
Rad Power Bikes
Featured: RadRover
https://radpowerbikes.ca/
Rambo Bikes
Featured: Viper Western and Carbon
https://rambobikes.ca/