Every chef, especially those like me who love cooking outdoors, needs a Dutch oven because it's the only pot that can take the heat of an uncontrollable campfire and, in my opinion, the old-fashioned jet black ones made out of heavy-duty cast iron are much more durable than the newer models made out of cast aluminum or ceramic, as the colourful enamel coating on the latter tends to chip rather easily when exposed to rugged camp life.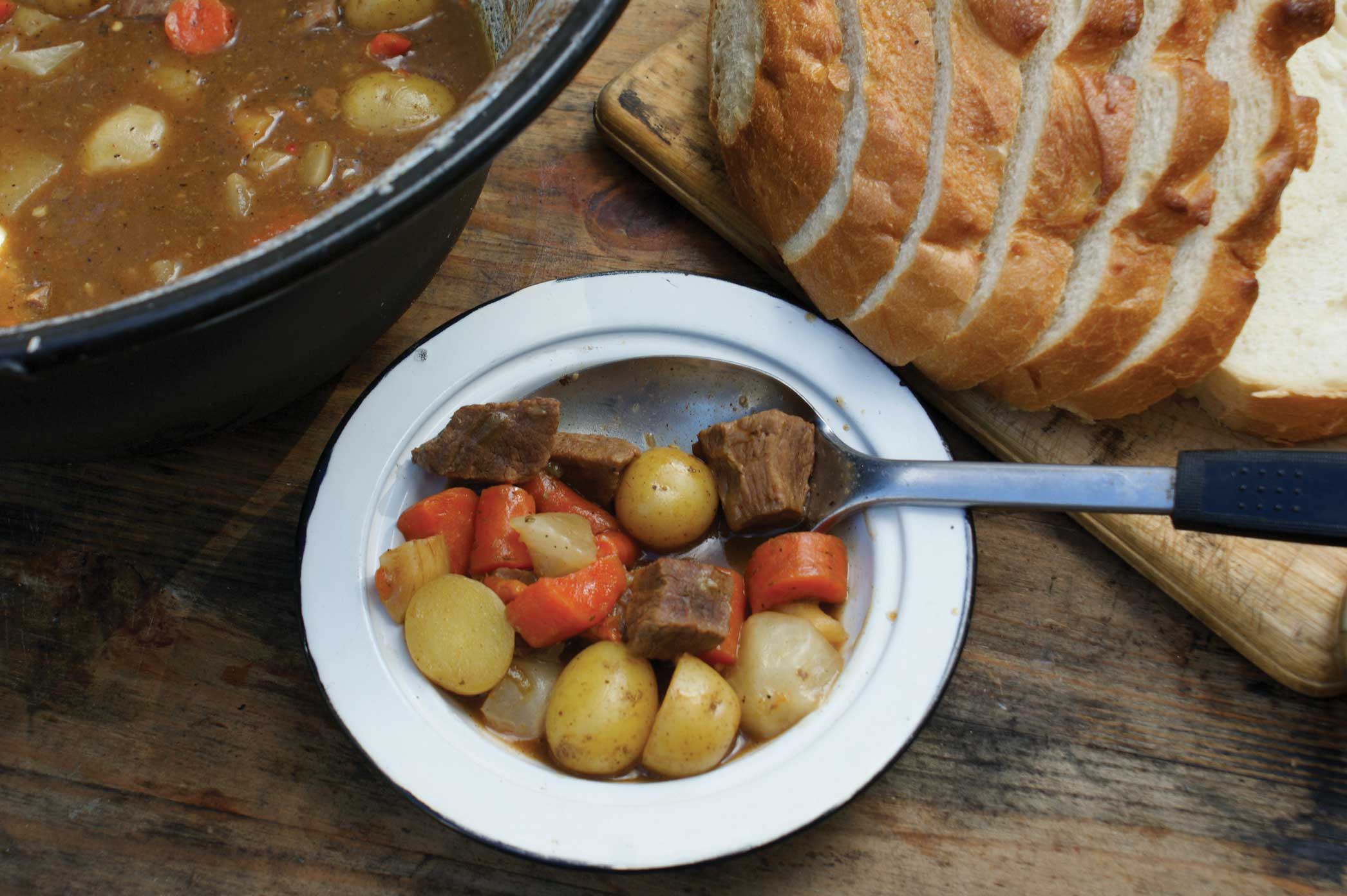 A heavy-gauge Dutch oven with a tight-fitting lid holds and distributes heat evenly throughout the pot, while trapping in steam so not a drop of vapor escapes during the cooking process, which is one of the secrets to cooking a stew that's full of flavour and naturally thick as you do not have to keep watering the stew down to prevent the pot from going dry.
If your Dutch oven is new, or has been shelved for some time, you will want to season it before using it, as seasoning forms a non-stick cooking surface while building up the black patina that helps prevent the pot from rusting, which cast iron is prone to do if not seasoned properly or dried thoroughly after using.
To keep my pot well-seasoned after every use, I wash and then dry it over the fire before rubbing it with a cloth dipped in fat. You can use shortening, lard or bear fat, but do not use oil as I find it tends to leave a sticky film. The final step is to heat the pot over the fire until it is smoking hot before allowing it to cool. The seasoned pot is now ready to store until it's called upon for cooking the next campfire feast.
Speaking of feasts, one of my favourite hunting camp suppers is this hearty stew made from venison – moose, deer, elk or whatever other game meat I have to my avail, whether it's freshly harvested or some of last season's meat that's hauled in to camp from the home freezer, which is a delicious way to make room for the new bounty I hope to bag.
This colourful, hearty stew is guaranteed to rack up big raves with your hunting party, so give it a shot the next time you're cooking in camp. It makes a hefty pot of stew, but don't worry if it's too much for one meal because leftover stew is just as good the second or even third time around.
I will also mention that I do not store leftover cooked food in my Dutch oven overnight because when the steam cools and forms condensation on the walls and lid of the pot, it can wear away the patina and prompt rusting. Upon serving, I like to transfer the stew from the Dutch oven to another pot (one that is suitable for storing leftovers in) as this allows me to wash, dry and re-season my Dutch oven while the cookfire is still blazing.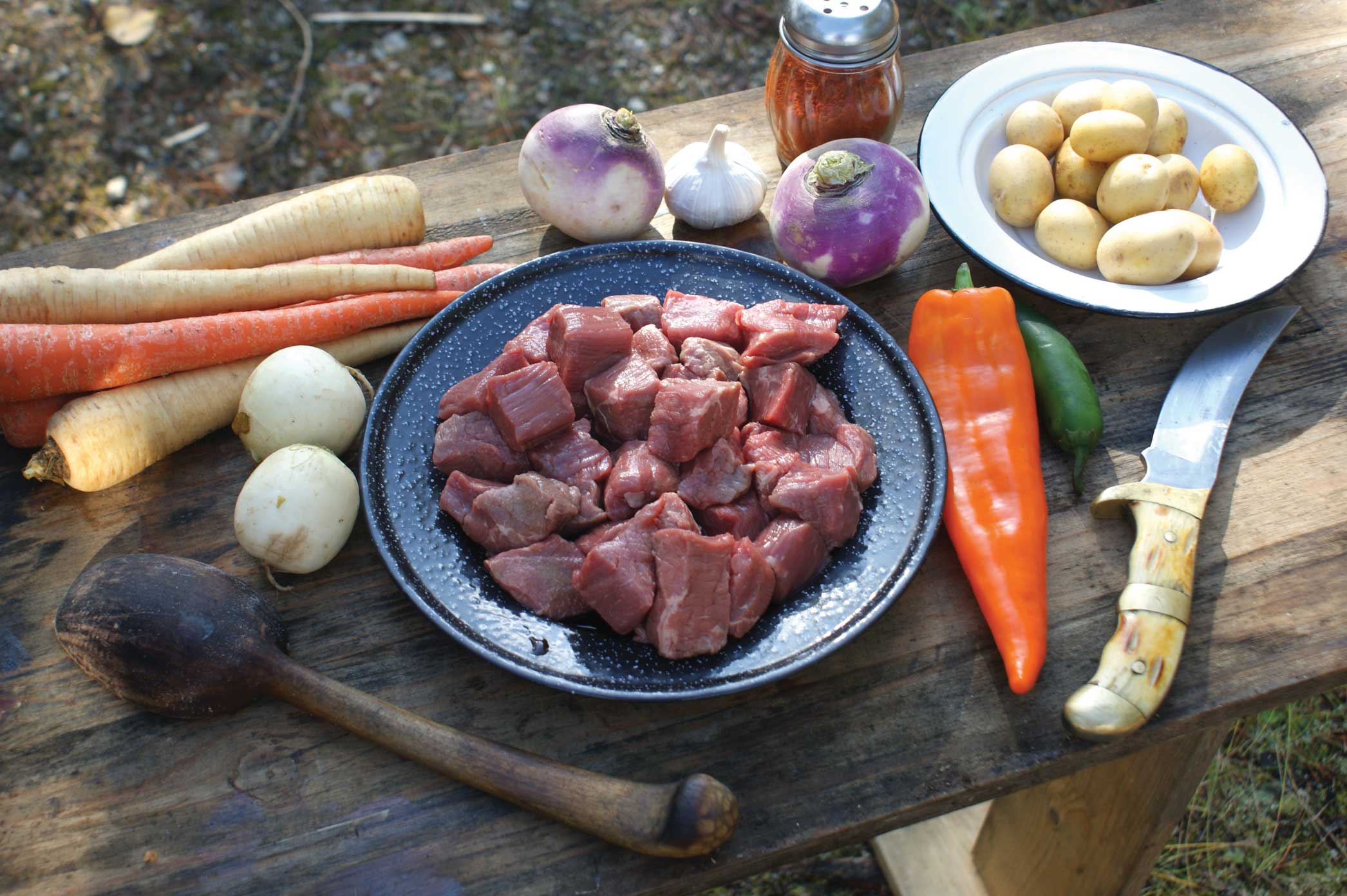 Ingredients
2 pounds stew-cut venison
1 tablespoons flour
1 tablespoon paprika
4 tablespoons shortening (or lard)
1 chopped onion
5 cloves minced garlic
1 diced sweet pepper
1 diced jalapeno or chili pepper (optional)
5 cups water (maybe a little more if needed)
3/4 cup red wine
1/4 teaspoon each of crushed marjoram and thyme
1 teaspoon celery salt
1 teaspoon salt
1 teaspoon black pepper
2 or 3 small, peeled, cubed turnips
3 chunky cut carrots
2 chunky cut parsnips
15 (more or less, as you wish) scrubbed baby potatoes
Method
Melt the shortening in the Dutch oven. Mix the flour and paprika together and dust the meat lightly with the mixture. Brown quickly in the hot fat. Add the onion, garlic and peppers, cook until the onion is soft. Add the water, wine, herbs, salt and pepper. Put the lid on the Dutch oven and sit on the grate (or hang over the fire) and simmer for two hours, adding more water as needed to achieve the desired thickness of the gravy. Add the vegetables and continue cooking until they are fork tender.