Cold winds are blowing and snow is falling (or rain, depending on where in BC you are), which is the perfect time to bring in a little piece of the outdoors for festive decorating. It is easy to make a special holiday centrepiece by taking a little walk with the family to collect foliage, berries, dried flowers and more to spruce up your own Yule log. Traditionally associated with the winter solstice, the Yule log makes a beautiful addition to holiday decor any time in the winter.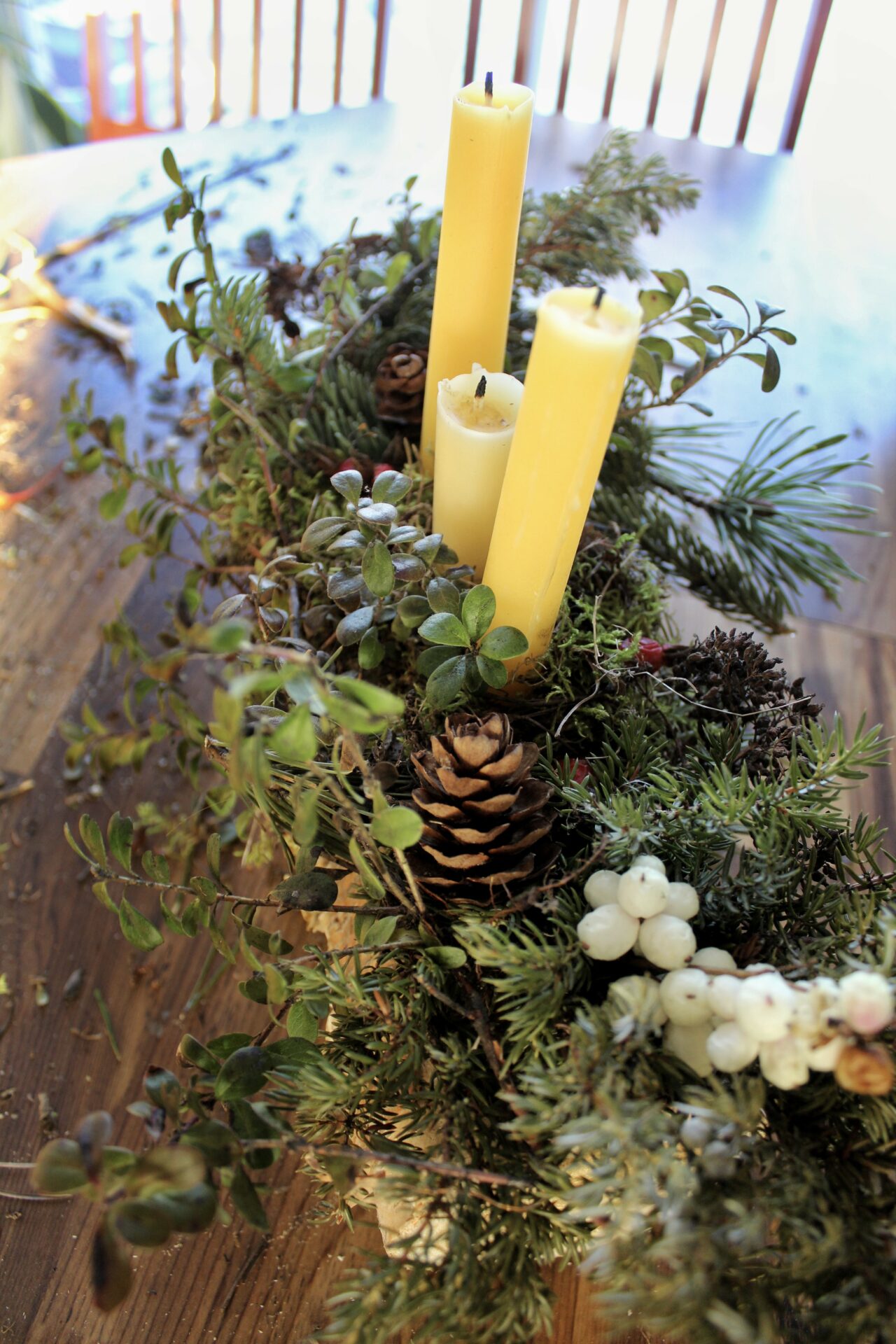 The most important piece you need to find is a piece of a log to be your base. Make a judgment call on the diametre and length of the log you choose, depending on where you plan to put it on display; about 10 inches long and several inches in diameter makes a nice size for placing on a small kitchen table. What is non-negotiable, however, is looking for a piece that has one flat side to it. This will allow the log to sit on the table safe and secure, without any wobbling.
Traditionally, one would choose the species of tree depending on what you wished for the upcoming year – prosperity, fertility and wisdom are just a few examples. Aspen, oak, pine and birch are all examples of traditionally chosen species, but use whatever is handy. Birch is an incredibly stunning addition to any holiday table. Looking for already fallen (but not rotten) trees is a great way to sustainably find your chosen log.
What you gather to place on the log can mostly be found on the forest floor. Cuttings of spruce, pine and juniper bring in that distinct holiday spirit, while dried berries, rose hips, flowers and conifer cones complete the festive look. Remember to only take what you need and leave the rest for all the critters during the winter.
Once you have foraged all the pieces of the centrepiece, it is time to assemble it. If desired, use hot glue to secure beeswax candles to the log. Fill in with clippings of conifer twigs, moss and vines. Finally, tuck berries and cones amongst the clippings. If using candles, be careful to ensure that the candles have plenty of clearance around them.
Enjoy as a centrepiece throughout the holiday season!
CAUTION: If using candles as part of the Yule log, exercise caution and do not leave unattended while burning. Spritz the yule log down once a day to keep the foliage fresher and to slow down the drying process.