Soup season is officially here, and this cream of potato soup with poached salmon will fill many bellies with warm, nourishing food. This recipe can be made in one Dutch oven, making clean up minimal so you have more time to spend on adventures outside.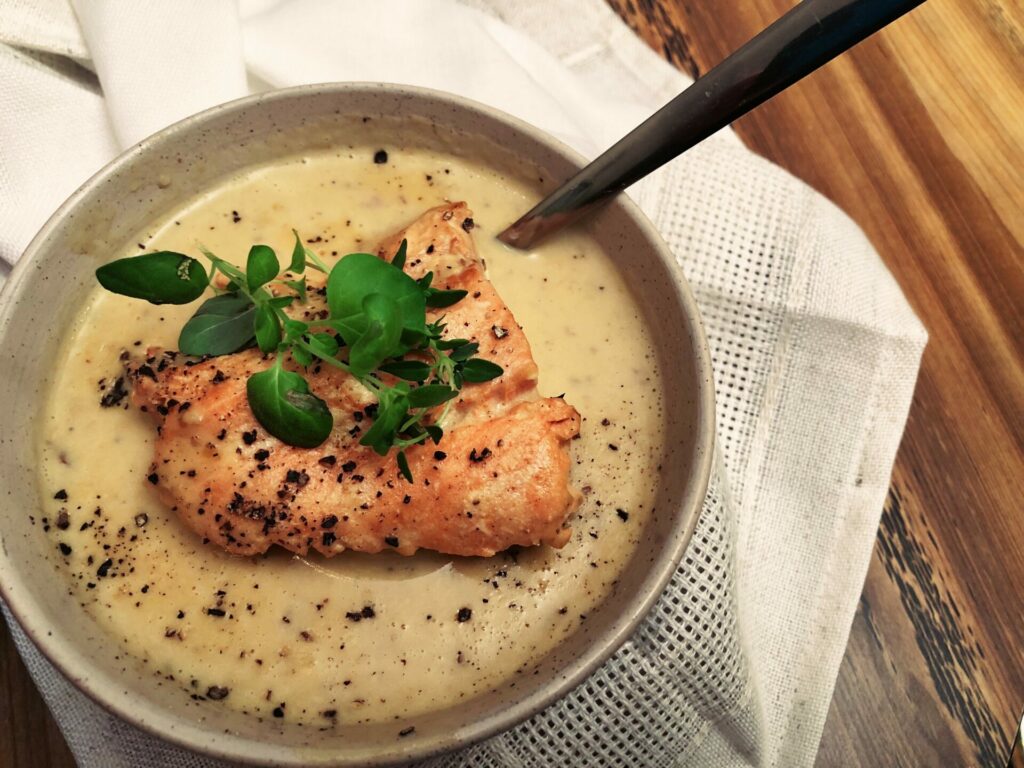 Ingredients
2 tbsp. extra virgin olive oil
1 medium onion, diced
2 carrots, grated
2 stalks celery, chopped
1 cup mushrooms, diced
3 cloves garlic, minced
2 bay leaves
4 cups beef stock
1 pound of potatoes, diced
1 pound salmon fillet, skin off
1 1/2 cups whipping cream
Fresh herbs, to garnish
Salt and pepper, to taste
Directions
In a Dutch oven over medium heat on the stovetop, heat olive oil. Fry diced onion until translucent, around five minutes. Add in grated carrot and chopped celery until soft, another five minutes. Stir in mushrooms and garlic and cook for a few more minutes until soft. Add in bay leaves and beef stock. Bring to a boil.
Once at a boil, add in potatoes and simmer for around 15 minutes until soft. Remove from heat and, using extreme caution because the soup will be very hot, use an immersion blender to blend together all the ingredients until creamy. Place back on heat and poach the salmon in the soup for around five minutes or until cooked through. Stir in whipping cream and add herbs, salt and pepper to taste.