Venison has to be one of the most versatile meats to prepare. There are many methods we can use including roasting, pan frying, barbeque, sautéing , stews, soups and creating many different stir fry options. Recently I have been using a technique new to me called sous-vide. It is an amazing way to create a perfect piece of meat each and every time you step into your kitchen.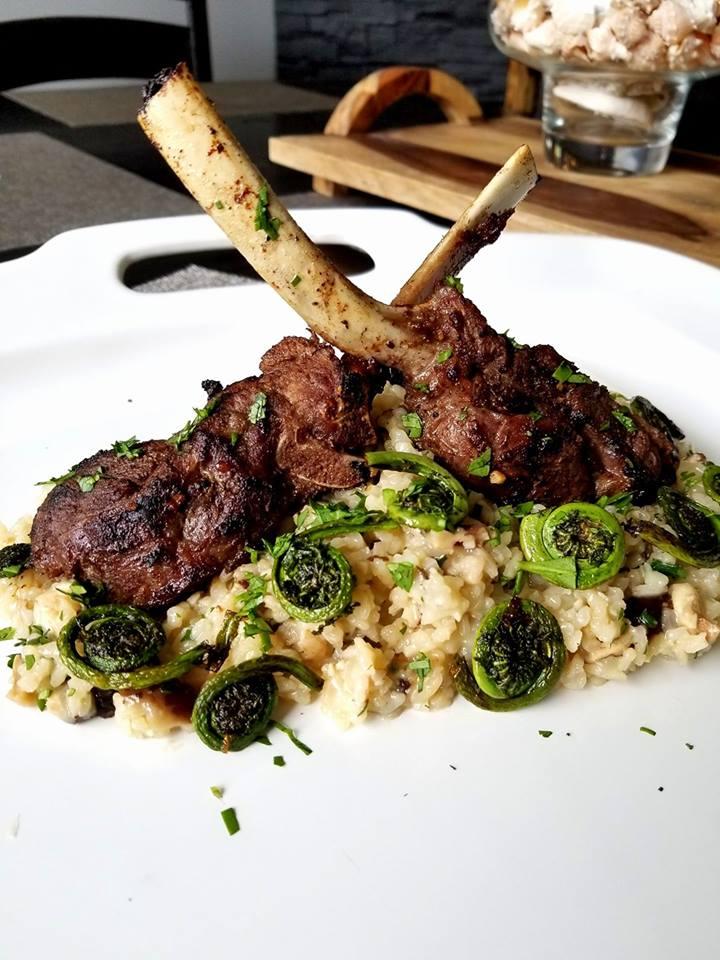 Sous-vide is a method of cooking in which food is vacuum sealed in a plastic pouch and then placed in a water bath for an extended period of time at an accurately regulated temperature. The temperature for meat in this environment is typically 130 to 140 degrees Fahrenheit. The intent of this method is to cook your item evenly, ensuring that the inside is properly cooked without overcooking the outside, and to retain moisture. Sous-vide machines are relatively inexpensive and can be purchased at gourmet kitchen stores, online or at some larger retailers such as Bed, Bath and Beyond.
What is fantastic about sous-vide is that your meal is ready when you are! Most hunters that I know have their own vacuum sealers for their wild game, but you can immerse a ziplock bag into the water as well. The best way to optimize flavour is to add fresh herbs and spices to the bag, along with olive oil. Your meat will tenderize, absorbing the beautiful flavours while it slowly cooks in the water bath. You can also sous-vide vegetables too, fish and poultry. If you purchase the sous-vide machine, it comes with a great recipe book and temperature guidelines to help you achieve that perfect cut of meat.
For the recipe I am sharing today, I used the sous-vide machine. If you don't have one, I would prepare this Venison frenched rack in a frying pan till browned on all sides, and finish it off in the oven at 350 degrees until the internal temperature reaches 140°. Cover the venison with aluminum foil and let rest for 10 minutes before serving.
Ingredients:
4 Frenched venison chops
½ cup olive oil
¼ cup chopped garlic
¼ cup chopped basil
¼ cup chopped oregano
2 teaspoons kosher salt
2 teaspoons ground pepper
 Fiddleheads:
2 cups fiddleheads
4 tablespoons butter
Kosher salt, to taste
Pepper, to taste
¼ cup chopped oregano
 Risotto:
1 cup risotto
4 cups simmered chicken broth
2 tablespoons olive oil
2 tablespoons butter
½ cup white wine
½ cup finely diced shallots
1 cup chopped mushrooms
¼ cup grated parmesan
¼ cup chopped parsley
Instructions:
Place the venison racks in a large stainless steel bowl. Add olive oil, garlic, kosher salt, pepper, chopped basil and oregano and stir well, coating all side of each chop. If you have a sous-vide machine, vacuum seal the racks and immerse in the water at 130 degrees for four to five hours. If you do not, cover the racks with plastic and place in your fridge while you prepare the risotto.
Risotto
Pour chicken broth into a pot and bring to a simmer. Heat a large skillet to medium high. Add two tablespoons of olive oil, and butter. Add shallots, mushrooms and stir gently until softened but not coloured, about 10 minutes. Turn the heat up and add the rice. It will begin to lightly fry so keep stirring the rice as it becomes translucent. Add the wine and keep stirring. The aromatics will be amazing. Once the wine is evaporated, add your first ladle of chicken stock to the rice. Turn the heat down to a simmer, so the rice softens evenly and doesn't cook too quickly. Keep adding ladles of chicken stock as the previous one evaporates. The rice will begin to look creamy. Taste the rice and make sure to add a bit of salt if needed. Once the broth is all gone and the rice is soft, take it off the heat. Add parmesan, and chopped parsley. Give the risotto a good stir. Put a lid on and set aside.
Fiddleheads
Heat up a skillet with four tablespoons of butter at medium heat. Once the butter is melted, add the fiddleheads lightly tossing to cover with melted butter. Add pepper, salt and chopped oregano. Continue to stir fiddle heads until they start to soften, about 10 minutes. Take off the heat and set aside.
Venison
Heat up frying pan to medium high heat. Take the venison out of the fridge and uncover, giving it a stir. Place racks in the pan, being careful not to overcrowd. Sear all sides, creating a beautiful, crispy, golden brown crust. Place on a cookie sheet with parchment paper in a 350° oven for 12-13 minutes or until internal temperature reaches 140°. Take out and let rest under tinfoil for 10 minutes to seal in all the juices. The difference with using the sous-vide machine is that you don't need to finish the venison in the oven. It's already cooked perfectly. All you need to do is pan sear all sides to create that golden crispy outside.
Place a ladle of risotto on a serving plate. Put the venison Frenched rack on top with bone upright. Place fiddleheads around the rice, garnish with chopped parsley and you are ready to serve this incredible meal to your family and guests.