My sister and her boyfriend are to blame for my current Dutch baby addiction. A few years back, when they first introduced me to this pancake-esque breakfast, I had never heard of them; fast forward to now, and it seems as though the Dutch baby is everywhere you look! As far as breakfast foods go, the Dutch baby is the perfect base for a variety of toppings – while some folks might stick to a classic dusting of icing sugar and maple syrup, we like to keep things simple with this quick, easy-to-make huckleberry sauce and a side of maple bear breakfast sausages.
A 10-inch cast iron skillet works perfectly for this breakfast for four people – however, if you don't have a cast iron skillet, you can use any oven-safe dish or pan; something such as a casserole dish would be sufficient.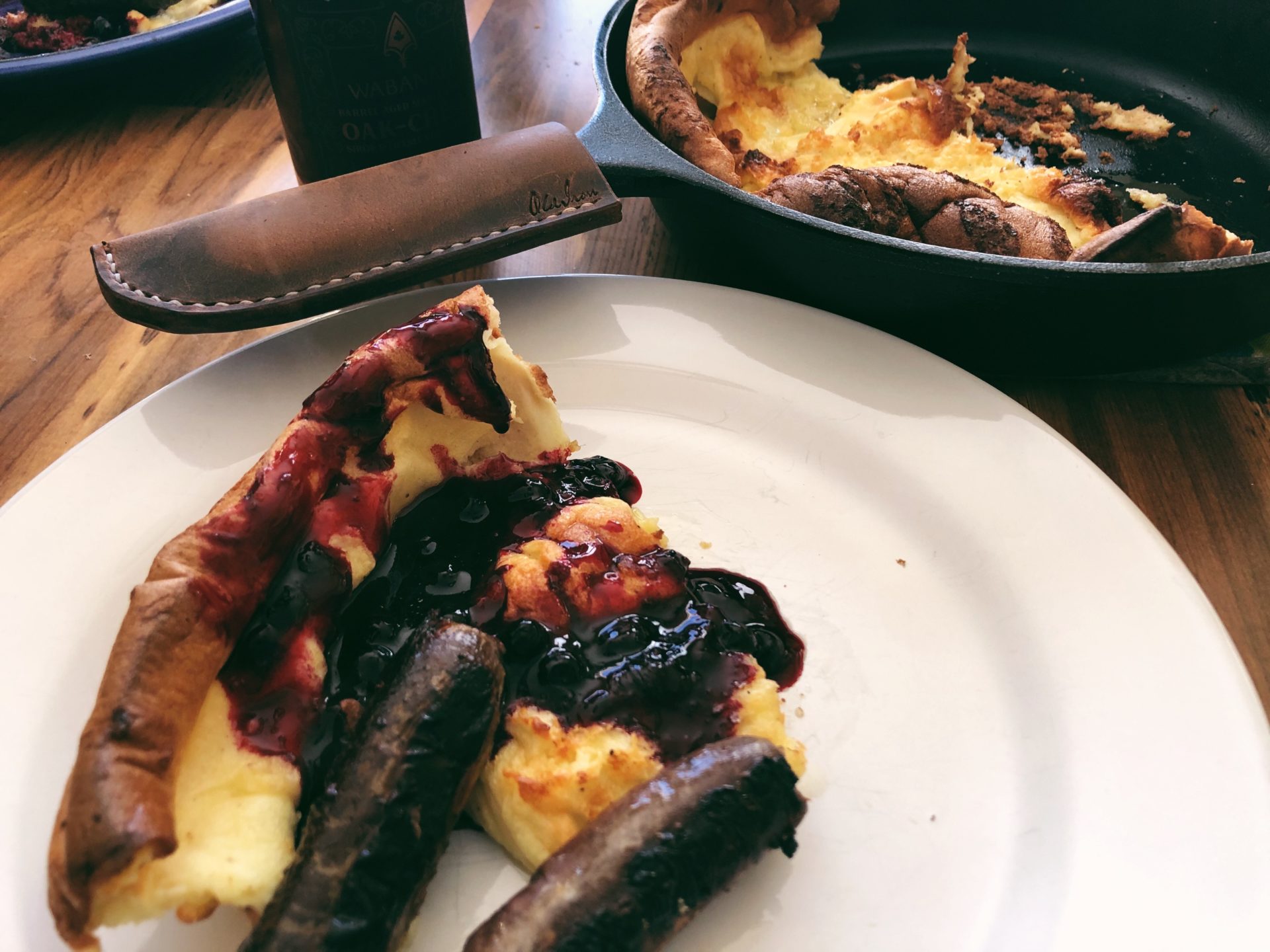 Ingredients For Dutch Baby
1/2 cup all purpose flour
1/2 cup milk
3 large eggs, room temperature
2 tbsp. cane sugar
1/8 tsp. nutmeg
3 tbsp butter
Ingredients For Huckleberry Sauce
2 cups frozen huckleberries
1/2 cup water
1/2 cup cane sugar
1/2 tbsp. lemon juice
2 tbsp. cornstarch
2 tbsp. cold water
Method
Preheat the oven to 425 degrees Fahrenheit. In a small bowl, whisk together the milk and eggs. Add the flour, cane sugar, and nutmeg; whisk rapidly until smooth. Melt three tablespoons of butter in the cast iron pan placed in the oven. Remove from oven and pour batter into the skillet. Place back in oven and bake for 20 minutes.
While the Dutch baby is baking in the oven, make the huckleberry sauce. In a small saucepan, heat the huckleberries, half cup of water, sugar, and lemon juice to a gentle boil, stirring frequently. Mix the cornstarch and cold water together in a small dish and pour into the huckleberry sauce. Reduce heat and simmer for around five minutes, removing from heat just prior to serving.
When you remove the Dutch baby from the oven, it will be fluffy and the edges lightly browned. Within a couple minutes of being removed from the oven, it will start to deflate as it cools down – this is totally normal! Cut the Dutch baby into quarters, drizzle with huckleberry sauce and serve hot. You can keep leftovers in the fridge for a few days, but this breakfast dish is best enjoyed fresh out of the oven.