I grew up ice fishing for burbot (freshwater ling or lingcod, as they are commonly dubbed) so I have never paid much mind to their unappealing appearance in the hut because, the bottom line is, I know how appetizing they are on the platter. But any fisherman landing a burbot for the first time might shun such a homely, unconventional-looking fish.
Burbot have a protruding lower jaw with a single barbell or whisker dangling beneath their chin, giving them a pouty face. Combine that with a lanky, eel-like body and a non-fishlike, rounded tail, and it's easy to see why these "eelpout" or "mud shark" (other slangy, yet fitting, nicknames) are frowned upon by some fishermen who consider burbot to be a less-than-perfect prize.
But I assure you, they are a sporty fish to target and when you bib-up for a burbot supper, they're one easy fish to fall in love with. They have firm, light-coloured flesh, which resembles cod, making it a perfect choice for deep-frying fish and chips style.
Another popular way to serve burbot (especially a smaller fish with thinner fillets) is to cut the flesh into strips, steam it (giving it a lobster-like texture) and serve with drawn butter and lemon wedges, a finger-licking good dish fondly known as poor man's lobster.
One of my favourite ways of delivering burbot to the table is in a creamy mushroom sauce, a delicious dish that pairs up one of my favourite hard-water catches with my summer stash of dried, wild mushrooms. Of course, if you don't forage morels, chanterelles and other edible wild mushrooms throughout their growing seasons and dry them in a food dehydrator as I do, you can buy mixed dried mushrooms at the supermarket to pair up with the fresh ones for using in this recipe.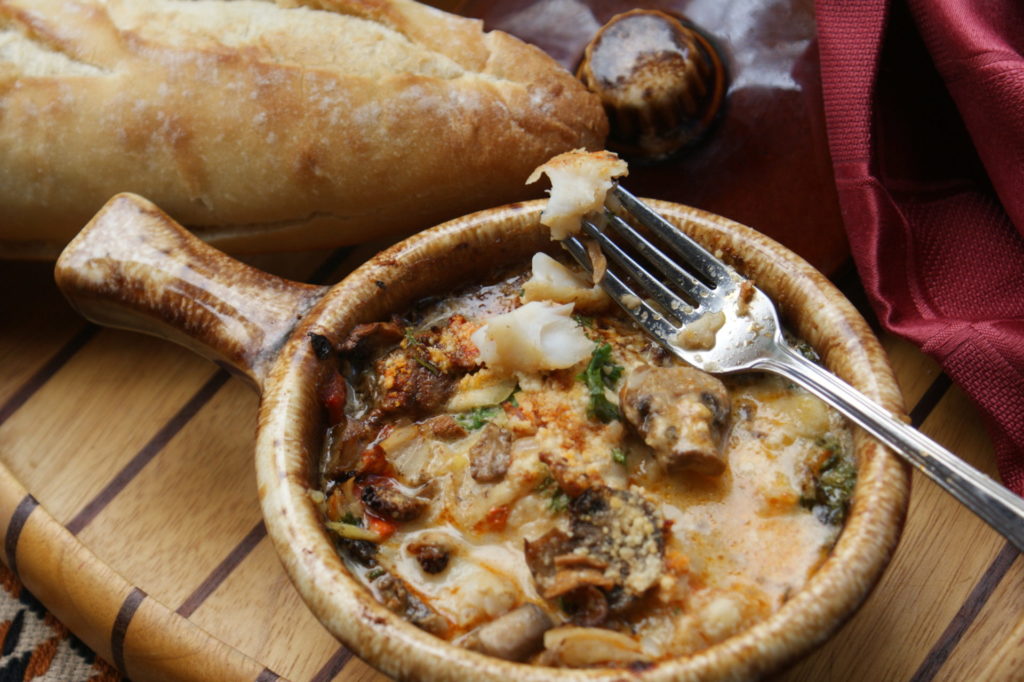 Using both fresh and dried mushrooms is the secret to creating a rich, flavourful sauce, as the fresh fungi are delightfully tender, and the dried pick lends a slightly chewy texture and touch of wild, smoky flavour to the sauce.
I typically use earthen baking dishes (oven-proof onion soup bowls are ideal) for making individual-sized servings, but you can use a larger dish if you'd rather. Either way, you want to choose a tightly lidded dish in order to trap in steam during cooking, which keeps the fish moist.
All you really need to serve with this saucy dish is a crusty baguette or slice of garlic toast, but for company fare a side dish of rice goes great. And don't forget to fill the glasses with one of our province's fine white wines, my pick is a chardonnay, for toasting this fine winter feast. This dish serves four.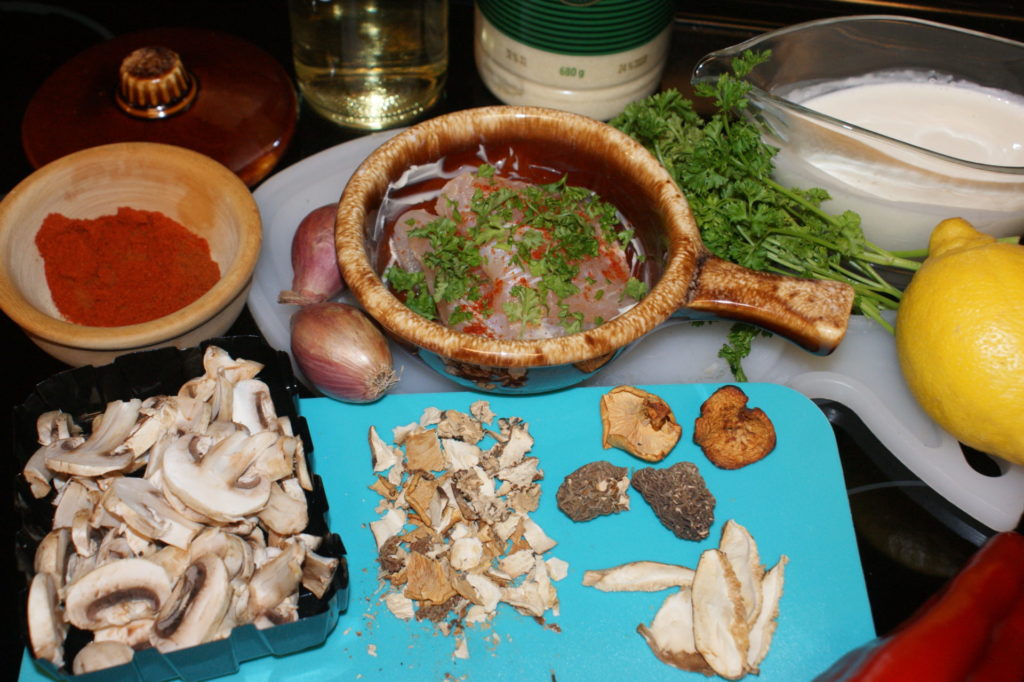 Ingredients
1 1/2 to 2 pounds burbot (or other white or light-fleshed) fillets
4 tablespoons butter (plus extra for greasing)
1 teaspoon paprika
2 tablespoons chopped parsley
2 tablespoons dried mixed mushrooms broken into small pieces (I use morels, chanterelles and boletus)
1/4 cup cold water
2 cups sliced white button (or cremini) mushrooms
2 minced shallots
1/4 cup minced sweet red pepper
1 glove minced garlic
2 tablespoons flour
1/4 teaspoon dried basil
Salt and pepper to taste
1 1/2 cups cream
1/4 cup white wine
1 tablespoon lemon juice
Pinch grated lemon zest
4 tablespoons grated parmesan cheese
Preparation
Grease four individual baking dishes (or one larger casserole) generously with butter. Place fish fillets into the prepared dishes. If the fillets are thin from a smaller fish, roll them or pile one atop another to desired thickness. Sprinkle with paprika and chopped parsley. Soak dried mushrooms in cold water until soft, drain. Heat remaining butter in skillet, sauté the fresh mushrooms, shallots, pepper and garlic until mushrooms are tender and most of the liquid has evaporated. Add the soaked mushrooms, sprinkle in the flour and seasonings. Cook, stirring constantly, until flour is absorbed. Stir in the cream, wine, lemon juice and zest, cook until thickened. Ladle the sauce over the fish and sprinkle with parmesan. Bake, covered, in an oven preheated to 325 degrees Fahrenheit for 20 to 25 minutes or until fish is flakey. Remove lids during last five minutes in order for tops to brown.