Cooked in a cast iron Dutch oven, this beer-braised rabbit recipe can be whipped up in under an hour for a delicious, fall-off-the-bone type meal that warms your soul. Serve with mashed potatoes and roasted root veggies for the ultimate comfort food.
Ingredients
One rabbit, divided into pieces
2 tbsp. extra virgin olive oil
3/4 cup flour
1 tsp. fresh ground pepper
1 tsp. fine sea salt
1 tsp. dried thyme
1/2 tsp. garlic powder
1/4 tsp. paprika
1 large onion, thinly sliced
3 large garlic cloves, crushed and minced
1 1/2 cups beer
4 cups chicken stock
1 cup sliced mushrooms
Several sprigs of fresh herbs (rosemary, parsley, and thyme)
1 bay leaf
Method
Heat up extra virgin olive oil in the Dutch oven. While that is heating, mix flour, pepper, salt, dried thyme, garlic powder and paprika. Toss the pieces of rabbit until thoroughly coated. Fry for several minutes on each side (you may have to do this in two batches if you have a small Dutch oven). Remove from pan.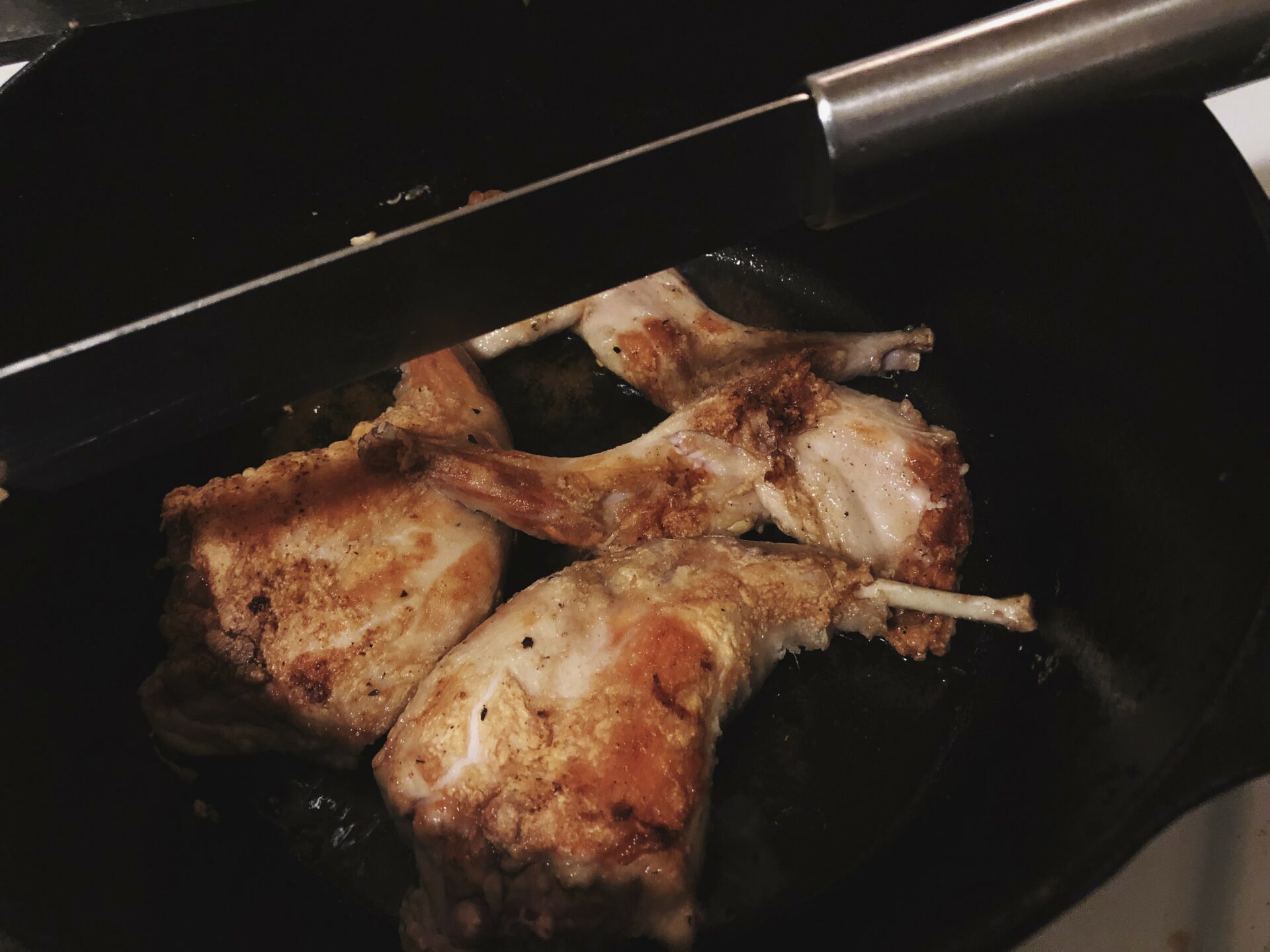 Fry sliced onions and garlic until onions are translucent. Place fried rabbit back into the pan and add beer, chicken stock, sliced mushrooms, fresh herbs and a bay leaf or two. Bring to a boil, cover and simmer for 30 minutes. Serve!
Hint: The finished beer broth makes a delicious, light "gravy" to drizzle overtop of a side of mashed potatoes.
Bonus tip: Have a busy evening planned but time to kill in the afternoon? Make this recipe ahead of time, move the covered Dutch oven into the oven at 300 degrees Fahrenheit and remove when ready to eat. The rabbit stays tender and juicy in the beer broth, so it won't get tough.