There's nothing I enjoy more than taking off on a peaceful, solo fly-fishing trip to one of my favourite backcountry lakes, spending a few days trout fishing to test out some of my latest hand-tied flies. And, it goes without saying, the ultimate reward of any invigorating day spent on the water is sitting down by the evening campfire to dine on a keeper, cooked to perfection over the glowing coals.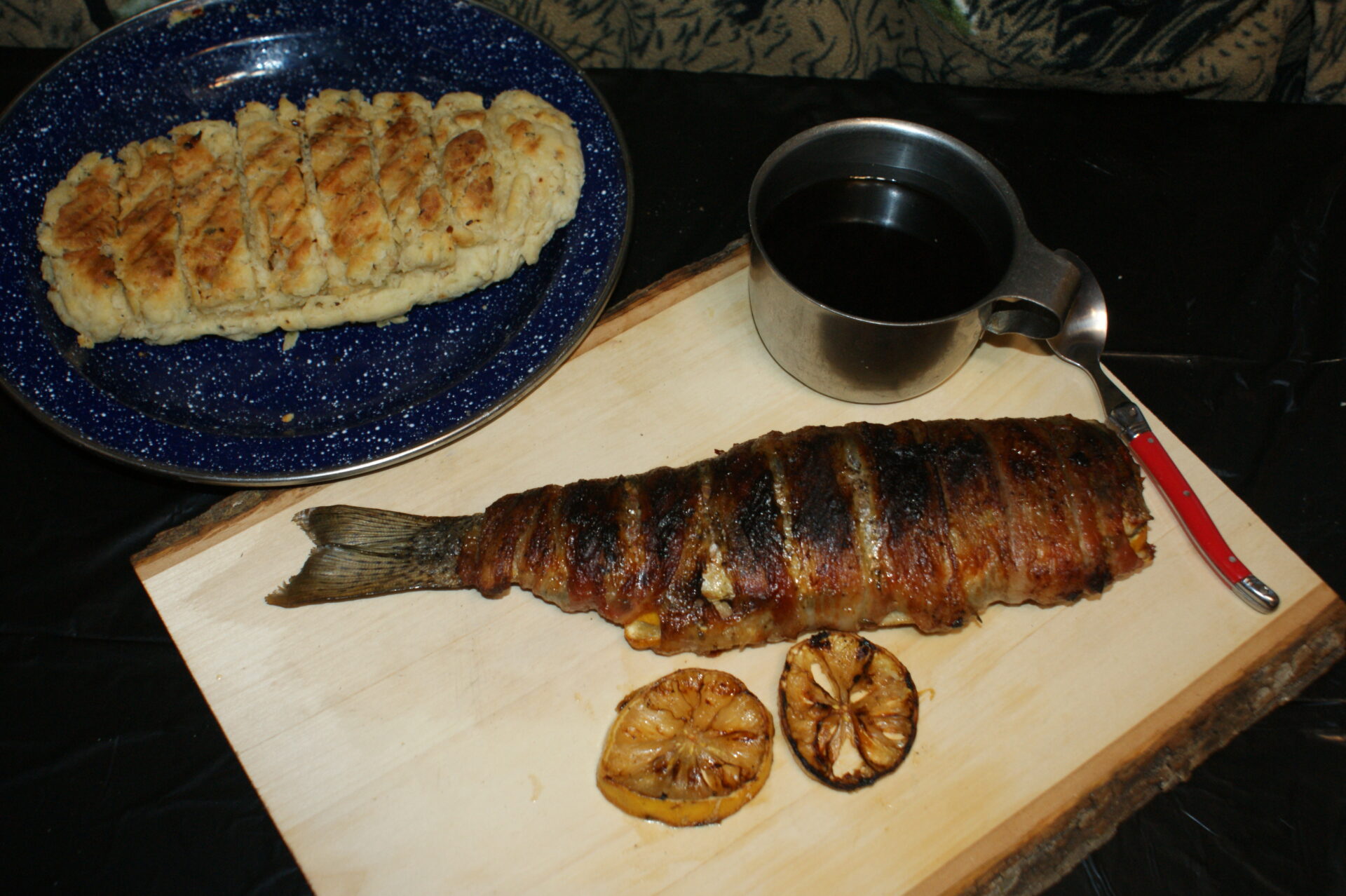 But there's no need to fret if you're on a day trip and have to cook your supper at home, as I have done this time around, because it's not only faster, but just as easy (or easier) to prepare this specialty on an indoor grill or backyard barbeque as it is on a campfire where the heat is harder to control. The only thing is, it's a whole lot more fun eating by the lake when you know there's still more fishing to be had!
The thing I like most about this recipe, especially if I'm backpacking for any distance, is that I do not have to tote along a heavy cast iron frying pan for cooking supper in. All you need is a stainless-steel fish grilling basket. I like a medium-sized basket, about 12 inches long, which is a perfect fit for the average size of fish I catch in my secret haunts. However, these handy grilling baskets come in various sizes so choose one that suits your needs. They are inexpensive and can be found wherever grilling supplies and outdoor cookware is sold.
Of course, it's always a good idea to have a back-up plan just in case luck isn't with you, which is why I like to tote along a baggie of my homemade cheesy-onion quick bread mix. It's easy to make in camp and it'll keep you from crawling in the tent hungry if the fish aren't biting.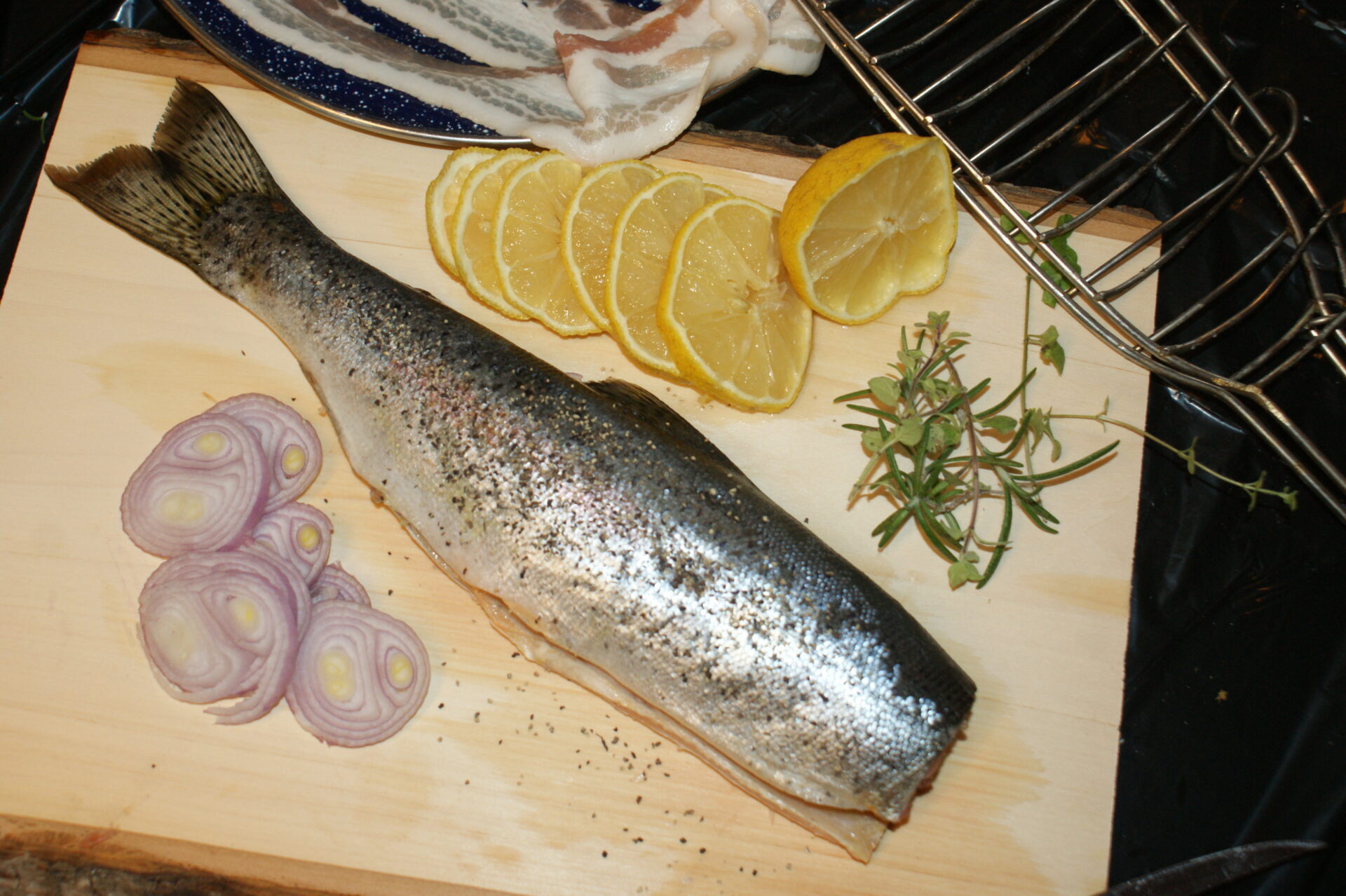 Bacon-Wrapped Grilled Trout
1 dressed trout (you can remove the head and/or tail if desired)
Salt and pepper
1 thinly sliced lemon
1 thinly sliced shallot
mixed dried herbs (oregano, rosemary and thyme) in a small shaker or packet. If preparing this at home, fresh herbs are always nicer
1/2 pound sliced maple-smoked bacon
Season the fish inside and out with salt and pepper. Place a layer of lemon in the cavity of the fish, top with the shallot slices and sprinkle with herbs. Wrap the bacon slices snuggly around the fish, place in the grilling basket and grill on the grate over coals, flipping as needed, until bacon is crispy and golden and the flesh is flaky, about 25 to 35 minutes, depending on thickness of the fish.
Cheesy-Onion Quick Bread Mix
This mix makes a hearty loaf, enough for supper and leftovers for breakfast.
1 3/4 cups all-purpose flour
1 tablespoon baking powder
Pinch of salt
1 teaspoon dehydrated onion flakes
1/4 teaspoon dried oregano
1/8 teaspoon dried chilli flakes (optional)
3 tablespoons instant milk powder
2 1/2 tablespoons shortening
4 to 5 tablespoons grated well-aged cheese (my pick is Grana Padano because it can survive for up to a week without refrigeration with no ill effects)
1 tablespoon shaker style parmesan cheese
Combine the first seven ingredients. Work the shortening in with your fingers until crumbly. Fold in the cheeses, empty into a Zip-Loc bag and tuck into your food pack. When you're ready, open the bag and add 1/2 cup water (more or less as needed) to form a firm dough. With your hands, shape into a loaf that can be baked in your fish grilling basket if it is unoccupied. If a fish is on the fire, the dough can be patted into a circle and baked in a pan over the coals or molded onto a seasoned stick and baked hotdog fashion over the fire.