Cooking good, old-fashioned comfort food has become a bit of a lost art. In a world where everything is documented for the Internet and the world to see, full of fancy filming transitions and set to 30-second attention spans, good, wholesome comfort food doesn't often see as much of the spotlight. In my kitchen, however, simple ingredients come together to form the most delicious comfort foods that seem to embody the spirit of autumn, and the inward pull that it brings.
Time has not been on our side this hunting season – it seems that despite the best laid plans and intentions, the days are slipping away faster and faster right before our eyes. Having made it out for only one duck hunt so far, the freezer is far from filled with waterfowl, but we were so very fortunate to have a family member gift us some goose breast.
We cooked up some bacon-wrapped goose breast for dinner, but also enjoy some pan-fried duck breast (marinated in the same manner as the goose) as an appetizer – a yummy treat before a mouth-watering main course.
Ingredients
2 goose breasts
1/4 cup orange juice
1/4 cup low sodium soy sauce
1/4 cup maple syrup
1/8 cup extra virgin olive oil
3 garlic cloves, minced
1/2 tsp ginger root, finely diced
12 strips of bacon
Method
In a large bowl, combine all marinade ingredients. Place goose into the marinade and ensure it is fully submerged. Cover and place in the refrigerator for eight hours or overnight. Remove goose from the refrigerator approximately one hour before cooking.
Preheat the oven to 325 degrees Fahrenheit. Par cook the bacon strips on a baking sheet in the oven for approximately eight to 10 minutes. While the bacon is being par cooked, heat a cast iron or other oven-safe skillet over medium-high heat on the stove. Add a splash of olive oil, then place each goose breast into the pan. Cook for four minutes, flip, and cook for an additional four minutes.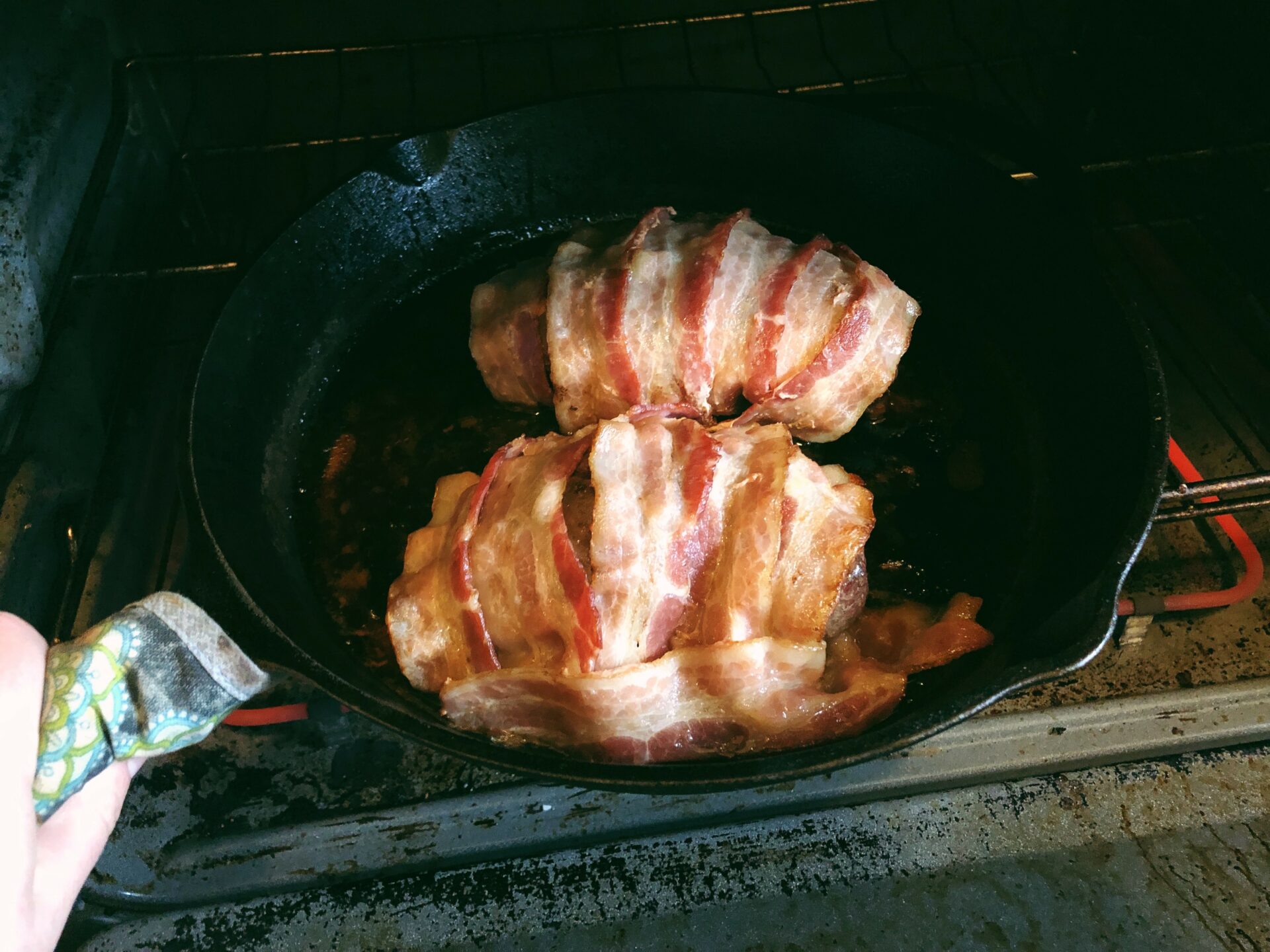 Wrap the bacon around the seared goose breast, place back into the pan, and put into the oven at 325 degrees Fahrenheit. Cook for approximately 12 minutes and remove from the oven. Let rest for five minutes before serving.
Note: Because the goose is wrapped in delicious (but salty) bacon, make sure that you use a low-sodium soy sauce in your recipe to avoid having an overly salty dish.