It's late summer, the beginning of hunting season in northern BC. Mark and Vince pack up a small mountain of hunting gear and leave Vancouver Airport for Fort Nelson. Upon arrival, the two men retrieve two crates and arrange for transportation further north to Stone Mountain Provincial Park. There, from the crates, they assemble two mountain bikes and two trailers loaded with gear. Following old mining roads, they head into the northern Rocky Mountains. Twice the inflatable boat is needed to get across rivers that had washed out the road. The road ends at an old mining camp where the bikes and trailers are stashed, out of reach of curious porcupines. Several hours of challenging hiking brings the two hunters to the treeline, where they make camp on the edge of rolling alpine grasslands, meadows and shrubland, the habitat of thinhorn sheep. They will make day hunts from this mountain camp, 1,000 kilometres from home and days of gruelling travel from the nearest civilization. Such is the allure of wild sheep hunting.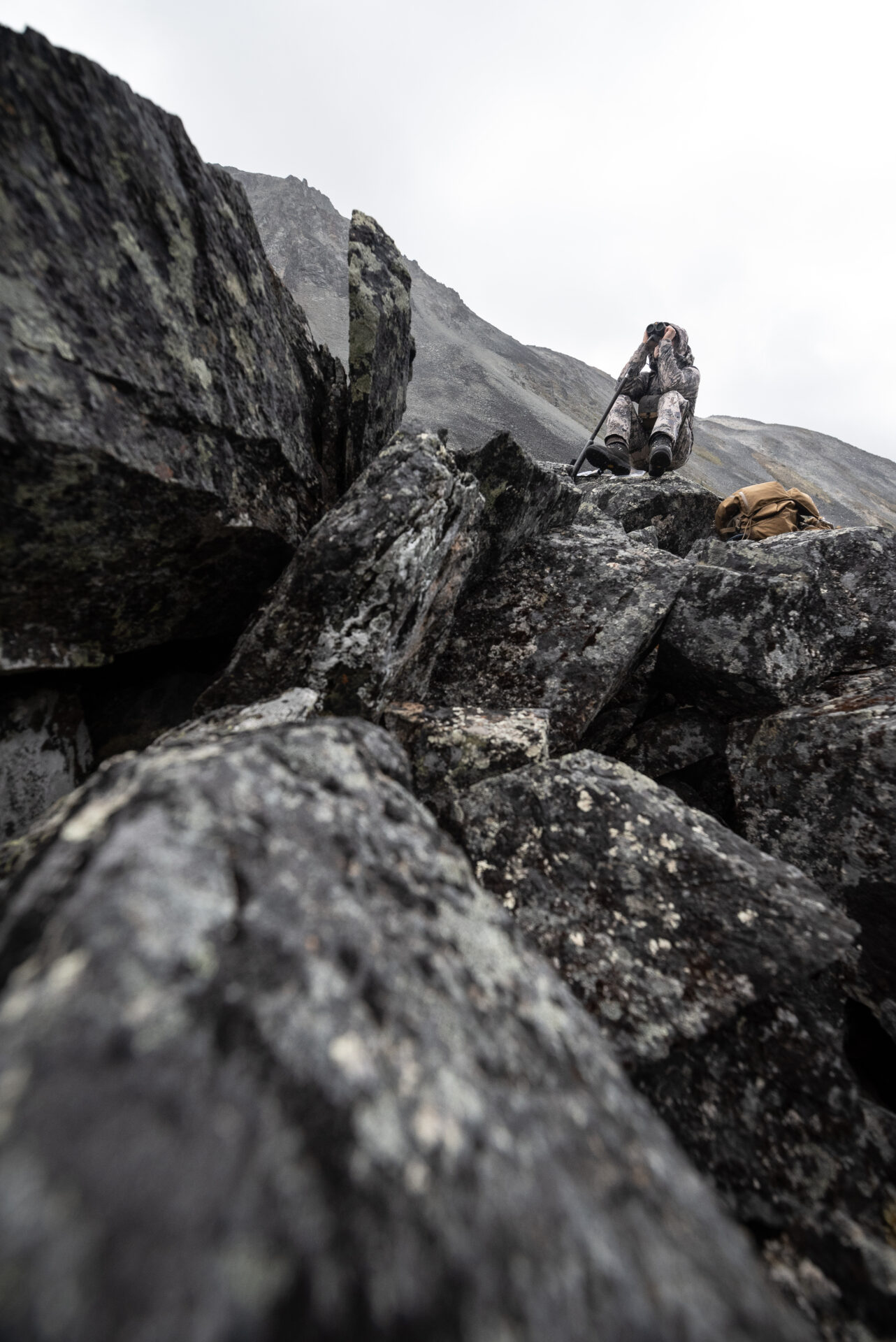 For dedicated mountain sheep hunters, BC is a dream location, home to four kinds of wild sheep, including two species (thinhorns and bighorns) and two subspecies of each. Bighorns are found in southern BC, and their range extends along the west of North America into Mexico. Thinhorn sheep are animals of northwestern North America, and in BC they make their homes in the mountains of this province's far north.
Thinhorn sheep (Ovis dalli) are so named because, while their horns are big, they are less massive than the bigger horns of the bighorns. Officially, there are two subspecies of thinhorn sheep: Dall's sheep (Ovis dalli dalli), named for the Alaska explorer W.H. Dall, and Stone's sheep (Ovis dalli stonei), named for Montana naturalist A.J. Stone. The possessive names "Dall's" and "Stone's" are correct because they were named after people. There are about 95,000 Dall's sheep in North America, found from the Brooks Range in Alaska, east through Alaska and Yukon to the Mackenzie Mountains of the Northwest Territories, and south to the mountain ranges of northern BC. Only about 1,500 Dall's sheep call BC home, but virtually all of the world's population of 12,000 Stone's sheep are found in this province. The two subspecies are similar in size, shape, habits and habitat, but are totally distinct in coat colour. Dall's sheep are basically all white and Stone's sheep have a dark, mostly brown, coat.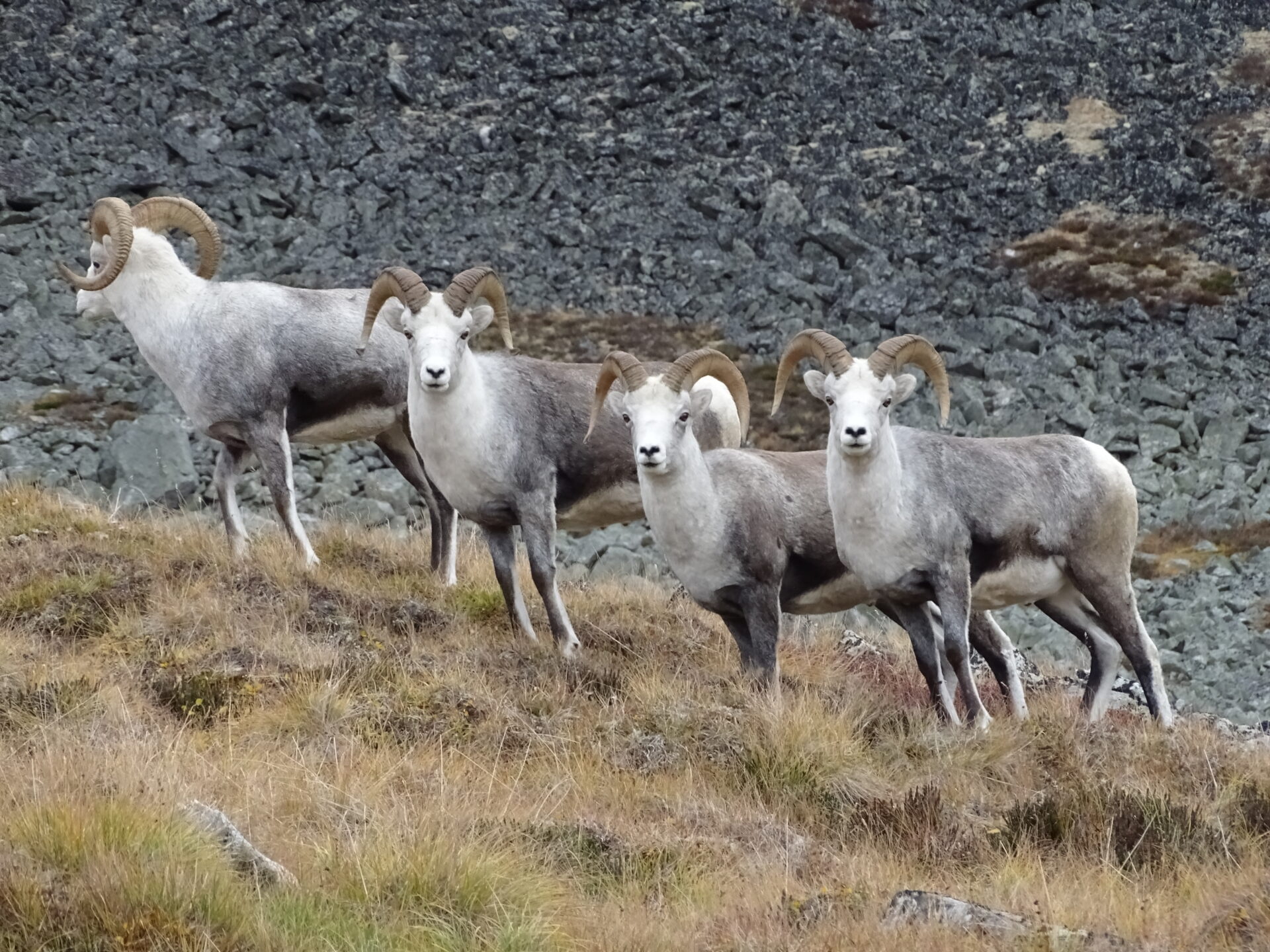 For years, the different coloured coats were a key method to distinguish between the Dall's and Stone's sheep subspecies. However, the ranges of the two subspecies of sheep overlap in parts of BC and Yukon, and interbreeding has resulted in thinhorn sheep with coat colours that vary from mostly white, through shades of grey to mostly brown and sometimes with piebald patterns across the body. These hybrid animals have been called fannin sheep or, more correctly, Fannin's sheep, being named after John Fannin, the first curator of the BC Provincial Museum, and are a bit of a taxonomic conundrum. Most modern texts do not recognize Fannin's sheep as a separate subspecies, but which one of the other two should these animals be lumped with? It is not just biologists who have been puzzled about the classification of thinhorn sheep with such a variety of pelage (fur) colours. Some hunters and trophy record-keeping clubs decided that Dall's sheep could only be pure white. So basically, even a dark hair or two on the body of an otherwise white sheep meant that animal could not be a Dall's sheep, so is a Fannin's. But, since that is not a recognized subspecies, that animal must be a Stone's sheep by default. The Boone and Crockett Club, for example, has decided that "… any thin-horned sheep that shows any black hairs on the body is classified as a Stone's sheep, unless only the tail is black. In the case of a black tail only, the trophy would be considered a Dall's sheep." Some trophy scoring standards have established a threshold of dark hairs that a true Dall's sheep can have at a specific number. Any more and it is not a Dall's. Other hunter groups have taken a different approach, deciding coat colour is still an important distinguishing feature in thinhorn sheep, and since Fannin's sheep did not fit easily as either white Dall's or brown Stone's, they should be their own category for trophy scoring. Fannin's sheep are currently included on some lists for a grand slam of North American wild sheep.
Recently, genetic analysis has started to clarify the situation and we now know that repeated continental glaciations (ice ages) contributed to the current thinhorn sheep distributions and variety of coat colours. During the periodic ice ages of the past half million years or so, sea levels fell substantially, exposing land that is now under water. Beringia was a vast expanse of grassland where Bering Strait is now, and it included western Alaska and eastern Siberia. Dall's sheep survived the ice ages in this area and likely on some ice-free mountain tops. The animals that became Stone's sheep apparently took a different route, moving south ahead of advancing ice sheets. At some point they encountered, and bred with, bighorn sheep and acquired their dark, mostly brown, coat. As the ice age ended and the glaciers retreated, Stone's sheep recolonized the mountains of their current range, but maintained their imported coat colour, as well as slightly larger bodies and horns than Dall's sheep.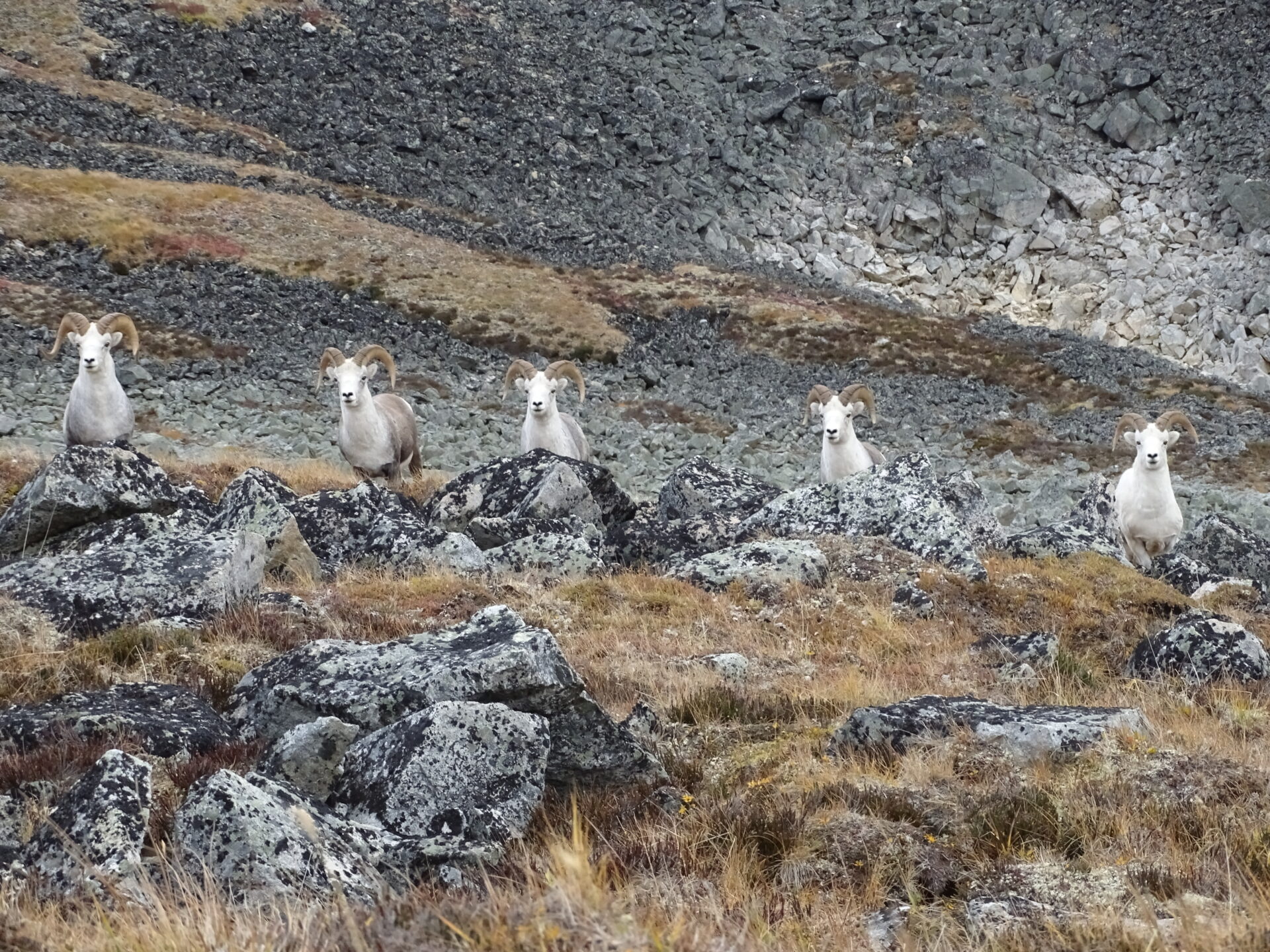 Current genetic work has confirmed that coat colour alone is not a reliable determinant of the thinhorn subspecies. When individuals from two isolated and distinct, but closely related, populations of animals (in this case, Dall's and Stone's sheep) meet and interbreed, the resulting hybrid animals (Fannin's sheep) have admixed genetics. The individuals from the original populations are called ancestral or parental and the new population is admixed or hybridized. But advanced genetic analysis can plot the strength of the alignment between the admixed genes and the ancestral genes and tell if a specific Fannin's sheep is more closely aligned with Dall's sheep or with Stone's sheep origins. Combined with geographic locations, this process can more precisely determine the line between these two ancestral populations.
In most jurisdictions, a thinhorn sheep taken by hunters must have a compulsory inspection that includes drilling a hole in the horn and permanently mounting a metal pin. The number on that pin provides unique identification and access to biological data about that animal, as well as a geographic reference to the harvest location. The shavings from the drilling are saved and almost 3,000 of these horn core samples were included in a study of thinhorn genetics. The results significantly change the currently accepted geographic distribution of the two subspecies of thinhorn sheep, particularly in BC. A key finding is that many Fannin's sheep are genetically more closely aligned with Dall's sheep than Stone's. In BC, the new dividing line between the subspecies is much further east than the previous division and almost triples the estimated number of Dall's sheep in BC from 500 to about 1,500. The Fannin's sheep in south-central Yukon are also now known to be more closely aligned with Dall's sheep than with Stone's. The revised distribution means that there are very few Stone's sheep in Yukon and the global range of Stone's sheep is almost exclusively within BC's boundaries.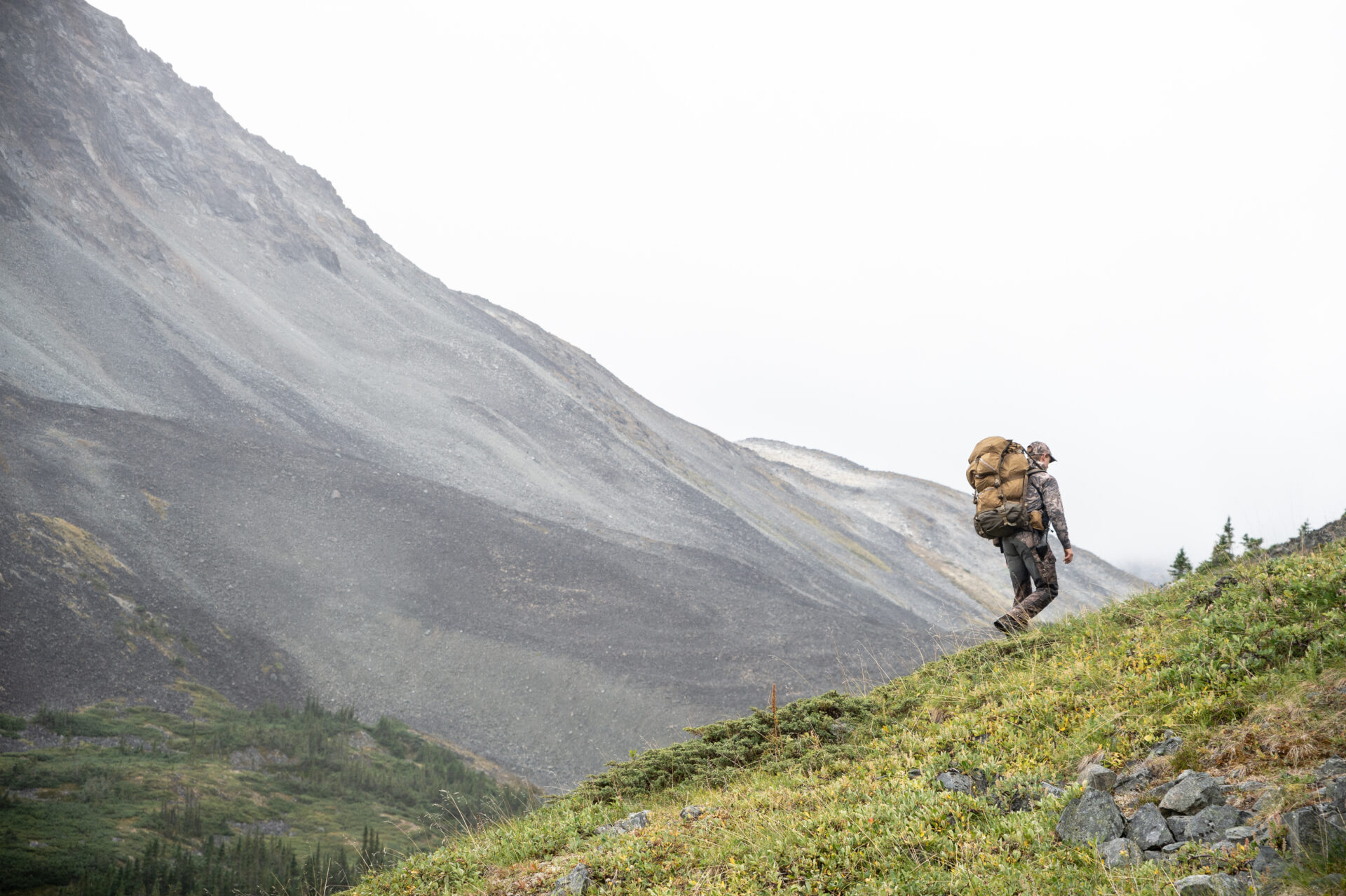 A good example of the consequences of this new mapping is found in south-central Yukon. A small group of sheep, inside what would be the zone where Fannin's sheep are found, are coloured very similarly to Stone's sheep and their presence influenced the mapped limit of Stone's sheep range. However, this new genetic information has determined that they are, in fact, Dall's sheep, but with a dark coat. Researchers labelled these rare thinhorn sheep as "dark-phase Dall's" sheep, no longer Stone's sheep, and moved the dividing line between the two subspecies south to near the BC border.
This is sound science, but the results and interpretations may not sit well with some hunters and hunting trophy-record keepers. The new genetic mapping does not change the total number of thinhorn sheep in North America, or the number of subspecies. However, there is a lot of hunting history associated with the former mapped ranges of Dall's sheep, Stone's sheep and Fannin's sheep, as well as long-standing trophy records. So for Mark and Vince and other dedicated sheep hunters, it may be some time before the information from these genetic studies and the new thinhorn sheep range boundaries are widely accepted, and Fannin's sheep become a part of North American big game history.