Backpacking hunting trips call for ultralight gear, since you have to haul everything in on your back. Do you cut off your toothbrush handle to lighten your load, to leave space and weight for essential gear like a spotting scope? What if I said you could have the best of both worlds? Vortex designed the Razor HD 11-33×50 with premium glass and coatings and packaged it in a light, compact and tough-as-nails spotting scope. Let's zoom in on the details.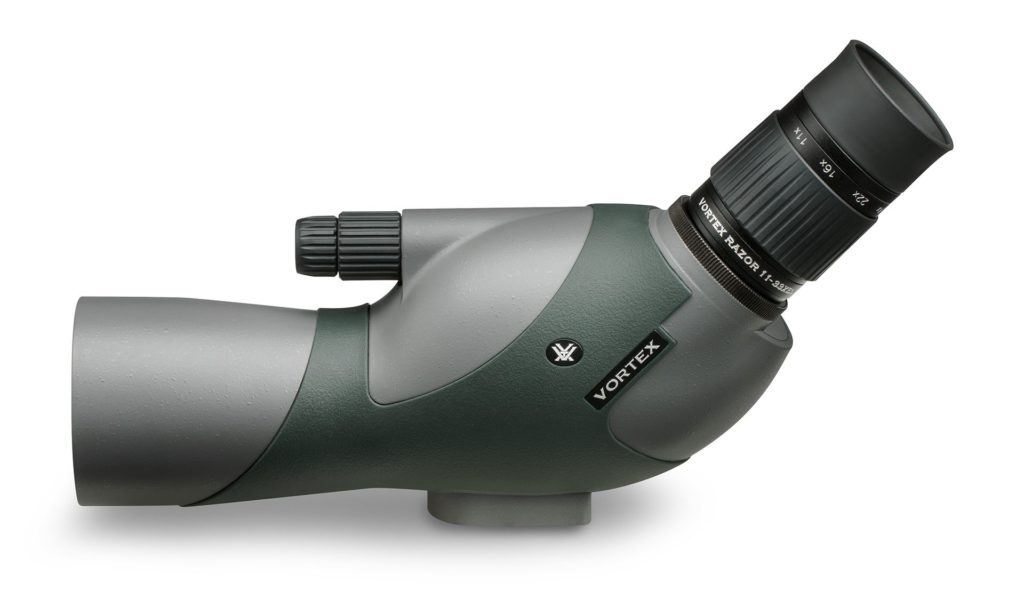 The Razor HD 11-33×50 is available as either an angled or straight body design. I often favour angled body spotting scopes that I mount lower, maximizing stability in wind, offering greater comfort when glassing for extended periods and allowing a smaller, lighter tripod. But the 11-33×50 scope can double as a handheld monocular, and in that case a straight body design is best for rapid target acquisition. The straight body works best with vehicle window mounts, too.
The first thing I noticed about this spotting scope was its weight. At only 700 grams (1.5 pounds), it weighs less than a Razor HD 10×50 binocular. For glassing game, the 11-33x spotting scope has the advantage of more than three times more magnification. Extra magnification is handy when estimating a legal ram or judging a bull's antlers at a distance. Because of its compact length (10.3 inches/23 centimetres), light weight and low minimum magnification, it's possible to handhold the Razor HD 11-33x for a quick look at a distant object. If warranted, you can then mount to a tripod (using standard 1/4×20 screw threads) for a closer inspection. Given the scope's versatility, I'm tempted to leave my binos at home on my next mountain hunt, where weight is always a consideration.
The Razor line is Vortex's premium grade of optics. This scope uses APO lenses to correct colour across the visual spectrum. HD lens elements and extra-low dispersion glass give better resolution and colour fidelity. And on all air-to-glass surfaces, Vortex uses an anti-reflective coating for maximum light transmission, resulting in enhanced low-light performance. The scope has outstanding image quality and true-life colours.
This scope uses a 50-millimetre objective lens to keep things light. The trade-off with a smaller objective is that at its highest magnification of 33x the exit pupil is only 1.5 millimetres, meaning that high magnification is best for brighter conditions. Conversely, at 11x the exit pupil is 4.6 millimetres, and it's the magnification I use in low-light conditions.
Eye relief is another important consideration for long hours behind a scope. This scope has 16 millimetres of eye relief at its lowest magnification and 19 millimetres at 33x. A generous, soft rubber eyecup blocks any distracting sidelight.
A dual-focus system allows for fast focus using the rear portion of the focus knob, and fine adjustments with the front. The focus is smooth and intuitive. This scope focuses from two metres to infinity, so whether you're watching birds at your feeder or glassing for goats on a mountainside, the 11-33x covers it all.
Finding a suitable spotting scope for hunting is a balance between enough field of view to find quickly scan the habitat in search of animals and enough magnification to evaluate if the animals are legal and of interest to shoot. The 11-33x magnification range on this scope strikes a balance: at the low end, it performs like a full-size pair of binoculars and is perfect for finding game; at its maximum, it has enough resolving power to make accurate field assessments. If I was looking for holes in paper targets at long range, I'd want more magnification, but when glassing for game this is more than adequate. A scope with more magnification needs a larger objective lens to transmit enough light to the eye, resulting in a heavier and bulkier spotting scope.
Razor spotting scopes are built to handle whatever Mother Nature throws at them, and the 11-33×50 lived up to these claims throughout my testing. Its waterproof O-ring seals prevent moisture and dust from entering the scope. It is argon gas purged to prevent internal fogging, and its scratch-resistant coating protects exterior lenses. Soft, flexible lens caps protect lenses when not in use. The scope includes a fitted carrying case.
Like all Vortex optics, the Razor HD 11-33×50 is covered by their VIP lifetime warranty – in the event the scope is damaged or defective, they'll repair or replace it at no charge. The VIP warranty is fully transferable, and no receipt is needed to make a claim.
In my opinion, the Razor HD 11-33×50 is an excellent choice for the mountain hunter. Loaded with premium features, the spotting scope's well-thought-out design balances hunting performance and rugged, lightweight construction. The scope is sharp from edge to edge, with accurate colours. For the mountain hunter looking to carry one optic on a hunt, the Vortex Razor HD is worth a close look. And because it's so light, you'll be able to keep the handle on your toothbrush.
Canadian MSRP is $1,429. For more information, visit Vortex Canada at vortexcanada.net.