I have had a significant amount of time to reflect on how I would feel when I shot my first deer. Years, in fact. Although hunting was a part of my life from a very young age, I didn't actively start hunting for big game until much later in life, after high school graduation had passed and I moved out of my childhood home. I wouldn't go so far as to say that I thought cutting the tag on my first mule deer buck would be easy, but there certainly wasn't the expectation that it would take this long. Seven long years, in fact.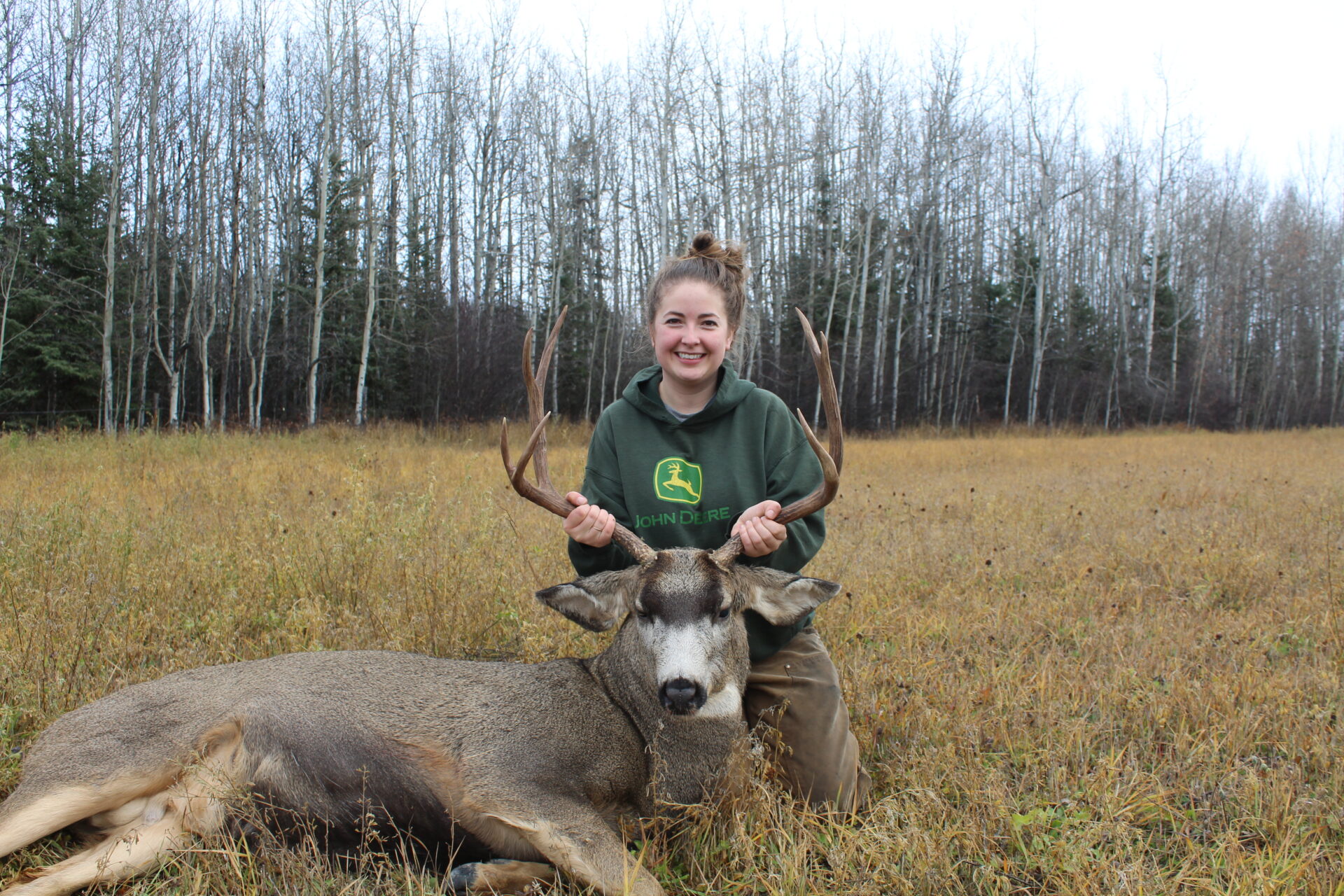 The first season spent out in the field was more so tagging along with my significant other, observing and learning and soaking in all the knowledge that I could so I would one day be able to go out on my own and feel comfortable doing so.
My Christmas gift that year was a rifle of my very own, a Ruger American 7 mm 08 that just felt right in my arms. For each season that followed, hours and hours were spent hiking hundreds of kilometres – from the poplar stands behind our house to the Douglas fir-lined ridges on the north shore of Francois Lake, both alone and with a partner. The option to hunt from a field was very limited, as there were very few places that we had permission to hunt.
Despite the knowledge that these areas, which I dedicated many hours of my autumns to, held healthy populations of deer, backed up by many encounters with bucks of all shapes and sizes, there have been only several times in seven years where that rifle has been loaded with the hope of harvesting a deer to put in the freezer. The first opportunity was the morning after a mid-October snowstorm, back when the region had an any buck season and the underbrush had shed its thick, leafy coat that made it nearly impossible to spot deer in any other circumstance. I had followed a small set of buck tracks back and forth through the fresh, soft snow that carpeted the forest floor for over an hour, only to finally set eyes upon a young two-point buck. Rifle loaded, leaned against a tree, he never did step into a spot where his vitals were visible, and he and his tracks eventually disappeared amongst the maze of doe tracks that tracked up the fluffy snow.
The second time was during the very last moments of legal light, several years later, when a buck strolled down along the treeline and made his way into a thicket of saskatoons. We had a pretty good idea of the bucks that were in our area after scouting them all summer long, and this small four-by-three had been spending most of his time passing through our area. The any buck season in our region had been abolished a year or two prior and even though I so desperately was certain that I had counted that fourth point on him before he walked into the thicket, I couldn't say it with 100 per cent confidence, and I watched him walk away into the darkness.
They say third time's the charm, and on the last day of the season a couple of years ago, it very nearly was for me. A sight that is engraved in my mind, and probably will never fade; a truly monstrous buck, standing along the edge of the field that didn't even require binoculars to clearly see every point on his rack. Trying my best to quell the buck fever that started to shake within me, I grabbed my rifle and binoculars and scooted up field with no shoes, just socked feet. I wanted to be as quiet as possible – I never anticipated that I would have an opportunity to load up the gun once I got out there, let alone try to take a rest amongst the little poplar patch I set up in and actually shoot. After quadruple counting points through the binoculars, I raised my rifle and squeezed off on the trigger.
It was a miss.
The cold November rain that fell from the sky that day felt as dreary and miserable as my mood. Those few minutes surrounding that miss settled into my core like a lead weight. I am by no means a trophy hunter, just a woman with a deep affection for venison tucked into the freezer, but this was the buck that haunted my sleep for months. He was the buck that would give even the most experienced of hunters buck fever, but for me, he ended up being the buck that shook my confidence to the point that I wasn't comfortable going out hunting on my own the next season.
Fast forward to 2021. Work and personal obligations meant that out of seven years of searching for a deer, this was ironically the year that I hunted the least. To be truthful, I had almost resigned myself to the fact that another season was going to pass without successfully putting a deer into the freezer; a thought that kind of broke my heart, to some extent. Witnessing that optimism and enthusiasm within myself wane over the better part of half a decade was tough, because something that I dedicated so much time and energy and passion towards always seemed just out of reach.
Late morning on a sunny October day, a feeling of déjà vu came over me. Mid-morning, glancing out at the same spot along the edge of that same field, I saw a buck standing there. Nowhere close to the class of deer that stood there two years before and haunted my dreams for just as many years after, but a very respectable four-by-three, nonetheless. And so, just like that moment two years prior (except this time with boots on my feet and armed with shooting sticks to provide a stable rest), I snuck out along the edge of the field.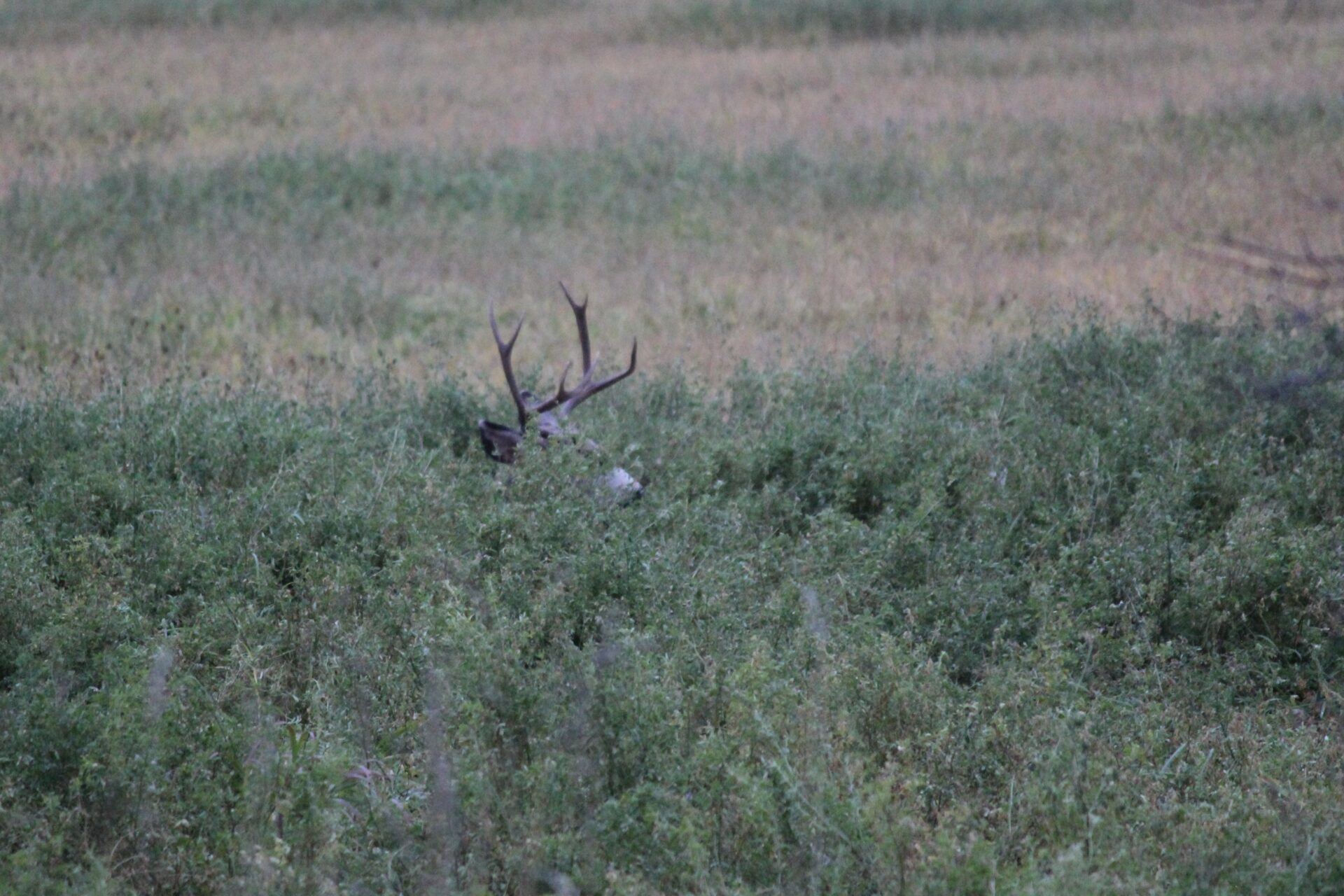 He had his back turned, head down in a little patch of frost-touched alfalfa. With the wind at my back, I settled down, surveying the situation. The whole wind issue was far from ideal, but he seemed unbothered by it, turning around to glance at me for a few seconds before turning back to feed. If only I can get a little bit closer, I thought, then no matter if he stepped to the left or right, I would have a safe, clear, broadside shot that would result in an ethical kill. So, I crept up another 10 yards, he turned to the right and I squeezed off on the trigger.
The deer gave a little hop, took one, two, three leaps forward… and tumbled into the grassy field.
It was at this point that my hands started to shake. I pulled out my phone, calling my partner saying, "I think I got him, I think I got him… no, he's not breathing. I got him! I actually did it! All on my own!" With another round loaded into the gun just in case, I shakily walked up to his rear and gave him a little poke, just to be certain.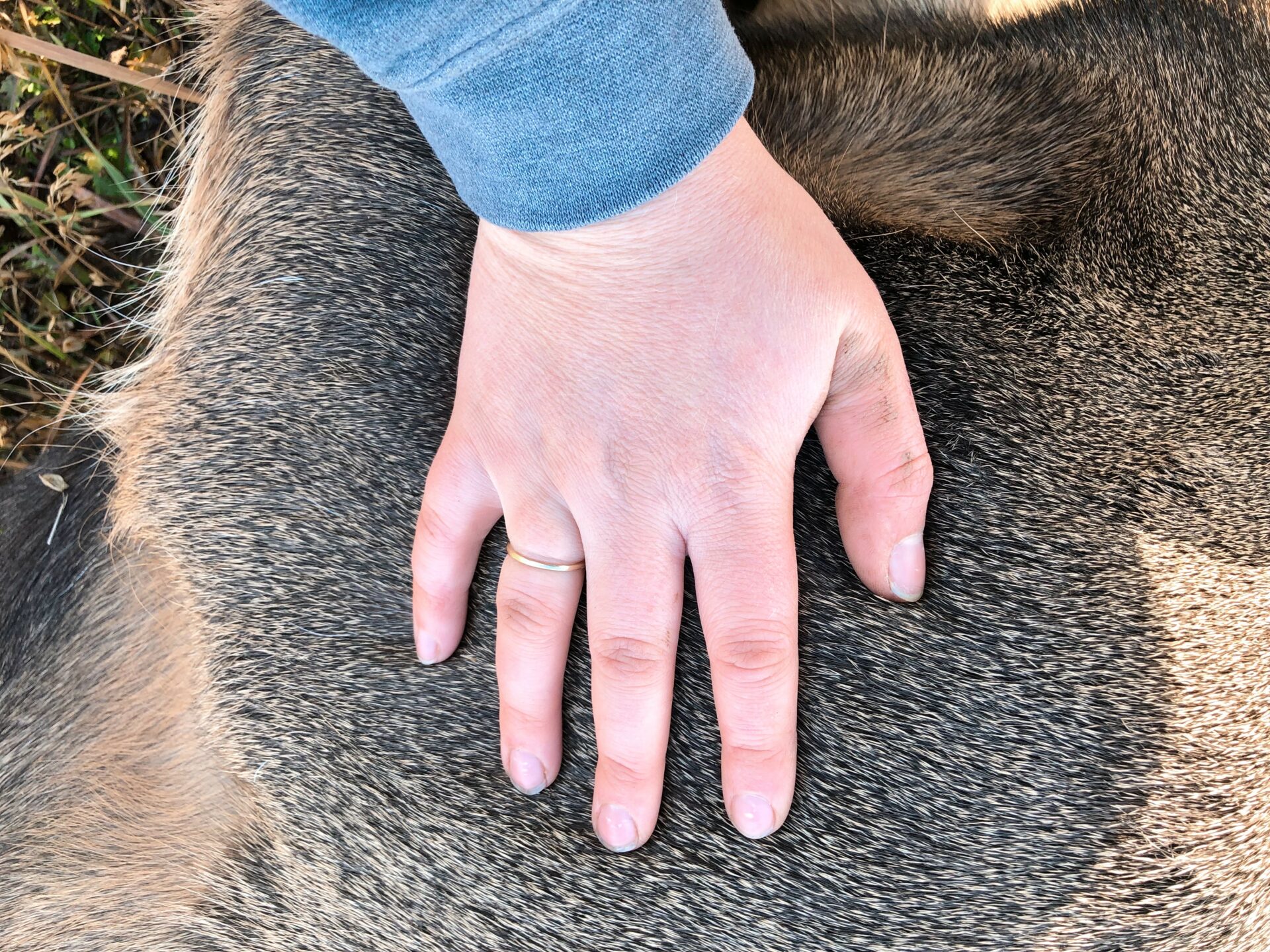 There was a lot of feelings that I simply can't put into words that washed over me in those following few moments. It was the good, clean, ethical shot that I knew I was capable of making, the bullet ripped through both lungs and he was gone in only a couple minutes. I don't even really recall now what went through my mind right away; I just remember sitting there on the ground with my hand placed gently against his neck, with an overwhelming feeling of thankfulness for the good, wholesome meat that was going to bless our freezer for the winter months ahead.
I had held a lot of preconceived notions in my head of how I would feel after harvesting my first buck, and while some turned out to not be true (turns out, I didn't cry like I thought I would), a deep-rooted connection to nature and life and all the emotions that come with that firmly rooted within me. And all through the gutting and butchering process, I am doing my absolute best to honour his life. The lower legs and hooves are destined for dog chews, the heart and liver have already been packaged up and tucked away for future meals. Bones for stock, hide and brain for tanning, and of course every ounce of meat possible will be carefully stacked into the freezer, to nourish us throughout the upcoming year. It was a long time coming, and I truly won't ever forget that moment, seven years in, on a late October morning. Buck down.