While Winchester has been building rimfire rifles for more than a century, their new Wildcat is a game changer and is best characterized by imaginative ingenuity. It is such a significant departure from the norm that I set about ascertaining what features set this rifle apart from the rest of the rimfire world.

Winchester Wildcat .22
I will start with one of the most impressive. The lower receiver assembly is removable by pushing a single button located at the rear of the upper assembly. No tools are necessary, just some finger pressure on the release button while pulling down on the trigger guard. This innovation immediately brought to mind just how easy it was now going to be to clean this rifle. Like any bolt-action rifle, it was now cleanable from the breach end – unlike other autoloaders that need to be cleaned from the muzzle. What a plus!
What makes this rifle even more versatile is its manual safety button, which is reversible, ideal for both right and left-handed shooters. But without question, what is visually most striking about this rifle is its stock. It is an ergonometric, ambidextrous, molded polymer, ultralightweight stock. In some respects, it looks skeletal, which is no doubt a contributing factor to another of this rifle's notables, it only weighs four pounds. Feather light! It also boasts a Picatinny rail on the upper assembly for mounting optics and another under the forearm tip where you can attach either a bipod, sling mount or light. The Wildcat also offers a couple of other interesting features, including the slide lock button on the front of the trigger guard, which allows the user to manually lock the action open for transport or storage, and the combination of a ramped post front sight and ghost rear sight provide sighting under varying light conditions.
Mechanically, the Wildcat adds another bit of ingenuity with its striker-fired design that provides a faster lock time and a lighter trigger pull than traditional hammer-fired rimfire designs. It also focuses its firing pin striking energy for a deep indent in the case rim, thereby generating a more reliable ignition for all types of ammunition. The chromoly steel barrel is precision button rifled with a recessed target-style crown for enhanced accuracy.
Last, I want to discuss the flush-mount, 10-round rotary magazine and its individual features. For me the most important, at least from a safety perspective, is that the magazine activates the bolt stop system to lock the bolt open when the last shot is fired. No more guessing if you have fired all the rounds in the magazine – if the bolt does not lock open, you still have rounds in it. A true and valued safety feature in any magazine, let alone a 10-shot magazine. And if you are concerned about ease of loading, you need not be as it has a speed load/unload feature that allows you to manually relieve spring pressure on the magazine follower, making loading or unloading a snap. With its combined features, it leaves you with the impression that it evolved on some aerospace designer's desk.
Specifications
Calibre: .22 LR
Weight: Four pounds
Overall length: 36 1/4 inches
Barrel length: 18 inches
Length of pull: 13 1/2 inches
Twist: 1-16 inches
Drop at comb: 7/8 inches
Drop at heel: 7/8 inches
Magazine capacity: 10 rounds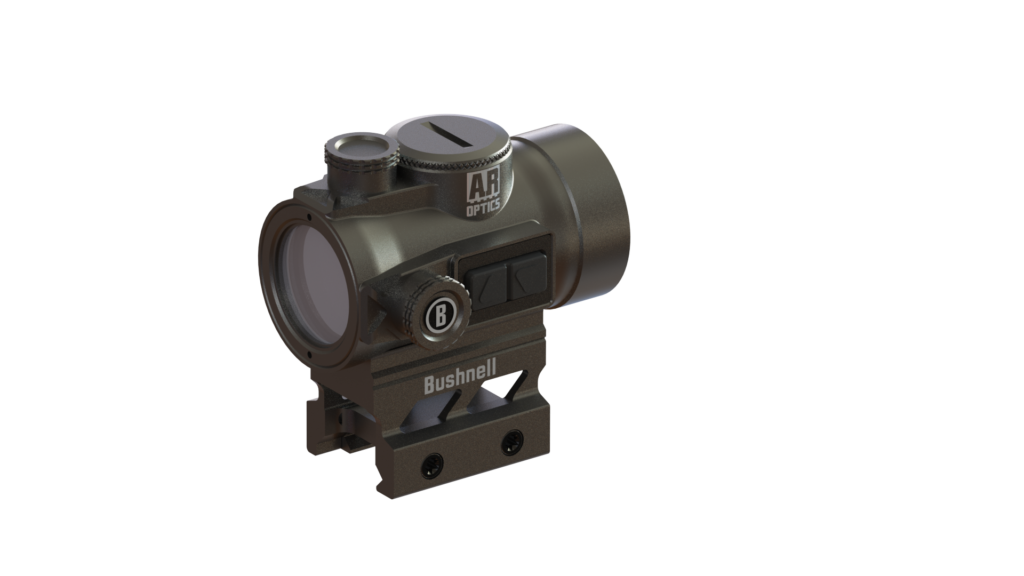 Bushnell TRS-26 Red Dot & Red Dot-Compatible 3X Magnifier
Without hesitation, I saw a red dot as the ideal sight for the Wildcat. Something light, quick on point and a fun optic to use. Keeping price point in mind, I set about doing some research and concluded that the Bushnell TRS-26 was the red dot match for this rifle. I also decided to add Bushnell's red dot 3X magnifier, which I saw as the answer to ensure that my testing at 50 yards was not being unfairly influenced by my less-than-perfect eyesight. It provides the equivalency of a 3x scope for a red dot sight that can quickly be flipped out of the way to provide red dot sighting only.
The TRS-26 is an upgraded version of its predecessor that, with its battery life of 50,000 hours, makes this an industry-setting standard of longevity. It delivers a bright, crisp three MOA dot with push-button functions in a compact package. It, as well as the 3X magnifier, are waterproof O-ring sealed and both are shockproof. The magnifier is compatible with any red dot, but it is an ideal match for the 26. With its multi-coated optics, it offers instant red dot magnification when you want it but, as mentioned, it can be flipped out of the way when you don't and is easily mounted to your accessory rail behind the red dot. 
Specifications
| | | |
| --- | --- | --- |
| | TSR-26 Red Dot | Red Dot Compatible 3x Magnifier |
| Magnification: | 1×26 | 34×24 millimetres |
| Parallax: | 50 yards | 0 |
| Weight: | Six ounces | 13 ounces |
| Length: | 2.756 inches | 4.76 inches |
| Eye relief: | Unlimited | 85 |
| Field of View: | Unlimited | 32 feet at 100 yards |
| Reticle: | Red 3 MOA Dot | |
Test Results
The first thing I tackled was disassembly. While pulling out the lower assembly was quite simple, putting it back took a bit more finesse. But after a few tries, I got a lot better at it. Next I checked the trigger pull weight and, while it was consistent at about four pounds, 15 ounces, it did have a bit of creep. Despite the creep, I did like the idea of a somewhat heavy trigger for this lightweight semi-auto, especially for young hunters. And mounting both the TSR-26 red dot and the 3X magnifier on the Wildcat's Picatinny rail took but minutes.
On the range, I discovered that I had certainly made the right decision to include the 3X magnifier. When zeroing in on a small bullseye at 50 yards, it provided an enhanced target image and a more precise hold than the red dot did on its own. The magnifier also lived up to its billing by not distorting the TSR-26's red dot, providing a sharp, no distortion dot.
With respect to the Wildcat itself, it was nothing short of a blast to shoot. It cycled a full magazine of 10 rounds as fast as I could pull the trigger and, with the TSR red dot, I was able to find and hold a target all but instantaneously. During my test, as I was dealing with some wind gusts, I reduced my shots per group down to four instead of the five I usually fire in rimfire tests. Despite this reduction, I did up it to five if those first four shots were showing signs of a tight group. 
Brand

 

Bullet
Advertised Velocity (fps)
Group Size (inches)
Winchester Wildcat
40-grain copper-plated Dynapoint
1,255
.920
Winchester T22 Target
40-grain round nosed
1,150
1.130
Winchester Super X
40-grain high velocity plated round nosed
1,300
1.190
Winchester Super X
37-grain high velocity hollow point
1,330
1.220
Winchester Expert
37-grain hollow point
1,280
1.620
Federal Gold Medal
40-grain Target
1,200
1.365*
Federal Premium Small Game
40-grain Hunter Match hollow point
1,200
1.185
Federal Auto Match
40 grains
1,200
1.225
Federal Game-Shok High Velocity
38-grain copper-plated hollow point
1,260
.940
CCI S.G.B.
40 grains
1,235
1.120
CCI Velocitor
40-grain copper-plated hollow point
1,435
1.510
Remington Thunderbolt
40 grains
1,255
.730
Remington Golden Bullet High Velocity
40-grain plated round nose
1,255
.885
Remington Sub Sonic
38 grains
1,050
.696
Remington Cyclone
36 grains
1,280
.885
Eley Club
40 grains
1,085
.506*
Eley Sport
40 grains
1,090
.530*
Eley Action
40 grains
1,090
.770
Eley Sub Sonic
38 grains
1,040
1.370
Eley Edge
40 grains
1,085
.890
Eley High Velocity
38 grains
1,250
.770
Note: All groups are four shots unless marked with an asterisk, which were five shots at 50-yards.
Last Shot
While Remington provided the best overall group average of .799 inches, Eley ammunition, with an average of .693, would have topped the lot had I excluded Eley Subsonic. Its inclusion, however, increased it to .806. Eley also had the two tightest groups that hovered at just a tad over 0.5 inches. Both offered some excellent choices for either a fun day of plinking or small game hunting. When considering the $329.99 Canadian MSRP price for the Wildcat, I'm confident it will be a welcome addition to the Winchester line for many years to come. A great little rifle, that when topped with a Bushnell TSR-26 red dot is a mega fun combo to shoot.