British Columbia offers an abundance of unexplored land and outdoor opportunities for hunting, fishing and nature enthusiasts alike. The mountain ranges stretch on as far as the eye can see, with endless terrain and lakes to discover. I have been lucky enough to travel a fair bit and, I must say, BC is one of the most beautiful and most vast landscapes in the world. Most of which is all within a 30 to 60-minute drive or helicopter flight away.
Recently I had an amazing opportunity to join in on some inflatable kayak trout fishing with a helicopter tour company, Compass Heli Tours, operating glacier mountain and camping/fishing tours out of Abbotsford, BC.
My fly box is stocked with woolly buggers, different colour intruders and an assortment of spoons, while my four-weight fly rod, as well as a spin casting rod, are loaded. As soon as I arrive at the Drader property, I proceed to unload all my gear beside the Turbine Hiller HL2T helicopter we will be whisked away in. Since it is just us two, we will be using the smaller of the two helicopters available with his tour company, the other helicopter being a Eurocopter AS350B2.
Nick Drader, owner and operator of Compass Heli Tours, does a thorough and detailed safety routine with me before we strap ourselves in and pop on our headsets. Before I know it, we are hovering up and over the Fraser River, onwards to our secret fishing location for some trout fishing fun.
The 30-minute helicopter ride is a thrilling experience, bursting over mountain sides and next to crystal waterfalls between the rocky hillsides. Peering below, I can see logging roads, rivers, herds of elk and my excitement builds as every mountain we fly over I wonder if this body of water is the one we will be descending down on to start our fun.
Nick, who has over 4,000 hours of flight time and was born into an aerial reforestation helicopter family, is talking in air space code over our headsets, communicating with nearby pilots, and I finally hear something I can understand. He tells me we're going to make a very cool pitstop before we head to the secret lake.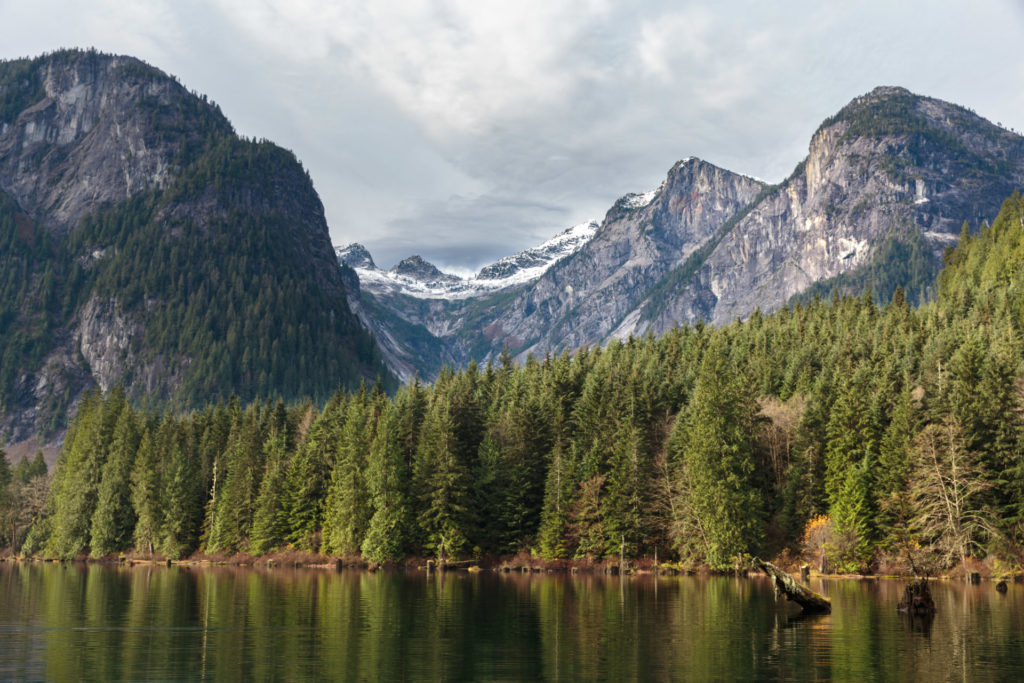 We hover down on a snowy mountainside and wait for the blades to stop. Getting out, I cannot believe my eyes as we head inside a breathtaking 3,000-year-old ice cave. The colours and smell of the clean, crisp air that surrounds you just makes you marvel in the beauty and history of these ice-sculpted tunnels. Melting ice capsules above and snowmelt runoff create natural drainage canals that create river-like areas of crystal-clear glacier water extending out and down the mountain line. Nick tells me this is a common place he brings clients to kayak for the day.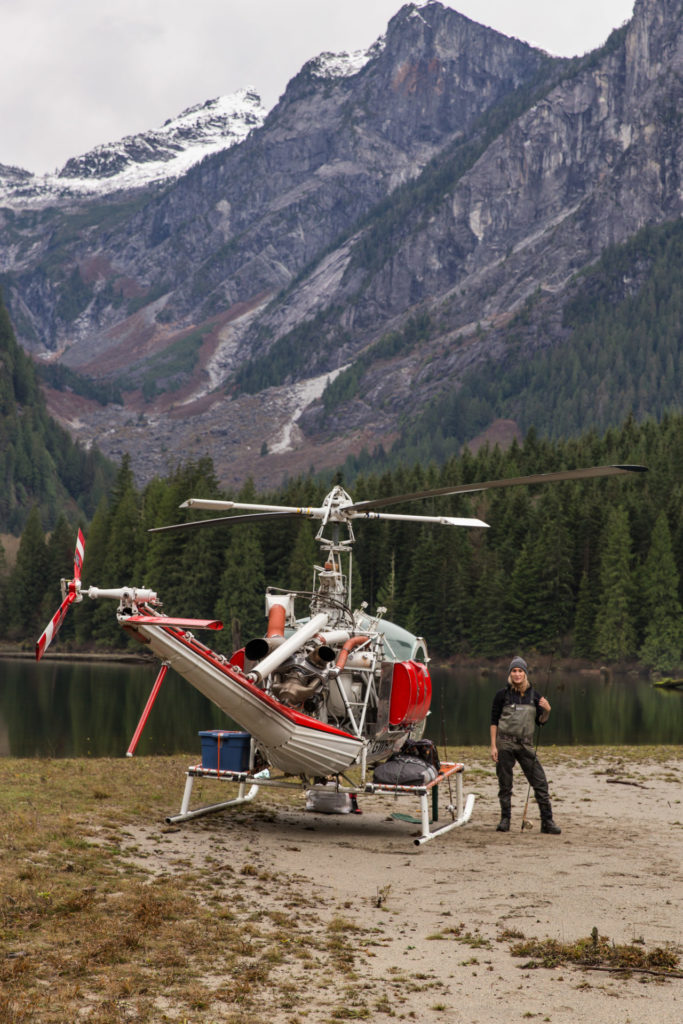 Back in the helicopter, we are well on our way to the secret destination when I start to feel us descending down. We land gently and gracefully on a gravel bar and after the blades slow to a stop, we get out and take a good stretch and start gathering our gear and start inflating our kayaks. We load up a spin caster and spoons, my fly rod and all my fly-fishing gear. The silence here is unruly, all you can hear is a waterfall filling up the lake, the occasional flock of Canadian geese flying by, and the odd breeze between the trees, which makes the season of autumn much more noticeable. The absolute silence is almost strange to feel at times. The fresh, crisp fall air and the vast rocky mountains surrounding you really start to make you appreciate the amazing views around you. You start to realize how we have something very special here in BC.
I paddle out between a few pillar tree trunks coming up out of the crystal-clear water. A little glacier-fed creek feeds in and there's an obvious dammed-off area from some very old beaver activity, so I can tell this was a beaver-made lake. My anxious first cast got my rod tip tugging and reel screaming. I was in total shock at how quick and aggressive these fish were. The water below was so clear you could eventually see my fish fighting to the top of the water and a good dozen other cutthroat and bull trout attacking my fish coming up, which is super surreal, getting to see how aggressive these guys can be.
Time flew by as I landed a good 50 fish to my kayak within the few hours. The frustrating part was seeing a few massive bull trout down there, at least a good eight to 10 pounds. I won't ever forget the intense desire and obsession I had, wanting to hook one of those fish – I was so close. What an unforgettable, action-packed fishing day this had been. A real angler's dream.
As we are on our flight back home, I feel like my soul is full with the breathtaking beauty that British Columbia has to offer. It's another reminder that what we have here in B.C. is unique. Feeling nothing but tranquility, the only way I can describe the excursion was a day trip to paradise that kept me grinning ear to ear. To keep our fishing, hunting and exploring tanks full, we need to indulge in seeing mountains we've never seen before, listening to waterfalls we've never heard before and shake tails and release fish we've never touched before. We leave a little spot of paradise and a piece of us will always be there forever. Explore often.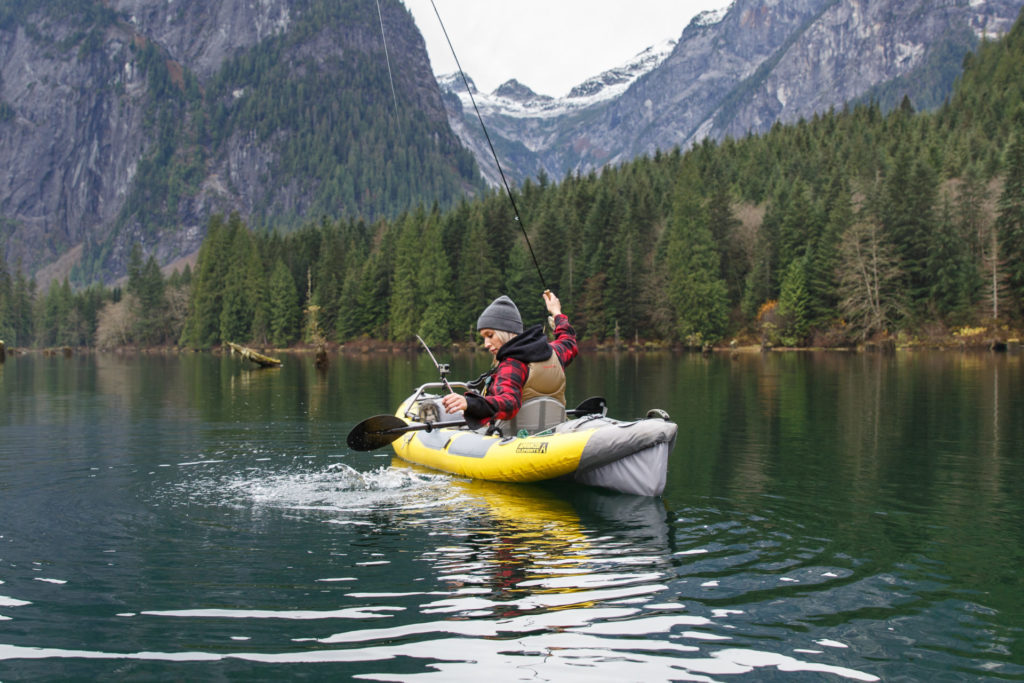 For More Information:
Phone: 1-778-242-1145
Email: info@compasshelitours.com
Location: Shell Aerocentre, Unit 102. 1255 Townline Rd, Abbotsford, BC. By appointment only.
Instagram: @compass_heli_tours
Facebook: @compasshelitours